DECATUR — For Garrett Dixon and his Monticello boys cross country teammates it's fun and games until it is time to race. 
"Before our race we are razzing each other and shooting back and forth constantly and it is a fun atmosphere," he said. "But as soon as we get within an hour before our race, we are ready to go."
Dixon got serious and won the Class 1A MacArthur Sectional Saturday at Hickory Point Golf Course with a time of 15:15 and his Sages teammates ran well enough to qualify to the state meet with a sectional-best score of 62.
Dixon even got in a little trouble at the finish by standing near the finish line after noticing the Sages pack was right behind him. 
"I got in trouble at the end because I was pumped because our No. 2 runner (Luke Sokolowski) was not that far behind me which is great and then we had the pack coming all down the finish line so I waited and stood there and got yelled at," Dixon said. 
Sokolowski finished 10th with a time of 15:55, followed by Morgan Dixon at 16:15, Josh Baysore at 16:23 and Josiah Ratts at 16:25.
The Sages' team growth has been great for Dixon. 
"The biggest thing this year is having a team orientated goal that everyone is sharing. It is a different dynamic this year," he said. "It's fascinating for me. Every time we come to practice we all have smiles on our faces and we are ready to go."
While some runners at sectional are just looking to advance to state, Dixon was out to win the gold.
"I wanted to really blow it away today but it just didn't call for it. I ran my first mile at 5:03 and I thought at that point I'm going to turn it down and maintain position and just go for the win," he said. 
Monticello coach Dave Remmert was pleased with his team's overall improvement. 
"We have a great solid pack and getting them to rise up is always been pretty critical for us. That pack needs to be up there further and that was the goal today was to get them up a little higher and they were successful in doing that. Their times are getting a little better so I feel pretty good about it," he said. 
Dixon finished 11th last year at state with a time of 15:12 and the Sages as a team finished fourth overall.
"The goal is to win and as a team we are going for it," Dixon said. "We are talented and we are really deep too. I was impressed with it today. We performed the way we needed to."
The Sages will compete at the 1A State Cross Country Meet on at 9 a.m. Saturday, Nov. 3 at Detweiller Park in Peoria.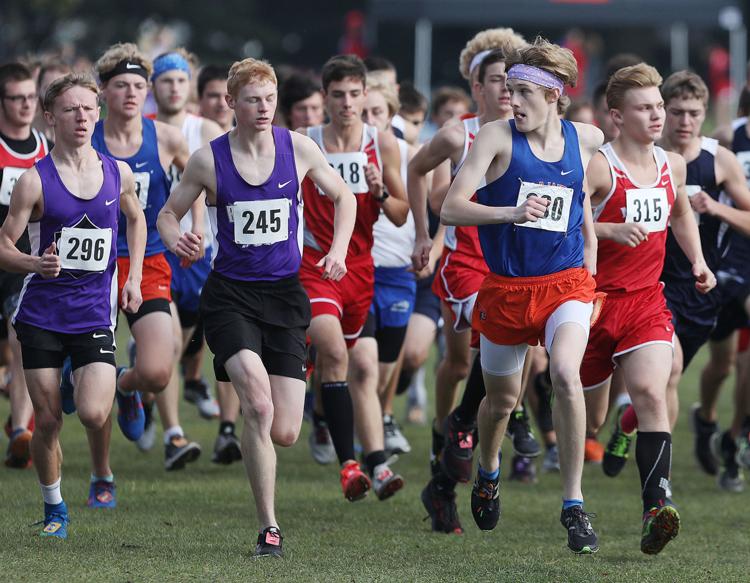 St. Teresa's Jackson Stewart finishes third, qualifies for state
St. Teresa's Jackson Stewart finished third behind Garrett Dixon from Monticello and Negus Bogard from Robinson with a time of 15:31.
It wasn't a perfect race for Stewart. 
"It was on OK race for me. I wanted to get lower in time but the goal was to make it to state so I was able to do that," he said. "(At state), the goal is to get better than what I did last year and thankfully I have been able to do that every year."
St. Teresa cross country coach Todd Vohland was impressed by Stewart's finish. 
"Jackson really closed in on Bogard from Robinson and he had a good race. We are happy in his run," he said. "This is a tough sectional, if you don't push it you might end up not running next weekend."
Stewart finished 12th at last year's 1A state meet with a time of 15:16.
You have free articles remaining.
CLASS 1A GIRLS
Shelbyville's Mitchell takes third, Spain fourth
At last year's Class 1A girls state cross country meet, Ailey Mitchell was Shelbyville's only runner.
But last year's state silver medalist will have some company at next weekend's tournament as teammate Gabrielle Spain finished fourth (18:13), right behind Mitchell's third-place finish (18:03). 
Mitchell's goal wasn't necessarily to get the gold at sectionals. 
"Really I just wanted to get under 18:00 because going for the win isn't really important this week," she said. "But it is next week. I was a little bit holding back but not a ton."
Mitchell, a junior, and Spain, a freshman, tried to stick together. 
"It was kind of the goal to stay as close as I could to her with the front pack. Ailey's a pretty fast runner," Spain said. "I was feeling pretty confident going in today. I enjoyed my first sectionals. "
The arrival of Spain on the Rams' team has given Mitchell a runner who can push her. 
"Gabrielle is really talented and it is great that she and Ailey have each other to train with and they have looked awesome all year," Shelbyville coach Kevin Kramer said. "They have never really had a bad race and I think it helps having them to push each other and I am really happy with where they are at right now.
"I think legitimately both of those girls are top 10 runners and we will see what happens next week."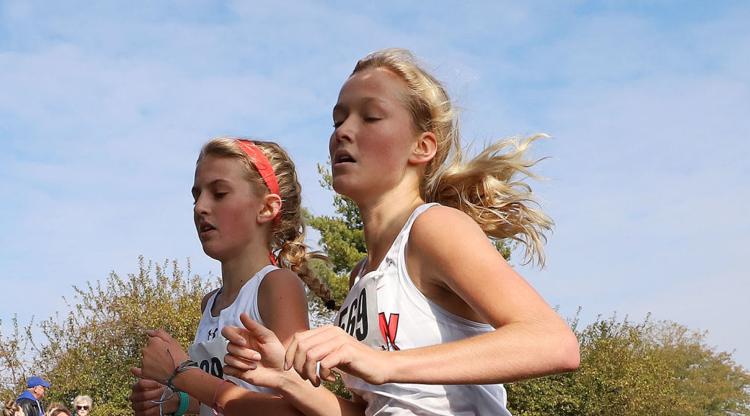 CLASS 2A GIRLS
Mount Zion advances to state 
The Mount Zion girls cross country team had a single strategy Saturday: Run as a pack before letting loose. 
"The strategy was to stick together for the first two miles and in the last mile to give it your all because we didn't know if there would be a tomorrow for our team," Mount Zion sophomore Lucy Griffith said. 
There will be a tomorrow for the Braves as the squad qualified for the state tournament with a fourth-place finish as a team. 
"I was definitely nervous today but I felt ready," Griffith said. "Our goal was to qualify and we achieved that so that just made my day already. Taylor Fox and I were neck-and-neck at the end and I feel like I did great."
Fox and Griffith finished a second apart at 19:25 and 19:26, followed by Emma Mallory at 19:39, Lilly Griffith at 19:50 and Kaelyn Mackling at 20:12. 
This will be the third time the girls team has qualified for the state tournament and the first since 2011.
Other local runners advancing to state
In the Class 1A boys race, Robinson and Toledo Cumberland both advanced as a team. Those advancing individually included Casey-Westfield's Cort Ross (15:33), Arthur-Lovington-Atwood-Hammond's Layton Hall (15:43), Neoga's Reece Johnson (15:53) and Teutopolis' Noah Probst 15:56.
In the Class 1A girls race, Monticello and Teutopolis both advanced as a team. Those advancing individually included Newton's Abby Stone (18:47) and St. Teresa's Veronica Hein (18:58).
In the Class 2A boys race, those advancing individually included Taylorville's Chris Cherry (15:26), Charleston's Austin Ames (15:46) and Olney Richland County's Gavin Kirby (15:50). 
In the Class 2A girls race, Mattoon's Quincy Collings (19:13) and Kylie Haacke (19:33) advanced as individuals. 
Contact Matthew Flaten at (217) 421-6968. Follow him on Twitter: @MattFlaten