DECATUR — When Kevin Hale sat his Eisenhower baseball team down for the final time at the end of last year's 0-26 season, he gave them a message: "We can't keep doing business the way we're doing it."
During the offseason, Hale and the Panthers players went to work changing the way they do business. For the first time, 10 Eisenhower players were on a travel baseball team. And, for the first time in recent memory, a more competitive Eisenhower baseball team was preparing to take the field when it opened the season — the first scheduled game was Thursday against Cerro Gordo.
But concerns over the spread of the COVID-19 have closed schools through March 30, and that includes all spring sports and their practices.
No one is certain on when schools will re-open, or when sporting events can again be held.
"I'm sick to my stomach," Hale said. "When (Eisenhower athletic director Steve Thompson) told me, it was like someone punched me."
Illinois Governor J.B. Pritzker made his announcement to close schools, including all extra-curricular activities, on Friday. Hale had given his players Friday and the weekend off for spring break. Eisenhower had practice on Thursday, at which time Hale had enacted new hand-washing rules, and Eisenhower athletic trainer Paige Willenborg talked to the team about the virus.
"After that I told them I loved them and that I'd see them Monday, and I haven't seen them since," Hale said.
Argenta-Oreana baseball coach Eric Gebben said he watched as the story unfolded on Thursday and Friday, and has preached a wait-and-see approach to his players on the season.
"I told them the same thing the IHSA told us — that there were no practices," Gebben said. "Especially the juniors and seniors, they are down in the dumps a little bit. They handled it well, overall."
Argenta senior pitcher Braxton Ulrey said he was in "disbelief" at the decision.
"This is crazy how everything can be cancelled so fast — how it can come so quickly and ruin the season," Ulrey said.
Eisenhower senior catcher/outfielder Logan Wilber said he's taken the news hard.
"I was upset," Wilber said. "We worked hard in the offseason, and this is my senior year. I'm upset about it."
In its statement about COVID-19, the IHSA said it's too early to know when athletes are able to return to the field. Gebben said he's cautiously optimistic, but Hale said he has the feeling the two-week hiatus could be extended.
The IHSA also stated in its release that it's monitoring updates from state educators and health professionals on deciding whether or not to hold state series events. Girls soccer regionals are scheduled to begin May 8, girls track sectionals May 13, baseball and softball regionals May 18, and boys tennis sectionals May 23.
---
---
According to the IHSA: "If the March 30 deadline appears to be on-schedule in the coming days and weeks, we will communicate an appropriate plan on spring sports to our member schools. It is important to remember this is an unprecedented situation and will remain fluid. It is possible, for example, that schools may reopen at some point, but that other gatherings (like sports) may remain limited."
Gebben said as long as things can be started by mid-May, baseball and softball could at least play their postseasons.
"I think these kids and coaches throughout the state would say, 'Who cares? Seed us somewhere and whatever happens, happens,'" Gebben said. "We can play out the playoffs and go from there."
Tri-City/Sangamon Valley softball coach Brad Sturdy said it may take longer.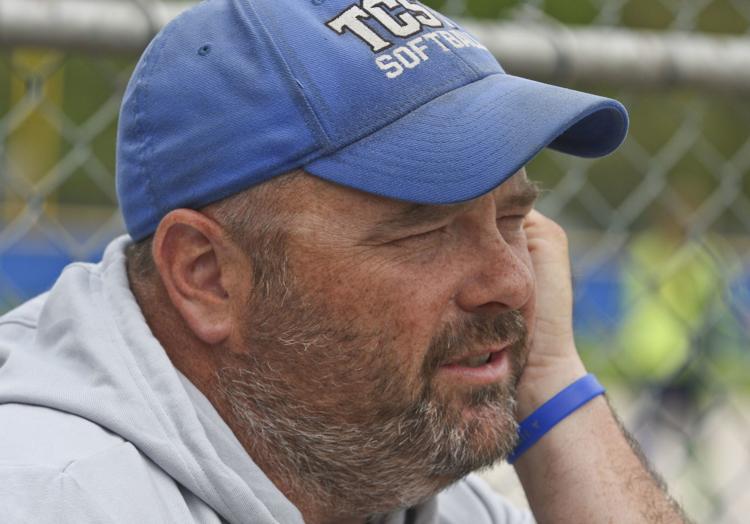 "We could probably practice for a week and then play for two weeks and then have a postseason," Sturdy said. "It would let you play your conference games and then the postseason.
"I think that is probably where we are at with the CDC recommending (avoiding crowds for) eight weeks."
Though teams can't hold official practices run by coaches, players are allowed by IHSA rules to assemble practices on their own — as long as the school or coach have nothing to do with it.
"I basically can't orchestrate anything and I can't give them anything," Gebben said. "I have no idea if they will organize anything on their own.
"But I've got a handful of kids that play on travel teams and I reminded them very firmly that if you practice with the travel teams then you will be ineligible if the suspensions are lifted at the end of March."
Sturdy said: "I think some of the kids are organizing things on their own. I just don't know. They are aware they can't go with their travel team."
Ulrey said his the Bombers players have talked about getting a practice going.
"I know we want to stay in good shape and be ready for our first game," Ulrey said. "We would just hit and throw and do what we can do."
TCSV junior catcher Emma Farley said she's still practicing on her own, and the team is also continuing to work.
"I was upset when Coach Sturdy told us, but I still have hopes we are going to get to play and I'm still putting the work in," Farley said. "I'm still in my basement working and hitting into my net, and still throwing outside.
"Yesterday a couple of girls got together and they went and hit. I wasn't able to go, but there were five of six girls that went to hit some balls around and get some swings in.
"If the pitchers take a day off and don't pitch for awhile, when they return the are sore, so I will try to get with Daleny (Chumbley), our main pitcher, and throw with her a little bit. We will try to organize something to get together and pitch."
Eisenhower baseball has a small senior class, with just three members — Wilber, Devin Wilder and Colin Brown. This would be Wilder's third season starting and Wilber's second. Hale said Wilder and Wilber have been big parts of changing the culture in Eisenhower baseball, and he's worried they won't get to reap the rewards.
"They're great kids who have been really committed to trying to improve the program," Hale said. "We were looking forward to this being a much-improved program competing at a higher level. These guys had bought in that you have to work hard, and not just in the three-month season."
Ten Eisenhower players played travel baseball, which Hale said brought them closer together and improved their skills. They also began voluntary hitting at Christmas break.
"I told them these were the things we had to do if we're going to walk into Chatham Glenwood and even make them sweat a little," Hale said. "They were out there in 105-degree heat, trying to get better, in the weight room, in sports enhancement … .
"Now they want to go out and show it, but this virus is taking that away. I'm scared to death these guys are going to lose their senior year. It's no one's fault. There's no one I can go yell at or fight to get back their senior years.
"But, if they lose their senior days … I'll be honest, I always saw senior day and all the preparations for it as a chore. Never again. I will treat it with all the sincerity and love I can, because every senior deserves to have a senior day and be able to look their parents in the eyes and tell them they love them."
Wilber said he's still holding out hope the Panthers can play.
"I do not want the season to get called off — that would be upsetting," Wilber said. "The whole team worked really hard. We were ready for this year. Everyone had gotten better — hitting and defense. It would be sad for us not to be able to show people how hard we've worked and what we can do."
Wilber said he already misses the game.
"I miss throwing, catching, hitting … the adrenaline it gives you," Wilber said. "And I miss hanging out with my friends, and making memories."
Farley, an Illinois Coaches Association All-State Third Team selection last year, said she's been looking forward to softball season since the school year started.
"I'm a junior so I still have next year but it is still pretty devastating with having all this taken away from us. It is my favorite thing to do to play softball and that is what I have been looking forward to all year.
"At this point we would be blessed with any kind of season at all. We just want to get out and play."
This was a much-anticipated season for Tri-City/Sangamon Valley softball. The Tornadoes have won 98 straight games in the MSM Conference and return five starters from last year's 27-3 team, including pitchers Chumbley and Kaitlynn Spain.
"I think we had a good chance to win a regional and sectional, and see what happens after that," Sturdy said. "Maybe we will still get that opportunity."
Argenta has 12 seniors, and though the Bombers' pitching is inexperienced — just 4 2/3 innings back from last season — the potential was there for a big year.
"My heart goes out to those guys and their families that were really looking forward to watching them play," Gebben said.
Ulrey said he's holding out hope.
"I don't want to get my hopes up too much because odds are that we wont get to play because the CDC is recommending eight weeks of nothing," Ulrey said. "But I would take one game if I could get it."
---
More coverage of the Coronavirus
Contact Justin Conn at (217) 421-7909. Follow him on Twitter: @jconnHR
Concerned about COVID-19?
Sign up now to get the most recent coronavirus headlines and other important local and national news sent to your email inbox daily.