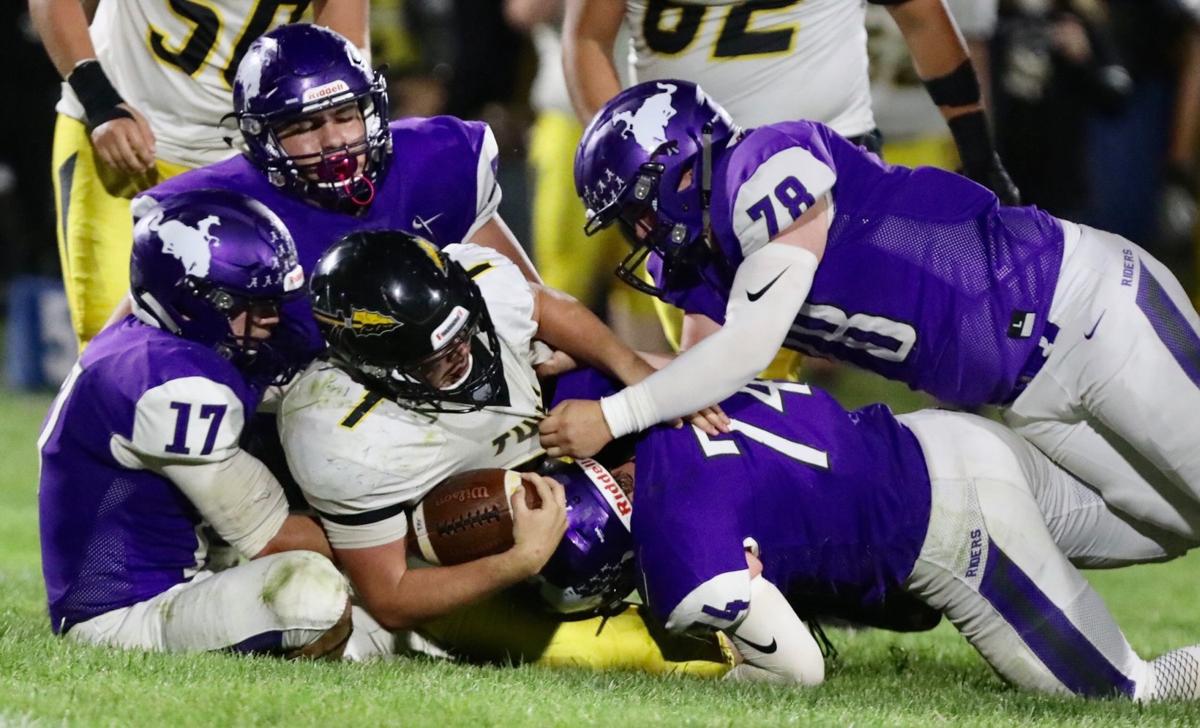 ARCOLA — The non-conference football game one between two state-ranked teams, Arcola and Tuscola, and two of the top-winning programs in the state, gave the fans a classic "Cola War" game.
Arcola fought back to within three after training by 17 early in the fourth and also overcame a 10-0 deficit in the first half. The Purple Riders final play of the game, a pass from their own 34, fell incomplete and Tuscola came away with a 45-42 triumph Friday at Thomas-Bradford Field.
"I am unbelievably proud of the effort on both sides and both sides should be," said Tuscola coach Andy Romine. "We had to settled or a field goal early in the game and you are disappointed in sending your field goal unit out, but it turns out to be the difference in the game. I think this game says both teams are filled with winners."
The first half saw the lead change four different times. Tuscola led 24-21 at the half. It looked like Tuscola, the No. 3 team in Class 1A, had the game in hand after a one-yard run by Ashton Jones on the first play of the fourth quarter. Arcola led 21-17 after a 10-yard pass from Beau Jones to Diego Perez with 6:39. left in the first half. Tuscola reeled off 21 unanswered points to take a 38-21 lead with just 11:55 left in the game. The Purple Riders, the No. 8 team in Class 1A, didn't quit, scoring 14 unanswered points to climb to within three, including a 71-yard -punt return by Diego Perez with 8:57 remaining.
"That was a heck of a game played," said Arcola coach Nick Lindsey. "We had to make some adjustments offensively and I thought we had some kids really step up and make plays. Our run game really wasn't very good tonight. We found ways to score in other ways and that is what good teams do. Give Tuscola credit. They made a lot of plays and that is a heck of a team. I don't want to be satisfied with a loss and I don't ever want our kids to be satisfied with a loss, but I am not disappointed in our efforts. I am not disappointed in our kids at all. We battled."
The game-winning points were scored four plays later when Jalen Quinn caught a 15-yard pass and cut back toward the middle completing a 62-yard touchdown. Junior Aiden Beachy added the extra point for a 45-35 lead with still 7:15 remaining.
Tuscola found open spot in the middle for big gains as Logan Tabeling was 14-of-22 for 200 yards in the first half, including the final touchdown of the first half on a 3-yard pass to Grant Hardwick with just 1:12 left in the half. Tabeling finished 22-of-41 for 374 yards, two touchdowns and one interception.
You have free articles remaining.
Arcola used big plays to score in the first half as Beau Jones was 4-of-8 for 172 yards and three touchdowns in the opening half. Jones finished 10-of-25 for 302 yards, four touchdowns, and a pick.
Tuscola held Arcola to 44 yards rushing in the opening half and the Purple Riders finished with 21 carries for 106 yards. and one touchdown, a 14-yarder by Jones, who tied with Austin Hopkins for the rushing leaders with 39 yards.
Tuscola leads the series 56-44-6 and had won 13 straight. It was the first time since Sept 15, 2005, the two Douglas County teams played at Arcola and just the third time on Thomas-Bradfield Field, which was dedicated in October of 2002.
Three keys of the game
1) Down 10-0, Arcola needed a score and that is what happened when quarterback Beau Jones hit Ivan Franco, who broke a tackle and raced in to complete a 72-yard pass play with 3:19 left in the opening quarter.
2) Arcola's David Garcia recovered a fumble on the Tuscola 48 in the second quarter. The Warriors got the ball right back on an interception by Jalen Quinn. This led to 10-play, 83-yard scoring drive to give Tuscola the lead at the half.
3) It was the highest-scoring "Cola War" game sine the Purple Riders' 62-26 win in 1997. The game featured 676 yards of passing. Tuscola started three drives in Arcola territory and scored 10 points, while Arcola only stated one drive in Warrior territory. Arcola had the bigger plays, scoring four times on 70 yards or more.
Up next: Sept. 13, Arcola (1-1) opens play in the inaugural Lincoln Prairie Conference at Villa Grove against Villa Grove/Heritage. Tuscola (2-0) begins play in the Central Illinois Conference with a home game against Central A&M.
Contact Mike Monahan at (217) 238-6854. Follow him on Twitter: @monahanmikejgtc