DECATUR — Kevin Hale stood near the door at Muffley Elementary School just a few ticks before 7:30 a.m. on Friday with Eisenhower football players and cheerleaders lining the sidewalk behind him and the band playing to his side.
Muffley Principal Carrie Hogue approached Hale with two young students who wanted to meet a football player. Hale bellowed down the sidewalk for sophomore quarterback Brylan Phillips to come up and meet the two students. The three chatted for a few seconds, a meeting cut short by the younger children's nerves, before Phillips handed out a pack of fruit snacks to each.
"Dream big," a sticker on the top of each pack of fruit snacks read.
Phillips retreated down the sidewalk and took his place at the front of the line. His day was only beginning.
As students got off the bus to start their Friday morning, they walked through a tunnel of Panther football players and cheerleaders, each handing out a high-five, fruit snacks and a motivational message.
"Have a great day," was a common message, as was, "We believe in you."
"It sets a great tone for our day and has the kids excited and looking up to some role models," Hogue said. "... I think also having them see what's to come, what's down the road. It gives them something to aim for."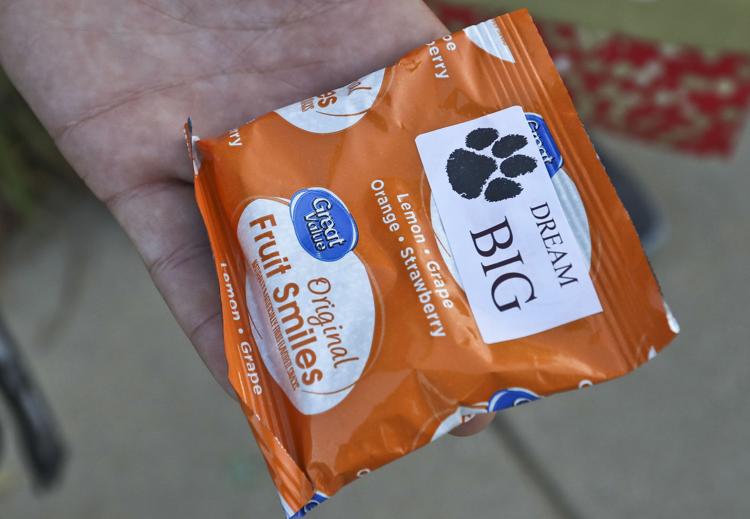 Hale has made it a point to put his players in the community, from meeting elementary school students in the morning to going to fire stations to give back. The community outreach doesn't end, even with an 0-3 start to the season with state-ranked Chatham Glenwood in town on Friday night.
"I understand the scoreboard defines winning," Hale said. "I'm not so naive as to think society doesn't dictate that. We gave up 78 points last week, but I don't think that defines a winner. I think it's important that these kids understand that they've got to become a hurricane of change, for good. They're either going to lead, follow, or get out of the way. We're not compromising on that. We're going to give back to the community."
Phillips was the first face many students saw as they got off the bus. His hand was in a perpetual position to give high-fives to any student who wanted one. The value of meeting his teammates in the parking lot across from Muffley at 7 a.m. on a game day wasn't lost on him.
"It's good for us," Phillips said. "We can give back to the kids who might be less fortunate. It puts a smile on their face. As song as they're happy, it makes us happy."
You have free articles remaining.
Standing next to Phillips was sophomore receiver Karon Shelley, who bursts with potential on the football field and is can't-miss off the field with his bubbly personality. No student got by without Shelley or fellow sophomore standout receiver Jorden Jones Thomas sprinting from door to door to hand out food and a message.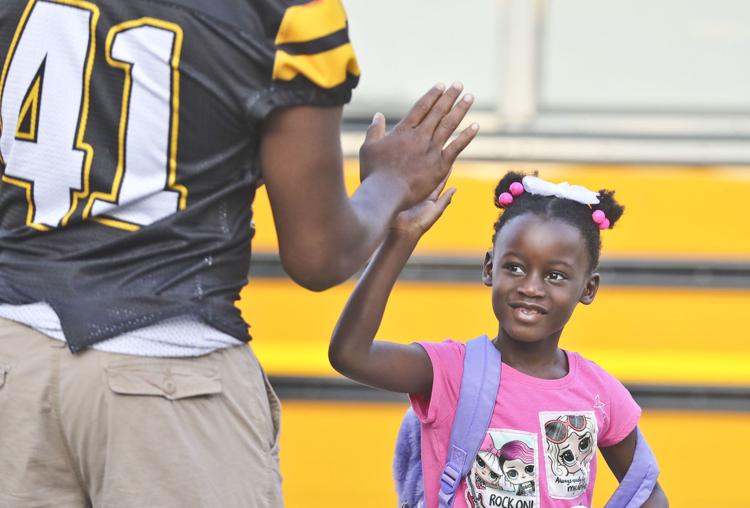 One young student got fruit snacks from Phillips, and as he passed Shelley awaited his chance for a fist-bump from one of the top receivers on the team. Shelley, naturally, obliged. 
The interaction was brief, but meaningful.
"Thinking about how the younger kids look up to them, whether it's being in high school and the freshmen look up to them," Thompson said. "We just want them to get excited about kids behind them and leaving a legacy."
The morning was a full-circle moment for senior linebacker Aiden Seider. When he was an elementary school student at South Shores, he remembers members of the Eisenhower football team coming to his classroom to read to the students. He watched former standout quarterback Caleb Dehority carve out time to give back.
Even with a cast on his right hand, which won't cost him any games, Seider was lined up directly across from Phillips at the front of the line to hand out fruit snacks and offer encouragement.
"We love being in the community," Seider said. "It's a big deal for us to be able to make kids' days and let them know we're here and we're here to support them. We are the big brothers of these schools. We've got to give them support like when they come to our games and give us support."
The wins have been sparse on the football field — one win in the last 21 games — but a young core of players and a commitment to the program all but assures brighter days in the future.
But there's still value in the present.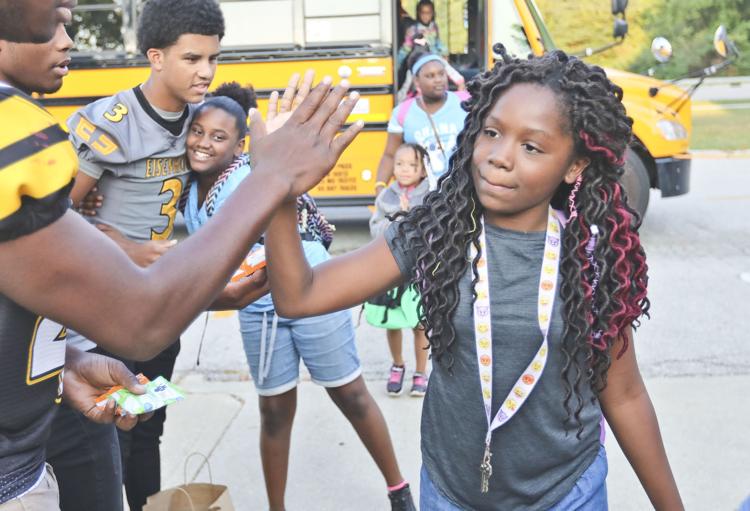 "I think you have to build a good foundation if the house is going to be any good," Hale said. "I think past coaches have tried it, and they've taken different approaches than we have. Coach Thompson and I believe that if we do good works, if we do things that make the community proud of us, we'll get winners.
"We'll build winners, we'll build fine doctors, fine lawyers, fine pastor, fine janitors, fine car mechanics. We'll build people who will make this community better. In the grand scheme, that's far better than any football score."
---
Remember this? 21 photos of Decatur high school activities through the years
HISTORY CORNER: A LOOK BACK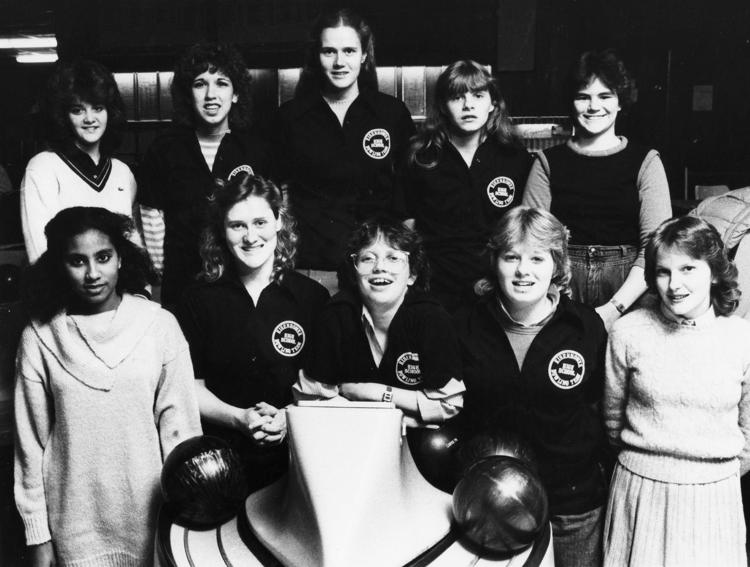 HISTORY CORNER: A LOOK BACK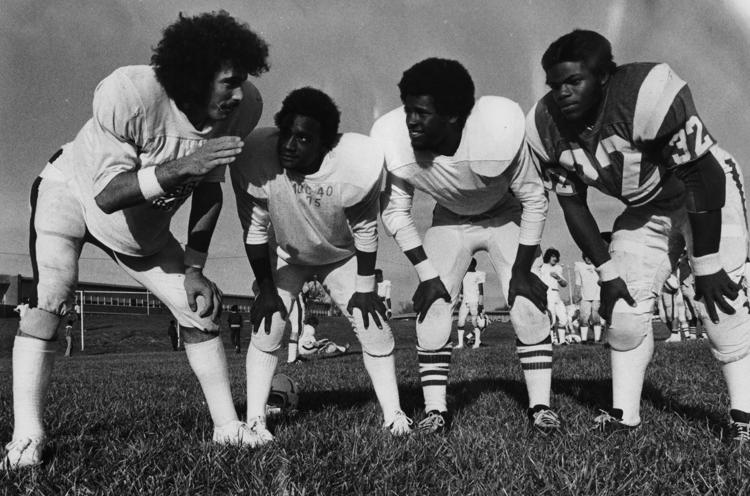 HISTORY CORNER: A LOOK BACK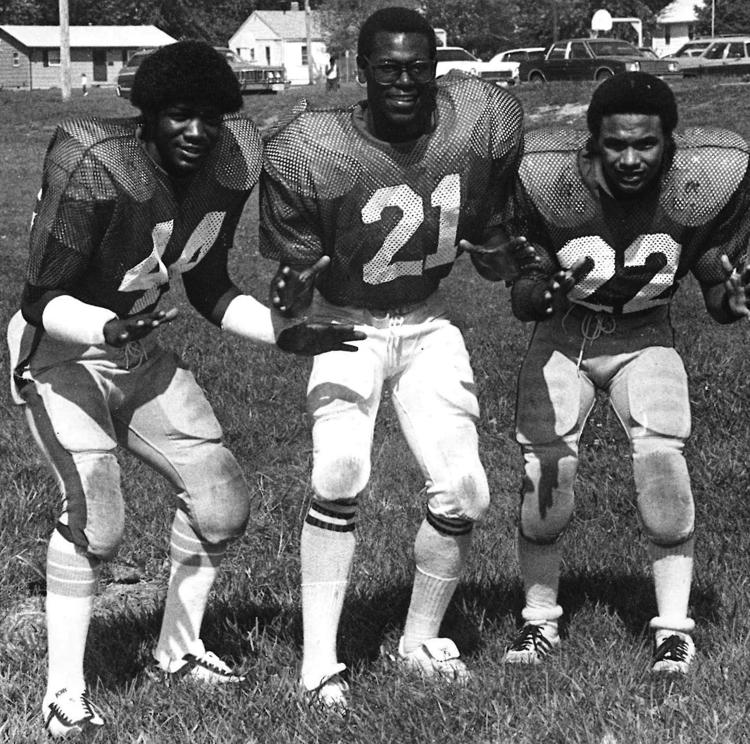 HISTORY CORNER: A LOOK BACK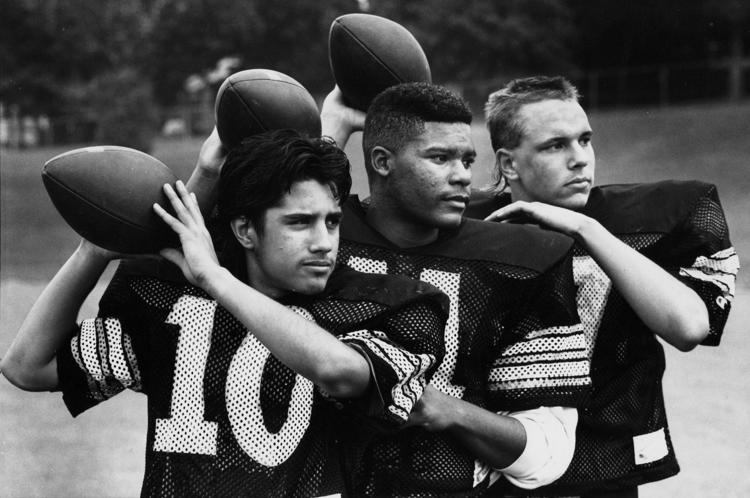 HISTORY CORNER: A LOOK BACK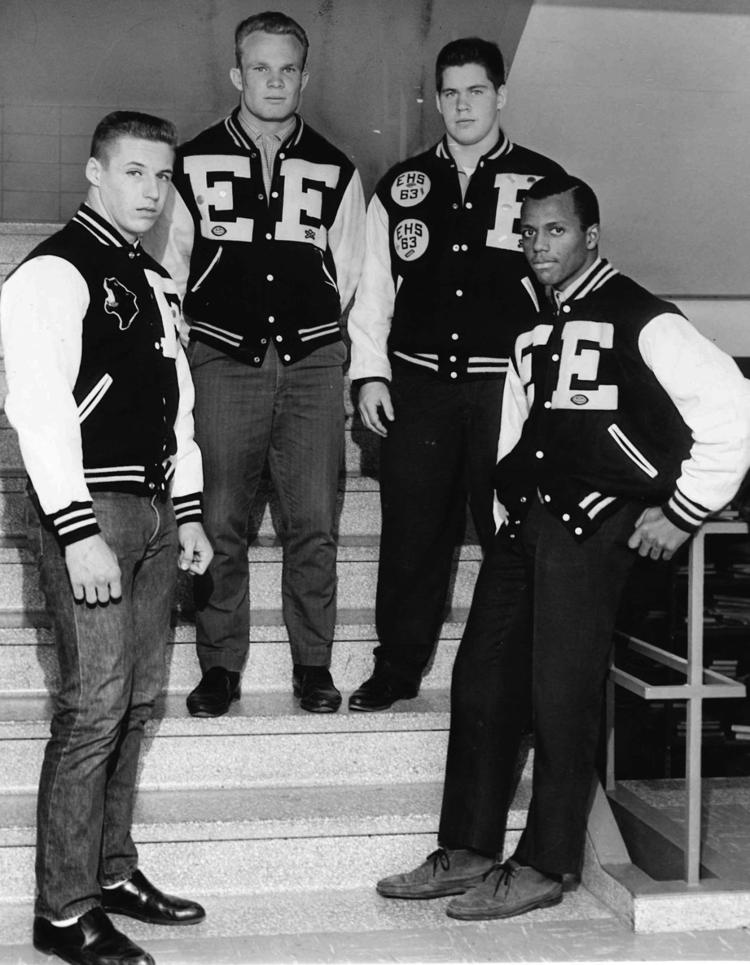 HISTORY CORNER: A LOOK BACK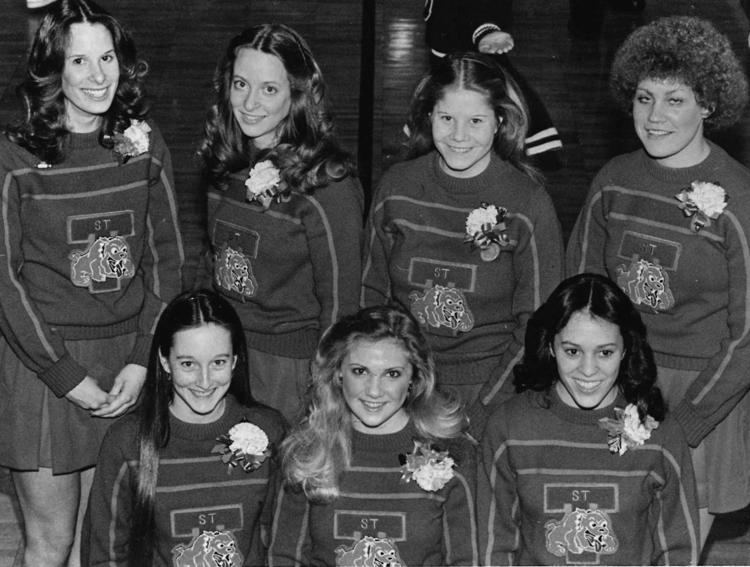 HISTORY CORNER: A LOOK BACK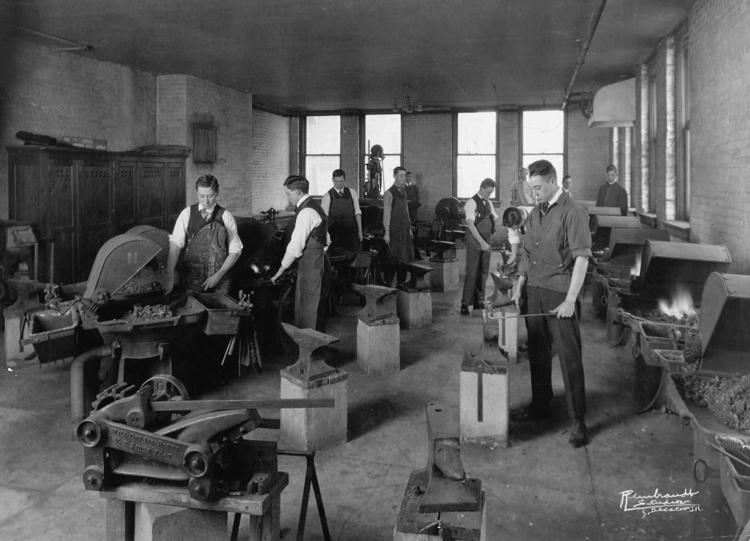 HISTORY CORNER: A LOOK BACK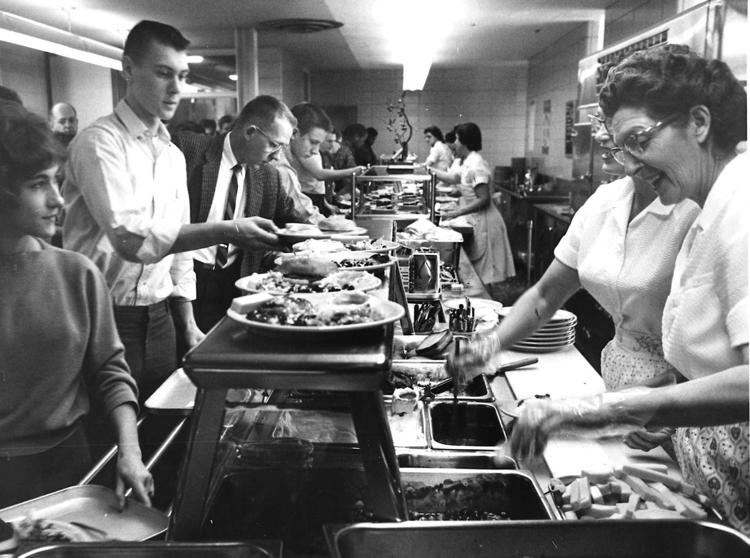 HISTORY CORNER: A LOOK BACK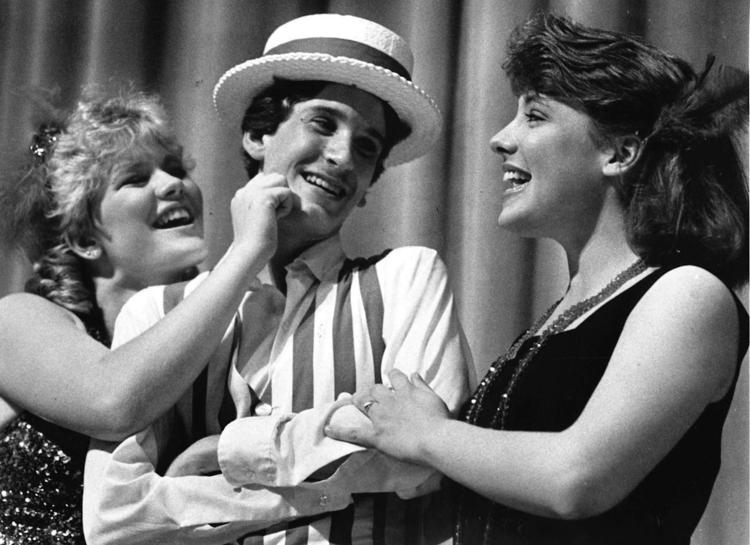 HISTORY CORNER: A LOOK BACK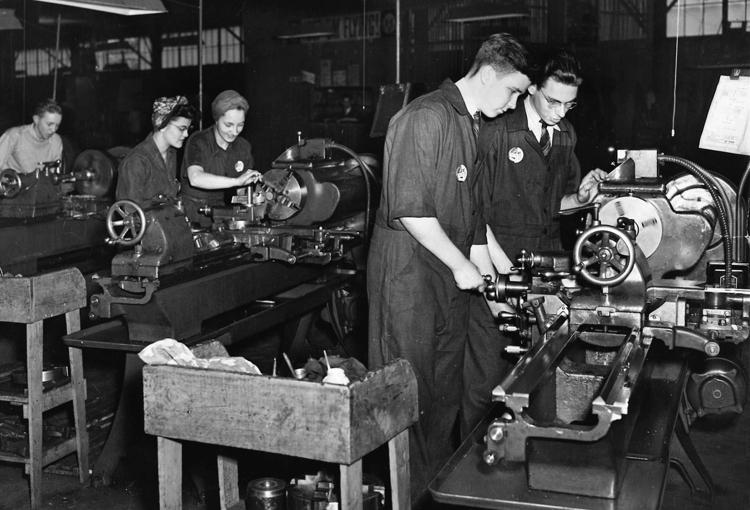 HISTORY CORNER: A LOOK BACK
HISTORY CORNER: A LOOK BACK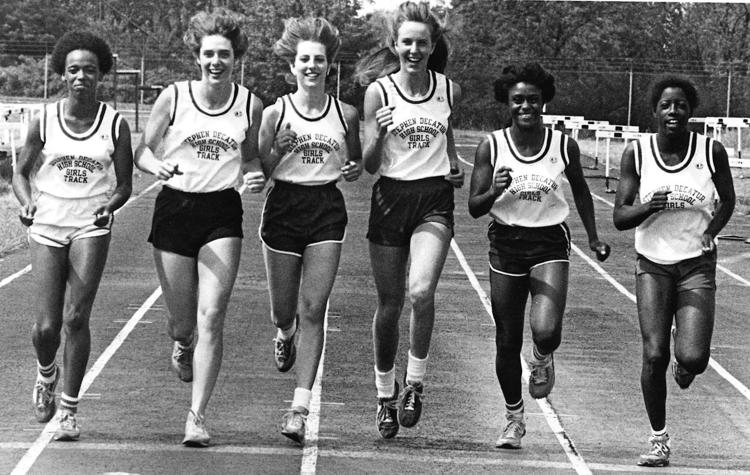 HISTORY CORNER: A LOOK BACK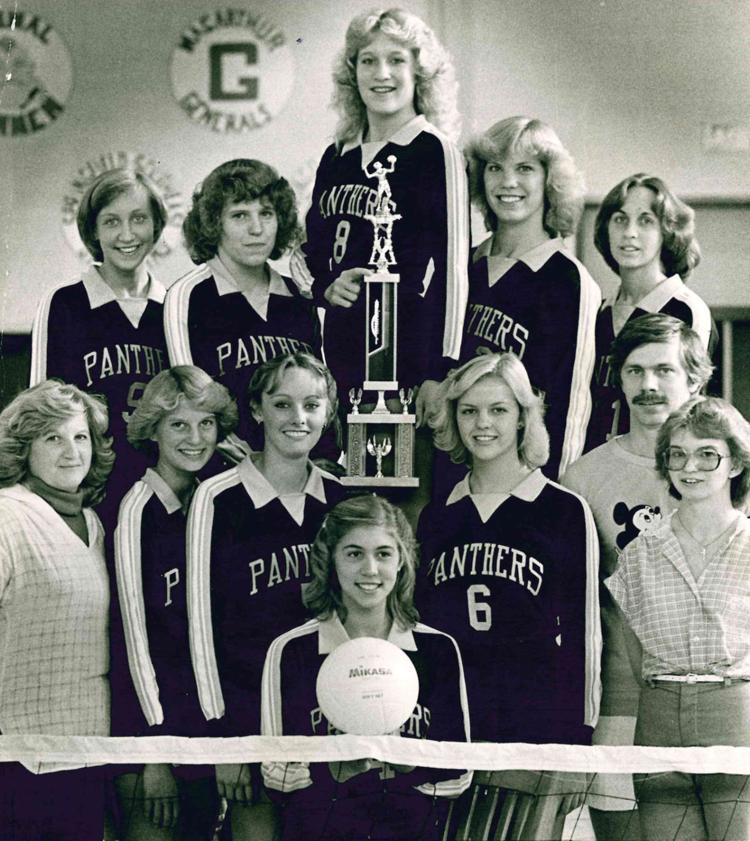 HISTORY CORNER: A LOOK BACK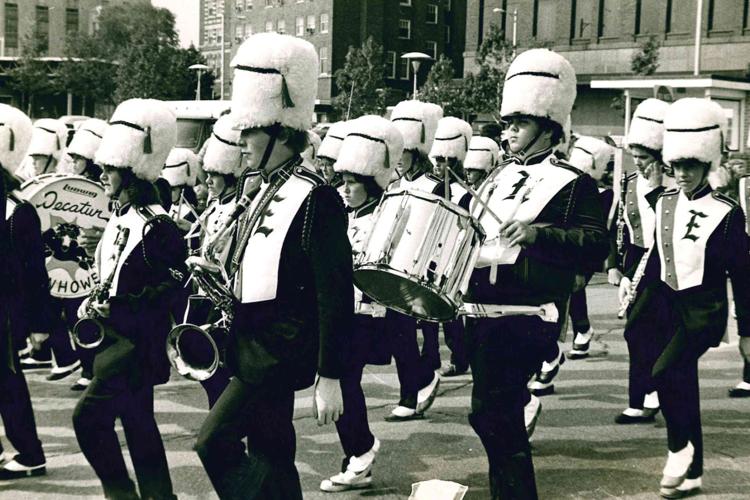 HISTORY CORNER: A LOOK BACK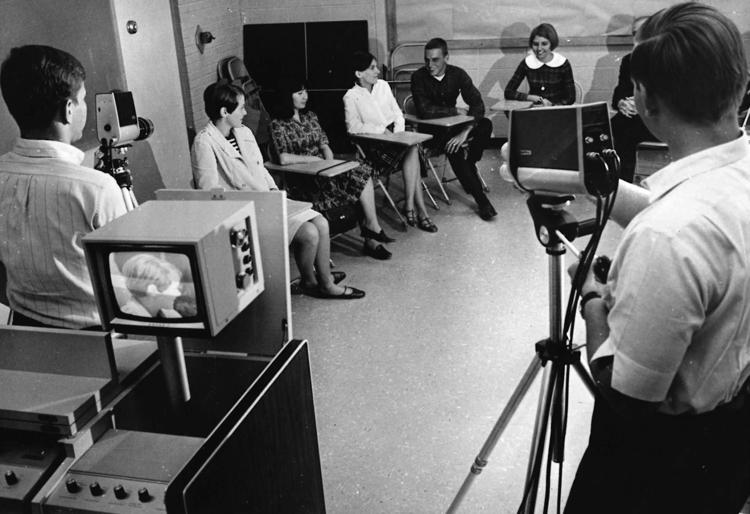 HISTORY CORNER: A LOOK BACK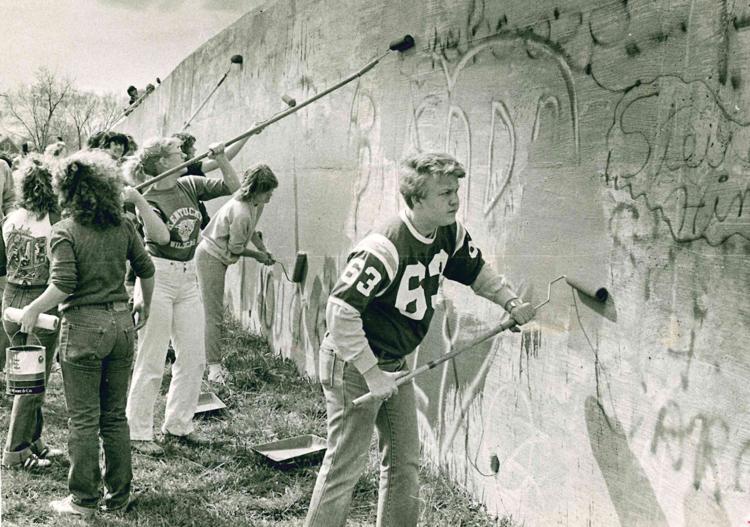 HISTORY CORNER: A LOOK BACK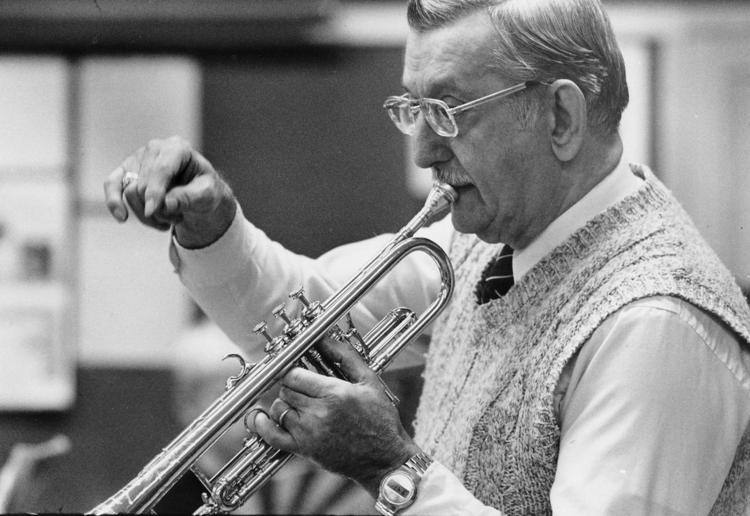 HISTORY CORNER: A LOOK BACK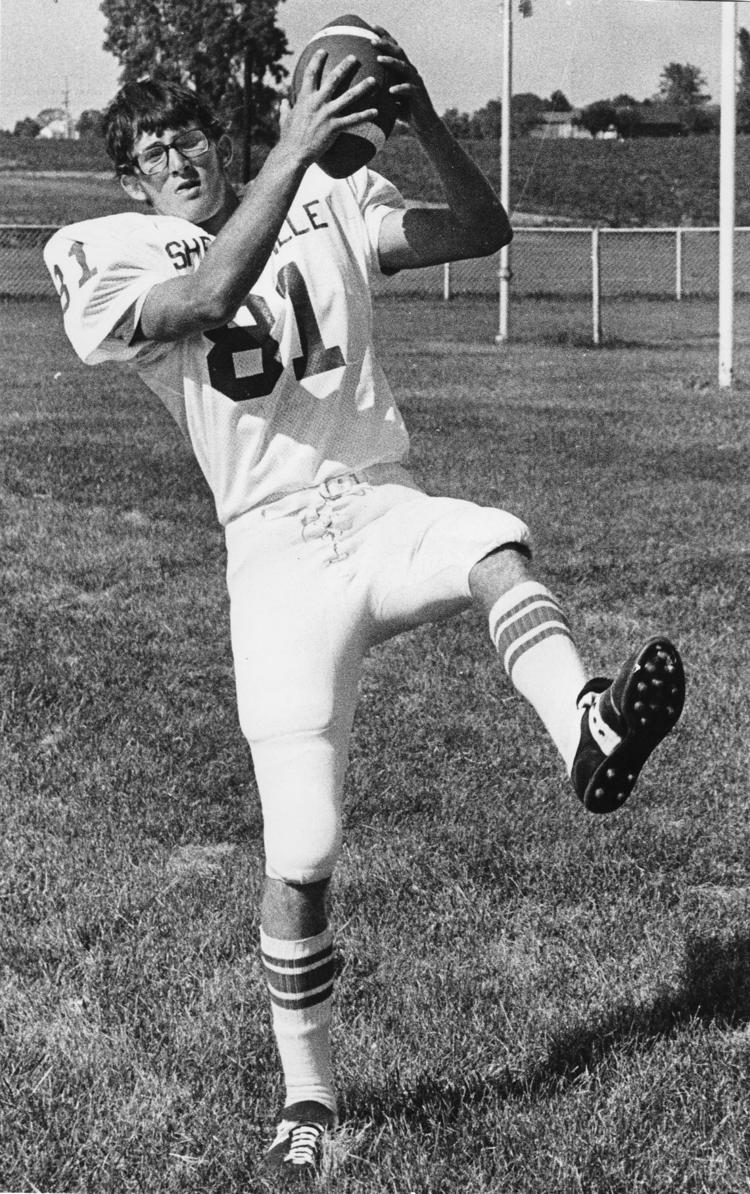 HISTORY CORNER: A LOOK BACK
HISTORY CORNER: A LOOK BACK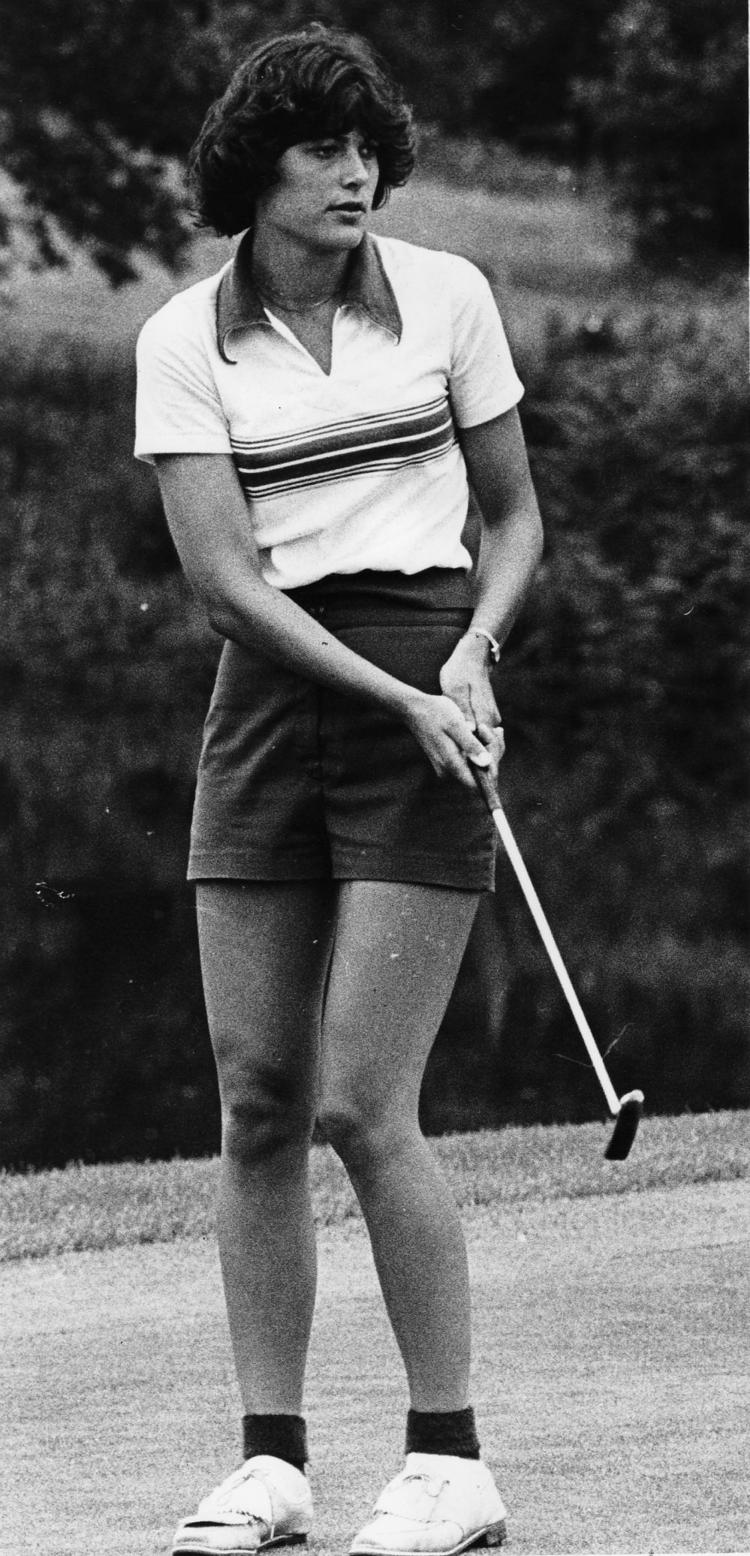 HISTORY CORNER: A LOOK BACK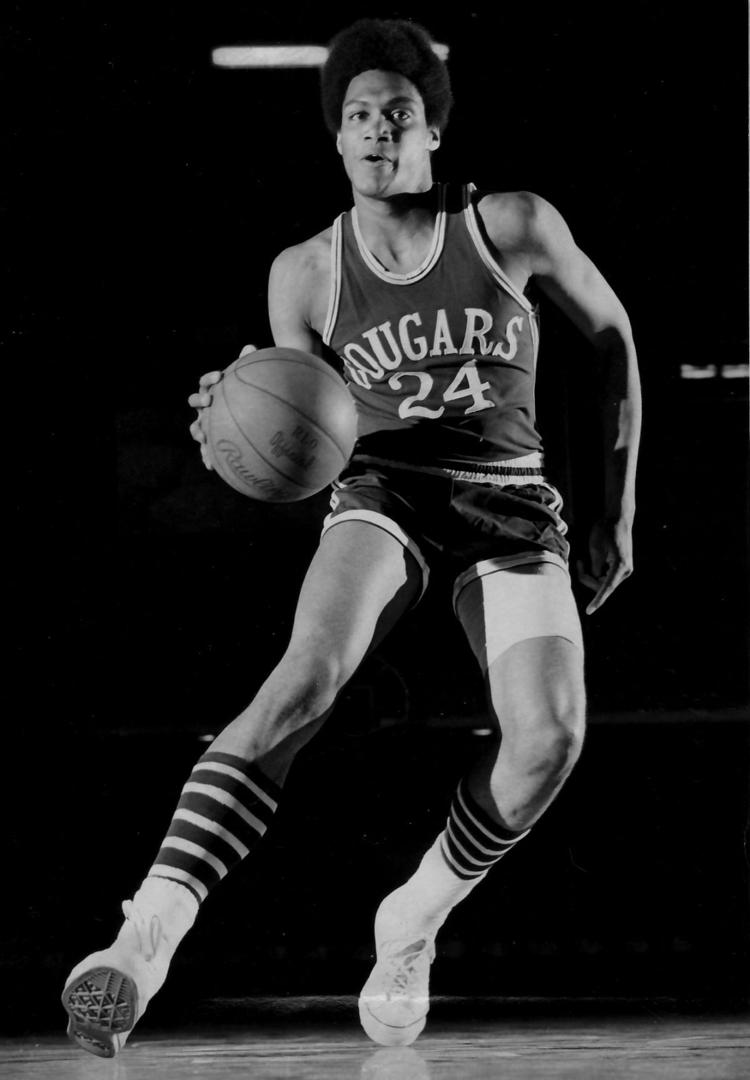 Contact Joey Wagner at (217) 421-6970. Follow him on Twitter: @mrwagner25