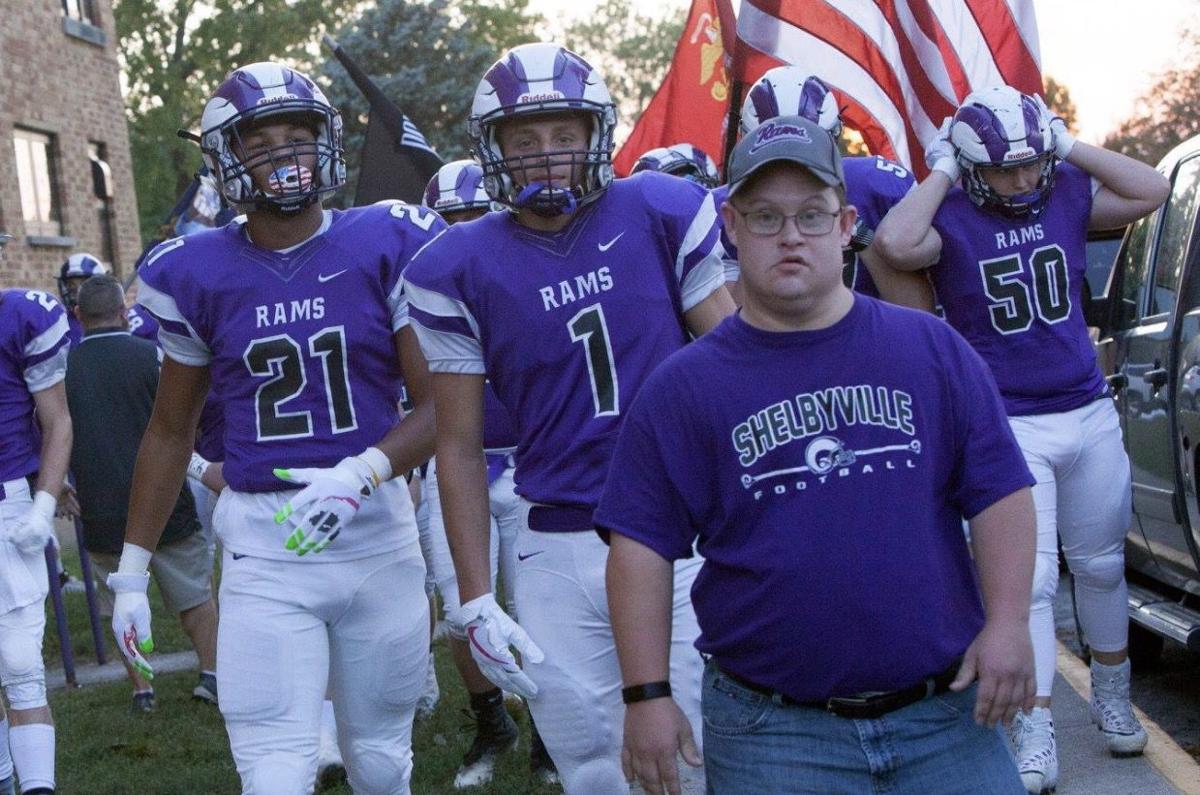 SHELBYVILLE — Sometime during the early stages of every home football game, Shelbyville public address announcer Gary Crowder roars over the loud speaker: "It's time to announce our ball boy, Brandon Brown! Get out there Brandon."
Brown, a 36-year old ball boy for the Rams who has Down syndrome, steps forward and holds a football up towards the sky to raucous applause.
"I'm happy," Brown said of hearing his name. "Gary is my friend. I love him, and I love my team. I want the Rams to win and go to state."
It's a tradition close to the heart of Brown's mother, Bonnie Gerkin.
"It's just amazing," Gerkin said. "I get teary-eyed every time I think about it because," she paused to fight back tears, "Shelbyville is so good to him, and the fans are so good to him.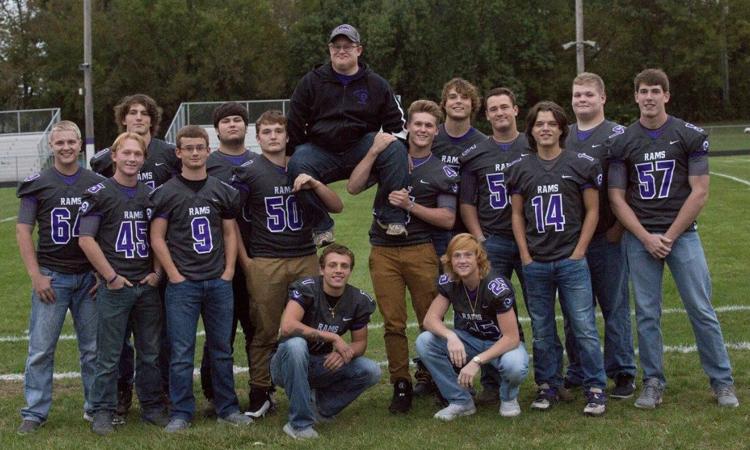 "(Crowder has) been the announcer for years. The crowd cheers," she paused again, "I'm just so happy for Brandon because that is his passion."
Even locked in the heat of a game, somehow every player and coach finds a way to hear Brown's introduction.
"He holds the football up to the crowd every game, and that's special for him," Shelbyville coach Bill Duckett said. "It's something that everybody in the community has grown to know is going to happen at some point in the game."
At times, when a player needs to calm down before a big play, Brown is the one who offers the words.
But Brown's voice resonated the most.
"He came up to me and gave me a big pat on the back and said, 'Good luck out there,' " Pullen said through a smile that turned to laughter. "That's really what I remember.
"It made me giggle inside, made me relax and made me think it's more than a game.
"It really did mean something."
Shelbyville didn't pull off that win, but Brown's message to Pullen was representative of his place with the program.
When Duckett took over prior to last season, he never had to call Brown to make sure he was still up for the job.
It was assumed that when the Rams marched on the field for the first home game, Brown would be leading the team out of the inflatable helmet and onto the field.
You have free articles remaining.
"I'm proud of the Rams," Brown said. "They are good guys."
In fact, Duckett can't remember a home game Brown has missed, and if there was one, Brown went out of the way to make accommodations for his absence.
Down syndrome causes Brown to struggle to keep some things in his life straight, but football has never been one of them.
"With Down syndrome, obviously organization comes hard," Gerkin said. "But when it comes to football, from the time he was playing until even now, he knows when practice is and he carries the game schedule in his billfold. He can whip the schedule out and tell you when the games are."
Duckett's relationship with Brown goes back long before he called one play as the head coach.
The two grew up two house apart — on South 3rd Street in Shelbyville.
Brown moved to a different neighborhood in junior high, but Duckett remembers the two playing some variation of backyard football as children.
They both played for the Rams for four years and graduated together in 2001.
Gerkin never thought that the same Billy Duckett who played backyard football with her son would be the coach of the Rams, but small towns have a way of coming full circle.
Brown had seen five coaches come through Shelbyville before his childhood friend took over, but Brown's position has never changed.
Though Gerkin gets worried that new coaches could put an end to Brown's tenure, it hasn't happened.
Mark Ramsey, who coached the Rams from 2013-2015, doesn't remember exactly how he was introduced to the idea of Brown being the ball boy, but he was all in.
"I thought it was fantastic," Ramsey said. "Him being able to help out the program and for him to come back and be a part of it, I thought it was great."
Nearly two decades after he graduated, Brown has a connection with seemingly everyone. His sister babysat Pullen and his mother babysat senior Cade Watson.
When the seniors got together to take senior pictures, there was no question: Brown would be a part of them.
"We're like, yeah, we've got to hold him up," senior Eli Houska said. "So two of our guys held him up and he was smiling so much. It was great."
But when they do play at home, taking the field with Brown at the helm is as important as any part of the game.
"Shelbyville has been the greatest community for him to grow up in — from the school system to the teachers, the coaches, the football players," Gerkin said.
"I'm just amazed at how year after year the teams just embrace him and are so good to him."