FIRST TEAM
OFFENSE
QB – Ian Benner, So., Maroa-Forsyth — Benner improved each week and by the end of the season he was an offensive assassin. He could run or make pinpoint passes through the tightest of coverage. He finished with 2,239 passing yards, 25 touchdowns, 953 rushing yards and 9 TDs while leading the Trojans back to the state championship game. No stage was too big for the sophomore.
RB – Deondre Gregory, Sr., Maroa-Forsyth — Gregory was among the most explosive players in the H&R coverage area. He averaged 9.8 yards per carry and broke out in the middle of the season, finishing with 1,757 rushing yards, 30 rushing touchdowns and three receiving scores. He was a home run waiting to happen in the backfield.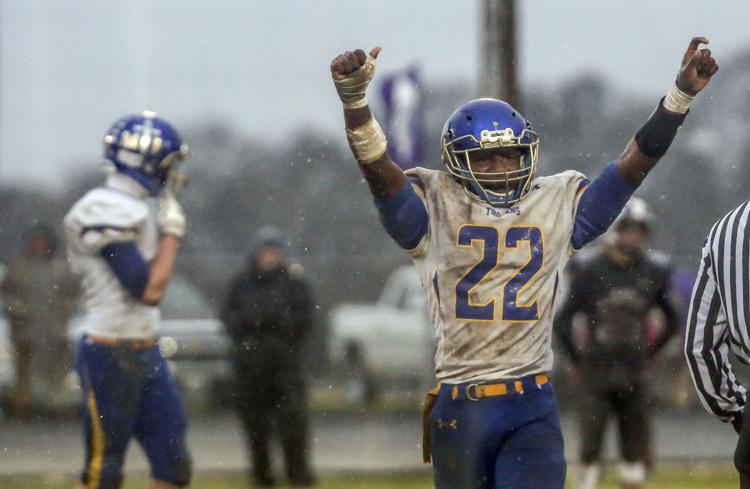 RB - Jacardia Wright, Jr., St. Teresa — In every big game, Wright came up big. He broke tackles to the outside, moved the pile up the middle, returned kicks and played defense for the Bulldogs. His instincts where impossible to ignore. Wright compiled another 2,000 yard season, rushing for 2,124 yards and racking up 35 touchdowns. For good measure, he threw the game-winning touchdown in Week 1.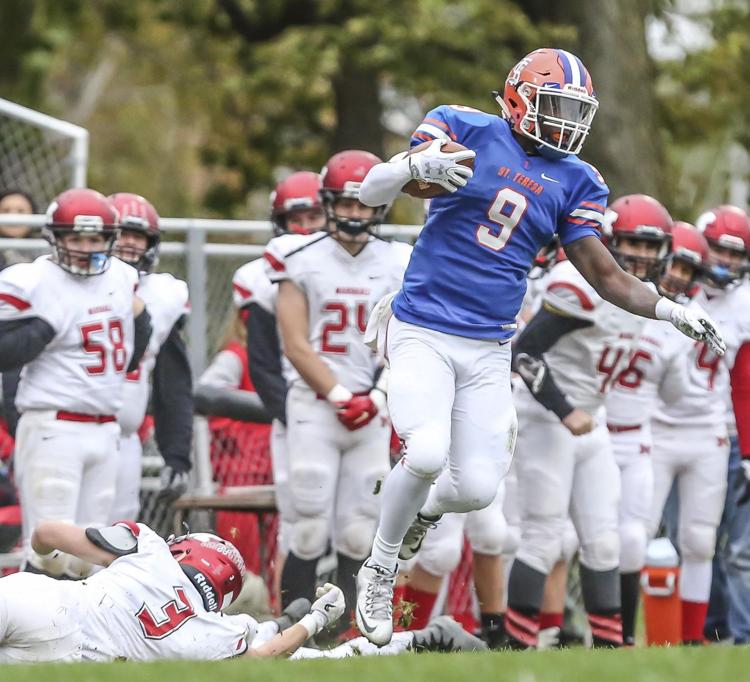 RB - Diondre Lewis, Sr.,  Warrensburg-Latham — He was half of the most electric backfield in the area. Lewis was a big play waiting to happen on offense for the Cardinals, who advanced to the playoffs for a second consecutive season. Diondre rushed for 1,011 yards and 15 TDs while adding four receiving scores.
WR - Ray Neal Jr., Sr.,  MacArthur — Neal developed into one of Amir Brummett's favorite targets this season. The stout receiver/defensive back had 43 receptions, 840 yards and nine touchdowns. He was an all-conference selection in the Central State 8 and was key in some of the Generals' biggest wins.
WR - Tyler Phillips, Jr., St. Teresa — Phillips was a mixture of a deep receiving threat and elusive target in the short passing game. He made life easier for sophomore Jack Hogan, catching 37 passes for 726 yards and 10 touchdowns.
OL - Beau Branyan, Sr., St. Teresa — Few defensive linemen were able to move past the Division I lineman. He paved the way, again, for another big season from Wright and kept Hogan unscathed at the quarterback position.
OL - Lane Ohlemeyer, Jr., Maroa-Forsyth — One of Maroa's biggest linemen, the 6-1, 275-pound center mauled in the tough Sangamo Conference. He opened holes for Gregory and Benner in the high-powered passing game.
OL - AJ Speasl, Jr., Warrensburg-Latham — Without Speasl, the Lewises would have been hard-pressed to find running room. He anchored an offensive line that allowed the team to rush for 3,000 yards this season.
OL - Brian Hallam, Sr.,  Maroa-Forsyth — Arguably Maroa's best offensive lineman, he was all-state honorable mention in Class 2A. He was another hulking lineman for the Trojans, standing at 6-1, 215 pounds. 
OL - Malik Barbee, Sr., MacArthur — He was a two-way starter for the Generals, helping to protect the elusive Brummett and clearing space for the three-headed rushing monster on the MacArthur offense. He was a special mention selection in the Central State 8 Conference.
ATH - Dionte Lewis, Sr, Warrensburg-Latham — Lewis was a nightmare. He developed as a quarterback and was the most elusive quarterback in the area. No defensive lineman could catch the speedy QB, who rushed for 1,393 yards, threw for 1,228 yards and accounted for 42 touchdowns. He will go down as one of the best players, if not the best, in Warrensburg football history.
DEFENSE
DL - Noah Robinson, Sr., LSA — Robinson was part of the front wave of the stellar LSA defense. He harassed opposing quarterbacks on the way to 72 tackles, seven sacks, 12 tackles for a loss and he even added two blocked kicks to boot. Robinson was a unanimous first-team all LOVC selection
DL - Karl Renfro, Sr., Meridian — Renfro was a big reason for Meridian snapping its losing streak this season. The senior lineman had 106 tackles, seven tackles for a loss and a sack in a conference dominated by standout offensive linemen. 
DL - Garrett Morrison, Sr., Argenta-Oreana — Morrison had the ability to play the run and the pass, recording 70 tackles, 12 TFLs and eight sacks. He was one of the leaders on defense for the Bombers, who advanced to the second round of the playoffs.
DL - Derrick Taylor, Jr., MacArthur — All season long MacArthur's defense proved to be one of the best in the area, and Taylor was a big reason. He recorded 75 tackles and put continuous pressure on opposing QBs. He was special mention in the CS8.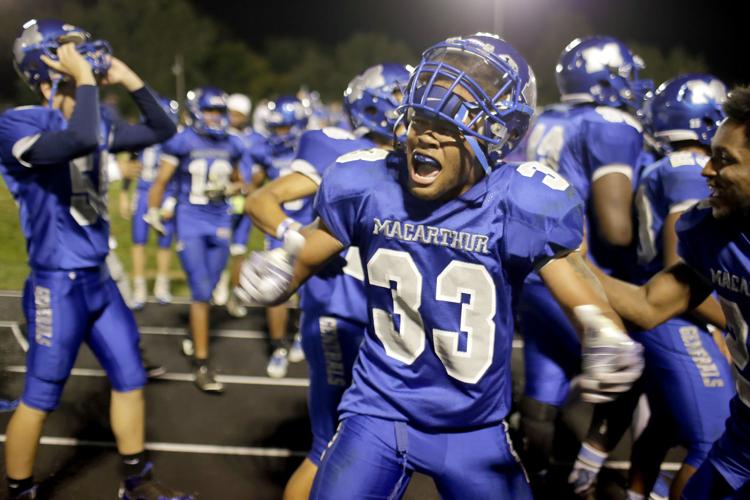 LB - Trevor Webb, Sr.,  Argenta-Oreana — Webb was an all-state selection for the Bombers and was the heart of the defense. Webb recorded 128 tackles on the season.
LB - Will Kent, Jr., Warrensburg-Latham — He may not be the biggest in stature, or have the most eye-popping statistics, but he led the Cardinals' defense from his linebacker spot. He did everything asked of him, recording 69 tackles and three defensive touchdowns.
LB - Tanner Falk, Sr., Maroa-Forstyh — Falk led a state runner-up team with 99 tackles and added two sacks, 17.5 TFLs, recorded an interception and forced four fumbles. 
LB - John Bryles, Sr., St. Teresa — The standout sprinter on the track added an element of speed to the St. Teresa defense. Bryles was first-team all-conference in the CIC with 137 tackles, 12 TFL, an interception and a blocked punt for a touchdown. His speed allowed him to cover the entire field. 
DB - Amir Brummett, Sr., MacArthur — Brummett is one of the most dynamic athletes to ever play at MacArthur. The NIU-bound senior was an intimidating factor for opposing teams thinking about passing on the Generals. 
DB - Hayden Mitchell, Jr.,  Maroa-Forsyth — Mitchell's biggest game came at the right time, recording three interceptions for Maroa against Shelbyville in the Class 2A semifinals. He finished with four interceptions, 12 pass break ups and 58 tackles.
DB - Armon Brummett, Sr., MacArthur — The other part of one of the most feared secondaries in the area, Armon Brummett provided a second 6-3 corner on the Generals' roster. He and his brother locked up the best receivers and were the spark on offense.
K - Tanner Heick, Sr., LSA — Heick was 4-of-5 on field goals, including a long of 43 yards, while also going 32 of 36 on PAT attempts and recording 19 touchbacks, giving his strong defense good field position.
SECOND TEAM
OFFENSE
QB – Josh Williams, So., Argenta-Oreana
QB – Mike Fiala, Sr., LSA
RB – Skyler Peterson, Jr., Argenta-Oreana
RB - Izaiah Johnson, Sr., MacArthur
WR - Kolby Clark, Sr., Mount Zion
WR - Mitchell Leathers, Jr., Warrensburg-Latham
OL - Keishan Thomas, Sr., MacArthur
OL - Jayden Smtih, Sr., St. Teresa
OL - Murt Jatoi, Sr., Maroa-Forsyth
OL - David Chalmers, Jr., Warrensburg-Latham
OL - Mike Milligan, Jr., Mount Zion
ATH - Aaron Inda, Sr., Maroa-Forsyth
DEFENSE
DL - Zach Lewis, Sr., DL, St. Teresa
DL - Tucker Klein, Jr., Maroa-Forsyth
DL - Marcello Gonzalez, Sr.,  Sangamon Valley
DL - Corbyn Bender, Sr.,  Mount Zion
LB - Zamani Walter, Sr., MacArthur
LB - Ricky McKeller, Sr., MacArthur
LB - Chandler Carter., Sr., LSA
DB - Stanley Rodgers, Sr., St. Teresa
DB - Grant Karsten, Jr., LSA
DB - Jeffery Wells, So., MacArthur
DB - Xavier Todd, Sr., LSA
K - Reilly Fitzpatrick, Jr., Maroa-Forsyth
HONORABLE MENTION
Nathan Durbin, Sr., WR, Meridian; Gage Holgarth, Sr., RB, Meridian; Kaiden Damery, Sr., LB, Meridian; Jack Hogan, So., QB, St. Teresa; Charlie Hubbard, Sr., TE, Maroa-Forsyth; Max Davenport, Jr., WR/RB, Maroa-Forsyth; Kam Boline; Sr., RB/WR, Maroa-Forsyth; Drew Inda, Sr., LB; Maroa-Forsyth; Darrionne Brown, Sr., LB, MacArthur; Keishaun Thomas, Sr., OL, MacArthur; Martiece O'Neal, Sr., WR/DB, MacArthur;
Mason Brownlow, Sr., LB, St. Teresa; Makail Stanley, So., RB/LB, Argenta-Oreana; Makhi Stanley, Jr., RB/LB, Argenta-Oreana; Braxton Norman, Sr., WR/DB, Argenta-Oreana; Devin Camfield, Sr., DL, Argenta-Oreana; Cameron Getz, Sr., QB/DB, Meridian; Shalin Bond, Sr., WR, Eisenhower; Joseph McKinley, Sr., WR, Eisenhower; Matt Skeffington, Sr., QB, Eisenhower; Jakob Davis, Sr., LB, Eisenhower; Mason Hemingway, Sr., RB, Sangamon Valley; Connor Stanton, Sr., DL, Sangamon Valley; Braden Summer, Sr., WR/DB, Sangamon Valley;
Jack Franey, Sr., DB/WR, Mount Zion; Dawson Johns, Sr., WR/DB, Mount Zion; Andrew Schollmeier, Sr., LB/RB, Mount Zion; Sage Davis, So., RB/LB, Mount Zion ;Davis Brumbaugh, Jr., LB, Warrensburg-Latham; Brett Howard, Sr., OL, Warrensburg-Latham;