First team
Offense
QB – Turner Pullen, Sr., Shelbyville — Pullen did everything asked of him and more for the Rams en route to a second consecutive Class 2A semifinal berth. He threw for 3,070 yards, rushed for 1,076 and accumulated 58 touchdowns for the Rams.
QB – Brandon Odam, Jr., Taylorville — Odam was the conductor of Taylorville's spread offense. The junior was electric all season, passing for 2,884 yards, rushing for 813 and totaling 38 touchdowns.
RB – Terrence Hill, Sr., Effingham — No one could stop Terrence Hill. He led Effingham to a 9-2 record before a second-round playoff loss to Highland. Hill ran 302 times for 2,188 yards and 37 TDs.
RB – Trevor Smalls, Jr., Vandalia —  One of the smallest and arguably one of the strongest players on Vandalia's high-octane offense. He set school records with 2,269 rushing yards and 31 touchdowns. Oh, and he added two passing touchdowns as well.
WR – Dalton Hoel, Sr., Tuscola — He was the heart of Tuscola's skill players. When the Warriors needed a big play, the speedy receiver was there sprinting over the middle. Hoel finished with 52 catches for 1,080 yards and 17 touchdowns while adding five rushing TDs for the Class 1A state runner-up Warriors.
WR – Kentrell Beck, So., Shelbyville — Beck was a threat anywhere on offense. He ran sweeps, caught deep passes and made defenders miss or threw them to the ground on short passes. He followed up his MaxPreps Freshman All-American year with 1,142 receiving yards and 15 touchdowns.
WR – Marcus Zimmerman, Sr., Vandalia — Zimmerman was a catalyst for the Vandals' quarterfinal run. The senior did it all with 46 catches for 1,301 yards, 16 touchdowns, two rushing touchdowns and four kick return touchdowns. Coach Jason Clay called him the most explosive offensive player he's ever coached.
OL – Hunter Woodard, Sr., Tuscola — Woodard paved the way for Tuscola's running attack and helped keep Luke Sluder upright for the Warriors on their postseason run. The Oklahoma State signee was unanimous first-team all-conference in the Central Illinois Conference.
OL – Gabe Fulton, Sr., Newton — Arguably the best center to ever walk the halls at Netwon. Fulton was a unanimous first-team all-conference in the Little Illini Conference and was an all-state selection. He was the long snapper and holder for the Eagles.
OL – Grant Mose, So., Shelbyville — Just a sophomore, Mose was a massive body (5-11, 260) on the Shelbyville offensive line, allowing quarterback Turner Pullen and the offense to go to work.
OL – Hugo Garza, So., Arcola — Garza was the best lineman on Arcola, which finished third in the Little Okaw Valley Northwest. Garza, a 6-2, 250-pound sophomore, will be a fixture on the line for the next two years.
OL – Matthew Robinson, Sr., Effingham — Terrence Hill had to run behind someone, and that someone was often Robinson. He was a first team all-conference lineman and helped pave the way for Hill's school-record in career rushing yards.
DEFENSE
DL -  Clayton Peterson, Sr., Shelbyville — Peterson is almost never bigger than his opponent, but at 5-7, 155 pounds, he's substantially quicker than every opponent. He was a menace for a lineman, totaling 115 tackles and 36 for a loss, showing that Shlebyville was more than a prolific offense. 
DL -  Braynden VonLanken, Jr., Tuscola — At first glance, VonLanken looks like teammate Hunter Woodard, and he is disruptive in the same way. VonLanken was part of a vaunted defensive front for Tuscola and tallied 48 tackles while chasing down opposing quarterbacks.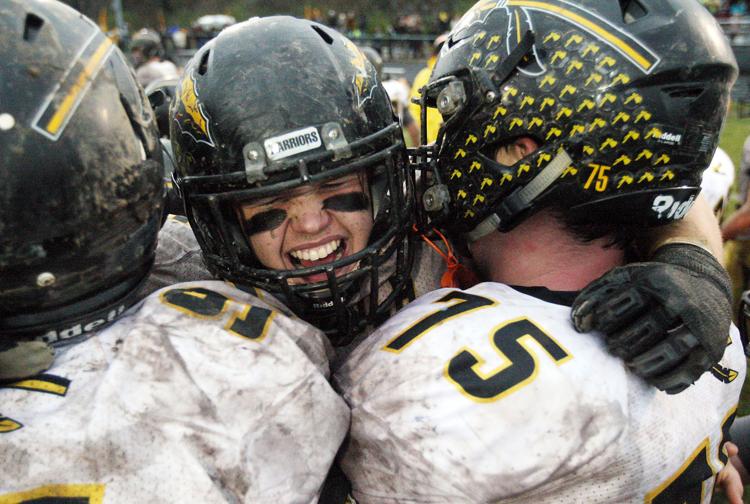 DL - Kevin Miller, Sr., Tuscola — For everything VonLanken was on the end, Kevin Miller was up front. The 5-8, 175-pounder made big plays all year on the defensive line with 74 tackles, 16 for a loss.
DL - Frank Schniederjon, Sr., Effingham — Schniederjon was a force on the defensive front for the resurgent Hearts. He terrorized offensive linemen, recording 40 tackles, 10 tackles for loss, and six sacks while recovering a fumble. He was a unanimous all-conference selection and garnered high praise from area coaches.
LB - Nathan Harman, Sr., Monticello — He holds a preferred walk-on offer from Northern Illinois and was the heart and soul of the Sages' defense. Harman was a Class 3A All-State selection after he recorded 84 tackles, three tackles for a loss, eight sacks and an interception for the Sages, while battling a broken finger during the middle of the season.
LB- Andrew Erickson, Sr., Tuscola — Erickson did it all. He was a bowling-ball running back and an anchor as a linebacker for Tuscola. Everything funneled to the senior, who had 104 tackles and six for loss. He played the most important position in Tuscola's defensive scheme while organizing his teammates.
LB - Ian Harbert, Sr., Pana — Harbert was a machine at inside linebacker for Pana. He was all over opposing running backs with 63 solo tackles and provided the finishing touches with 153 assisted tackles. The first team South Central Conference selection added five TFL's, two sacks, three forced fumbles and three fumble recoveries, one for a touchdown.
LB - Kyle Woods, Sr., Taylorville — For as much attention as the Taylorville offense got, Woods garnered the same amount on defense. The senior linebacker is the school's all-time leading tackler and was an Apollo Conference first-team selection with 164 tackles, four sacks, three forced fumbles and three fumble recoveries.
DB - Mario Cortez, Sr., Arcola — There may have been no hotter streak in the middle of the season than Mario Cortez had. He recorded seven interceptions for the Riders, most of which came at the most opportune of times. When Arcola needed a big play, Cortez was there to all but seal an Arcola win.
DB - Johnny Dawson, Sr., Monticello — Dawson was continuously matched against the best receiver on opposing teams. He recorded 28 tackles and six pass breakups this season for a Monticello defense that allowed an average of 94 pass yards per game and just four passing touchdowns. 
DB - Cody Klein, Jr., Pana — Few quarterbacks were able to pass on Klein. The Pana junior recorded four interceptions, recovered three fumbles — two for touchdowns — caused a fumble and recorded 34 tackles. He was named to the first team in the South Central Conference.
K – Ben Carr, Sr., Newton — Ben Carr was near automatic. He was perfect on PAT attempts this season, and is second in IHSA history with 100 consecutive PATs made.
SECOND TEAM
OFFENSE
QB – Jacob Beeson, Sr., Pana
QB – Brayden Snyder, Jr., Monticello
RB – Riley Black, Central A&M
RB – Peyton Doughty, Sr., Newton
RB – Titus Cannon, Sr., Lincoln
WR – Justin Wright, Taylorville
WR – Tyson MaGee, Cumberland
OL – Garrett Hayden, Sr., Clinton
OL – Noah Zimmerman, Sr., Monticello
OL -  Drew Niebrugee, Sr., Effingam
OL - Brayden Sabol, Sr., Nokomis
OL - Jerit Medler, Jr., Central A&M
DEFENSE
DL - Colton Scott, Cumberland
DL - Kayden Wright, Sr., Taylorville
DL - Noah Spencer, Sr., Effingham
LB - Evan Champley, Taylorville
LB - Marcus Vanausdoll, Sr., Arthur-Lovington-Atwood-Hammond
LB - Gunnar Michels, Sr,. Olney
LB - Jack Clark, Sr., Pana
DB - Connor Bierman, Sr., Newton
DB - Noah Pierce, Sr., Tuscola
DB - Trenton Duncan, Sr., Newton
Honorable Mention
Lucas Otto, Sr. LB, ALAH; Isaac Ashenfelter, Jr., DL, ALAH; Kaleb Byard, Jr., LB, Arcola; Drew Watson, Sr., QB, Nokomis; Ben Marley, Sr., LB, Nokomis; Sutton Dunn, Jr., WR, Olney; Braden Hasty, Sr., LB, Effingham; Logan Smith, Sr., P, Effingham; Noah Spencer, Sr., DL, Effingham; Gabe Hatfill, Jr., QB, Cumberland; Leman Jones, Jr., OL, Sullivan-O0kaw Valley; Cullen Dyer, Jr., DL, Sullivan-Okaw Valley;
Benton Freeseman, Sr., Monticello; Bryson Smith, Sr., DL, Monticello; Dylan Thomas, Sr., WR/DB, Monticello; Caleb Helenthal, Sr., OL, Monticello; Asher Bradd, WR/DB, Jr., Monticello; Garrett McNary, Sr., LB, Vandalia; Ethan Boyles, Sr., OL, Vandalia; Seth Willis, Sr., OL, Newton;
Eli Houska, Sr., LB, Shelbyville; Cade Watson, Sr., WR/DB, Shelbyville; Brett Spears, Sr., WR/DB, Shelbyville; Derek Fisher, Sr., OL, Shelbyville; Dakota Denny, Sr., OL, Tuscola; Cale Sementi, Sr., LB/TE, Tuscola; CJ Picazo, Jr., OL, Tuscola; Luke Sluder, Jr., QB, Tuscola; Torre Palmer, Jr., OL, Central A&M; Jacob Paradee, Sr., WR, Central A&M; Bryson Carson, Sr., RB, Clinton; Tylr Gottfriedt, Sr., DL, Shelbyville; Kaiden Damery, Sr., LB, Meridian; Tate Paradee, Sr., LB, Central A&M; Christian Reynolds, Jr., LB, Clinton; Luke VandeBurgh, Fr., LB, Sullivan-Okaw Valley.