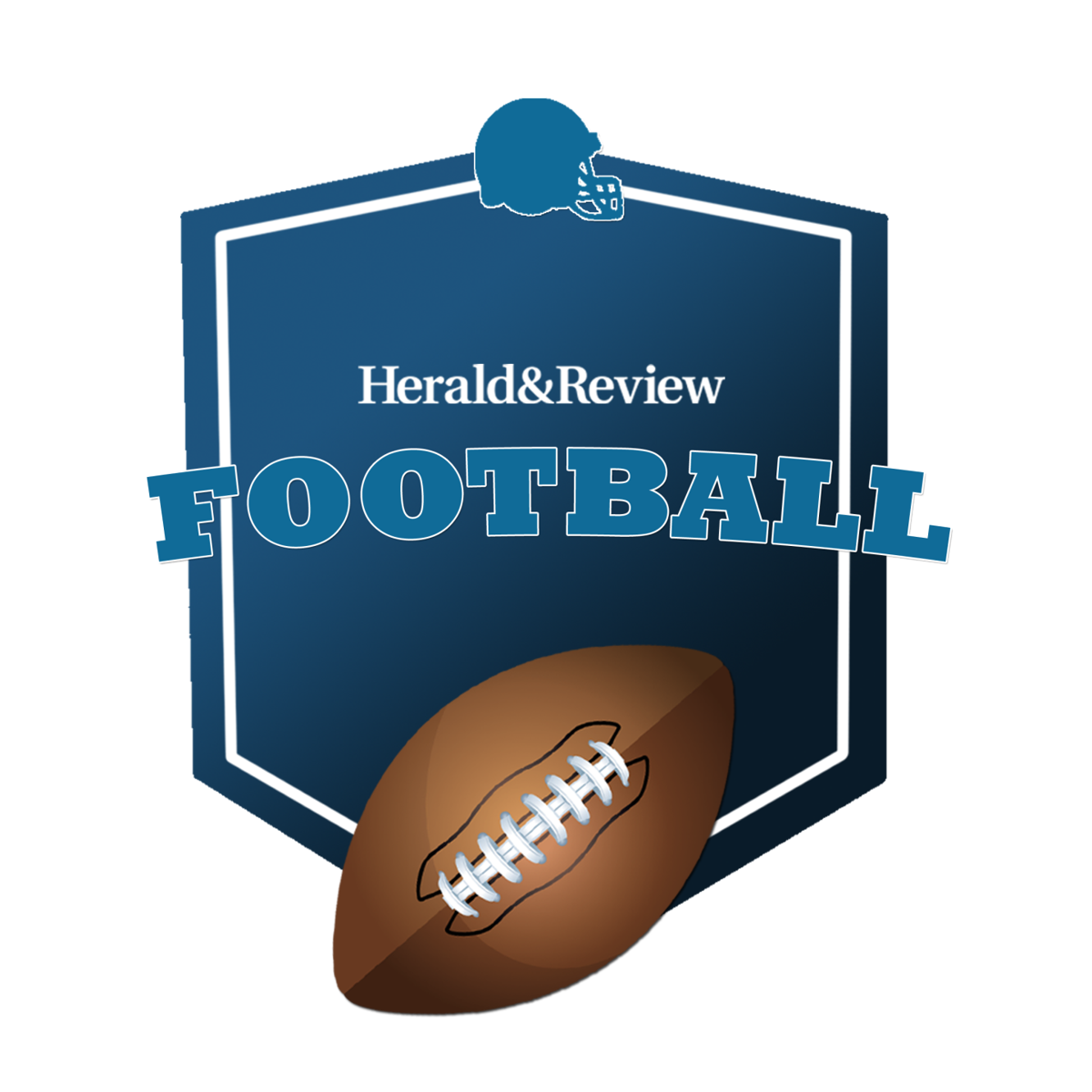 First team
Offense
QB — Brandon Odam, Sr., Taylorville
Odam was unstoppable on offense, leading the Tornadoes to the Class 4A quarterfinals. He threw for 3,578 yards with a 70 percent completion percentage and 40 touchdowns. He also rushed for 813 yards and 13 TDs.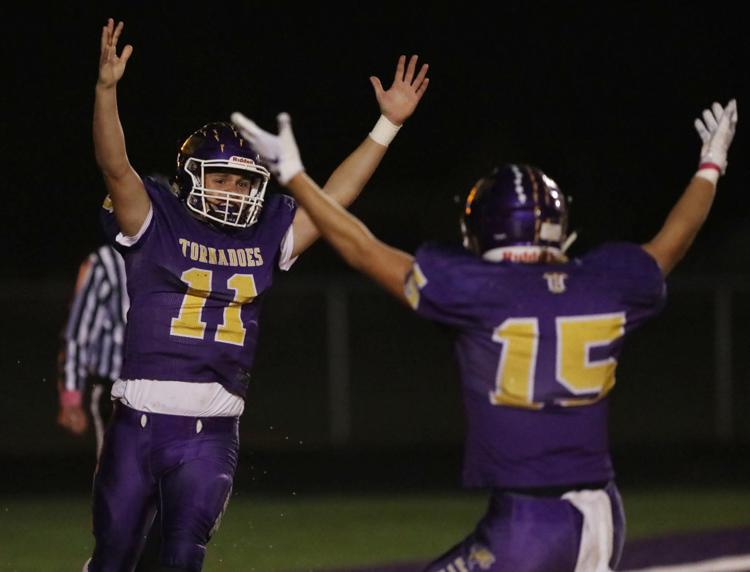 QB — Braden Snyder, Sr., Monticello
Snyder led the Sages to the Class 3A state title with his accuracy and play-making ability. He was 183-of-280 passing for 3,244 yards and 41 touchdowns, and also rushed for 538 yards and 13 touchdowns.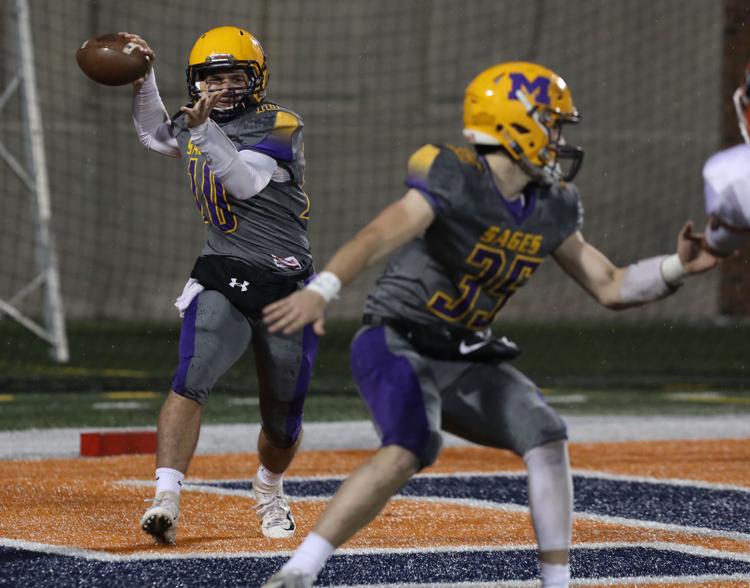 RB — Alek Bundy, Sr., Monticello
Bundy had nine interceptions, including four he returned for touchdowns. He also combined for 1,559 yards and 26 touchdowns rushing and receiving, and had three touchdowns in the Sages' state title win against Byron.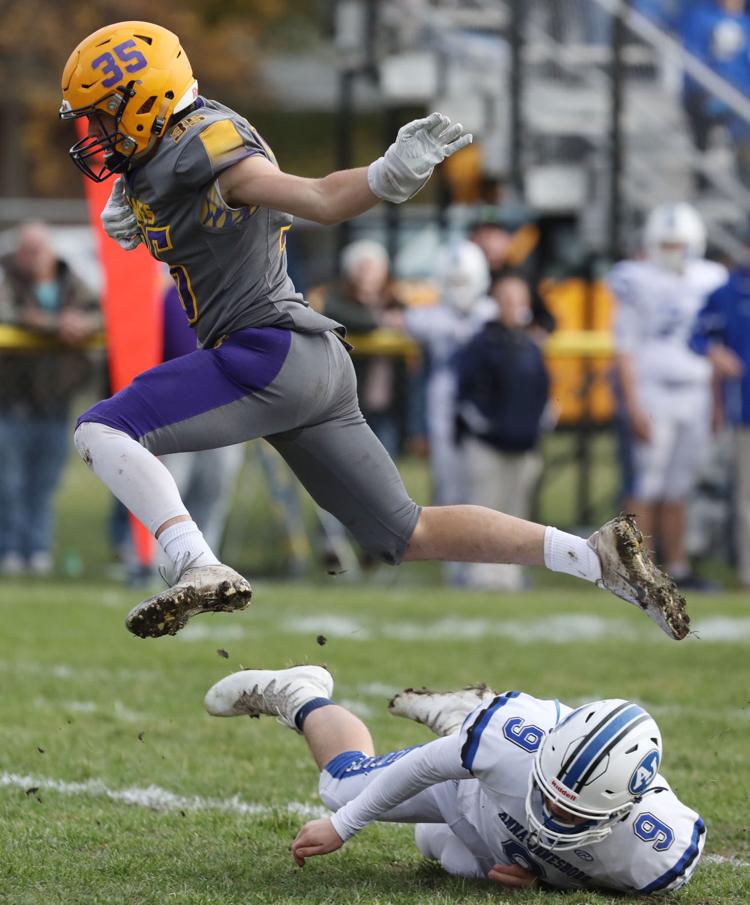 RB — Austin Hopkins, Jr., Arcola
A tough, physical runner, Hopkins made the Purple Riders' offense go. He rushed for 1,435 yards and 18 touchdowns on 213 carries.
WR — Justin Wright, Sr., Taylorville
Wright was the area's top receiver, catching 83 passes for 1,700 yards and 20 touchdowns to help lead the Tornadoes to an undefeated regular season and quarterfinal appearance in Class 4A.
WR — Jacob Paradee, Jr., Central A&M
Paradee had the best season for a receiver in Central A&M history, catching 83 passes for 1,592 yards and 19 touchdowns. Paradee also had 121 tackles and three interceptions.
WR — Asher Bradd, Sr., Monticello
Bradd was a danger to score every time he touched the ball, whether it was offense, defense or special teams. He had 17 touchdowns — 10 receiving, four on punt returns, two on interception returns and one rushing.
OL — CJ Picazo, Sr., Tuscola
Picazo was the best offensive lineman in the Central Illinois Conference, leading an offense that racked up 41.9 points this season. He gave up one sack in the last two seasons and wiped out defenders on pulling plays.
OL — Grant Mose, Jr., Shelbyville
Few linemen got off the ball as fast as Mose, who was a factor on both sides of the ball for the Rams.
OL — Hugo Garza, Jr., Arcola
Garza was the Little Okaw Valley Conference's best lineman on both sides of the ball. The Riders racked up yards running behind him, and teams were forced to run away from him on defense.
OL — Payton Smith, Sr., Mattoon
Smith anchored the line for a Green Wave team that got hot at just the right time and advanced to the Class 5A quarterfinals — its best season since 2007.
OL — Jason Bowlin, Sr., Effingham
Bowlin was the leader for an offensive line that helped lead the Hearts to the quarterfinals for the first time since 1987. Effingham's offense went over 40 points six times.
K — Cade Kresin, Sr., Tuscola
Kresin was a weapon on special teams, making 65-of-68 extra points and 6-of-8 on field goals, including a 38-yarder. He averaged 53 yards per kickoff and had 20 touchbacks.
Defense
DL — Bryce Hance, Sr., Newton
One of the best defensive players in Newton history, the 6-foot-4, 245-pound Hance was a two-time all-state selection and had 55 tackles, five sacks and a strip fumble for the Eagles this season.
DL — Sam Nollman, Sr., Pana
A great leader, Nollman anchored the Panthers' offense and also had 90 tackles and 12 tackles for loss.
DL — Jerit Medler, Sr., Central A&M
Medler dominated on both sides of the ball, giving Jacob Paradee time to get open on offense and providing a physical presence on defense, including 11 tackles for loss, to help lead the Raiders to the quarterfinals.
DL — Riley Austin, Sr., Monticello
Monticello coach Cully Welter said Austin was the smartest player he's coached in 25 years. Most teams avoided even running at Austin, who was also a three-year starter on the offensive line.
DL — Jackson Nichols, Sr., Mattoon
The undersized Nichols, at 185 pounds, played defensive end and center and produced an all-state season, using his quickness to beat opponents 50 to 100 pounds heavier.
LB — Riley Buschon, Sr., Taylorville
Buschon set the tone defensively for the Tornadoes. He put up 117 tackles, including four sacks, and also forced three fumbles to help lead Taylorville to an undefeated regular season.
LB — Joel Blesky, Sr., Shelbyville
Blesky used his ability to read opposing defenses to become one of the Central Illinois Conference's best linebackers.
LB — Christian Reynolds, Sr., Clinton
One of the best blitzing linebackers in the area, Reynolds played with a motor that never quit. Reynolds had 14 tackles for loss and eight sacks.
DB — Kendall Ballman, Sr., Effingham
Ballman rushed for over 1,000 yards and was a workhorse for the Hearts' offense, but it was on defense that he was at his best. He had 70 tackles and two interceptions, and was named to the all-state team.
DB — Will Kettelkamp, Sr., Taylorville
Kettelkamp provided leadership on defense for the Tornadoes and was a hard-hitting safety. He had 117 tackles and three fumble recoveries.
DB — Ben Dixon, Jr., Tuscola
Teams learned quickly not to test Dixon. He drew the opponents' best receiver each week and finished the season with three interceptions. He also returned four kickoffs for touchdowns.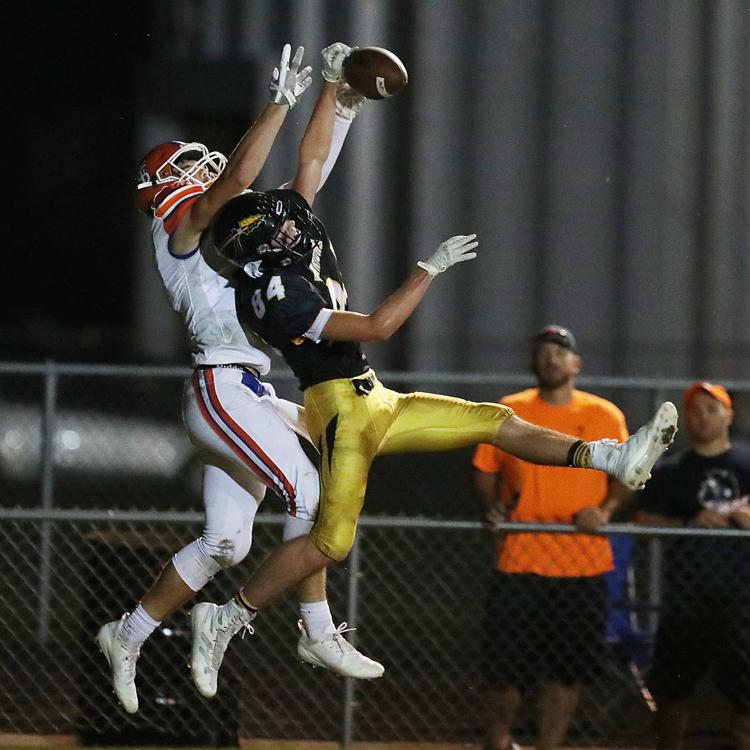 DB — Devin Graham, Jr., Monticello
Graham was outstanding on offense, nearing the 1,000-yard receiving mark and 13 touchdowns. But he was also a ball-hawk on defense, picking off six passes.
P — Connor Hutchins, Jr., Central A&M
Hutchins, also a standout receiver for the Raiders, consistently flipped the field for A&M all season. He also had 10 tackles for loss on defense.
Second team
Offense
QB — Landon Wolfe, Sr., Effingham
Wolfe set every Effingham passing record. This was his best year, with 2,172 yards passing and 26 TDs.
QB — Luke Sluder, Sr., Tuscola
Rushed for 734 yards and 20 touchdowns, and passed for 1,779 yards and 16 touchdowns with only three interceptions.
RB — Trevor Smalls, Sr., Vandalia
Smalls capped an outstanding career with another huge season, leading the Vandals to seven wins and a playoff appearance.
RB — Matthew Cantu, Jr., Tuscola
Cantu provided an explosive presence for the Warriors' offense in the running game.
WR — Yemi Obugsdan, Sr., Taylorville
Obugsdan was another big-play weapon for Odam, catching 55 passes for 1,191 yards and 15 touchdowns.
WR — Tristin Duncan, So., Effingham
Duncan emerged as a weapon, catching 33 passes for 833 yards and 11 TDs.
You have free articles remaining.
WR — Brandon Douglas, Jr., Tuscola
Had 48 catches for 906 yards and 10 touchdowns, averaging nearly 19 yards per catch.
OL — Dayton Mitchell, Sr., Cumberland
Mitchell was the Pirates' team captain and popped open holes for an offense that was tough to stop.
OL — Cade Morgan, Sr., Tuscola
Morgan was part of an impressive Warriors' line that was unstoppable at the goal line.
OL — Teddy Frichtl, Sr., Newton
Frichtl was a dominating force for four years on both sides of the ball for the Eagles.
OL — Hunter Morgan, Sr., Taylorville
Big and physical, the 250-pound Morgan helped give Odam time to chew up opposing defenses.
OL — Anthony Enlow, Jr., Vandalia
Enlow used his wrestling chops to dominate on the offensive line for the Vandals.
K — Luke Rudolph, Sr., Monticello
Rudolph made 82-of-85 extra points and also kicked three field goals.
Defense
DL — Ethan Dietrich, Sr., Olney
Dietrich faced the other team's best interior linemen and double teams, and still had eight tackles for loss.
DL — Kaleb Kihne, Sr., Effingham
Kihne weighs just 180 pounds, but he wrecked opponents' backfields all season.
DL — Jeske Maples, Jr., Central A&M
Maples had six tackles for loss to help boost a solid Raiders defensive line.
LB — Gage Franklin, Sr., Effingham
Franklin was part of a tough Hearts defense, notching 64 tackles, including two tackles for loss, and three sacks.
LB — Mason Mizeur, Sr., Pana
Mizeur racked up 121 tackles, including seven for loss, and two sacks. Also rushed for 520 yards and eight TDs.
LB — Henry Dawson, Sr., Monticello
Dawson led the Sages in tackles with 121, including eight tackles for loss.
LB — Michael Badgett, Sr, Tuscola
Badgett led a deep, physical and fast Warriors linebacking group.
LB — Zach Wolke, Sr., Cumberland
Put up 108 tackles, including seven tackles for loss, and forced two fumbles.
DB — Kolton Spaugh, Jr., Clinton
Spaugh was a lockdown corner who played with a chip on his shoulder. He allowed one catch of more than 20 yards all season.
DB — Cord Fenton, Jr, Central A&M
Fenton had three interceptions and two fumble recoveries to lead A&M's defensive backfield.
DB — Jack Pilson, Sr., Mattoon
Pilson led the Mattoon offense at quarterback but was also part of a solid Green Wave secondary.
DB — Camden Woodward, Jr., Taylorville
Woodward got the most out of his small frame, tallying more than 100 tackles.
P — Joao Cocenza, Jr, Clinton
The Maroons' transfer with a big leg helped Clinton keep good field position.
Third team
Offense
QB — Connor Heaton, Jr., Central A&M
QB — Matthew Wells, Vandalia
RB — Wyatt Brant, So., Cumberland
RB — Gus McCoy, Sr, Central A&M
WR — Sutton Dunn, Sr., Olney
WR — Cody Klein, Sr., Pana
WR — Brock Smith, Mattoon
OL — Brett Reeves, Jr, Clinton
OL — Kyle Breckenridge, Taylorville
OL — Gunner Runyon, Mattoon
OL — Matthew Hites, Effingham
OL — Ricky Newby, Charleston
K — Michael Garza, Arcola
Defense
DL — Brayden VonLanken, Sr., Tuscola
DL — Matt Kerr, Jr., Monticello
DL — Erick Roman, Vandalia
DL — Josh Dyer, Jr, Tuscola
LB — Levi Seitzinger, Jr., Olney
LB — Jack Spence, Sr., Monticello
LB — Cole Reedy, Sr., Monticello
LB — Lane Perry, Sr., Pana
LB — Dawson Phillips, Sr., Newton
DB — Clayton Welch, Jr., Clinton
DB — Cam Knierim, Mattoon
DB — Logan Brown, Effingham
Honorable mention
Braden Adams (OL), Olney; Jack Armstrong (Sr., QB), Pana; Isaac Ashenfelter (OL), Arthur-Lovington-Atwood-Hammond; Brandon Atten (Sr., DL), Clinton; Abe Baker (RB), Mattoon; Zane Belford (DB), Oblong; Connor Bierman (Sr., DB), Newton; Peyton Blanton (OL), Olney; Alex Bogdanic (WR), Lincoln; Doyle Brayden (DL), Charleston; Dakotah Brown (Sr., QB), Olney; Connor Butler (WR), Cumberland; Aaron Buttery (Sr., RB), Newton; Michael Calderon (So., OL), Tuscola; Logan Cothern (DL), Pana;
Adam Day, Arthur-Lovington-Atwood-Hammond; Gavin Dorn (So., RB), Olney; Blayne Donsbach (RB), Cumberland; Marcus Downs (QB), Casey-Westfield; Micah Downs (Jr., DL), Clinton; Kyle Dowty (OL), Olney; Bryce Edmiston (Jr., WR), Pana; Garrett Florkowski (LB), Robinson; Nate Fouty (LB), Casey-Westfield; Ivan Franco (DB), Arcola; Gage Franklin (LB), Effingham; Londyn Fultz (WR), Mattoon; Pedro Gauna (LB), Arcola; David Goble (OL), Robinson; Gabe Hatfill (Sr., QB), Cumberland; Austin Herboth (DL), Effingham; Ashton Jones (Jr., DB), Tuscola; Lehman Jones (Sr, DL), Sullivan;
Noah Livingston, Casey-Westfield; Quinn Miller (WR), Olney; Blake Morrison, Vandalia; Evan Newlin (LB), Oblong; Lucas Otto (LB), Arthur-Lovington-Atwood-Hammond; Diego Perez (WR), Arcola;Tyrese Petty (Jr, RB), Clinton; Conner Potts (WR), Oblong; Hayden Redfern (DL), Cumberland; Zaylon Riley (DB), Pana;
Tristan Sablone (OL), Oblong; David Shipman, Arthur-Lovington-Atwood-Hammond; Shane Shumard (DL), Lincoln; Justin Smith (OL), Casey-Westfield; Beau Smothers (OL), Arcola; Drew Stacey (Jr., DB), Clinton; Austin Sparrow (LB), Lincoln; Logan Tabeling (Jr., LB), Tuscola; Loggan Thompson (DB), Casey-Westfield; Izaq Toney (OL), Pana; Zane Ulmer (LB), Vandalia; Luke VandeBurgh (So., LB), Sullivan; Kade Warner (K), Cumberland; Storm Washburn (RB), Casey-Westfield; Kolby Winter (Sr., FB), Clinton; Cameron Withers (K), Vandalia; Grayson Wolf (DL), Robinson; Cole Young (WR), Flora