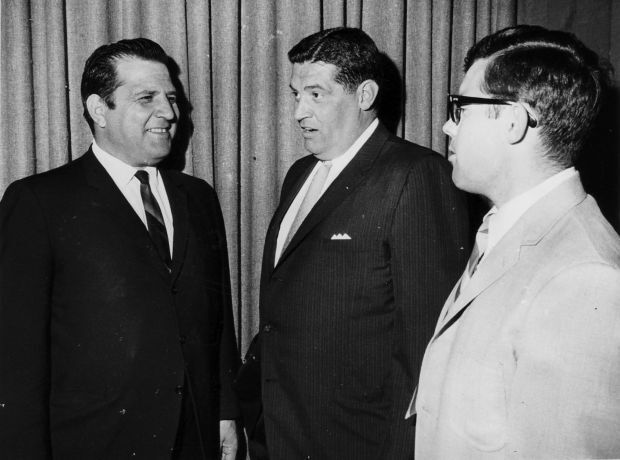 DECATUR — St. Teresa's football team finished 6-0 in the shortened spring season last Friday, In a normal season, the Bulldogs would be in the IHSA football playoffs for the 18th time in the last 19 seasons.
McNamara, a class of 1959 graduate from St. Teresa, and his family were close friends with the Munn family growing up. When Munn became Bulldogs head football coach in the 1968 season, the program's fortunes changed. 
"If you go back to the St. Teresa history, the losing records that they had came to an end when Dick became the coach. He started a summer conditioning program for the kids to get them bigger, faster, stronger," McNamara said. "He was there for only six seasons but look at the records with how they improved with the last one being 10-0 before he went to (become head football coach) at West Aurora.
"I can't imagine how many titles St. Teresa would have won if Dick had stayed here. There is no doubt they won with Dick's talent."
Munn's final two seasons were undefeated (9-0 in 1972 and 10-0 in 1973). That unbeaten streak continued in 1974 (13-0) and 1975 (13-0) under head coach Ed Boehm, when St. Teresa won back-to-back Class 2A state titles in the first two seasons the IHSA conducted a state series. 
In the school's football history between 1930 and Munn's arrival as coach in 1968, St. Teresa was 110-186-25. Since the 1968 season, the Bulldogs are 389-137-3 with three state championships and two second-place finishes. 
Howley joined St. Teresa's teaching staff in 1971 and soon afterward joined Munn's coaching staff as an assistant and freshmen/sophomore team coach. 
"The thing that always struck me was Dick's commitment and dedication to the program. As an alumnus of the school, he wanted to do the best that he could," Howley said. "Fortunately for us that coached at the time, we had a growing enrollment and a whole lot of good athletes that came in during those early 70's years. 
"Dick changed the mentality for the kids that played for him from just playing football to becoming football players. He turned that tradition around to where it still is 50 years later as one of the top two Class 2A programs in the state of Illinois."
Howley remembers Munn's dedication to the program included sleeping at the school during the summer workout sessions. 
"During the summer practices, he would live at the school. He had a cot on the stage in the gym and we would come in at 5 a.m. for practices, he would be getting up and getting things organized," Howley said. "He was out there for 10 days and didn't go home. That's how committed he was to the program. The players saw that and they bought into it 100%."
Munn served as the school's athletic director and football, basketball and track and field coach. He was referred to simply as "Coach," with no question among the students who the simple moniker was referring to. 
For Howley, the football program's transition came when Munn began his summer conditioning programs.
"I remember when he bought the first universal gym to put in the weight room. Back then, no one really lifted weights and if you wanted to play football, you showed up, got your equipment and you played," Howley said. "There was no offseason conditioning and summer camps. He brought all of that into the mix and fortunately the boys bought into that.
"In 1973, we had 100 boys out for football. That year, we didn't even have enough helmets and shoulder pads for everybody. That was a tribute to him."
The 10-0 team from 1973 team lives on as an all-time great Illinois high school football team. 
"I've been watching a lot of high school football in the last 55 years but that was the best team I had ever seen. We were three-deep at every position and the second and third string still had great athletes," Howley said. "They were big and they were fast. They only had one touchdown scored on them and that was a kickoff run back by Tolono Unity. They outscored their opponents 404-6."
After leaving St. Teresa, Munn coached at West Aurora for three seasons. He didn't receive the same type of backing he did at St. Teresa, so he left, moved back to Decatur and went into business. Years later, he migrated to Colorado, where he became a broker who found buyers and sellers for businesses.
"Even though Dick left St. Teresa physically in 1973, I don't think he every really left," Howley said. "He loved the school and he loved the people that he met there."
---
GALLERY: Legendary St. Teresa football coach Dick Munn
Dick Munn Oct. 8 1960.jpg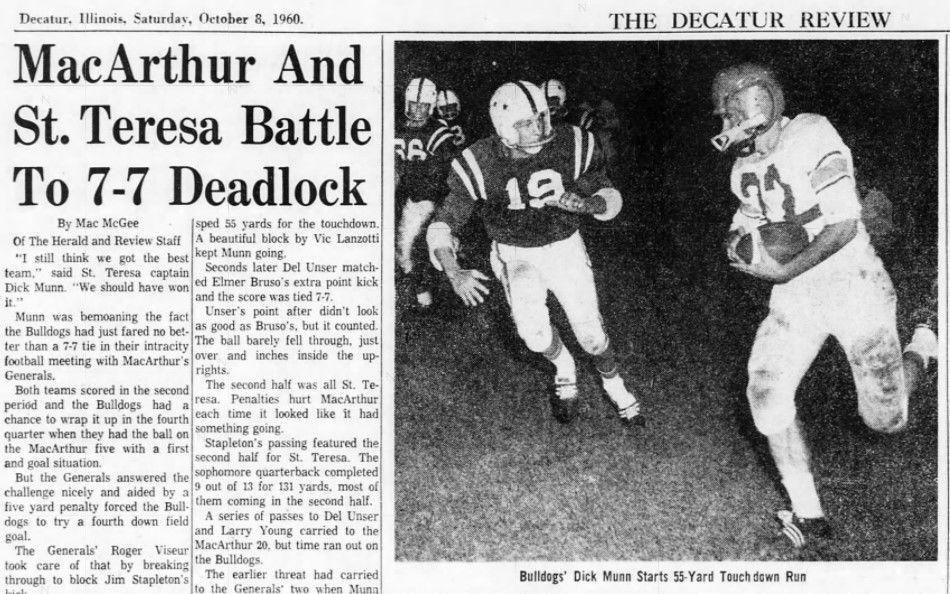 Dick Munn Oct. 30 1960.jpg

Munn Boys Sept. 19 1962.jpg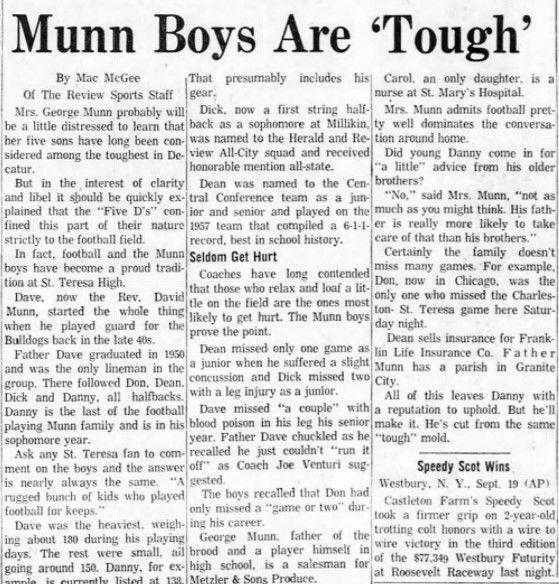 Dick Munn Nov. 10 1963.jpg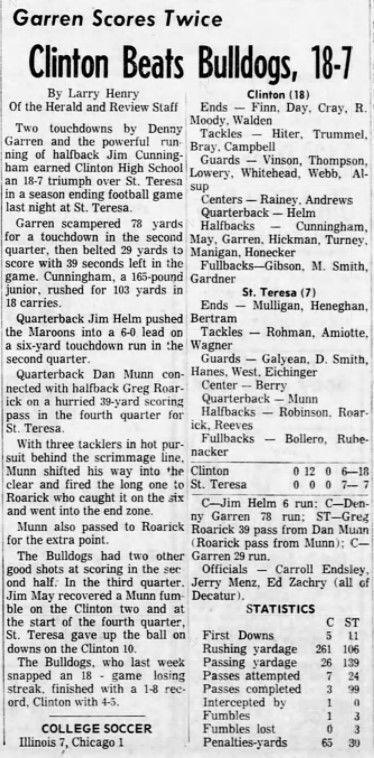 Dick Munn Brothers.jpg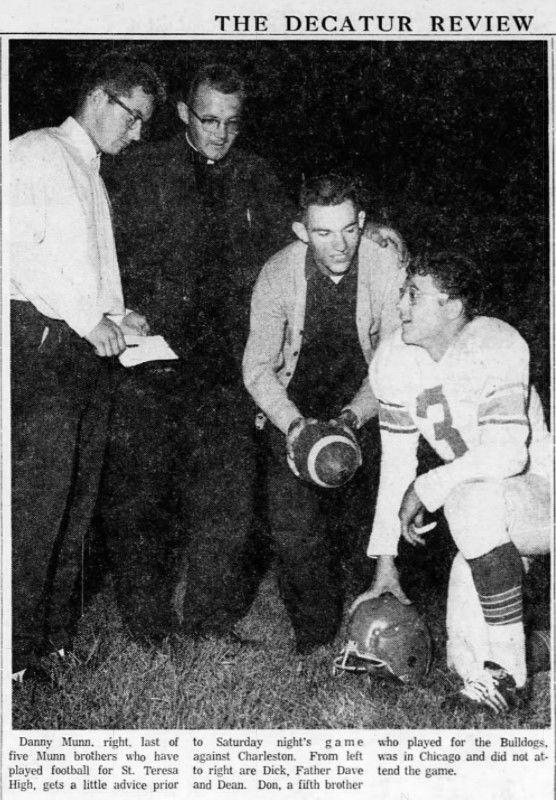 Dick Munn - Nov. 22 1970.jpg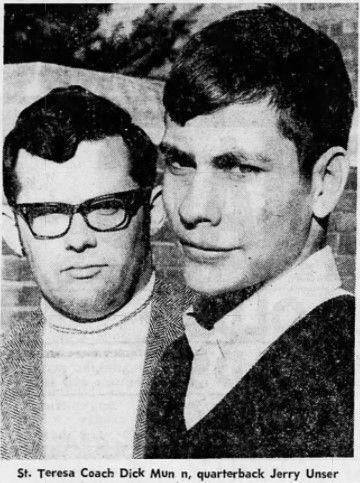 Dick Munn and player 8-25-1968.jpg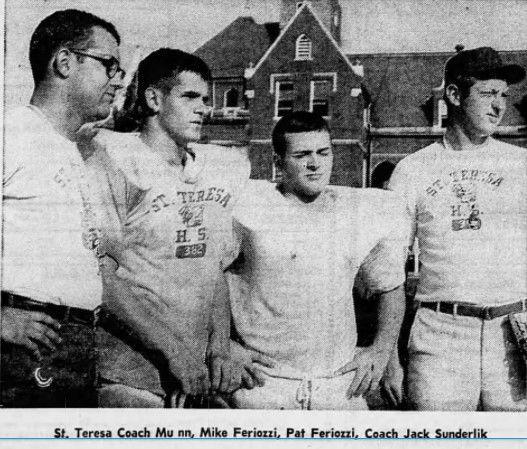 Dick Munn Nov. 18 1972.jpg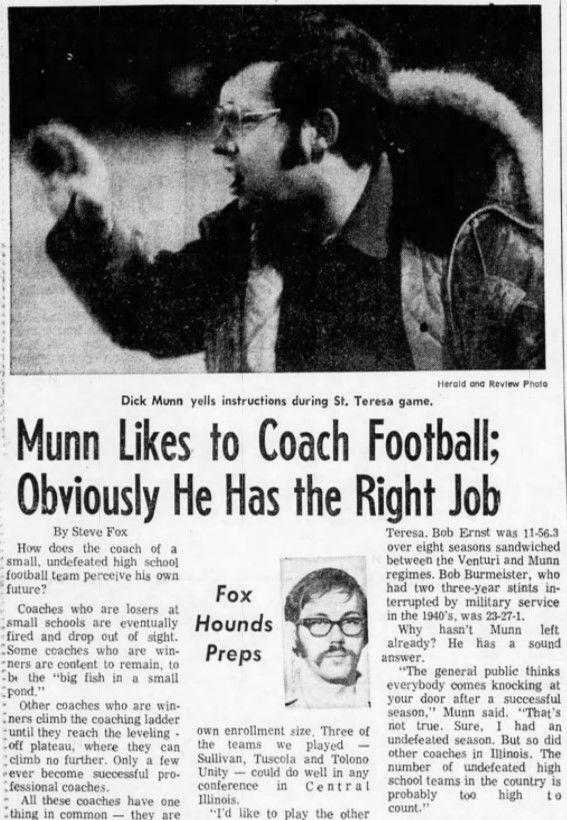 Dick Munn Aug. 30 1970.jpg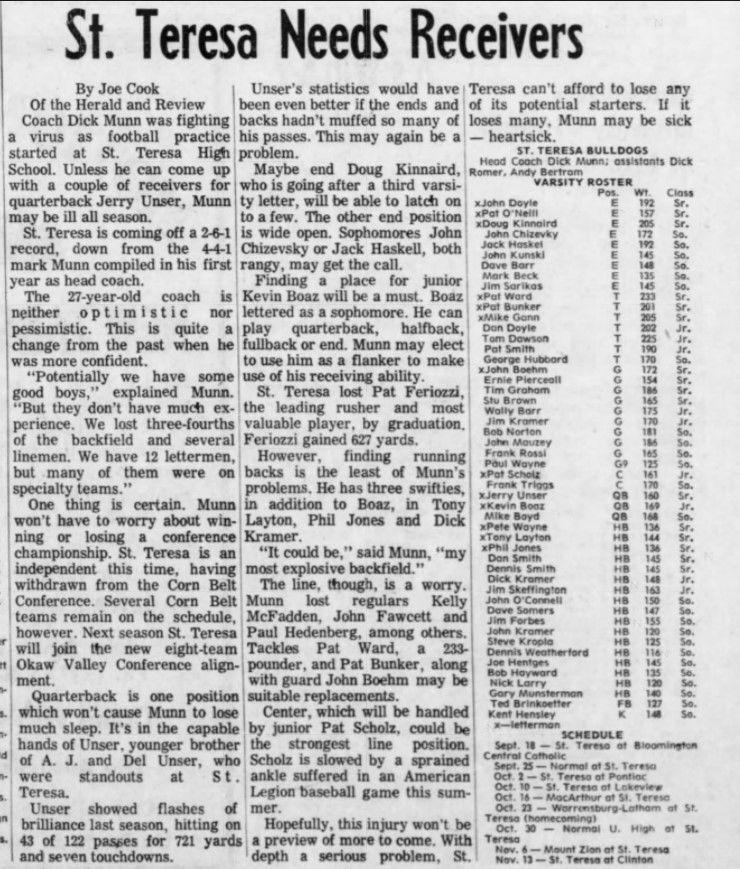 Dick Munn Nov. 22 1970.jpg
Dick Munn Nov. 22 1970 - Story 2.jpg

Dick Munn yells Nov. 18, 1972.jpg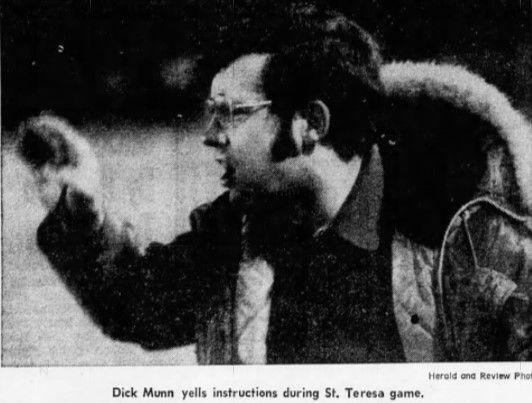 Dick Munn to Aurora West - April 5, 1974.jpg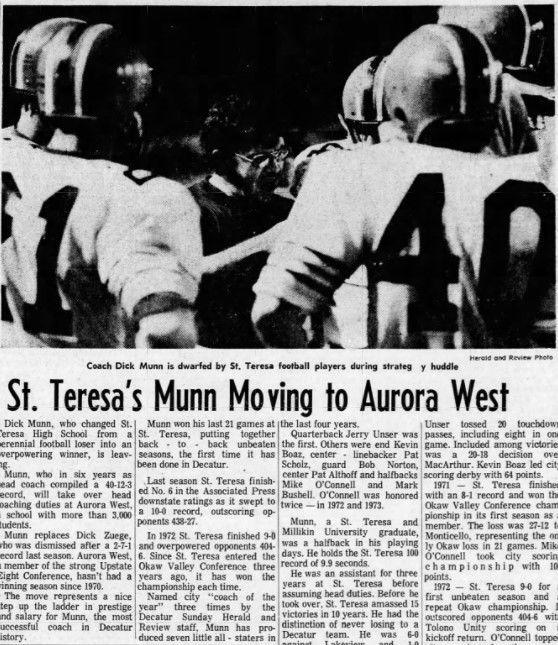 Dick Munn March 16 1988.jpg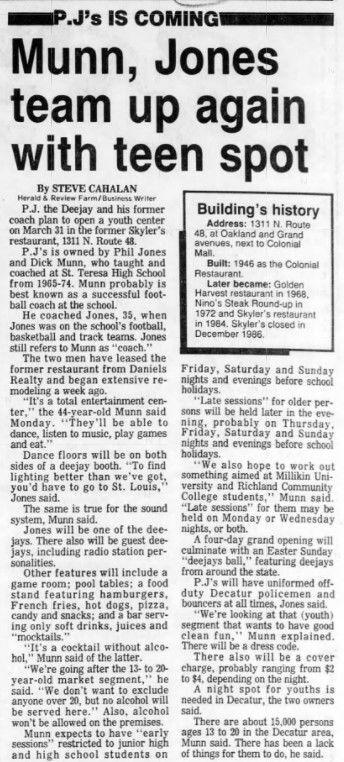 Dick Munn - PJs April 4 1988.jpg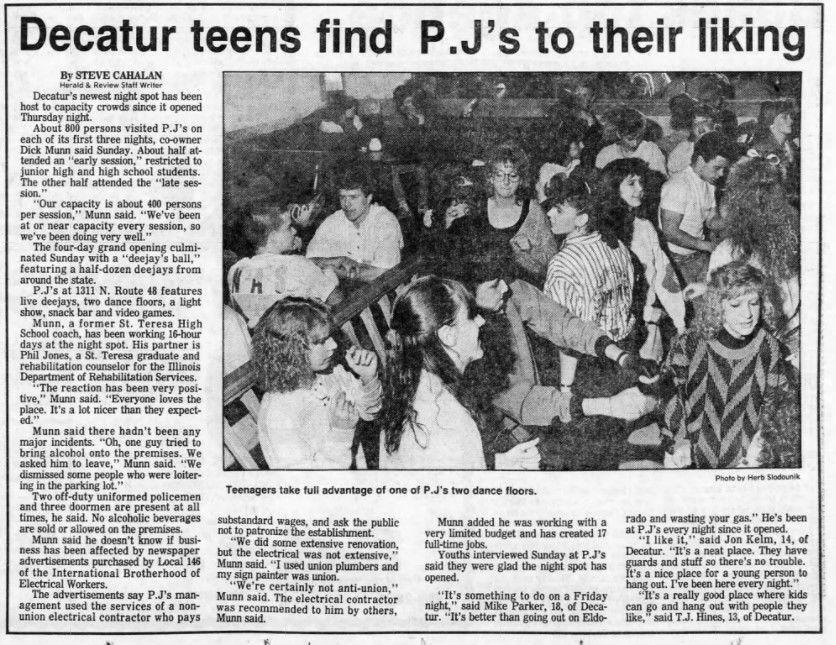 Dick Munn Oct 9 2013.jpg

Contact Matthew Flaten at (217) 421-6968. Follow him on Twitter: @MattFlaten