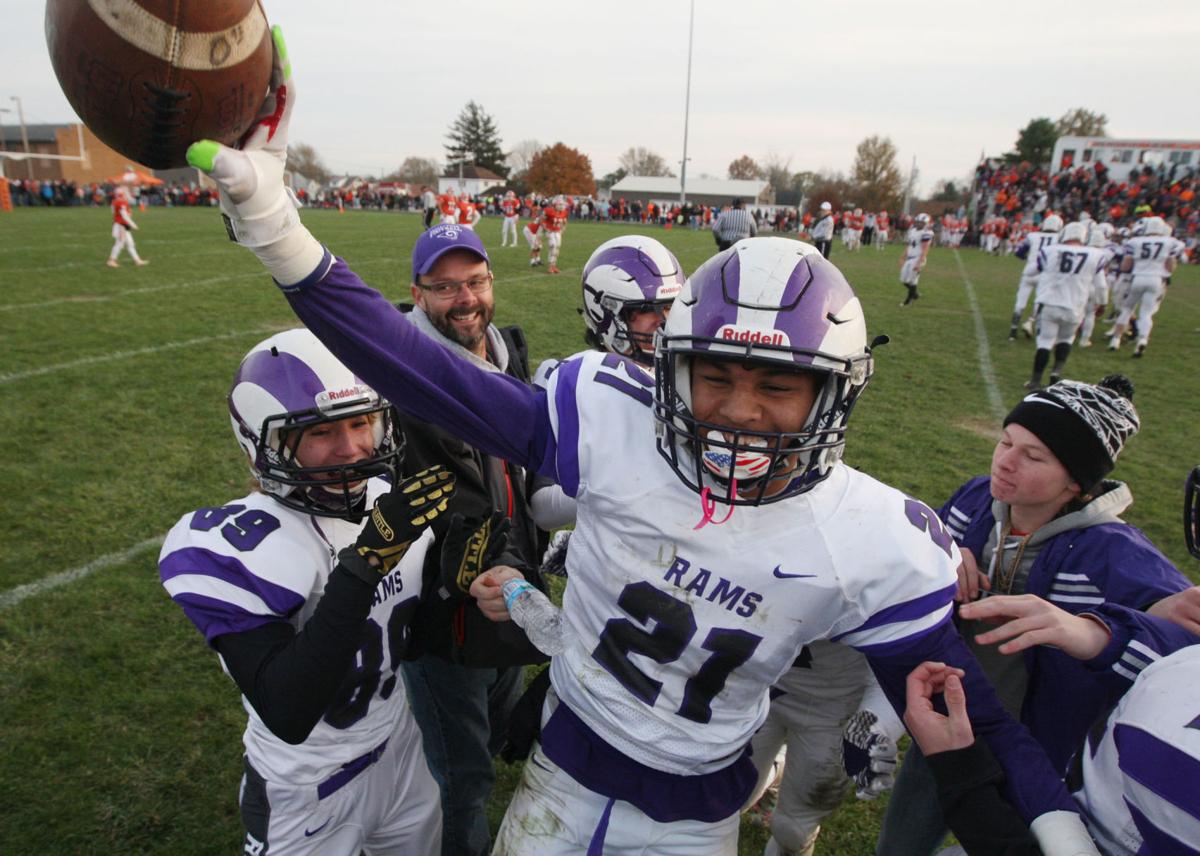 SHELBYVILLE — On most Saturday and Sunday mornings, the Shelbyville football field sits nearly empty.
There's the morning dew on the tips of the grass, and, in the middle of the field, there's Kentrell Beck, running through footwork drills and sprints up and down the field to increase his already blazing speed.
Beck, a Shelbyville junior, is out for the entire football season after surgery in January to fix a partially torn labrum that was caused after he dislocated his shoulder in Week 4 last season against Warrensburg-Latham. Then, after problems persisted, Beck had surgery again in June to tighten things up — that surgery effectively ended his junior season. He has six anchors in his left shoulder.
"For (Shelbyville head coach Bill Duckett) and my mom it was really hard," Beck said. "For me it was even harder. I didn't want anything to do with football at that point. Really, football is the love of my life. It's the thing I love to do. It's my happy place. When (the doctor) told me I wouldn't be able to play, I broke down. But I'll be fine. I'm just getting stronger for next year."
Missing one of four high school seasons is a tough pill to swallow for anyone, especially someone with Beck's pedigree. He's drawing interest from various colleges, all the way up to the Division I level. He was a Class 2A Illinois High School Football Coaches Associated All-State selection as a sophomore last season, when he had 60 catches for 1,142 yards and 15 touchdowns on a Rams team that advanced to the Class 2A semifinals.
As a freshman, Beck was named to the MaxPreps All-American team after recording 46 catches for 929 yards and 11 touchdowns.
"I don't think it's something you can understand — how you would approach it — until you're in that situation," Beck's teammate Grant Mose said. "I mean, a lot of the guys out there really dream about going to the next level and having that opportunity. To have to sit out a year when you're right in the middle of an important recruiting time in a person's career, it's heartbreaking. He fights hard."
Beck missed a prestigious Nike Camp, "The Opening," in the spring — the first football-related activity that his shoulder cost him. Then, when he found out he would miss his entire junior season, he thought his recruiting would tail off.
"It was hard for him in the summer, us going to 7-on-7s," Duckett said. "For a little while I think it was hard being around it and being around practice. He came, but there were a few times where you could see it was a struggle to want to be there because he couldn't help and couldn't be there as a part of it."
Contrary to his initial concerns, Beck's recruiting never did tail off. He's still in contact with college coaches and personalized letters from programs are becoming a weekly occurrence. 
After Beck got his first phone call from a college coach, he immediately called Duckett to share the news. Beck won't miss the track season or the baseball season this year. He advanced to the Class 1A state track meet in the 100- and 200-meter dashes and was on the 4x100-meter relay team that went to Charleston last season.
"He's starting to realize they're still calling," Duckett said. "They've seen the film. They know what he's capable of."
Beck's statistical output has piqued the interest of college coaches — and so have his physical traits.
He's a a 6-foot-2, 210 pounds, with great speed. Before his sophomore season, when he was 15 years old, Duckett said Beck ran a 4.5 40-yard dash during a timed run at the University of Illinois. Earlier this month, a Twitter video emerged of Beck running the dash in 4.6 seconds.
Beck's not allowing himself to get out of shape. He does everything he can in practice with the Rams. Duckett said Beck, who would have played quarterback this season — and will next season — can do everything on the football field except take a hit.
He leads the charge in pursuit drills for the Rams and stands in Duckett's ear on game nights suggesting plays to call.
Beck may not be on the field, suited up in pads and his No. 21 jersey, but he's hardly a distant bystander on the team.
"He's still a part of it," Duckett said. "He's still picking up and getting the mental aspects of it that will benefit him next year for us.
"As soon as he was able to get out of it and actually do some running, he's been working, running, catching, trying to stay in shape. He hasn't lost any speed, that's for sure."
Even when the season started, it took Beck time to accept that he wasn't going to suit up. Duckett saw a change in Beck after the first week came and went.
Coaches kept calling and Beck kept listening. He gives tips to his teammates and will continue to be a captain of the team when Shelbyville hosts Tuscola on Friday.
Now, he's all the way on board to use this season as a springboard for the next.
"The third or fourth game is when I realized it's a minor setback for a major comeback," Beck said.
Contact Joey Wagner at (217) 421-6970. Follow him on Twitter: @mrwagner25
Get in the game with our Prep Sports Newsletter
Sent weekly directly to your inbox!