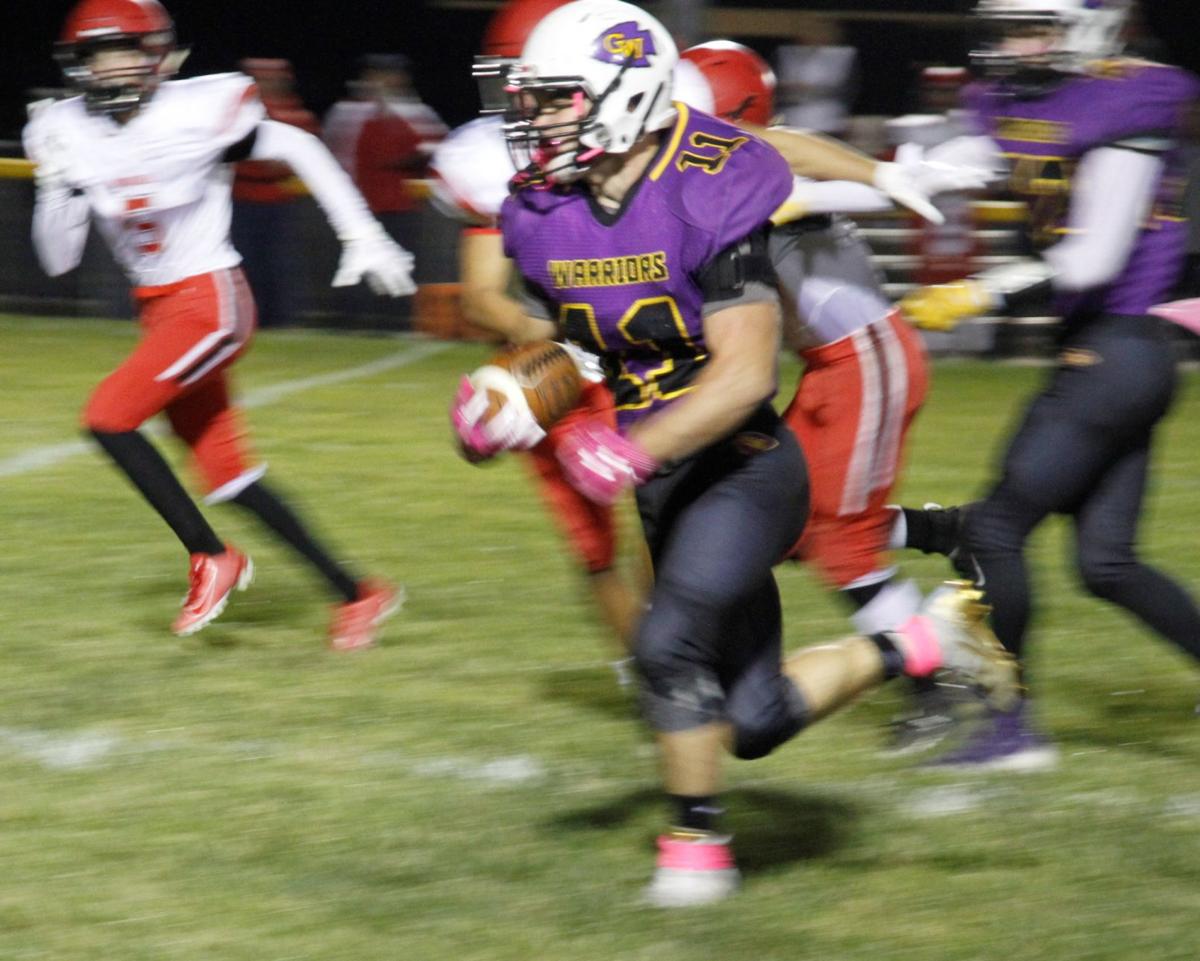 CASEY — For the second straight season, the Casey-Westfield football team has five wins, making it playoff eligible. The Warriors earned their fifth victory of the season with a convincing 54-19 win over Marshall Friday in a Little Illini Conference game at Sinclair-Vidoni Field on Senior Night. 
Two reasons for the victory were the play of Storm Washburn, a 5-10, 180 pound running back/linebacker, and A.J. Stepina, a 6-0, 180 wide receiver/linebacker. 
Washburn carried the ball 18 times for 270 yards and scored on touchdowns of 51, 3, 71, 1 and 70 yards. It was a career-high in rushing yards and in touchdowns. 
Stepina caught a touchdown pass of 10 yards from Aden Brenton, threw a touchdown pass of 27 yards to his brother, Thor Stepina, and had two interceptions. 
Last season they were in the same spot at 5-3 before losing to Red Hill 44-21, and the Warriors didn't have enough playoff points to advance to the Class 1A playoffs. 
This is the first time Casey has had back-to-back winning seasons since 2013 and 2014, when it went 11-1 and 9-2, respectively. 
Washburn began the game with a 51-yard touchdown run. 
"We did a lot of studying of their defense to see where they were going," said Washburn. "We just executed perfectly and our offensive line did their job. They kept pushing and didn't give up and opened holes for me so I could do my job."
Washburn's next touchdown occurred in the second quarter as he capped off a two-play, 15-yard drive that started after the Warriors defense sacked Marshall quarterback Luke Cook for a loss of 10 on a fourth and five on the Lions 25.  His third touchdown was a 71-yarder on Casey's next possession. 
"The thing I like about Storm Washburn is he finishes his runs," said Casey coach Jay Bohner. "He runs so hard. The initial contact never takes him down. He breaks tackles and always finishes running forward."
Washburn went over the 1,000 mark on the first play of the second half, a 70-yard run. Washburn needed 123 to reach the coveted mark and now has 148 carries for 1,147 yards and 14 touchdowns. 
You have free articles remaining.
"This was the biggest win I have ever had in my whole football career," said an emotional Washburn. 
Wins were hard to come by in his first two seasons when he went to Martinsville, a school of 112 that has struggled in the numbers game. The Bluestreaks went 1-8 under Barret Von Beheren and then 2-6 under Obie Farmer.
I think it taught me hard work and dedication in football because I had to do everything I could to get my yards," said Washburn, the son of former Martinsville coach Brian Washburn (coached 2012-2014 and also coached Martinsville youth football. 
"I don't know what I would do without my dad," said Storm Washburn. "He has pushed me to my limit and made me the best football player and person I could be."
Stepina helped Casey hold Marshall to 170 yards. His first interception since the opening game of the season occurred on Marshall's third possession on a first-and-10.
"I saw the ball coming and jumped the route, said Stepina. "That was my responsibility. I had never had two interceptions in one game. It was fun."
His second interception occurred on the Lions' final possession of the half, when he tipped the ball and then caught it setting up a 21-yard field goal by Austin Schumacher, a foreign exchange student from Germany, in the final seconds of the half for a 44-6 lead. 
"Our defense created turnovers (three), which created great opportunities for our offense," said Bohner. "Our defense did a great job."
The third touchdown of the game will be something Stepina remembers. He took a pass from Brenton, then passed it to his brother Thor across the field for a touchdown. 
"It was a good moment," said A.J. Stepina. "We threw it a lot in our yard. We had it down. We knew where to throw it and where to catch it. I wasn't thinking it would be on their 27-yard line. I thought it would be down in our end zone."
A.J. and Thor's older brother is Nicco Stepina, a 2014 Casey grad who played at  Millikin and is a 2019 grad. He threw for a Millikin-record 9,384 yards with a record 93 touchdowns. 
"I grew up with his help and my dad's (Eric) help," said A.J. "We would play X-Box sometimes and we could go through patterns and read the defense."
A.J. said of the fifth win, "It was a big game and a great team effort. There were a lot of emotions for the seniors and even some of the juniors."
contact Mike Monahan at (217)-238-6854. Follow him on Twitter: @monahammikejtc