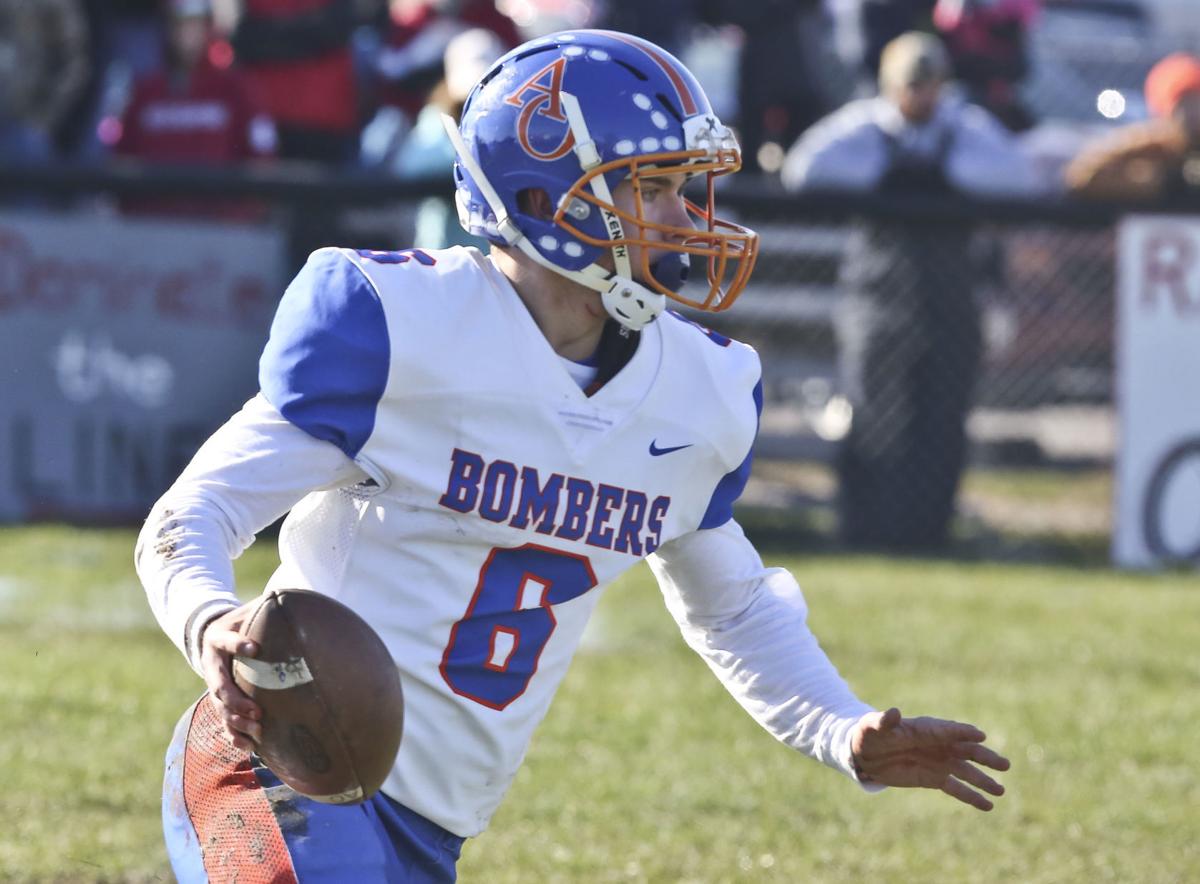 Football season is around the corner. Finally.
Why not start it off — football practices officially begins on Monday — by handing out some preseason awards? But we have to do some housekeeping first.
This is not an announcement for our Macon County Player of the Year months ahead of time. These are my picks before one single game is played. At the end of the season, the Herald & Review sports staff will look at stats, talk to coaches and read nominations before we announce our awards winners. There's a good chance I'll be wrong. If I am, I'll eat crow, served however you would like.
We know who's coming back and the body of work they've already put together, so we can make pretty educated guesses about who will have big seasons. I'll predict the following today: Macon County Player of the Year, Macon County Breakout Player of the Year. Come back tomorrow for Area Player of the Year, Area Breakout Player of the Year. 
Player of the Year
Argenta-Oreana senior quarterback Josh Williams sits at the top of this list. He's started since his sophomore season and has been the spark plug of one of the top offenses in the area. He's a true dual-threat quarterback who threw for 1,779 yards and 24 touchdowns last year while running for 964 and 19 touchdowns.
He's proven he can run the offense, and with the graduation of a lot of last season's skill players, Williams appears ready to do whatever he needs to do.
Don't expect the Bombers to take a step back this season, and Williams will be at the heart of the success.
OTHERS TO WATCH
Sage Davis, Sr., RB, Mount Zion
Davis rushed for 1,372 yards and seven touchdowns last year. He'll be a workhorse for the Braves again, capable of big numbers in an offense that could take a leap.
Makail Stanley, Sr., RB, Argenta-Oreana
Stanley has really grown and will be Williams' best friend on that offense. He'll move from receiver to running back and has the strength and speed to break away, or through, anyone. And he's a menace on defense.
AJ Lawson, Sr., WR/DB, MacArthur
You have free articles remaining.
Recently committed to Iowa and has the length and speed advantage over nearly every defender or receiver thrown his way. With a leap from Jackson at QB, Lawson has all of the tools to put up eye-popping numbers at receiver.
Wade Jostes, Jr., QB, Maroa-Forsyth
Stop me if you've heard about a talented Maroa-Forsyth QB before. Jostes will take over for Ian Benner and has everything in the tool chest to excel in his father Josh Jostes' system. Should be a quick process to grasp with weapons around him.
Don't sleep on: Nate Hayes, Sr., QB, Warrensburg-Latham; Jalen Jones, Sr., RB/WR, LSA; Jack Hogan, Sr., QB, St. Teresa; Jeffery Wells, Jr., RB, MacArthur
Breakout Player of the Year
As a freshman last season, Cook was a terror as a defensive end with a frame that more closely resembled a senior beast than a freshman finding his way. He's got the strength and speed, and could be a plug-and-play option at running back for the Bulldogs.
Cook had 30 carries 210 yards and three touchdowns last year. Defensively, he had 67 tackles and 11 tackles for a loss. He's physically larger than most sophomores in the area, at 5-8, 205 pounds, and matches up with most varsity players.
OTHERS TO WATCH
Ashton Summers, Jr., QB, Mount Zion
Summers got his feet wet as a varsity quarterback last season as a sophomore and returns as the team's starter this year. He has arguably one of the deepest receiver groups in the county around him, and any number of them could have cracked this list. Also, defenses have to account for running back Sage Davis. Summers looked good in 7-on-7 camps this summer.
Deyon Jackson, Sr., QB, MacArthur
Jackson got better as last season went on. He can run, he can throw and he can put up big numbers for the Generals this season, with plenty of options around him. He threw for just more than 1,000 yards last season and was a threat to run, going over 700 yards.
Bryson Boes, Jr., RB, Maroa-Forsyth
Boes had a nice sophomore season, using a combination of speed and strength to shake defenders. Without Gavin Clifton, who is not playing football this year, Boes stands to take a ton of handoffs and coach Josh Jostes won't be shy in the red zone about handing the ball to Boes for touchdowns.
Coby Crafton, Jr., WR, LSA
Crafton is a big target for however the Lions plan to use him in their offense. He can do any number of things from pass-catcher, to runner to quarterback if needed. His versatility is key for LSA and first-year coach Jordan Hopman.
Contact Joey Wagner at (217) 421-6970. Follow him on Twitter: @mrwagner25