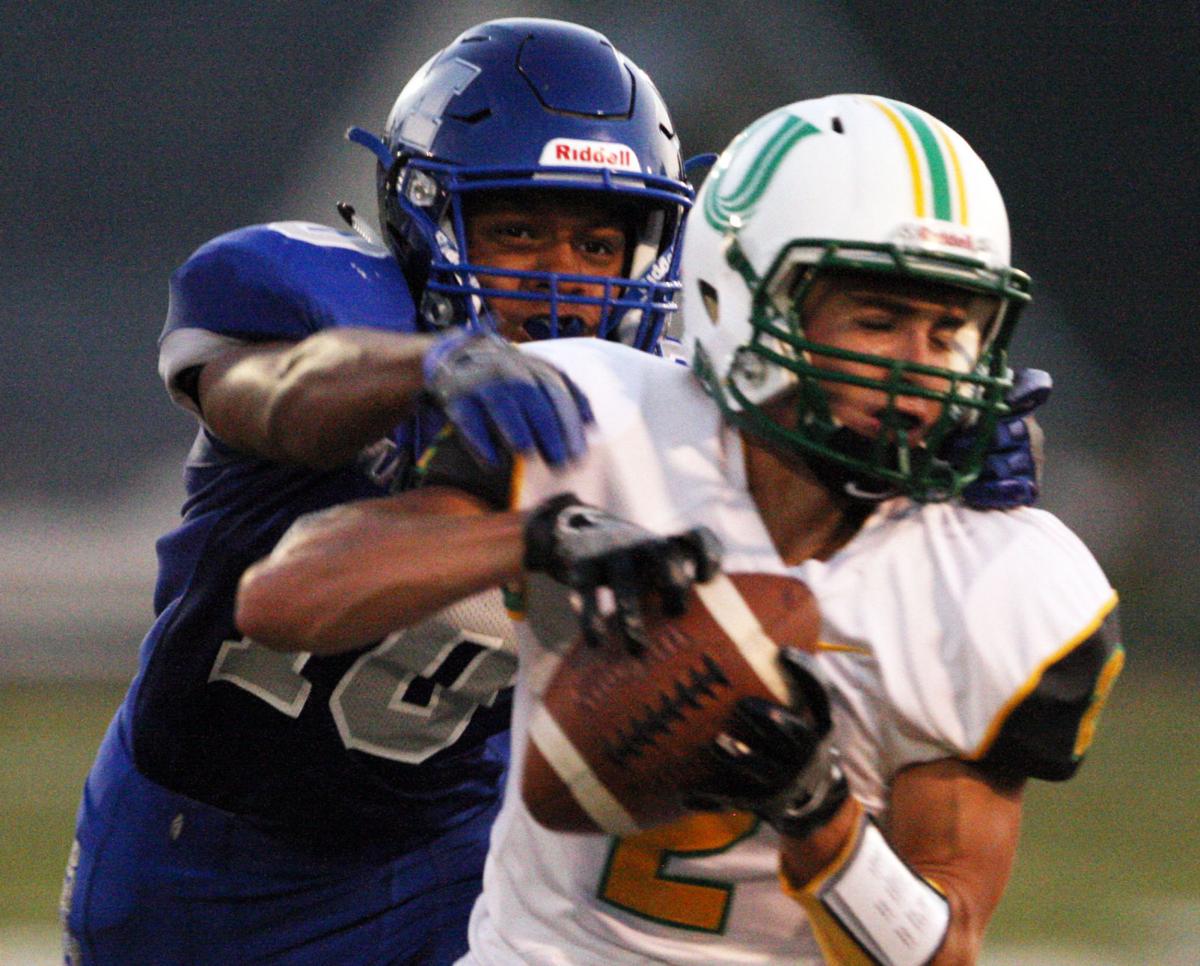 DECATUR -- MacArthur coach Derek Spates has a unique challenge this week: Develop a plan to stop an offensive strategy that was popular more than 70 years ago. 
That's what the Generals (7-2, 7-2) face when they battle Peoria Notre Dame (6-3, 6-2) and its T-formation offense in the first round of the Class 5A playoffs at 3 p.m. Saturday at Millikin.
"They run a Wing-T offense, and that's like an old dinosaur, but they run it well," Spates said. "They are one of those teams where they are very efficient with what they do."
The Irish run the ball -- nearly every play.
Over the course of nine games, Notre Dame ran 474 times for a staggering 3,641 yards as a team. Over the same period, it attempted 57 passes.
The Wing-T offense features three running backs lined up in a row behind the quarterback, making a "T" shape, forcing the defense to defend against three avenues of a rushing attack instead of the typical one or two. 
In football ancient history, before the forward pass was allowed, the Wing-T was the most popular offensive scheme. George Halas was a fan and the Bears' 1940 championship team utilized it.  
While the Brummett twins-led MacArthur offense grabs a lot of the attention, Spates must turn to his defense to stop the the Irish rushing train and it's his standout safeties, Jeffery Wells and Ray Neal Jr., who must come up big for the Generals to win.  
"It is their job to help stop the run game and also be in the position to stop passes," Spates said. "We ask a lot out of those guys and I think they play their positions pretty well."
For Wells, a sophomore transfer student from Indianapolis, "pretty well" means leading the defense with 77 total tackles. 
His school transfer timing was impeccable. He missed the 1-8 seasons that MacArthur weathered the last two years. 
"It was always in my parents interest to move down here to move back with family, but we didn't know the team was going to be this good," he said.
With this much success in his first year with the team, MacArthur has always had a culture of winning for Wells. 
"This is great, my first playoff game as a sophomore. This is my first winning season, so that's great too," he said. "Getting to meet new people and create a new brotherhood with my new teammates is awesome."
You have free articles remaining.
Turning the topic to his defensive play, Wells' eyes light up.
Some people want to watch the world burn, or in Wells' case, some people want to watch offenses burn. 
"Defense wins games. Just being able to hit someone and tear down the offense, that's what I love," he said. "To watch an offense fall apart, it's just fun."
The Notre Dame offense he's going to try to tear apart features five running backs with more than 300 yards rushing this season. Junior Logan Cover leads the way with 1,212 yards and 9.5 yards per carry. 
"I know that their running game is strong and that's pretty much all they do; so what we are looking to do is stop the run game first," Wells said. 
It's not all on Wells' shoulders. His safety compatriot Ray Neal Jr. will be there to crash the run as well.  
"We are going to need to play physical and match their intensity and make some tackles," Neal said of MacArthur's avenue to victory. 
Neal also shares Wells' feeling about the General's strong defense. 
"Our defense is intense, everybody on our defense wants to hit," he said. "They want to get in on a tackle, they want to make plays, they want to hit somebody. That's our defense." 
Along with racking up 35 tackles on defense, Neal has developed into the team's leading receiver, with 571 yards through the air and six touchdowns. 
One aspect of the game that neither Wells or Neal will have to worry about on Saturday is the muddy grass on MacArthur's home field. Millikin's Lindsay Field will host the game Saturday. 
"We've played at Millikin before, we played Eisenhower last year there so we have experience," Neal said. "I would rather have a good grass field if it wasn't muddy. If it was a good sunny day out, I would rather play on the grass but turf, it's nice."
"Playing at Millikin is beneficial for us, you don't have to worry about the conditions of the field," Spates said. "Hopefully the fans that support MacArthur football will come out in droves to support us."
For Neal, Saturday's game is a dream come true. 
"It's the best feeling in the world, that's what it is all about really," he said. "A home playoff game in front of the fans. We just need to give the fans what they are looking for and we've just got to win this game."