CHARLESTON — Deb Landsaw, if not for a softball injury 25 years ago, would have never learned a lick about the sport that she coached for 15 years at Charleston High School — the sport that delivered her revered status as the pilot of a five-year run that ranks among the most dominant in Trojan history.
It was 1994, and Landsaw, then a rec league softball veteran in her early 40s with a different last name (Todd), took a line drive off her shin while playing second base in a co-ed game. She stubbornly strapped an ice pack on it and stayed in.
"I'm not a quitter," Landsaw says now. "And we were in a heated game."
But when an opponent slid in with his spikes up and took her out, a teammate rushed to her defense.
The teammate, Gary Landsaw, was a vaguely familiar face from the bowling alley. The umpire warned him after he barked at a prior nefarious slider, but that was no barrier. He burst over to second base, threw down his hat and started yelling at the Ty Cobb wannabe. He was, of course, promptly ejected.
"After that, I kind of started noticing him at the bowling alley," Deb said.
The two were married in 1995, but if this spark started by a stranger's mischief was to sustain itself, Deb needed to meet one condition.
"She knew right away if she wanted to be with me, she would need to learn how to play golf, because that's what I do," Gary said.
Deb welcomed the challenge of taking a project in its infancy and guiding it through its construction. So Gary found her a set of clubs and taught her the game, starting from the basics.
"She didn't know anything about golf," Gary said.
Now, though, it's Deb who owns the accolades and accomplishments from a life on the links and the reputation as a builder.
Landsaw retired earlier this year after guiding Charleston's girls golf program to a 2016 state title, five top-eight state finishes and seven regional championships. She took over a 20-year-old program that, outside of three regional titles and Laura Myerscough's three all-state seasons, largely blended into the crowd. She left it an award-winner, a beacon of high achievement molded entirely in her image and by her determination, teaching skills and salesmanship.
"We've joked that it looks like we're going to have to get a new trophy case for girls golf," said Stan Adkins, the former Charleston boys and girls golf coach and founder of the girls team.
Getting to that point, though, required Landsaw to build interest in a program and a sport seen as a secondary option, one that few grade school girls in the area considered their primary focus. For part of Landsaw's time with the program, she served as her players' first serious, everyday golf instructor, a task akin to her job teaching sixth grade at Charleston Middle School, and therein an enjoyable one.
"That's where she's the happiest, when she's trying to teach young adults," Gary said.
In some ways, Landsaw built the program like she built her own golf game, like her prior endeavors shaping entities and minds that made lasting impacts on the Charleston community. Charleston girls golf may be her pièce de résistance, but it is not the first instance of her going to work with one goal in mind: to create and promote opportunity for a lifelong hobby.
"Deb's personality is a key component," said Randy Harpster, Charleston's boys golf coach from 2014-18. "She made it fun."
'Hammmm-BURGER'
In the early 1980s, Landsaw and a group of friends, all in their 20s but still feeling 18, gathered each week at Charleston's Kiwanis Park to play pickup softball. No uniforms. No structured teams. Just show up and figure it out.
The games were, more than anything, an outlet for them; there were no girls' sports in high school. They settled for Girls Athletic Association intermural basketball at 6 a.m. before class.
"I found more and more women wanting the same thing I did: a chance to play, because maybe they didn't have a chance to play in high school," Landsaw said.
Word eventually spread, and the softball gatherings became too large to stay so informal. They formed four permanent teams, while Landsaw and some other original members tried to make schedules. When it became too much work, they asked the Charleston rec department to take over. When the league grew to eight teams and needed to play in nighttime slots, Landsaw and others raised money for lights at Lanman Field.
This was the first project Landsaw helped transform from something without a blueprint into tangible prosperity.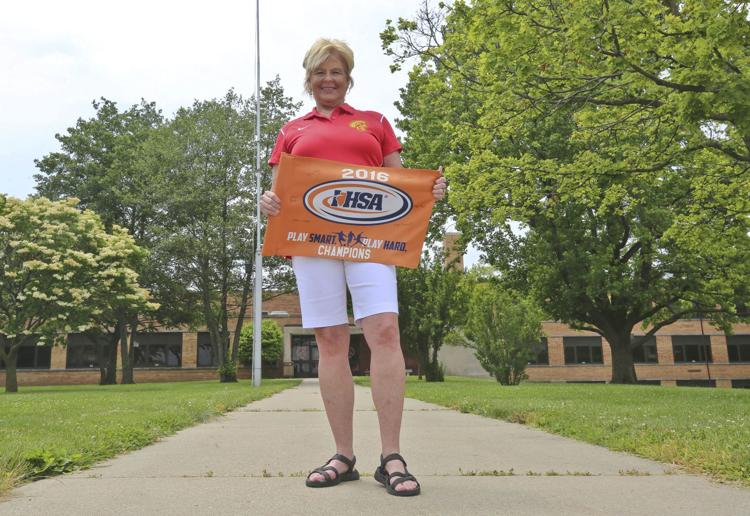 Golf was the next one. Deb thought it would be a hobby, a way of spending time with her husband. It started as simply going to the range when time allowed or playing on the weekends. It turned into regularly playing in tournaments.
"The more she played, the more she got into it, the more she enjoyed it, the more she fell in love with it instead of just having it as a sport," Gary said.
When the Charleston girls golf job opened after the 2003 season, Adkins floated Landsaw's name to the school. She had not pined for the job, but it offered the chance to teach young people the game starting from scratch, just like she had learned it. It was, again, the opportunity to create and promote an opportunity.
Landsaw started the building process with the eight holdovers. If there were an instruction manual for how to approach shaping a golf team, Landsaw began pages before step one. In an August practice, she observed a senior attempt to hit a ball out of a backyard across the road with no clue that it was out of bounds and not playable.
"Those girls, they were raw," Landsaw said.
To fortify the foundation after a couple years, Landsaw recruited at the middle school. She brought clubs to class and taught students how to swing during recess. She took the inclined ones to the driving range during non-school hours.
Elsewhere, she turned to her familiar sport, seeking softball players who had no fall sport obligations. They owned a natural swinging motion and hand-eye coordination. Then-Charleston softball coach Karen Karch gave her some names, and she began contacting them. Kacie Rankin received a call from Landsaw gauging her interest in golf sometime in the summer of 2007, after her freshman softball season at Charleston.
"She knew she wasn't going to have a lot of players, and she said she found my name on the softball roster," Rankin said. "I don't know what made her pick me at all."
You have free articles remaining.
Rankin was the typical Landsaw recruit: raw but eager to soak up knowledge. She played no fall sports and, upon attending the player-parent team meeting toward the end of the summer, decided to dive in headfirst, a trust fall into Landsaw's arms. She didn't own clubs and spent the first two months swinging borrowed men's clubs until Landsaw noticed, whisked them away and outfitted her with proper women's ones. Rankin medaled in her first match.
"I owe that to her," Rankin said. "The teacher part of her comes through. She can just break stuff down and figure it out."
There were outliers who came with prior instruction and experience, but Landsaw laid the groundwork with each newcomer, teaching the grip, stance and rules. She taught swing tempo, the proper 2:1 ratio of time spent on the backswing and downswing, with a particularly memorable trick.
"Hammmm-BURGER," Rankin imitated, the lesson still vivid. The first syllable represents the backswing, and the second is the downswing.
"You could use anything," Landsaw said. "One of them got so mad one time and said, 'You can stop saying that.' So I said, 'OK, you can use shuuuuut UP.'"
Precision was a staple. Ashley Snoddy, a Charleston golfer from 2007-11 and former Landsaw sixth-grade pupil, recalled one practice where her head kept flying upward during the swing. Landsaw grabbed Snoddy's head and held it still, pushing it down, while Snoddy took a practice swing.
Landsaw taught temperament as much as technique. Throwing a fit or showing excessive emotion earned an automatic trip to the doghouse. She prohibited celebrating until the team was out of sight from opponents and fans and banned gloating about previous triumphs.
"Don't think about what you did yesterday, last hole, last swing. It's not going to get you going forward," Gary said. "That's the same thing she'd tell them when they won a match. When they started doing better, she made sure they knew that they were the team everyone was gunning for."
At matches, she told her golfers to be encouraging, helpful, but never pedantic. She saved the rule enforcing for herself and fellow adults.
"The little stinker nominated me to be on every rules committee in every tournament we were ever in together," Mattoon coach Natalie Ambuehl said. "I take that with much respect."
There was a fun side, of course. It came out during the team trips to matches in the Suburban with Landsaw at the wheel — a time for goofing off, bonding, loud music and racing Mattoon to the fast food restaurant both chose to stop at on the drive back to Coles County.
Then there were the life lessons. Charleston had a match in Olney, and on the drive back, an ominous clanking noise persisted from the vehicle. Landsaw pulled into a gas station in Greenup, strolled into the service center and asked for help because she did not know "car lingo." Sure enough, an attendant came out and identified the ailment.
As Rankin remembers the tongue-in-cheek message: If you ever need car help, go pull a "blonde move."
Shifting roles
In 2011, sent its first individual qualifier to state in 14 years, when Maddy Burgett went in the first of two straight years. The gradual success, positive experience of prior golfers and Landsaw's presence in the school district attracted more attention.
"We got people who knew the sport a little bit more, had played before," Rankin said.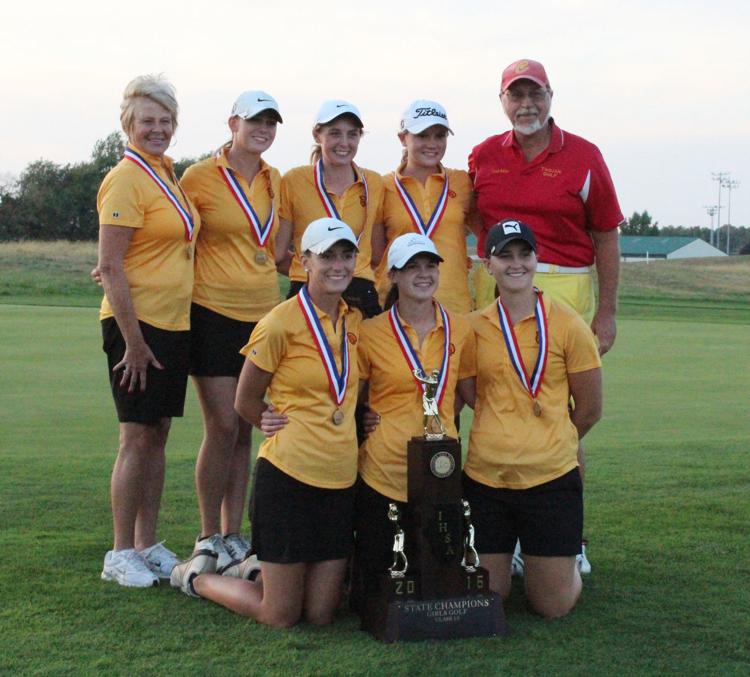 The Trojans earned a prodigious boost when Lauren Chappell moved to Charleston in 2013 after her father, Rand, became an assistant basketball coach at Eastern Illinois. Chappell won the Class 1A state title as a freshman, sophomore and senior. Her arrival helped Charleston advance to state five straight seasons. Her sister, Paige, graduated in May and qualified state as an individual last fall.
Landsaw did not touch Lauren Chappell's swing. She did, though, teach a fiery freshman a little restraint.
"One match, I got really mad," Chappell said. "I think I stormed off a green after three-putting or something. She pulled me aside and said, 'Listen, this is just a game. You don't want your image or our image out there to be that."
Landsaw transitioned from dedicated swing coach to more of a strategy and mindset teacher. At practice, she placed balls behind trees or in traps and had players work through different strategies to escape.
"A lot of what she preached was routine, looking at shots," Chappell said. "Deciding on what kind of shots you want to hit, what the best strategy is on a hole if you get into trouble."
The entry-level lessons dwindled once Charleston established itself as a state contender each year. In 2016, the Trojans were the clear favorite in Class 1A and won by seven strokes.
"She did a good job keeping us grounded, not pumping us up too much so we wouldn't get big heads," Chappell said.
No matter the time in her tenure, Landsaw forged a connection with each golfer and strived to understand all of them on a deeper level — how they learned, how to motivate them, the type of encouragement they needed. Those are the skills developed from 34 years spent in the classroom with the same group of 30 children for nine months.
"I could read a lot of them pretty well," Landsaw said. "I'm able to do that with kids. But I took each one and treated like my own daughter."
Toward the end, Landsaw kept telling herself that she'd retire with a certain senior class, only to grow too fond of the younger players to leave them. She committed to it last fall on a road trip back from Pana, when a deer ran in front of the Suburban. There was no collision, but the thought of one tore at her.
"That deer looked at me, I looked at it, and I looked in the rear view mirror and they were all sleeping," Landsaw said. "I have a lot of lives in my hands right here and something told me to just hang it up."
Gary will soon retire from his job as a shipping and receiving supervisor at Hodgson Mill in Effingham, and from there, they'll explore retiring to a warm state. Fall will finally be free for travel.
"It'll be something on a golf course, somewhere we can play every day if we want to," Gary said.
Just like before, Deb will be happy to oblige.