MOUNT ZION — On the bus back from the Mount Zion football team's game with Mahomet-Seymour last Friday, most of the Braves' players' faces were illuminated by the LED light of their cell phones; checking Twitter, Facebook, Snapchat or any other app du jour.
Senior Andrew Schollmeier's face was also lit up by an LED light. But he wasn't perusing social media to burn the hour before the Braves pulled back up to the high school. He pulled out his Kindle or iPad mini — whichever had the most battery at the time — to review standardized test prep books.
On Saturday morning, Schollmeier had to take the SAT Subject Test at Millikin.
It's not a standardized test for all college-bound students.
Schollmeier, a senior captain, running back and two-year starter at linebacker, is different. He knew coming into high school that school work came easier for him than others.
That was reaffirmed when he received his ACT results as a junior and scored a perfect 36.
Schollmeier couldn't think of any questions he missed — it ended up being one or two — but there was a surreal feeling when he opened the results and saw the 36 in print.
"That was amazing," Schollmeier said. "I wasn't really expecting that at all, to be honest. It was a great feeling of accomplishment."
The next standardized test proved the score was no fluke — he got a 1590 out of a possible 1600 on the SAT.
He took the SAT Subject Test at Millikin because prestigious colleges such as the Massachusetts Institute of Technology (MIT) require it for admission.
Schollmeier doesn't know quite where he will end up, if football will be in his future, or really even exactly what he is going to study.
"I'm just looking forward to what I have next," Schollmeier said. "Even though the season is still going on and I enjoy that with all my friends, I also still know that there's a future and I have to prepare for that."
While Schollmeier is a star in the classrrom, he's no slouch on the football field, either. He's rushed for 180 yards while piling up 44 tackles and a sack on defense.
But even Schollmeier's play on the field has a cerebral bent. Mount Zion coach Patrick Etherton calls Schollmeier the on-field defensive coordinator.
"He knows what everybody's doing. He understands it and if you tell him one time, he'll do it a thousand times," Etherton said. "We tell him, 'Hey, that's what they're going to do. Or, hey, this is what we want to do,' and he gets it. He understands the big picture more than doing something. He understands why he's doing something and why everybody else is doing something."
Schollmeier reads the hand signals that come in from the sidelines and positions his teammates accordingly.
Schollmeier's teammates recognize his abilities on and off the field. He helps his teammates with school as often as they need it — he even said he would tutor at Mount Zion if his schedule allowed for it.
If a younger teammate is in a class he has taken, he helps. If he shares a class with a teammate, he helps.
Schollmeier said once his teammates have gotten to know him, they are less hesitant to ask for help. And he's happy to help anywhere he can, on the field or in the classroom.
By this point Schollmeier has taken seemingly everything. He takes early bird P.E. so he can spend all seven periods taking classes.
Even outside of school and football, he runs track in the spring and participates in scholastic bowl when he has time. And Etherton said the senior is immensely popular.
"He's outgoing and he's a leader," Etherton said.
Football will end eventually, and Schollmeier will get to work on picking a direction for his education. He has a list of majors that could be for him, including engineering or the bio-medical field.
"I've always kind of liked the sciences in general — the life sciences then chemistry and physics," Schollmeier said. "It's just kind of where those all intersect and you can see a positive human impact."
He's on track to be the class valedictorian. That's not his biggest goal, though he admitted he's honored to be in the running.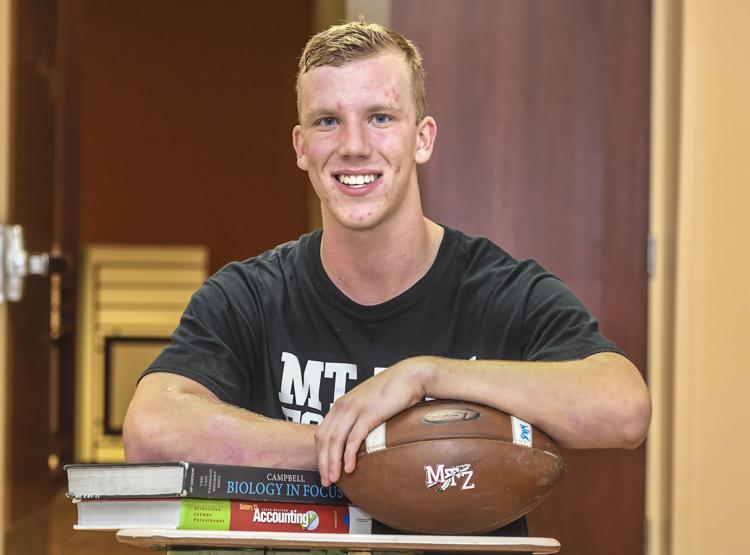 As far as walking the tight-rope of academics and athletics, Schollmeier has a pretty good handle on it, and he's quick to offer advice to younger players who seek it.
"I just tell them that no matter what you do on the field, and all that's great, but it's important to focus on your academics because that's going to help you in addition to the character traits on the field," Schollmeier said. "That's going to help you contribute to society and make a positive change."