Although 4,500 miles away from the team competing in Lyon, France, at the Women's World Cup this month, the 10-year-old was there in spirit, watching as many games as she could either in real time or recorded. 
As a defender on Decatur's Mid-State Soccer Club under 12 team, Howard could see some problems in the defense. 
"I get excited and nervous when I watched them play. One time, my mom was sleeping and I guess I yelled, 'You're giving her too much time,' and I woke her up," Howard said.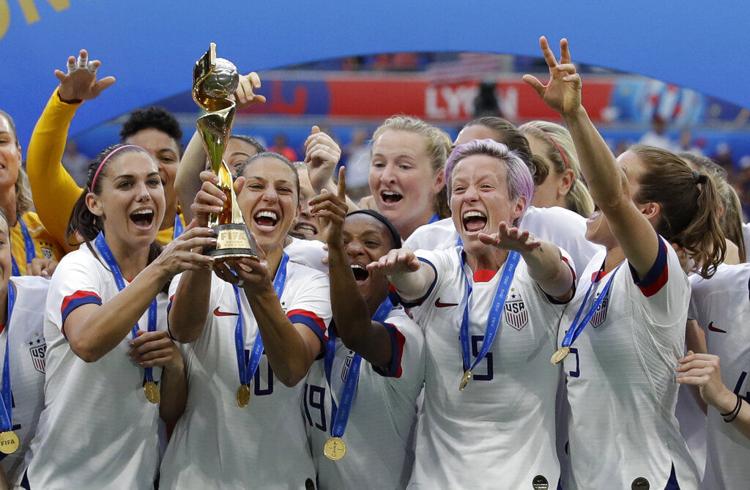 While there were national headlines about post-goal victory celebrations and patriotism, for young female soccer players, the buzz around the dominating sprint to the championship and victory over the Netherlands cements that their sport is gaining excitement and new recognition. And that means more opportunities for them. 
Mid-State Director of Coaching Colin Bonner said the success of one national team has built upon another like a wave that doesn't show a sign of stopping.
"It's not like, 'Oh, soccer has reached its peak,'" Bonner said. "We keep getting more girls than we have ever had. It keeps growing." 
Mid-State players and girls across the country found inspiration in the undefeated run to a fourth World Cup championship since 1991, which has correlated with a rise in popularity of soccer among girls nationally.
Only one year of the last 30 — 2009, when girls soccer participation experienced about a 2,000-player drop — has girls soccer not experienced an increase in participation.
It's the same story statewide. Girls soccer participation in Illinois has grown 16 percent since 2002-03, to 16,334 in 2017-18. The number of schools offering the sport grew from 332 in 2002-03 to 413 in 2017-18.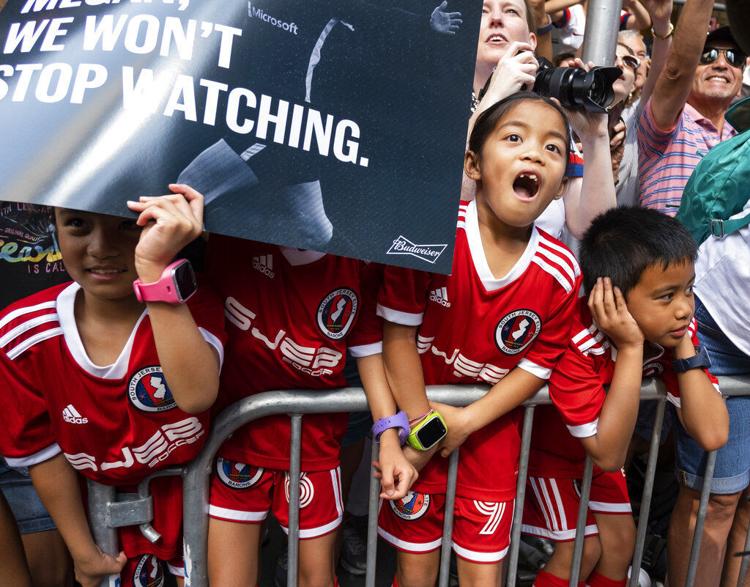 For Warrensburg-Latham/Maroa-Forsyth boys and girls coach Kevin Emery, things jumped forward after the 1999 World Cup win. 
"I think you can go all the way back to the victory in 1999 at the Rose Bowl that sparked it off," Emery said. "There will be peaks and valleys over time because the women's pro league is not nearly as popular as the World Cup, but you can expect a spike in interest (after a win), even if it is just a few kids."
When Emery began coaching the Cardinals co-op in 2002, the girls soccer landscape in Illinois was very different. 
"Soccer was a two-class system — there wasn't the regional level in the postseason because we didn't have the teams to support that many games," he said.
'When I'm older, I hope to be a professional soccer player' 
"Mid-State helps, especially at the young ages," Emery said. "You find that across the country soccer is a super-popular sport among elementary aged kids, but when they enter middle school and you have to make a choice between sports, you see the numbers start declining.
"But you now have so many girls playing and when they get older and the level of competitiveness and skills grows, it branches out and affects the school districts."
At many age levels, the Mid-State program is maxed out for girls teams. 
"When I started (in 2011) we had one high school girls team and now we have two-and-a-half teams," Bonner said. "At the younger ages, we have a team at every age group for girls, where in the past we had to combine age groups. There is a lot of interest and we are seeing loads and loads of kids who want to play."
You have free articles remaining.
"We were able to watch the finals there. I was so nervous and I fell out of the chair during the first goal," Boston said. "When I'm older, I hope to be a professional soccer player and I learned to keep working and getting better as the years go by so I can be a great soccer player when I grow up."
Breanna Sanders, 10, is a goalkeeper for Mid-State's under 12 team and she picked up some pointers from the play of U.S. keeper Alyssa Naeher, as well as some larger life lessons.  
"I learned how to make some better saves and that I should dive for every single ball even if it looks like it is going wide," she said. "Some people say that girls can't really do that many things but watching the World Cup makes me think that girls can do anything."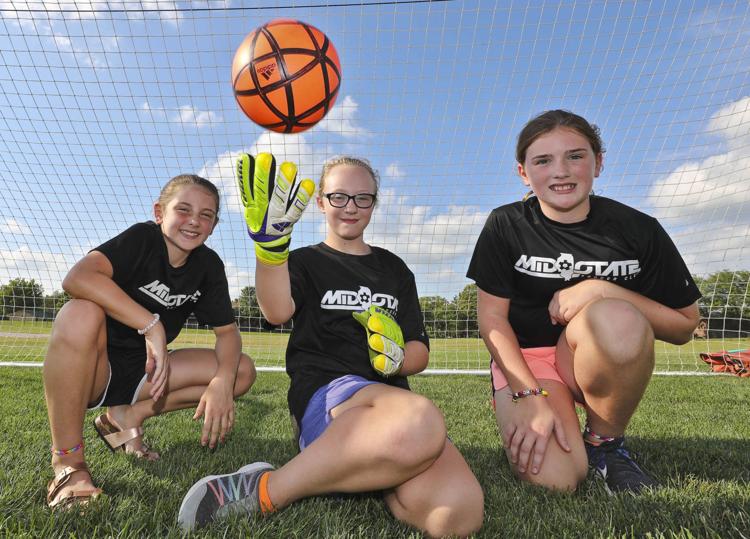 As Howard was breaking down the game tape just as a seasoned coach would, she had some questions about her own game. 
"I think that as (the girls) watched they realized the (national) were running plays and we aren't really there yet so Elana was like, 'Why don't we run plays?' You guys are still learning to get to that point," said Jacque Danner, Elana's mother. 
Watching her daughter observe the team, Danner recognized her emotions on game days. 
"She was yelling, 'Take the shot, take the shot.' What I found funny was that while she was watching it, she was pacing and sighing, and so now she knows what we do as parents on the sidelines," Danner said. 
'Girls can do just as much as the boys can do'
The win — and the strong ratings showing — came four months after a lawsuit 28 female players filed against the U.S. Soccer Federation alleging gender discrimination that affects their pay, training, travel, scheduling and medical treatment. The women are seeking compensation and working conditions equitable to the men's national team. 
"Certainly their winning reinforces this point that within the United States Soccer Federation, women are generating ratings and attendance that is on par with the men's matches," said Patrick Rishe, director of the sports business program at Washington University in St. Louis. "Most of (the federation's) corporate partners are basically paying to be part of men and women's soccer, there is no argument that you can make to say the men deserve to be paid more now."
The 2019 team also was full of personalities in leading scorer Megan Rapinoe and her co-captains Alex Morgan and Carli Lloyd. Those personalities impacted this generation of girls in a way previous teams hadn't.
"This year's team had role models and star players that (the girls) can look up to," Bonner said. "They are also on TV all the time, it's not just a soccer channel. It has given them a chance to latch onto those role models. 'I'm Alex Morgan. I'm Megan Rapinoe.' The boys have always had that but now the girls have that, too."
Rapinoe made headlines with her pronouncements that she would not visit the White House if the team was invited by President Donald Trump. Morgan, who set a record for most goals in a Women's World Cup game, became a viral video sensation with her tea-sipping hand gesture after the U.S. defeated England in the semifinal game.
Wrigley Donahue, 15, is a forward on Mount Zion High School team. She remembers watching some of the U.S. teams' championship from 2015, but said she connected with this year's team because of some of the political messages put forth by the players. 
"I was inspired by the older teams to get into soccer, and watching the older girls play made me want to be more competitive and get better at it," she said. "(With this year's team), I like the ideas like the equal pay — that's important to me. I think the women's team is a very good team and I think they should get the same treatment as the men do.
"I think the team kind of looked at girls who don't believe in themselves," she said, "and they showed them that girls can do just as much as the boys can do."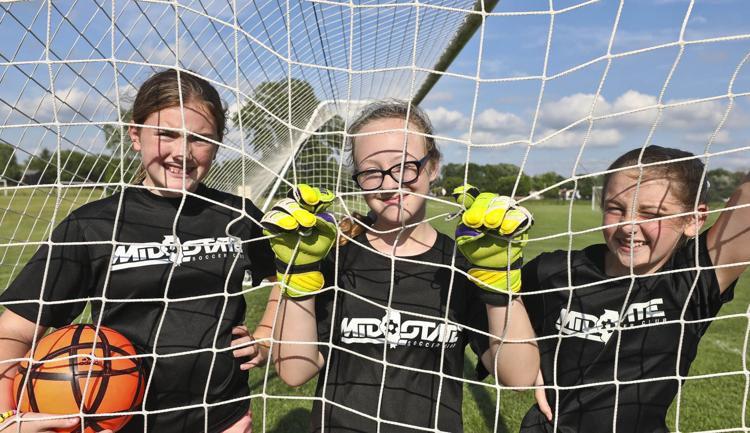 The Los Angeles Times contributed to this report. 
---
Contact Matthew Flaten at (217) 421-6968. Follow him on Twitter: @MattFlaten