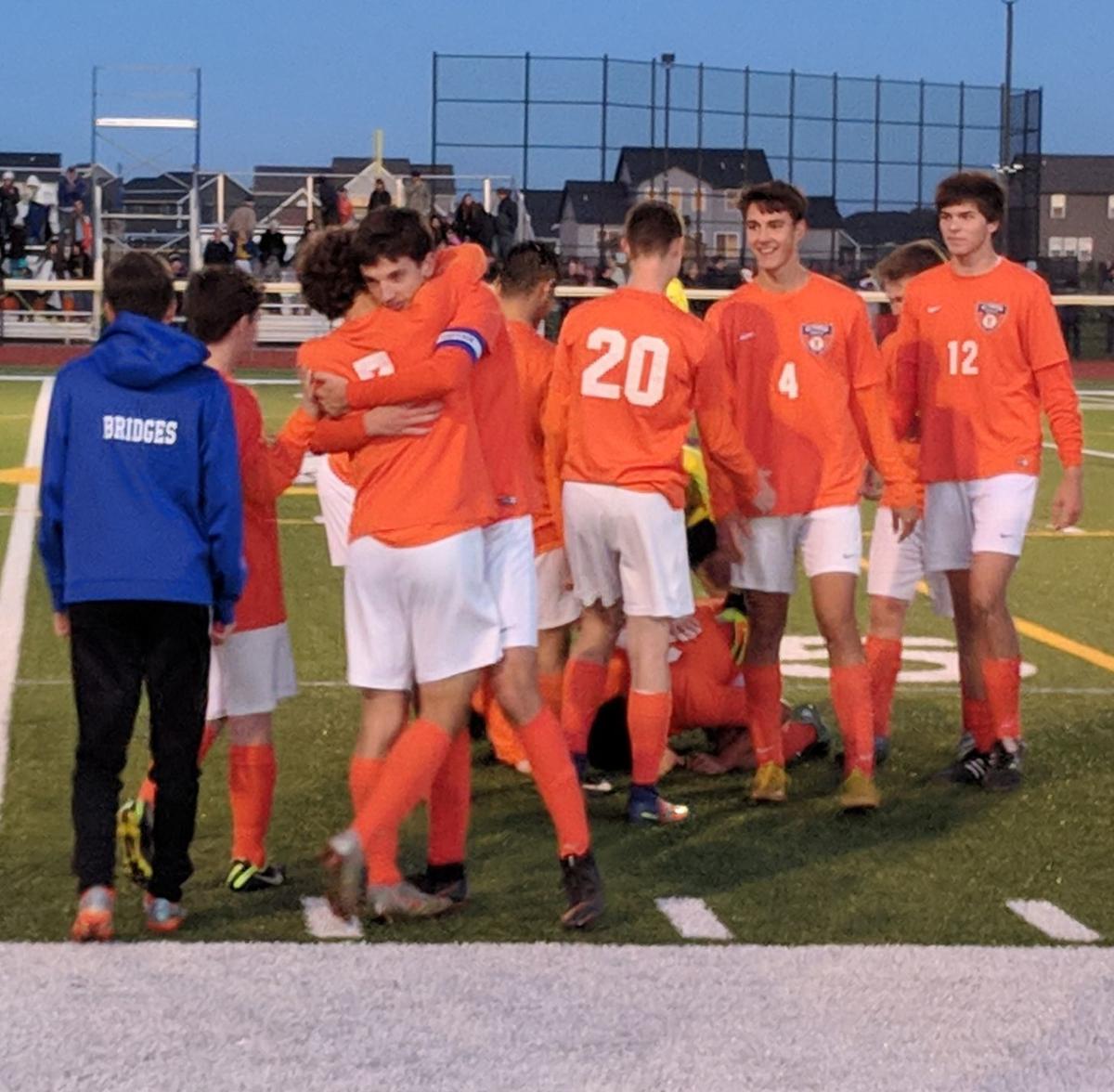 CHAMPAIGN — As the clock was winding down to the final buzzer, first-year St. Teresa boys soccer coach Davis Wegmann urged his team not to rush the field to celebrate.
Wegmann reminded his team that they haven't won anything yet.
But Wednesday's 4-1 win over Urbana University High in the Class 1A Champaign Judah Christian Sectional semifinals sure felt like something.
It was the first win in the sectional round of the postseason in St. Teresa boys soccer history. The Bulldogs (19-2-3) got revenge on the Illineks, who beat the Bulldogs 4-2 in the same game last season.
With the win, St. Teresa advanced to Saturday's sectional championship game at 11 a.m. against Champaign Judah Christian at Field of Dreams in Champaign.
St. Teresa senior Luichi Caceres scored three goals — one in the first half and two in the second half — to lead the way and Edgar Onate poured in a second-half goal for the Bulldogs.
CHAMPAIGN — Early on when the Illinois men's basketball team convened for practice, sophomore guard Da'Monte Williams hammered a dunk home ove…
"I've never played this well, honestly," Caceres said. "It's just this team. The team was fueling me. I just looked around and saw how badly everybody wanted it. We were on the brink of tears because we're all so passionate about it. These are my brothers. They drew the best out of me."
Wegmann said he thought his team had a mental wall about the sectional semifinal game. Dating back five seasons, the Bulldogs have three losses in the sectional semifinals, one regional final loss and one regional semifinal loss.
"We knew we could get over it," Caceres said, "but we knew it was going to take everything to get over it."
Caceres scored the game's first goal, firing the ball into the net with 26:21 left to go in the half. He celebrated with a backflip and cartwheel.
But Uni High (16-6-3) answered back three minutes later with a goal off the foot of Albert Lee and just over the outstretched arm of St. Teresa goalie Vince Koester.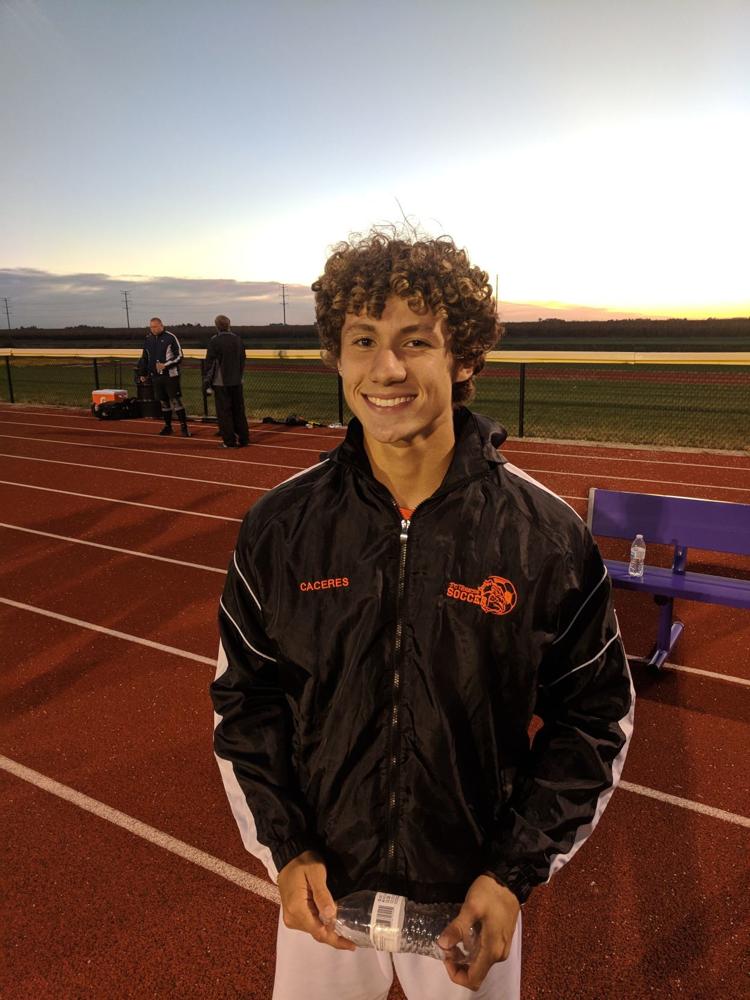 Though St. Teresa, which beat Uni High 4-3 earlier this season, controlled the offense in the first half, the Bulldogs couldn't punch it in.
You have free articles remaining.
Then, in a 46-second span in the second half, the Bulldogs scored twice. The first was a goal from Caceres, who dribbled past a pair of Uni High defenders and scored. The second came off the foot of Edgar Onate.
Wegmann saw the Illineks pressing, leaving three defenders in the back. From there, he knew his team was equipped to strike.
"We knew they were going to be exposed, and I've got guys who can take people on all day," Wegmann said. "That helps out so much because we have so many players who can pass the ball and move the ball. It was so nice to watch, especially because in the second half we got our foot on the ball and played our game."
During that stretch, Lee — a key defender for Uni High — left with an injury.
"Well, the first two goals that happened were when one of our main center-mids, he got stomped on basically," Uni High coach Phil Anders said. "He had cleat marks on his knee. Albert was hurting. So he came out and that was the time that they scored the two goals. Albert is a big part of our midfield and a big component of clogging things up so maybe that unsettled us a little bit. They're a good team. They were moving the ball around very well."
DECATUR -- St. Teresa boys soccer team spread out their goals among five players Thursday as they defeated Warrensburg-Latham/Maroa-Forsyth 5-…
Onate's goal, which was assisted by Jace Hite, came a year after the Illineks bottled up the junior, who has established himself as a premier goal scorer in the area.
"The goal wasn't as important as the win," Onate said. "As a team we were all looking for this win. It's been three years now for the seniors, two for me. Everyone has been looking forward to this. Now we've got to keep moving forward."
Finally, with 13:51 left, Caceres all but punched the ticket to the sectional championship game with a goal on a penalty kick.
That's when senior Giovanni Fuentes knew his team had hurdled the barrier that had tripped the Bulldogs up in the past.
Fuentes was particularly emotional after the win.
"To come out here, especially for Edgar and Luichi to play so well and basically win it for us in a way, I got emotional," Fuentes said. "I'm a senior and it's the first time we've gotten this far. We've never in the history of St. Teresa won the semifinal for sectionals. Finally being able to do it, especially against a team like Uni, which beat us last year in the same round, is overwhelming. It all came to me."
St. Teresa goalie Vince Koester never got rattled in the goal, and finished with five saves. He trusted his offense to answer back after Lee tied the game in the first half, and Koester responded with leaping saves to swat the ball away.
Beating Uni High and advancing past the sectional semifinals was a goal from day one.
"From the beginning of the season, all of us were like, we have to set a goal," Koester said. "Finish Uni High and then go to state."
Contact Joey Wagner at (217) 421-6970. Follow him on Twitter: @mrwagner25