First team
C — Dayna Kennedy, Sr., Mount Zion
She was the best hitter on the area's best team and was an anchor behind the plate. The Macon County Player of the Year hit .444 with 13 doubles, two triples, 13 home runs and 39 RBI while posting a .567 on-base percentage to lead the Braves to third place in Class 3A.
C — Hallie Mitchell, So., Maroa-Forsyth
One of the top up-and-coming players in the area, Mitchell hit .427 with seven doubles, a school-record eight triples, seven homers, 30 RBI and 42 runs scored. Coach Jon Kidd said she might be the best catcher in the Sangamo Conference.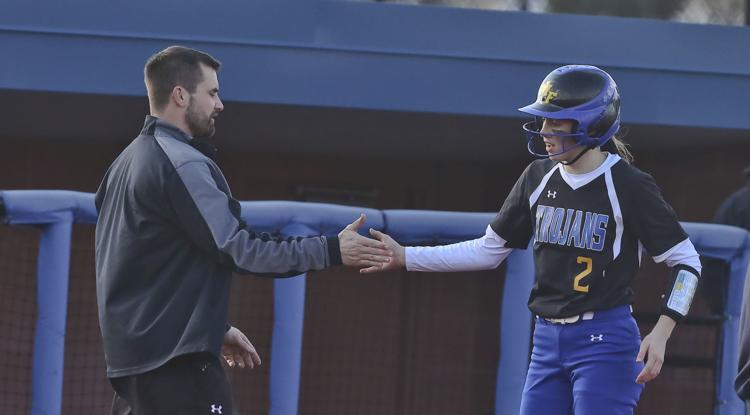 P — Audrey Eades, Jr., Mount Zion
Eades grew into the ace of a deep, talented Mount Zion pitching staff while also hitting No. 2 in the batting order. She had a 2.23 ERA with 114 strikeouts in 94.1 innings pitched while hitting .403 with five home runs, eight doubles and four triples while driving in 41.
CF/SS — Jada Wilson, Sr., Warrensburg-Latham
Wilson was an on-base machine for the Cardinals with a .609 OBP while batting .557 with 10 doubles, six triples, three homers, 50 runs scored and 28 RBI.
P — Daleny Chumbley, Fr., Tri-City/Sangamon Valley
She broke on to the scene as a freshman and established herself as the top young pitcher to watch in Macon County. Chumbley went 15-2 with a 0.95 ERA in 104 innings, striking out 157 and only allowing 65 hits and issuing 10 walks.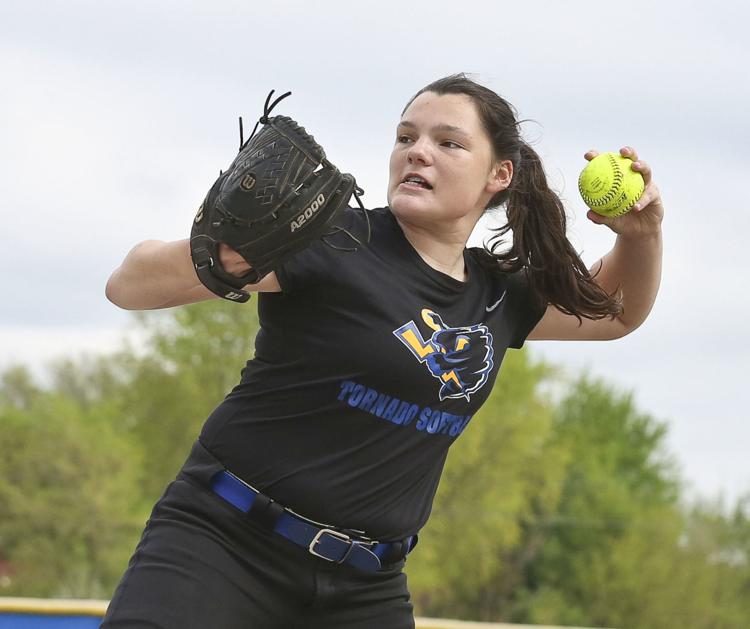 SS — Zoie Bowman, Jr., SS, Meridian
Bowman has it all: Speed, glove and a steady yet powerful bat. She hit .496 from the shortstop position with 10 doubles, eight triples and six homers for Meridian while driving in 35 runs.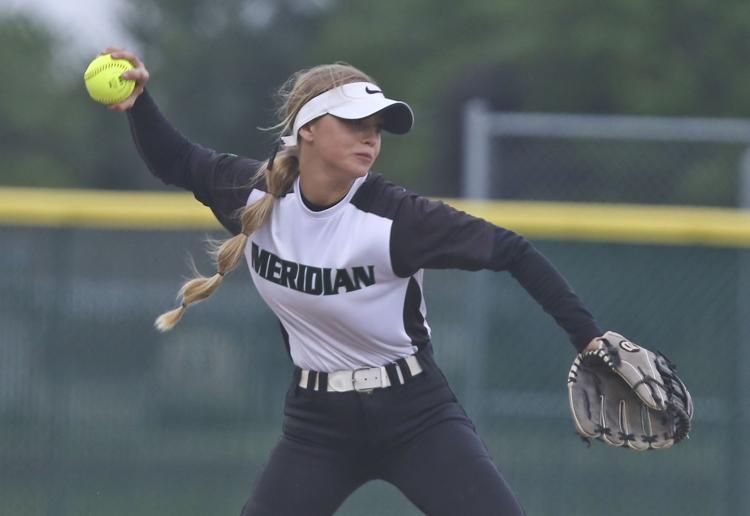 C — Jesse Damery, Jr., Meridian
Damery is a stellar defensive catcher with more than enough pop in her bat. She hit .486 with 12 doubles, a triple, two homers and 27 RBI. She's headed to the University of Illinois following her high school career.
OF — Shayla Mills, Sr., Tri-City/Sangamon Valley
Mills constantly produced for TCSV, hitting .458 with just six strikeouts on the season. She had a .605 on-base percentage with 23 runs scored, 25 RBI and 11 stolen bases.
SS — Kynzie Wrigley, Jr., Mount Zion
The Southeast Missouri State commit was the No. 3-hitter in a very strong Mount Zion batting order, hitting .483 with 10 home runs, 44 RBI and 51 runs scored. She had a good glove at shortstop and produced a .551 on-base percentage.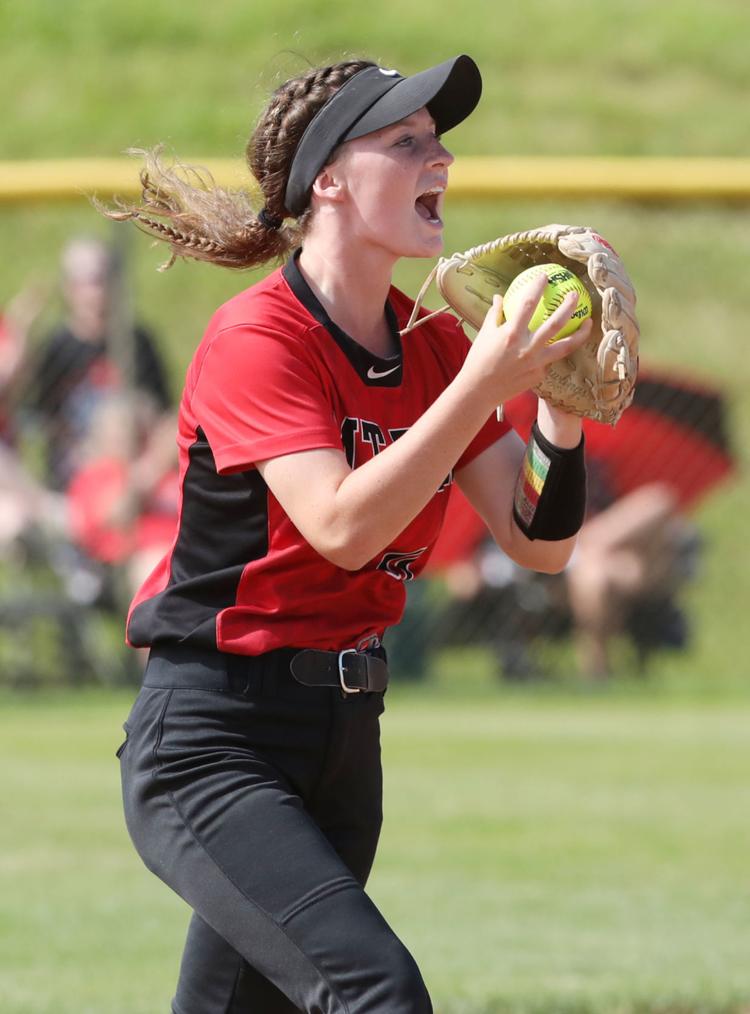 UTIL — Jaycie Edwards, Jr., Warrensburg-Latham
All Edwards did as a junior was set the school record with 62 RBI with a .554 batting average. She hit for contact and power, smashing six home runs and 16 doubles. She was also the catcher for the Cardinals.
UTIL — Cami Newbanks, Sr., Argenta-Oreana
You have free articles remaining.
Newbanks, a St. Louis University-signee, anchored the Bombers' pitching staff from behind the plate and hit .487 with 12 doubles, a triple, two home runs and 32 RBI. She scored 31 runs on her on and was frequently on base with a .585 on-base percentage.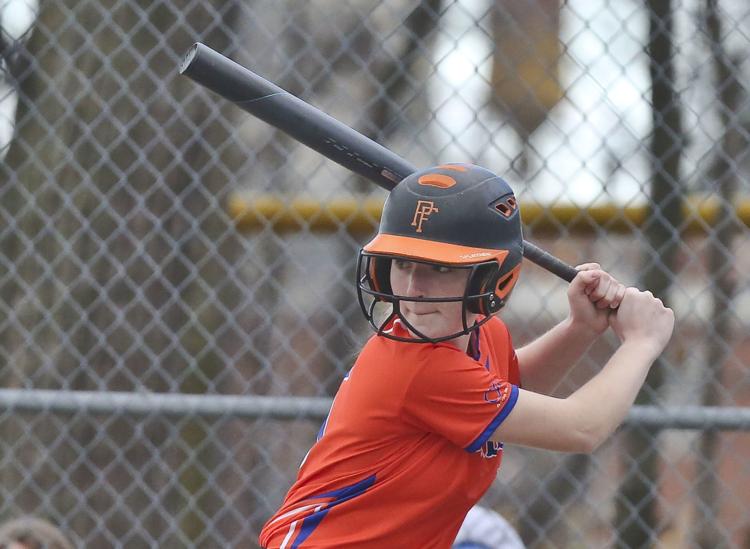 Second team
SS — Allie Robinson, Jr., Maroa-Forsyth
Robinson hit .425 with eight doubles, three home runs and 27 RBI for the Trojans. She scored 37 runs and had nine steals.
P — Peyton Latham, Jr., Meridian
Latham was the primary pitcher for the Hawks, and delivered when called upon, going 23-5 with a 2.06 ERA.
3B — Taylor Page, Sr., Tri-City/Sangamon Valley
The Millikin-bound senior was a strong glove at third and hit .400 with 11 doubles, a home run, 25 RBI, 30 runs scored and only 10 strikeouts.
C — Emma Farley, So., Tri-City/Sangamon Valley
The No. 3-hitter hit .406 with six home runs, 12 doubles, 42 RBI and 37 runs scored. Defensively, she threw out 9 of 17 base-stealers.
OF — Kaelee Stockton, Sr., Meridian
Stockton hit .431 with 29 RBI, one home run, eight doubles and three triples.
3B — Anna Enlow, So., Meridian
Enlow hit .369 with three doubles, seven triples, two home runs and 35 RBI.
UTIL — Ally Bruner, Sr., Mount Zion
Bruner, a University of Tennessee-Martin commit, was the No. 4 hitter, hitting .345 with two homers, six doubles and 30 RBI while posting a 2.85 ERA and 64 strikeouts in 51.2 innings in the circle.
P — Chayse Ramey, Jr., Mount Zion
Ramey had big games as a starter and reliever, going 8-1 with a 1.11 ERA and 75 strikeouts in 63 innings.
OF — Emma Ewing, Jr., Mount Zion
Ewing was strong in the bottom-half of the order, hitting .378 with eight doubles, three homers and 31 RBI.
P — Braylee Finck, Sr., Maroa-Forsyth
Fink pitched through injury, going 18-9 with 87 strikeouts and a 4.13 ERA while hitting .391 with nine doubles and 23 RBI.
C — Aaliyah Jackson, Fr., MacArthur
Jackson made an immediate impact, batting .410 with a .470 on-base percentage and a .574 slugging percentage.
Honorable mention
Zoey Clark (So., IF), Maroa-Forsyth; Jaden Corley (So., IF), Maroa-Forsyth; Grace Cropsy (So.), Cerro Gordo-Bement; Kyla Crutchfield, MacArthur; Samarah Cunningham, MacArthur; Bailey Davis, Mount Zion; Kaydence Haag, Eisenhower; Kennedy Hansbro (Fr., IF), MacArthur; Kayleigh Harris, Eisenhower; Allanna Hayes (So., IF), Warrensburg-Latham; Michelle Hollon (Fr.), Argenta-Oreana; Madelyn Kelm, Eisenhower; Carlie Klein (Jr.), Warrensburg-Latham; Jaylei Lowary (Fr., IF), MacArthur; Ella Mann (So.), Cerro Gordo-Bement; Ashlyn Morlock, Tri-City/Sangamon Valley; Alexis Navis (Jr.), Argenta-Oreana; Cassi Newbanks (So.), Argenta-Oreana; Claire Peters (Sr.), St Teresa; Audrey Wise (Jr.), Meridian