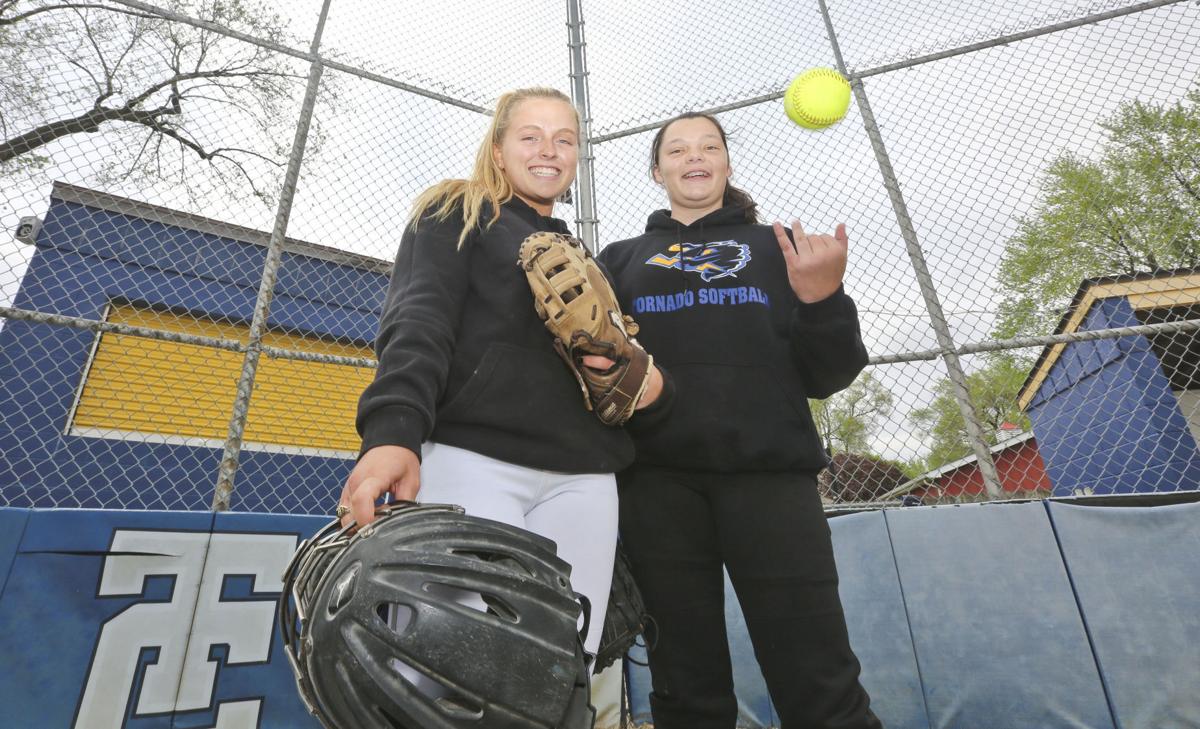 Daleny Chumbley went from softball camp to softball camp last December: Kentucky, Mississippi State, Illinois, Maryland. The list goes on. She wanted to put herself out there as the high-level softball recruit she always knew herself to be.
Meanwhile, her battery mate at Tri-City/Sangamon Valley, Emma Farley, was preparing for her junior season as her clock as a softball player ticked down to what she thought would be an eventual end after her four years at TCSV.
The two took two divergent paths to committing to play college softball. It had always been the dream for Chumbley, now a junior left-handed pitcher who committed to play at the University of Illinois. Farley, the all-stater who is now a senior catcher, had to have her junior season ripped away before realizing that she wanted to play in college. She committed to play at Illinois College.
Neither of the two have played for TCSV, a perennial powerhouse, since 2019 because of the COVID-19 pandemic, and will have to wait an additional few months because of their schedule getting pushed into the summer. But both have committed to play in college, one recognizing a lifelong dream and one not ready to part ways with the sport she loves.
"It's really awesome that I even get that opportunity because so many people, I know that's their dream and it's always been mine," Chumbley said. "It's insane that I'm actually going to get to do that."
Said Farley: "It got taken away from us. I was like, 'I miss this so much right now, not being able to play.' What if this happens next year to where we don't get to play? Then my sophomore year would be my last year and I don't want that to be the end. It kind of sank in to me that I don't want my softball career to end in high school.
"I realized that it meant way more than just softball."
Chumbley broke onto the scene as a freshman in 2019, hitting .390 with five doubles, two home runs and 16 RBI. But her pitching was invaluable. She went 15-2 with 157 strikeouts and just 10 walks in 103.2 innings pitched. She firmly established herself as one of the best pitchers, and players, in the area.
She continued playing travel softball and played in a Springfield Fall League, where TCSV head coach Brad Sturdy said Chumbley continued to improve. She's hitting 62-63 miles per hour consistently and keeps throwing strikes. That bodes well for the future — he still has her in the program for two more seasons.
"Her goal is to push herself and try to play at the highest level and take that chance," Sturdy said. "Obviously there are no guarantees. Nobody is going to tell you you're going to play at Illinois. You're going to go compete and she's excited about that opportunity."
Illinois' proximity to home was a draw fir Chumbley, but so was the opportunity to play in the Big Ten, in state, and at a program where her grandmother loved the men's basketball team. It was a win all around. Major college softball has been a goal since she watched Oklahoma on national television when she was younger.
Before she committed, and particularly during the pandemic, she sent more than 65 emails a weekend detailing where her travel team was playing, how it could be streamed and then, at the end of the weekend, detailing how she did.
It's the often unseen side of recruitment, but she didn't waver. On Sept. 1, when college coaches could officially contact her, the calls started rolling in, but Illinois stuck. There had been longstanding interest.
There were other offers, from Pac-12, SEC and other mid-major schools. Perhaps some she could have made an immediate impact. Maybe there will be a waiting game at Illinois, but that fits her personality.
"I'm a competitive person," Cumbley said. "Not that I would immediately walk in and play but I want to work for it. That experience in the Big Ten, that's what me and my parents would talk about. Big Ten, you would have a chance to be in the Big Ten Tournament, NCAA Tournament. You can compete for something. Not that you couldn't at those other schools but it would just mean so much more."
Farley, on the other hand, was prepared to go to Lincoln Land Community College to begin her road into the nursing field. But losing her junior season was eye opening, and difficult. As a sophomore she hit .406 with 12 doubles, three triples, six homers, 42 RBI and had zero errors, allowed two passed balls in 30 games and threw out 6 of 11 would-be base stealers.
She has long possessed the requisite skills to play in college. And then some.
"I think she's the best catcher in our area," Sturdy said. "She's a tremendous hitter. She's a good athlete. I think her sophomore year we talked about we could play her at any position and she would be maybe our best player at five or six different positions, not pitcher, but the other ones."
When Farley decided to play, she reached out to some local community colleges but assumed she'd play at Lincoln Land. Then Illinois College got involved. When MacMurray College closed, Illinois College added a nursing program.
Farley took a tour of the campus and was sold.
"I fell in love there," Farley said. "I had never had any interest in going away for college or anything like that but I loved it there. Walking on campus, I was like, 'I want this to be my home for the next four years.'"
And just like that, the two paths realigned as TCSV's battery both turned into college softball players.
---
Contact Joey Wagner at (217) 421-6970. Follow him on Twitter: @mrwagner25