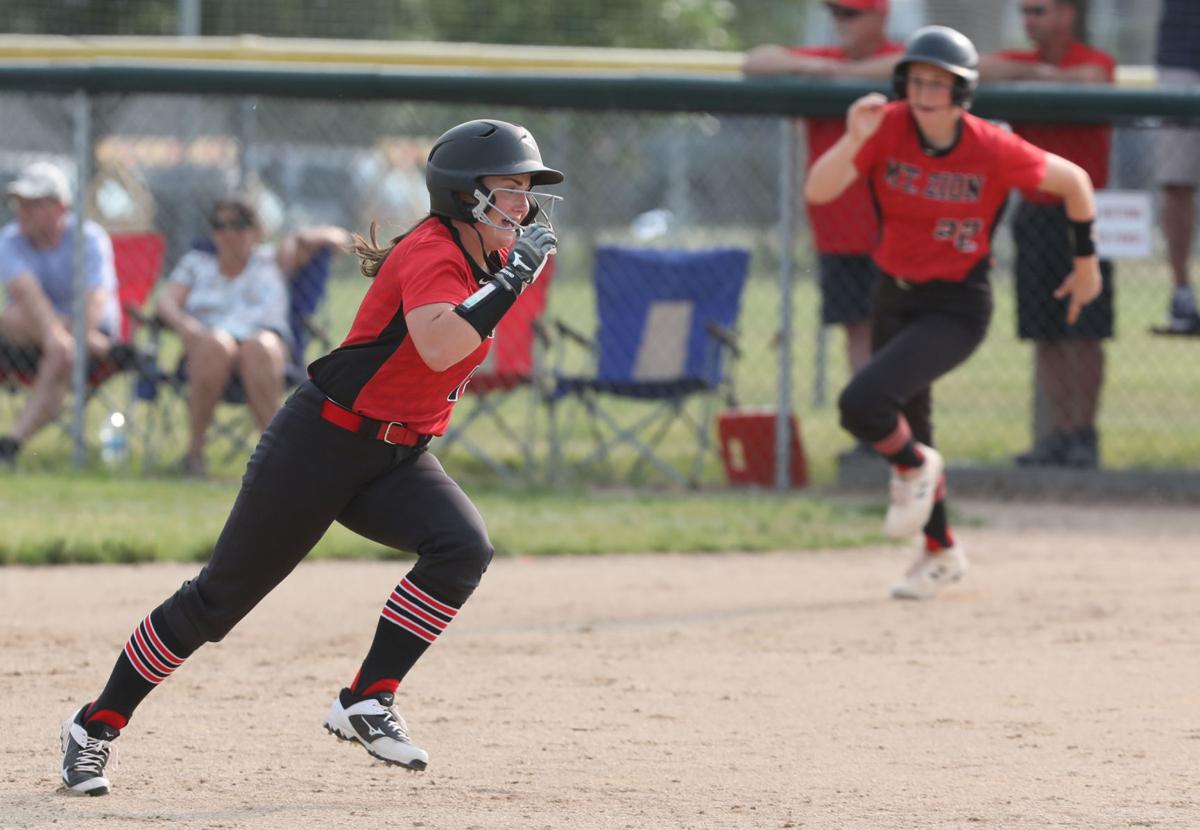 MATTOON — Most of the members of this season's Mount Zion softball team stood in the outfield of EastSide Centre last season, dejected but with an eye towards the future after a loss to New Lenox Providence Catholic in the Class 3A third-place game.
No player minced their words or planned to hide behind any pressure that was undoubtedly about to pile on a group that returned nearly everyone off of a team that just finished fourth-place in Class 3A.
"We'll be back next year, for sure," then-sophomore Audrey Eades said on June 9, 2018.
There was never any other place the players planned to end their season than in the state finals.
"It's awesome, honestly,' senior Ally Bruner said. "All of us are mostly veterans on this team so getting back to state was definitely one of our goals this year."
Since Day 1, Mount Zion coach Greg Blakey has seen his team locked in, with a specific vision in their line of sight. There's a list of goals in the team app on their phones. There were the simple ones: Beat Charleston, beat Mattoon, win the Apollo Conference.
Then came the goals that included the EastSide Centre: Get back to state. Do better than last year.
"It's different in the respect that this is one of our goals," Blakey said. "We've been very workmanlike getting to this level. I hope they enjoy this, I really do. It's a little different than last year. Last year we weren't expected to be here."
The Braves are loaded top to bottom. Blakey doesn't quite know how he would attack his own lineup, joking that he might have to pull a trick from Dock Ellis' book of hitting the first three batters of the inning if he were pitching against his own lineup.
Three of the top four hitters in the order — Dayna Kennedy, Ally Bruner and Kynzie Wrigley — are committed to play Division I softball. Kennedy is headed to Illinois State, Bruner is headed to the University of Tennessee-Martin and Wrigley is committed to Southeast Missouri State. Eades is the other in the top-four and is on a rampant tear through opposing team's lineup from the pitching circle and had a crucial RBI triple on Monday.
This group, Blakey said, is deeper than last season. But going back to state wasn't a given. It's no cakewalk through the postseason.
"We definitely had to come together as a team," Eades said. "At the beginning of the season I thought it was going to be hard to come back here again. Once we came together and practiced a lot harder, I knew it was going to be possible and we made it happen.
"We only have one goal left, and it's to win state."
Mount Zion hasn't lost two consecutive games all season. There's an early-season loss to Effingham and losses to Tolono Unity, Normal West and Washington to go along with a tie to Windsor/Stewardson-Strasburg.
The Effingham loss was followed by a 10-0 shutout win against Tayloville. The Braves beat Bloomington 6-1 in the game following the loss to Unity. After a 4-3 loss to Normal West, Mount Zion battered Normal Community 21-9 and opened regionals with a 13-3 win over Rantoul after losing the regular-season finale to Washington.
"We worked extremely hard this year, all through the season and taking it one game at a time was very important for going through regionals and sectionals," Kennedy said. "For a little bit we had a couple losses, but for the most part we were able to come together after those losses and power through the rest of our season."
It didn't take long for Blakey to learn about the mettle of this team. Mount Zion tied W/SS, which was coming off of a Class 1A state championship the prior season, in a cold game on March 25 that was called because of darkness. He knew that W/SS was better than any team the Braves saw at state last season and would be among one of the best they would see this season. Exactly four games into the season, Blakey had a good feeling about things, which was backed up when Mount Zion beat W/SS in a re-match later in the year.
"I thought once we could play with them, we could play with about everybody," he said. "I thought we had a shot after that."
Their goal this season is to be two-runs better.
"We talk about it all the time, honestly," Bruner said. "We're like, 'All right, we need to make it to state first, but once we make it we need to do better than last year.'"
One year after back-to-back losses in the state tournament, Mount Zion will arrive in East Peoria with eyes on a the state championship trophy, Kennedy is quick to point out.
But this path started long before a 10-4 season-opening win against Maroa-Forsyth on March 21. It stared on June 3, 2018.
"You've got to love the swagger, because you never know," Blakey said. "Luck has a part in this as well. Obviously I think we're pretty good." 
Contact Joey Wagner at (217) 421-6970. Follow him on Twitter: @mrwagner25
Get in the game with our Prep Sports Newsletter
Sent weekly directly to your inbox!