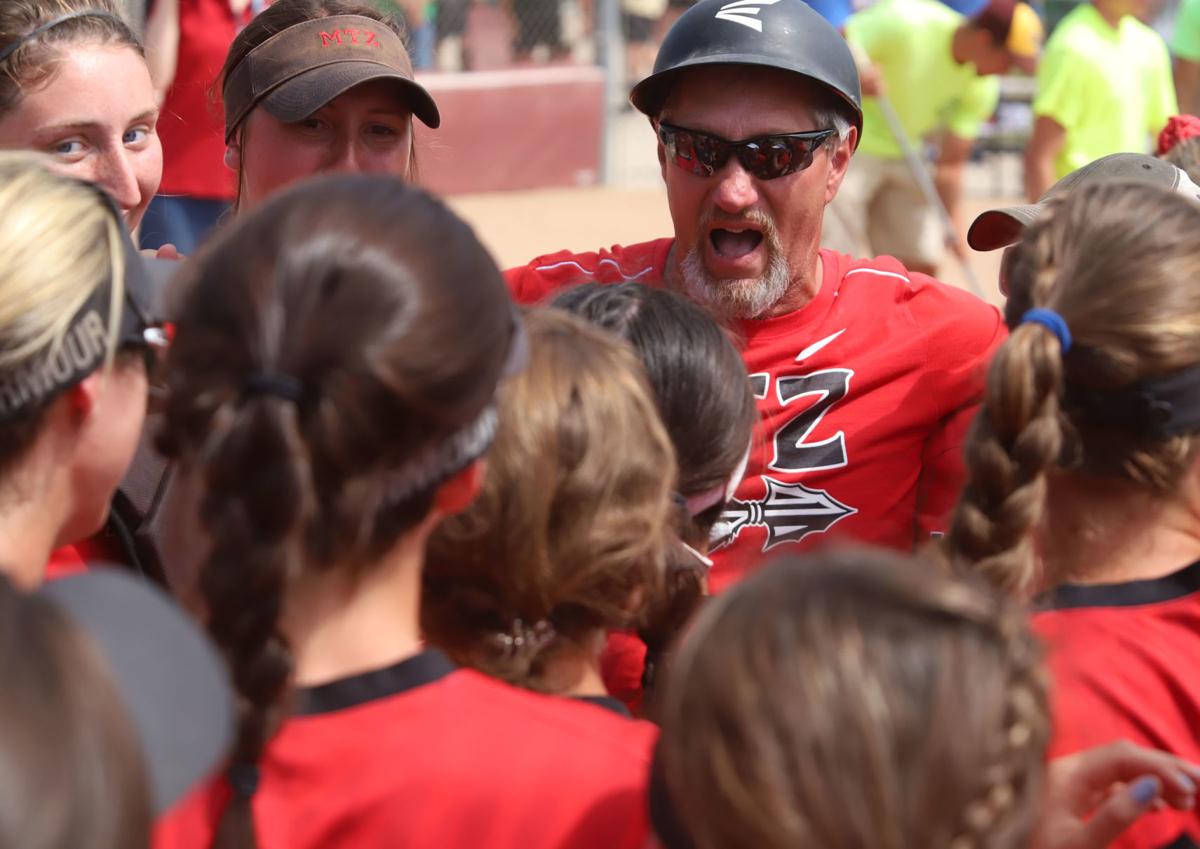 MOUNT ZION — Expectations have never alluded Greg Blakey's Mount Zion teams.
He's had regional champions, sectional champions, Division I players and any number of players who went on to play softball in college during his 28-year tenure. This season, however, was different. The expectations were lofty from the first pitch and the plan was to get back to the state tournament in East Peoria after finishing fourth there last season. Some of the expectations were derived from the players, who called their shot last season after the third-place game.
The rest of the expectations came from returning eight starters to go with a deep pitching staff and a talent-rich lineup. Blakey kept things in check and guided the Braves to a third-place finish in Class 3A, earning the Herald & Review Macon County Softball Coach of the Year for the 12th time overall.
The thing about it was, the Braves didn't start really hitting the ball well until the super-sectional win over Centralia.
"It was not an easy path at all," Blakey said. "Our kids handled it pretty well. I don't think we were as sharp hitting through the sectional as we had been all year. Give our kids some credit because we got through a lower point offensively."
Blakey though, isn't blind to the talent he had on the team. He had two-time Herald & Review Macon County Player of the Year Dayna Kennedy, who is signed with Illinois State University, junior pitcher Audrey Eades, committed to Millikin, senior Ally Brunner, who is signed to University of Tennessee-Martin, junior Kynzie Wrigley, committed to Southeast Missouri State — and those were just the top four of the lineup. The rest of the lineup was also talented and productive.
In a rain-plagued season, Blakey had to help the Braves keep focus while taking ground balls in the gym when they couldn't get outside. A lot of the focus, though, was player-run. The Braves didn't predict a return trip to state last year to fall short this year. They were dialed in.
"To the girls' credit, this group is very focused," Blakey said. "They knew they wanted to get back. They did a great job of keeping their goals in front of them and they did a great job of busting their butts to make it back. They stayed very focused everyday in practice.
"I know sometimes it's hard for these young kids to stay focused on that goal, but they did a great job of staying locked in."
The Braves beefed up their schedule, adding a pair of games against last season's Class 1A state champion, Windsor/Stewardson-Strasburg. Blakey knew the Braves would get the biggest punch from everyone they played. In fact, Blakey said after the super-sectional win, that first WSS game in March, a bitter-cold game that ended in a tie because of darkness, was the sign of things to come. After that game, he knew his team had the chops to make another deep run.
Never did Blakey feel the opposite. When he needed to make an in-game move, like sending Chayse Ramey in the game as a pinch-hitter in the super-sectionals, where she delivered a critical two-RBI triple, he pulled the string. It all worked.
"How mature and how business-like they were all year," he said of his lasting memory of this team. "The beauty of it was we had been there the year before. We were a little more, I don't want to say confident, but at ease. The newness wasn't there. Last year we were just kind of happy to be there. This ear we went with a different expectation.
"Our kids were very mature this year with handling success. We didn't get too high, we didn't get too low."
Contact Joey Wagner at (217) 421-6970. Follow him on Twitter: @mrwagner25
Get in the game with our Prep Sports Newsletter
Sent weekly directly to your inbox!