MOUNT ZION — Saturday started off well for the Mount Zion softball team.
The Braves avenged a loss on Friday and won their first two games of the Mount Zion softball tournament.
But, in the seventh inning of the final game, against Stanford Olympia, Braves ace junior pitcher and University of Tennessee-Martin commit Ally Bruner was hit by a comeback line drive above her right eye.
"I knew as soon as it happened," Mount Zion softball coach Greg Blakey said. "You heard the thud and saw the way she went down that it wasn't a good thing. You always hope for the best."
---
Want to see more local sports coverage like this?
Our Preps Recap email is for you! Delivered twice weekly, it is full of local sports content just like this article!
I understand and agree that registration on or use of this site constitutes agreement to its user agreement and privacy policy.
---
Bruner immediately collapsed in the pitcher's circle and was tended to for approximately 45 minutes before being taken off the field on a stretcher.
She was taken to Decatur Memorial Hospital and later transferred to Springfield Memorial Hospital, where she underwent facial surgery on Sunday morning, according to a Facebook post by Bruner's mother, Cammie Bruner.
Bruner received three titanium plates and 25 screws during the surgery, according to Cammie Bruner's Facebook post. She returned home Sunday afternoon, and still had swelling and bruising as of Monday.
It's a tradition as old as time: Early season baseball and softball is slowed by rainouts.
"In 28 years of coaching and 20 years of playing men's fast pitch, that was the worst thing I've ever seen, to be honest," Blakey said. "I didn't know how bad it could have been. There are 1,000 things that are going through your mind. You don't know at that point in time."
Bruner's summer softball coach and close family friend Dale Shelton said Bruner is in good spirits and telling jokes.
"She's doing fine," Shelton said. "She's positive, she's upbeat and she's recovering."
Blakey credited the efforts of Mount Zion head athletic trainer Dustin Fink for helping Bruner remain calm. Both Blakey and Fink said Bruner was coherent and talking while being tended to.
"This facial injury, laceration, was probably the worst I've seen in high school sports. Ever," said Fink, in his 18th year as a high school athletic trainer. "I've seen similar in car accidents, but nothing in sporting activity."
Fink, along with coaches and administration at Mount Zion, prepare for traumatic experiences with emergency action plans, or EAPs, in case of this situation.
That training paid off on Saturday.
"It helped us tremendously here," Fink said. "We were all on the same page and we knew what we were doing. We executed our emergency action plan without fail. Even the umpires knew what was going on because they're briefed on EAPs before games.
"That all speaks to why she was so calm and she was able to listen and answer and do the things I was asking her to do."
You have free articles remaining.
The rest of the Mount Zion softball team also remained calm, and Blakey reiterated at practice on Monday how proud he was of the team in their handling of the situation.
"It's a tough spot because they're worried about her," Blakey said. "It was a pretty traumatic situation, to be honest. I don't know how I would have handled that as a young kid. It's hard enough as an old man."
Blakey gave the team the option for forfeit the game following the injury, but the team elected to play.
"We said to the kids, 'If you want to be done, we're done. I don't care and I don't blame you if you want to be done,'" Blakey said. "To their credit, they said, 'Let's go win it for Ally,' and they did."
MOUNT ZION — Greg Blakey estimates one of Dayna Kennedy's home runs is still traveling.
Sophomore pitcher Audrey Eades came in to pitch in relief of Bruner.
The game was tied 4-4 after seven innings, and in tournament play, the teams used the international tie-breaker rules, starting extra innings with a runner on second base.
She was sacrifice bunted to third base and scored the game-winning run on a walk-off sacrifice fly to left field off the bat of Alexis Rhoades.
"We all thought about Ally," Eades said on Monday. "The winning run was Ally. She was on my mind. Running home I was like, 'I'm doing this for Ally, I'm getting safe for Ally.'"
Blakey said initial reports are that Bruner could possibly return by the end of the season.
Blakey said he encouraged his players who pitch or play corner infield positions to wear a mask, and Cammie Bruner's Facebook post said when Ally does return, she'll be wearing a mask.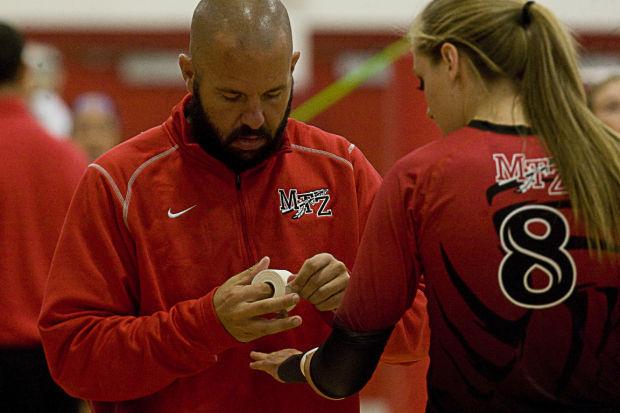 Fink said a mask would have prevented the severity of the injury.
Bruner has reached out to the team to let them know she has returned home and is thinking about them.
It was a reprieve for Eades.
"We didn't think she would be on her phone anytime soon," Eades said. "Getting a text that said 'Ally Bruner' was amazing."