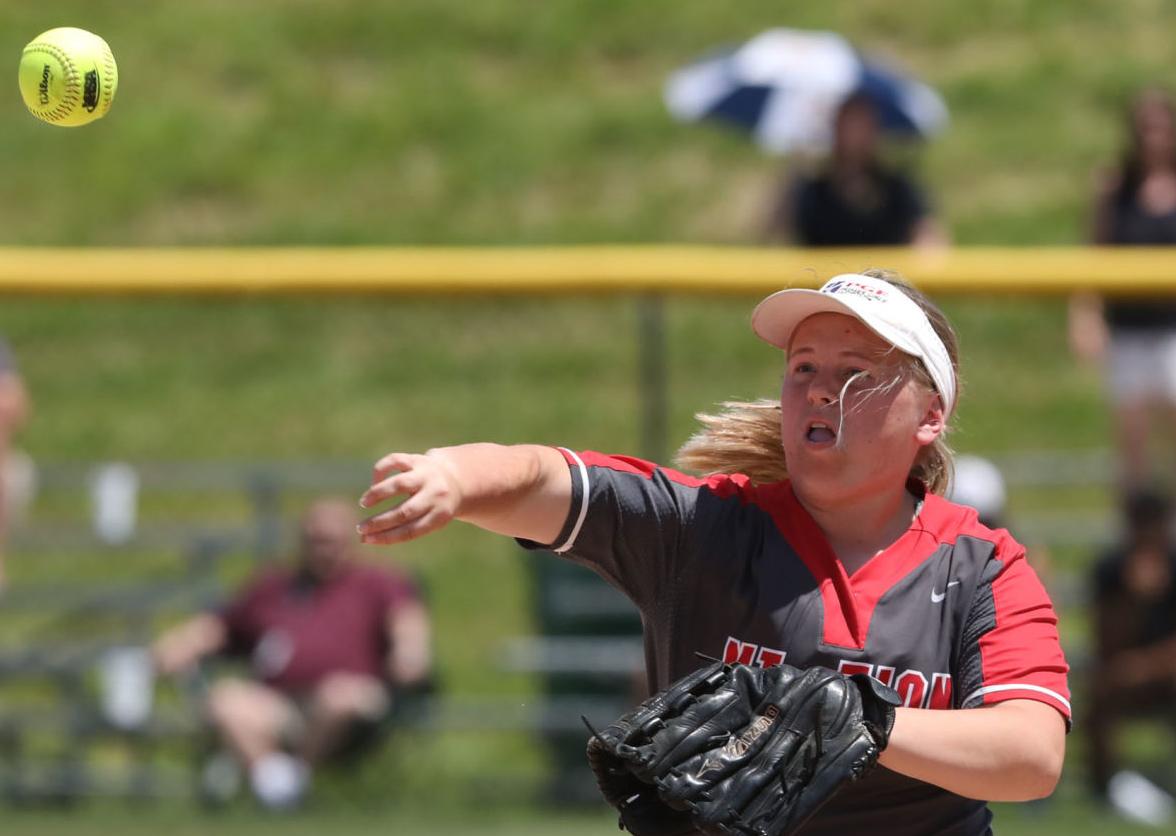 EAST PEORIA — Seven years ago, Bailey Davis was thrilled to just be a runner for the IESA Class AA runner-up team from Mount Zion Junior High School.
If that's what her team needed her to do, she was thrilled to pitch in where she could. In one sense, everything has changed, but nothing at all is different.
Davis, now a senior, is much more than a runner on this year's Mount Zion softball team, which will play at 9 a.m. Saturday in the Class 3A third-place game against Kankakee Bishop McNamara. She's the No. 6 hitter in the order, "a second leadoff hitter," said head coach Greg Blakey.
She's a three-year starter for the Braves and is hitting .344 with eight doubles, a home run and 19 RBI while only committing eight total errors in 106 chances at second base. On Friday, in a 12-11 loss to Sycamore in nine innings, Davis was 1-for-2 with a double and two RBI in a monster nine-run top of the third.
Sure, that part of Davis' game has changed. She's no longer "just a runner." But Davis still does everything Blakey and the Braves ask her to do. Last season, when Kynzie Wrigley wrangled the grips on the starting shortstop position, Davis quietly moved to second base and kept her spot as the team's leadoff hitter.
Early this season, a right hamstring strain cost Davis "about three games." When she came back, she moved from leadoff to batting No. 6. No complaints.
"Our key is playing as a team and playing for each other," Davis said. "I just fit into it by doing whatever I can to help."
She didn't think much of the hamstring injury. She thought she'd go to team trainer Dustin Fink, get it taken care of and be back with no games missed. They were cautious, though, in not rushing her back. Davis understood, but got a little restless watching from the sideline at practice.
"I did whatever I could in practice," she said. "Fink had to yell at me a couple times for getting upset when he wouldn't let me do stuff. Whatever he would let me do at practice I would do and I just slowly worked back into practicing and started playing again."
Playing second is nothing new for Davis, she's played there and at shortstop for her entire career. In fact, she may be more comfortable at second base. She did have an error that gave Sycamore its 11th, and game-tying, run. Davis wasn't going to hide behind that when asked. On the whole, though, second base her natural habitat. She also saved a run in the second inning by knocking down a ball at second and getting a force-out.
"She's a great teammate," Wrigley said. "She adjusted pretty well when she moved to second base. I don't think it was a big change for her. She also cheers her on no matter what, even if she's having a bad day. It's nice to see her be that kind of teammate to always cheer for us."
Davis' hit was massive on Friday. For a moment, it gave the Braves a 5-3 lead with more momentum coming. She hadn't made that kind of contact, a double to deep center, in a few games. She's been around for some time — the moments don't seem to get too big for her, and Friday was no exception.
"Tough," Blakey said when describing her. "She's a tough kid. She's not one to shy away from the competition of the moment."
She doesn't get nervous at the plate. She's got a deep lineup around to her to pick up any shortcomings at the plate. But a big two-RBI double in the state semifinals? That was sweet.
"It was awesome," Davis said. "I hadn't really had a hit like that in a few games. I had been waiting to have hard contact like that and get a hit and I finally did."
If Davis has it her way, the Braves will bounce back with a win on Saturday. It's the last softball game of her career, and a win would be a pretty solid way to go out.
It's been quite the journey from a pinch runner in 2012 to a key cog on a team with back-to-back state final four appearances. It's a journey that was paved by flexibility and doing whatever she needed to do to stay on the field.
"Coach Blakey is a great coach and it's been a great program," Davis said. "We take a lot of pride in what we do. I just hope to go out there tomorrow and show them that we can win."
Contact Joey Wagner at (217) 421-6970. Follow him on Twitter: @mrwagner25