DECATUR — Dante Ridgeway and Brit Miller excelled on the high school football field, were even better in college, played in the NFL, and are now back in Decatur contributing to the community.
It's fitting that they're going into the Decatur Public Schools Athletic Hall of Fame together. Those two, plus eight more athletes, former Lakeview coach Gary Hunt and the 1962 Eisenhower state championship baseball team will be honored at halftime of today's SATURDAY'S Braggin' Rights game between MacArthur and Eisenhower at Millikin University's Frank M. Lindsay Field.
Ridgeway, a 2002 MacArthur graduate, and Miller, a 2005 Eisenhower graduate, may have went to different high schools and colleges — Ridgeway went to Ball State and Miller to Illinois — but both returned to give back to the city they came from.
"I'd say that's how we both were brought up. Giving back means more to us," Ridgeway said.
After Ridgeway's playing career ended, he returned to Decatur. He began working in 2016 at Robertson Charter School as a teacher's assistant under his former coach, Cordell Ingram, who was the principal. He's now a teacher's assistant at MacArthur, and has been an assistant football coach for the Generals since 2010.
"I'm proud to be from here. Decatur can be a loving city," Ridgeway said. "My old head coach gave me a platform to be a mentor to the young people in Decatur, and it's great to give back to the community where I came up."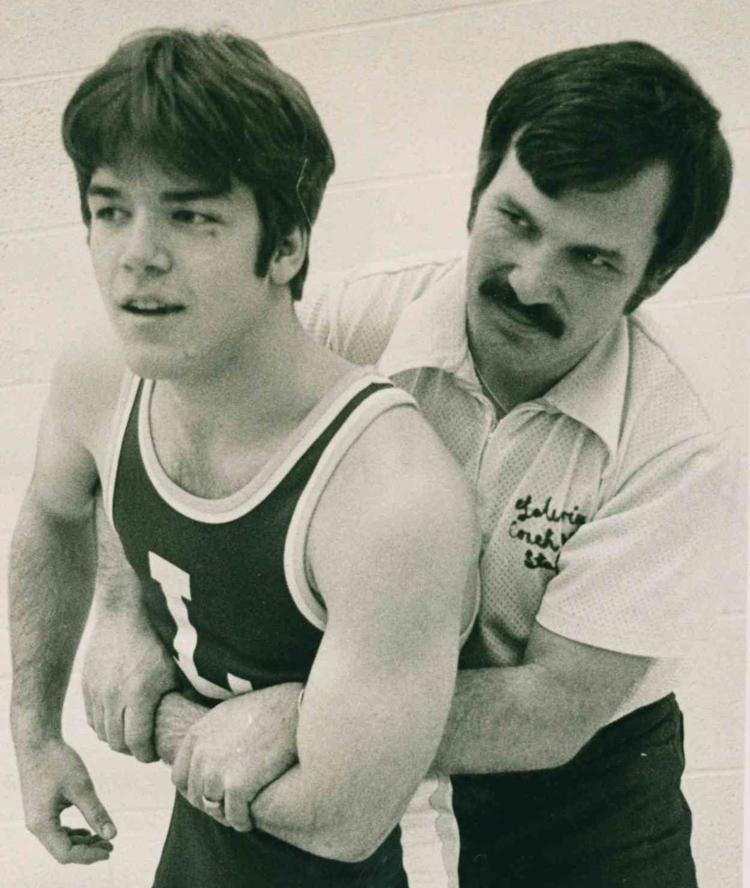 Miller also came back to Decatur after his playing career and has spent time as an assistant football coach at Eisenhower, Mount Zion and, currently, Monticello. He's also helped raise more than $75,000 for Decatur athletics — at Eisenhower, MacArthur, St. Teresa and LSA — through his Lead the Way Foundation, which is in its 10th year.
"All the money has went toward safety equipment, which is important right now," said Miller, who works for Barbeck Communications. "And it's a chance to give back to what we love, which is Decatur and athletics."
Here's a look at the fifth DPS Hall of Fame class:
Dante Ridgeway, MacArthur, 2002
While at MacArthur, Dante Ridgeway had 1,400 career receiving yards and 29 touchdowns on offense, and a school-record 24 interceptions.
Ridgeway went to Ball State University, where he set the school's career marks in catches (238) and yards (3,030) and was later inducted into the Ball State Hall of Fame. He was selected by the St. Louis Rams in the sixth round of the 2006 draft. He also spent time with the New York Jets, Cincinnati Bengals and New Orleans Saints.
"This means a lot to me to be recognized in the city I grew up in. It kind of feels like the conclusion of my athletic career," Ridgeway said. "Hard work and showing great respect pays off."
Brit Miller, Eisenhower, 2005
Brit Miller racked up 1,103 yards rushing and 14 TD as a junior quarterback and 1,199 yards and 14 touchdowns splitting time at quarterback and running back as a senior to help Eisenhower break an eight-year playoff drought.
At Illinois, Miller broke into the starting lineup as a freshman and never left. As a senior in 2008, Miller led Illinois in tackles (132), tackles for loss (15.5) and tied for the team lead in sacks (six), earning All-Big Ten honors.
Miller was signed as an undrafted free agent by the Carolina Panthers out of Illinois and later played in the NFL for the St. Louis Rams and San Francisco 49ers.
"Since the inception of this hall of fame, I wanted to be a member," Miller said. "When I got a call from coach (Greg) Collingwood, I thought,  'This may be the call.' And it just hit me and brought up all these great memories of playing in high school and college."
Pat Hamilton, Eisenhower, 1983
Known for her vertical jump, Pat Hamilton was a star in both basketball and track.
Hamilton was a three-year H&R All-City player, including All-City Player of the Year as a senior when she averaged 18.8 points, five steals and five assists.
In track, Hamilton was a two-time H&R Macon County Girls Track Athlete of the Year, taking home three state medals in the long jump.
Hamilton was the first female athlete from Eisenhower to earn a basketball scholarship to a Division I college, going on to star at Eastern Illinois University.
"I was shocked when I heard about (being selected to the hall of fame)," Hamilton said. "It's so thrilling, and it feels like everything we did way back then just got validated."
Hamilton is a physical education teacher in Columbus, Ohio. She's in her 31st year of teaching, and she coached for 19 years.
Reeni Letizia, Eisenhower, 1983
Described by former H&R sports writer Rex Spires as "one of the most accomplished and successful female athletes produced by Decatur schools," Reeni Letizia earned 11 varsity letters during her high school career — four in basketball, three in volleyball, three in track and one in softball.
On the basketball court, Letizia averaged 17 points as a senior and graduated as Eisenhower's all-time leading scorer with 1,322 points.
At Western Illinois University, Letizia set the school's javelin record, was part of the record-setting 4x100 relay team and still holds the WIU pentathlon points record.
"Decatur has always had a lot of great athletes, so I feel humbled and honored," Letizia said. "It's pretty important to me."
Letizia has taught physical education and coached junior high track in Neoga since 1994. She's coached a state title team and several athletes who went on to state titles in high school.
Martha Downing, MacArthur, 1967
There was no tennis team at MacArthur when Martha Downing attended in the 1960s, but she won multiple Central Illinois Tournament championships in tennis, often winning multiple age groups in the same year. She went on to play tennis at Stanford.
But it wasn't until Downing turned 35 that she had her most success. In the Feb. 24, 2009, Herald & Review, former Community News Editor Bob Fallstrom called Downing "the most successful woman tennis player in Decatur history." She represented the United States on nine international senior tennis teams and is a member of both the Sacramento (Calif.) Area Tennis Hall of Fame and Northern California Tennis Hall of Fame.
"Decatur was a wonderful place to grow up," Downing said. "I'm sorry I didn't have sports in high school, but that's what made tennis so great. You can play tennis on your own, and I've done it for 65 years. This is a real honor."
Downing, who was tennis director at a club near her home in Shingle Springs, Calif., said she's mostly retired from teaching tennis. But she still plays.
Terry Cook, Stephen Decatur, 1984
Terry Cook was a three-year starter on the basketball team at Stephen Decatur and All-Macon County first-team three times.
After high school, Cook was a guard for the Parkland College national championship basketball team, leading the team in steals and assists. He finished his college career at Southwest Baptist University in Bolivar, Mo., and is both a Parkland Athletics and Illinois Basketball Coaches Association hall of famer.
"It's a tremendous honor to be recognized," Cook said. "The biggest thing for me is for my kids to see things happening in my life that are positive and getting to experience it with me.
"My wife keeps saying, 'Why does this keep happening? Why does this thing you did in the past keep giving back to us?' It's a great feeling."
Cook been a social worker at Eisenhower for 26 years and he also works at Webster-Cantrell Hall. He was an assistant boys basketball coach at MacArthur from 2008 to 2014, and will be an assistant at Eisenhower this season.
Joe Doolin, Lakeview, 1966
Joe Doolin was a star halfback and captain for the Lakeview football team that was the first in Decatur history to go undefeated. That team was enshrined in the first DPS Athletic Hall of Fame class.
Doolin, who also played basketball at Lakeview, went on to play on both sides of the ball for the Millikin University football team and became a team captain. He later coached football, including at Warrensburg-Latham.
"This is a dream come true," Doolin said of his induction. "It's not something I expected, but to be included in a group with some of the best athletes that ever came through the city of Decatur, it's a thrill."
Doolin is a local real estate agent with Brinkoetter and Associates and has been the public address announcer at Maroa-Forsyth football games for 28 years.
Dale Minick, Decatur, 1937
Dale Minick was a key member of two Decatur High state basketball teams and went on to a successful playing career at Millikin.
In 1936, Minick made a pull-up 15-foot buzzer-beater to give Decatur the state title. Minick was the team's leading scorer in 1936 and also helped lead Decatur to a second-place finish in 1937.
At Millikin, Minick was part of two straight conference title teams and was later named to the Millikin Athletic Hall of Fame.
Minnick died at age 53 in 1973. He will be represented by his grandson Brent Minick and his family at today's ceremony.
T.J. Jackson, Stephen Decatur, 1962
T.J. Jackson wasn't very big — 5-foot-5, 140 pounds — but he managed to make an impact in three sports at Stephen Decatur, especially football.
Jackson was an H&R All-City pick as a junior, scoring nine touchdowns, but broke out as a senior with 26 touchdowns and another all-city selection.
In college, Jackson played at Northeast Missouri and was later inducted into that school's athletic hall of fame.
Steve Phillips, MacArthur, 1979
Steve Phillips was the 1979 H&R City Baseball Player of the Year as a senior, going 6-1 on the mound with a 1.86 ERA and a then-school record 55 strikeouts in 52 innings. He also had a .385 batting average and played center field when he wasn't on the mound.
Following high school, Phillips played baseball in college at Northwest Missouri State, where he was a four-year letter-winner.
After college, Phillips played for the ADM and Decatur Pride softball teams.
Gary Hunt, Lakeview wrestling coach
Gary Hunt graduated in 1960 from MacArthur, where he was a three-year letter-winner in football, baseball and wrestling. He then went to Missouri Valley College, where he became a part of its athletic hall of fame for his performances in football and baseball.
Hunt became a coach at Lakeview in 1967, leading the wrestling, football and baseball teams during his time there. After Lakeview closed in 1982, Hunt began teaching and coaching at MacArthur. He's also an Illinois Wrestling Coaches and Officials hall of famer.
"This is probably the greatest thing I've ever had," Hunt said. "I've had other honors, but this is home."
Hunt is retired from teaching. He lives on 10 acres of land in Licking, Mo.
1962 Eisenhower baseball team
The Panthers went 20-3-1, beating the LaGrange Lyons in the championship game.
The title followed a state appearance in 1961 for the Panthers, who were led by future Major League Baseball player Roe Skidmore.
The rest of the team members were: Benny Adams, Mike Ball, Lee Bojko, John Dennis, Bob Duddleston, Mikey Dukeman, Don Foster, Carl Hanson, Mike Henry, Bill Lindgren, Jim Lovejoy, Jim Newcome, Don Ogden, Bob Redpath, Bob Smith, Ron Smith, Bryan Stockwell, Ron Welch, team manager Rick Bradshaw, team manager Terry Daniels, assistant coach Don Diller and head coach Clete Hinton.