The No. 1-seeded doubles team in the sectional had first and second round byes in the tournament and by the time their third round match came around, fours hours had gone by. That sort of time spent in temperatures in the mid-50s with gusting winds can take its toll, but the duo kept busy doing some opponent reconnaissance. 
"While you are waiting, you can watch your opponents play and figure out their playing style beforehand, and even though you are sitting around you can prepare for your game mentally before," Wang said. 
The team also hit an empty court to get the blood flowing before facing Mahomet-Seymour's Gwen Tee and Averly Sanborn in the third round and the Trojan duo came out on fire, taking the first set 6-0 and also winning the second 6-4 to advance.
The sectional will continue on Saturday. Wang and Tuan will face Nora Kelley and Audrey Horn from St. Thomas More on in the semifinals. 
"I think at the beginning, it was definitely kind of cold but as we start warming up it helped," Tuan said. "(With the wind) you have to play based off of it for the day and that really affects your game as well."
Said Wang: "The wind was a factor for sure and at one point my hat blew off. I feel like for the cold you can overcome it by wearing layers but the wind you can't control it."
The second set was more for a challenge.
"We lost a little bit of momentum when the set changed, but I also think that (our opponents) played very well," Wang said. "They really came back stronger in the second set. I would say that my net game was pretty good today and Serena had very good net game as well. There were a lot of balls that were hard to get and Serena could get them over and get the point for us."
When the pair found out they were the No. 1 seed in the doubles competition, they were surprised. 
"The No. 1 definitely added some pressure for us," Tuan said. "When we first came here today, we sort of looked and thought out of all these people, we are the No. 1 doubles team. It is rewarding but it definitely puts more pressure on us as well to do well." 
In a typical year, the third round victory guarantees the winner a trip to the state tournament, something that isn't happening this season due to the COVID-19 pandemic. 
"I think we are just as motivated to win sectionals as if we would be able to go to state, but I guess the excitement factor has sort of been taken away, but we still really would have looked forward to it," Tuan said. 
As a senior, Wang has mixed emotions about competing in her final high school tournament. 
"It is bittersweet. Coming in, I was really excited but sad knowing that this was the last step and there is no state tournament and so the best I can do is do as well as we can at sectionals and win," she said. 
Bradford sisters lead young Braves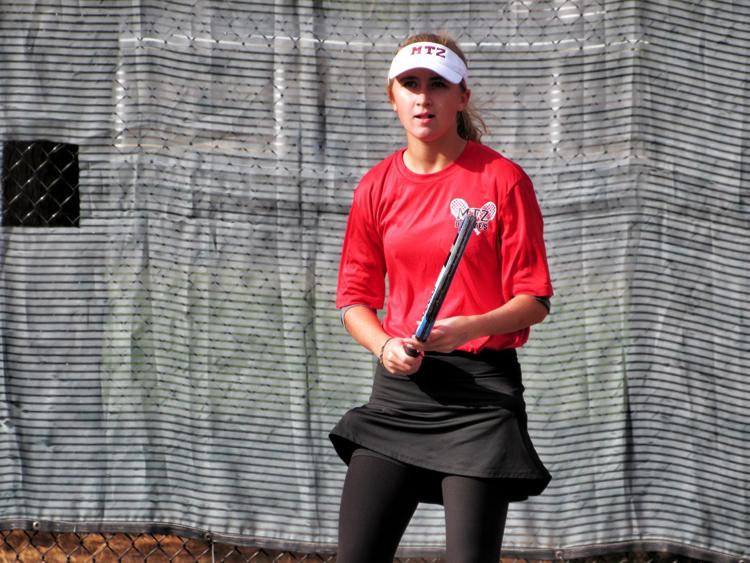 As Mount Zion tennis player Allison Bradford took the court at the Class 1A Champaign Central Sectional, she had some company just a few feet away.
Bradford, the No. 4-seeded singles player in the sectional, was facing Hope Rajlich from St. Joseph-Ogden while her twin sister Audrey Bradford played on the next court.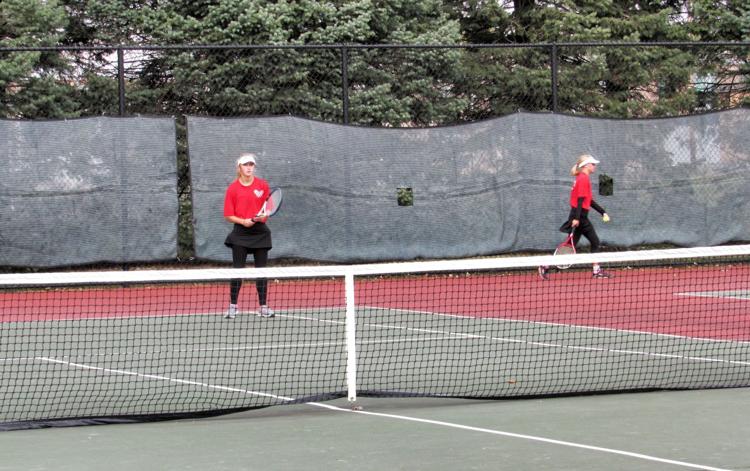 The sisters took up the sport as freshmen last season and lead a young group of Mount Zion players. 
"They are both really strong competitors and if you watch their game that's the first thing you'll see is they are scramblers," Mount Zion girls tennis coach Mike Roberts said. "They play doubles together but they are also our best singles players so we decided for the team to split them up for the sectionals. We were able to win all of our first-round matches so I'm very happy with that."
Roberts is pleased with their improvement with just two seasons on the court. 
"They came out and said they wanted to be tennis players and hopefully to play in college. They have a lot of potential because they are very enthusiastic and that's really what makes them good," Roberts said. "Right now we're really working on their net work and having them come to the net on short balls and trying to get more aggressive with the short game."
High gusting winds challenged players at the sectional but the Braves players have a distinct advantage in playing on blustery days. 
"Wind for us is probably less of a factor than other people because we practice in the middle of the wind out on the prairie at Mount Zion so right now the girls probably don't think of this as anything different today with a 20 mile-an-hour wind," Roberts said. 
Even though the 2020 season doesn't provide any state series closure for his players, Roberts feels the season was a success. 
"It is kind of anticlimactic because there's no finish and we are hoping to do well here but there's nothing after this. It has been a good season for us because we are so young and we only had one returning player with experience and so we are really young team and this year was all about experience and getting better. We will have a good group for the next couple of years."
Contact Matthew Flaten at (217) 421-6968. Follow him on Twitter: @MattFlaten
Get in the game with our Prep Sports Newsletter
Sent weekly directly to your inbox!