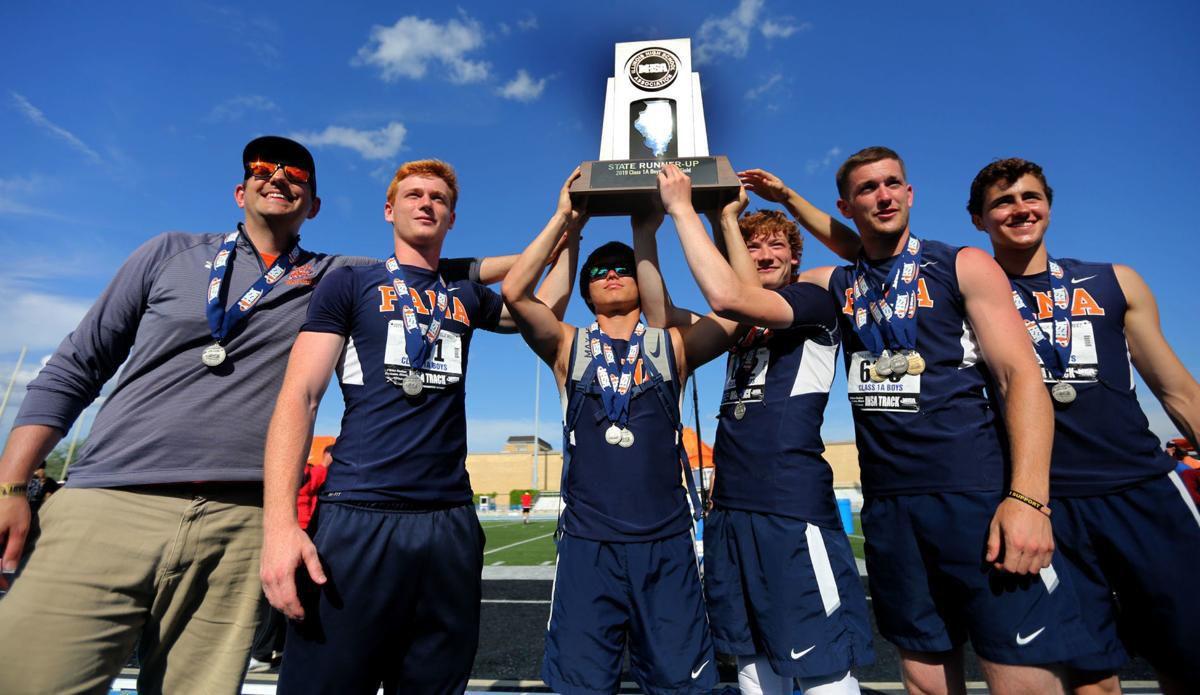 PANA — When Will Shalter, an English teacher at Pana High School, had Cody Klein as a student his sophomore year, there was no way to know that two years later they would be making school history together.
Shalter wasn't Pana's track coach yet (he took over this season after a year as an assistant at the junior high) and Klein hadn't run track at all in high school, instead focusing on improving his game as a receiver on the football team.
Two years later, Klein is now a Class 1A state champion in the 100 and 200 meters and Shalter is the coach of a Pana track team that finished second at state and took home the program's first ever state trophy, earning Shalter Herald & Review Area Boys Track Coach of the Year.
"This year has kind of been one of these giant roller coasters that I don't really know how to process," Shalter said. "I had Cody in class and I never had any problems with him and he was a good student. We knew each other but I never really tried to sell Cody on joining the team."
Klein's first practices and competitions were raw. He was unfamiliar with the best starting techniques and relay baton transfers. Shalter ran long distance track in high school and so Klein got the finer points on his block work from girls track coach Taylor Cothern.
"Track really is a community event and luckily our girls track coach was able to work with Cody a little bit and we had some volunteer help as well. It is a credit to them, too, that Cody went as far as he did," Shalter said.
Shalter's coaching style differed from the coaching he experienced as a runner with Ottawa High School, which had a much larger team.
"I never really talked to our head coach when we ran. I really just worked with our distance coach that did our workouts. If the head coach said, 'Good job,' that was the best part of your day. That was my background, but at Pana, I'm involved with everything going on," he said.
While Klein's run from novice to state champion grabbed the headlines, Pana's two silver-medal-winning relay teams also featured two runners that had never done track before.
You have free articles remaining.
"(Juniors) Cameron Owens and Bryce Edmiston had never been out to track before either. So our 4x100 team was one guy who has run track for four years and three guys that were rookies," Shalter said.
The veteran member of the 4x100 team was Jared Beyers, who ran for the Panthers for four years and qualified for the state meet in the 200 in 2018 and the 4x100, 4x200 and 4x400 relay teams in 2017.
"Jared has committed to Greenville University and he's a solid runner. He was our experienced runner on our state team and he kept the guys loose because he had been to state before. He helped get the boys' heads right for the state meet," Shalter said.
Klein emulated how Beyers handled himself during the season and the state finals.
"Jared as always been fast and we used to race against each other and we were very competitive. Whatever he was doing I was trying to do and it went through the season," Klein said.
The Panthers' season also called for some modifications as it progressed. Klein began the season working on the long jump, but when his distances didn't improve, Shalter moved him to the 4x200 relay.
"Going into the season I knew we were a good team but that we couldn't walk in and win. As coaches we had to be smart about who we put where and Cody did long jump in one meet," Shalter said. "As the year was going along he wasn't really improving and I could see that it was messing with him a little bit. I pulled him out of long jump because I didn't want it messing with his head in the upcoming meets."
In fact, the Pana's 4x200 relay team — senior Mason Mizeur, Owens, Beyers and Klein — that finished second at state had never run in that configuration before during the season.
"Our 4x200 team was put together at the end. That was the only time they ran in together with my two senior leaders together so getting second was surprising and I wish they could have gotten to run it a few more times," Shalter said.
The accomplishment by his entire team didn't go unappreciated by Shalter.
"I was proud of them to see them focused at the state tournament and not be super uptight. What they did was really difficult. To go in there with nerves of steel and not drop the baton and for Cody to endure all the interviews and do four races and come out ahead was amazing," he said.
Contact Matthew Flaten at (217) 421-6968. Follow him on Twitter: @MattFlaten