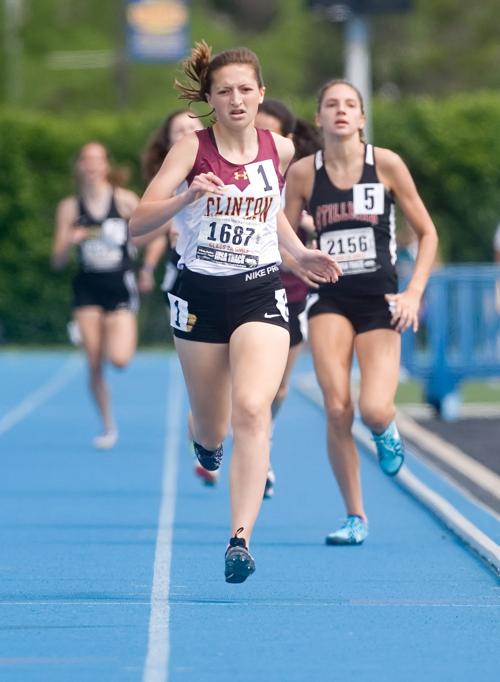 CLINTON — Before last weekend's Illinois Top Times track meet, Clinton junior Payne Turney saw a preview for the Class 2A 800-meter run that indicated it would be a tightly-contested race.
Turney, of course, knew better. The feeling wasn't built on arrogance, but rather confidence after an arduous offseason of training  — that included her other sport, swimming — and a changed mindset.
Turney cruised to a win in the 800-meter run, then later to a 1,600-meter win. The former, though, came five seconds ahead of second place. In her third high school season, she exudes confidence, but she's refrained from letting any type of success go directly to her head. There's still a humility about her that she had as a freshman, long before she was a two-time state track qualifier or a three-time state cross country qualifier.
"I'm definitely more confident in myself, confident in what I'm going to accomplish and that I know I'm going to accomplish it," Turney said.
Walking the line between confidence and arrogance is a tightrope, but Clinton co-coach Rachel Lyons said Turney has that balancing act mastered.
Last year, Turney admits she was "floating" a bit. She's dialed in this season and speaks with the clear end game of reaching every goal she has mapped out in front of her. She never interrupts her sentences with the caveat of a "maybe" or an "I hope." There's a directness and she emphasizes her plans, as if there's no other way things could go.
"I think she realized what she's capable of and committed," Lyons said.
After each race, when her teammates come over to offer their support, she follows back quickly with an inquiry of how they did in their race or on their jump. Lyons loves that aspect of Turney — and her surface-scratching talent.
You have free articles remaining.
"I still don't think she knows how good she is," Lyons said. "She is the most humble kid I've ever been around and I think part of that prevents her from getting a super big ego."
Every time there's a challenge, Turney seems to find a way to rise to the occasion. She approached Lyons with the idea of running in the 3,200 to show she wasn't just an 800-meter specialist. The coaches challenged her to run the race in 11 minutes, 15 seconds.
On March at the First to the Finish Rantoul Invitational, she broke her own school record with a time of 11:15.21.
They tasked her with running a 5:10 in the 1,600-meter dash. Easy. She ran a 5:07.07 at the Top Times Meet. How about a 2:15 in the 800? Turney ran 2:15.59.
"She has an internal clock," Lyons said. "It's one of her greatest gifts. She can feel the pace."
There's still plenty of untapped potential to unlock. Lyons noted that there still hasn't been a race that Turney crossed the finish line and collapsed out of exhaustion. Some of that can be credited to her work-out regiment. But some of it indicates to Lyons that there's a higher ceiling for Turney to leap towards.
If there's anything Turney has proven in the last three years, it's that she's willing to continue her steps forward.
"I remember why I do this: To have fun," she said. "I know what it takes to get to this point now, I'm just ready to dive deeper, really."
Contact Joey Wagner at (217) 421-6970. Follow him on Twitter: @mrwagner25