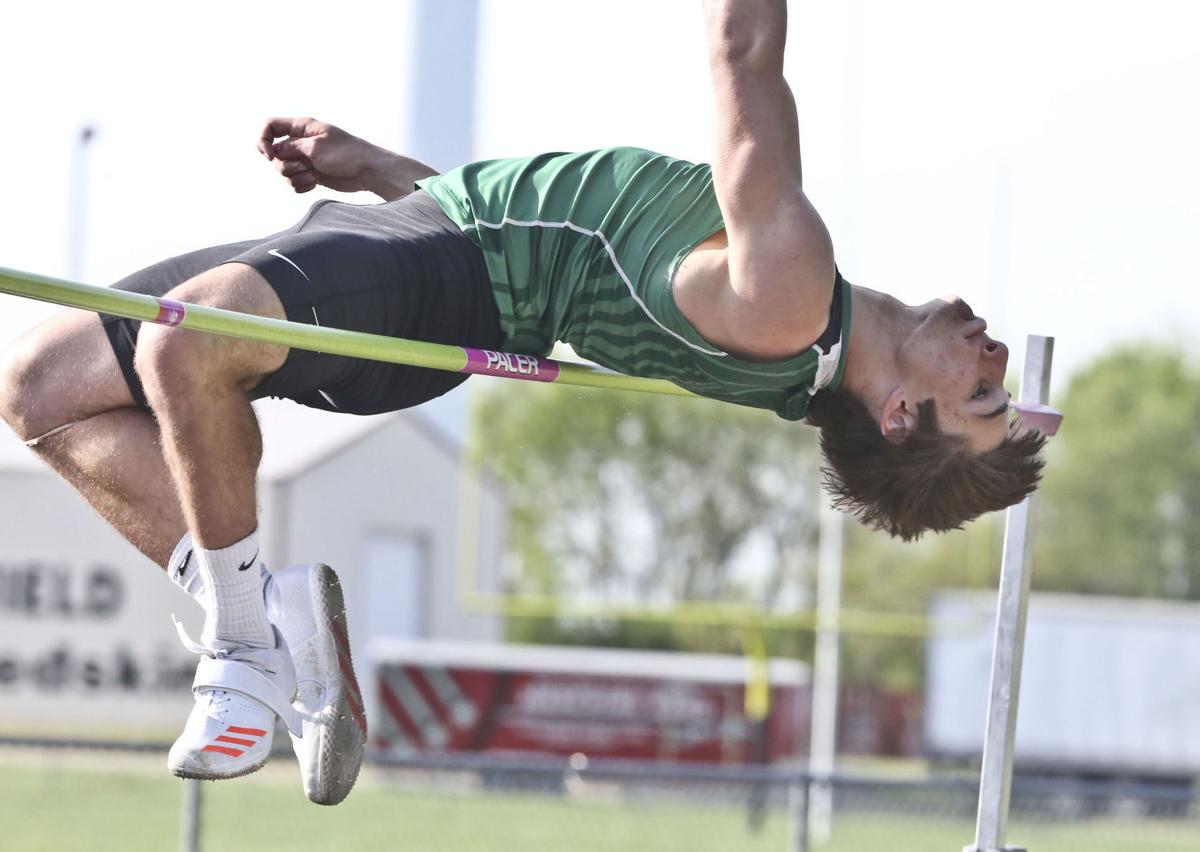 MACON — Four years ago, Cameron Getz walked into Meridian High School nervous.
He was the third and final leg of the hyper-athletic Getz triumvirate that included a pair of Division I siblings.
Getz felt the pressure to meet the expectations of his older brother, Dakota, who played football at Iowa, and his older sister, Chelsea, who plays softball at Tennessee State.
Cameron wasn't sure if he would have the same athletic success.
"Going into high school I was real scared," Cameron said. "I was like, 'I don't think I'm a D1-capable athlete. I don't think I'll be able to be as good as my brother or my sister.'"
Then, as a sophomore, Cameron broke through with a high jump of 6-3 and finished eighth at the Class 1A state track and field meet.
As a junior, Getz hit 6-4 and took sixth place. He also procured a scholarship from Illinois State University for high jump.
Things just started clicking.
"My junior year came around and I started jumping real well and I was like, 'Maybe I can be as good as them,'" Getz said.
"Honestly, it was a huge sigh of relief," he said of the scholarship. "I knew my family would be proud of me no matter what, but I wanted to live up to my siblings' expectations."
Getz is headed back to Charleston on Thursday for the Class 1A state track and field preliminary round, but this time is going in three events — high jump, the 4x400 relay and the 4x200.
Getz is aiming for 6-9 this season at state in the high jump, and enters as the No. 3-seed in the event.
But he's also out to prove he's a dynamic runner.
"People probably just think I can jump, but when I feel good I can run a little bit," Getz said.
Every now and then when he sprints, he can't drive as hard off of his left leg.
You have free articles remaining.
When Getz was born, he was born with a club foot, a birth defect where the foot is twisted out of shape or position.
He had corrective surgery a few months after birth and learned to do everything with visible muscle atrophy in his left leg.
It's something Getz has had to deal with for his entire life, and he doesn't really think much about it anymore.
"It kind of throws off my balance a little bit," Getz said. "I have a lot less power in my strides in my left leg. But growing up and having it, I learned to get used to it.
"I learned how to adapt to it growing up and learned different ways to do things, and that's what I had to do."
This season has been a big year for Getz, the runner.
Last Thursday at the Shelbyville Sectional, Meridian's 4x400 team of Getz, Nate Durbin Korey Damery and Marshall Brown set a school record with a 3:25.76 time. The same foursome won the 4x2 with a 1:31.08.
The Hawks are seeded third in the 4x2 at state and are the top overall sectional seed in the 4x4.
During the race, Getz didn't expect to set a school record. Damery was just coming off of a state-qualifying 400 and Brown was coming off of a state-qualifying 200.
But there's a bond in the four that is strong. Getz and Durbin have been running together for three years, and they quickly welcomed in Damery and Brown.
And the football program has a lot to do with their success, despite the Hawks' woes on the field.
"Football was a great example of staying tough and working through things," Getz said. "Getting through the hard times as teams pulls you closer and closer when hard times are coming at you. It made us closer."
In his final stand at state, Getz thinks back to his last few years, and what he wishes he had known.
The simple things, like hydrating and resting and eating right — avoiding the candy and soda down the stretch of the track season.
Now, after graduating from Meridian, he can say he's the third of three Getz siblings to haul in a Division I scholarship, and he can take in his last times wearing the Meridian green over black track uniforms.
"It's going to be great to have in my collection of memories," Getz said. "I had a great time in high school and showed people what I'm capable of."
Contact Joey Wagner at (217) 421-6970. Follow him on Twitter: @mrwagner25