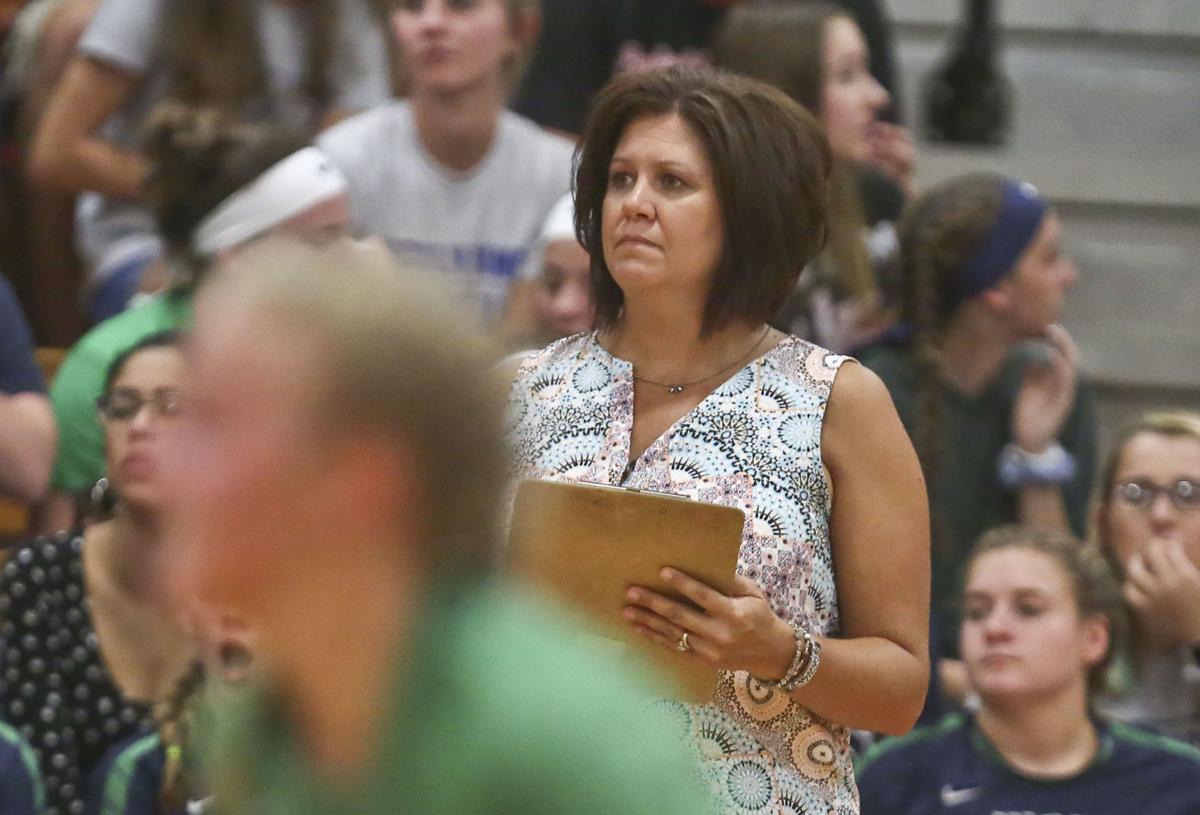 WINDSOR — Ronda Schlechte knew that things were going to be a bit different this season — how could they not have been?
Windsor/Stewardson-Strasburg lost some heavy hitters from their team that had a second-place and third-place trophy in Class 1A. Gone was back-to-back Herald & Review Area Volleyball Player of the Year Megan Schlechte, who is now playing volleyball at Lewis University. Mackenzi Tabbert, Carson Cole and Calla Roney all graduated. This W/SS team had talent, but lost a great deal of talent that contributed to four straight regional finals and two state trophies.
Yes, the Hatchets returned Mackinzee Reynolds, who moved from a middle hitter to an outside hitter and setter Hannah Hayes. Still, the Hatchets had to adjust to new faces and injuries to finish with a 25-15 record and an appearance in the Class 1A sectional championship before losing to Altamont for the third time in as many matches this season. Schlechte is the Herald & Review Area Volleyball Coach of the Year for the second consecutive season.
"At the beginning of the season, I never would have dreamed we would go as far as what we did," Schlechte said. "We still instill all the strengths that we had in the past and we still have the expectations. I don't know if that played into it. The girls were really focused and we still wanted to do the postseason, a little further than what we did, but that's to be expected."
Reynolds adjusted to a new position as Brianna Hewing and Lexi Domzalski each got used to more playing time along with sophomore Karli Bean. The players knew the system but there was an adjustment to bigger roles on varsity. 
On top of that, the Hatchets dealt with a smattering of injuries in the postseason, including to Domzalski, who led the team with 355 assists but did not play in the postseason. Still, the Hatchets were in the sectional championships for the fourth straight season, even if it looked like it would be a struggle early in the year.
"At some point, we tried working in the beginning of the season and we were used to working things like we were working on," Schlechte said. "We had to kind of take a breath and take a step back and like, 'Uh, OK, this is not working now. It's probably too advanced.' But we slowly kept pushing and pushing and all of our coaches were on the same page. The girls, they were able to come through for us."
The Hatchets found their stride in the Mount Pulaski Crossroads Classic, which is the final regular-season tournament before the postseason begins. W/SS finished third in that tournament, with its only loss coming to Class 3A Mount Zion.
W/SS entered that tournament with a 17-13 record before going on an 8-2 run, which included the loss in the sectional finals.
"It was just one of the moments where I was just like, 'I can take a breath because I feel like we're all in the groove, we're all dedicated, we're all committed and we all want this,'" Schlechte said.
This season wasn't all that new to Schlechte as a coach. She's the longtime coach of Stewardson Trinity Lutheran grade school, which plays in the LSA and Southern Illinois Junior High School Athletic Association. There, Schlechte doesn't always have standouts all over the floor, particularly playing against, at times, older competition.
This season, though different from year's past for W/SS, wasn't entirely foreign to Schlechte.
"It was a different year than what it had been, but coming from Trinity, we've never had six exceptionally strong players on the floor so we always had to make due with what we had," she said. "We were always pretty lucky with how that turned out. It was just a different mindset this year than what I've had to deal with for the past five or six years."
---
Joey Wagner's favorite stories from 2019
Joey Wagner's favorite stories from 2019
Here are some of my favorite stories from 2019, most of which are about the successes of athletes through adversity. MacArthur's MyShaun Dozier got viral attention for his inspiring story; Pana receiver Wes Kile might be deaf, but that doesn't stop him on the football field or basketball court; Illinois running back Reggie Corbin, linebacker Dele Harding and tight end Justice Williams spent their time giving back and coaching youth football; Macon County boys basketball Player of the Year told us where he got his inspiration to play; and Portland Rosen got a special surprise at the final Forsyth Classic.
Contact Joey Wagner at (217) 421-6970. Follow him on Twitter: @mrwagner25
Get in the game with our Prep Sports Newsletter
Sent weekly directly to your inbox!