MOWEAQUA — For Central A&M volleyball coach Vanessa Rork, you have to make time, you can't just hope to find it. 
Rork has coached the Raiders since the 2013-14 season and this year added directing the middle school volleyball program as well. Add in being an elementary school learning behavior specialist during the day and Rork is assisting kids of all ages in their academic and athletic pursuits.
"My time management skills are important," said Rork, who is also the mother of four children under 9 years old. "I'm making the time and I hope that me doing that will relay over to my athletes and my students that you are able to do tough things as long as you are able to work."
Each stop in Rork's day takes a different coaching style as she takes off one coaching hat for another. 
"It is all about building up the child. On the court, I have to work to build the athlete. Getting to know them as a student and making sure that they are a student athlete first is vital," she said. "I feel like my background in special ed helps me differentiate what I am doing with these kids and adapt to their ability level and their potential as well."
Rork, who was Vanessa Zidek before marrying, knew she was destined to coach since her days on the Shelbyville volleyball team under coach Lisa Peifer and playing in college at Southern Illinois University. Rork's addition of the middle school program allows for a streamlined skills improvement process.
"I had the best coach going through Shelbyville and I wanted to be just like her. Now I'm working to build my own program, little by little," Rork said. "The benefit (of coaching middle school) is that we have that overall umbrella of expectations and skills that are needed. Foundational skills and the fundamentals. It is important for them to hear the same language and drills at the middle school level that they are expected to have at the high school level. We have a very good athletic group of eighth-graders coming in next year, so good things are coming."
Rork's husband, Todd Rork, coached the Raiders girls track and field team to two Class 1A state championships in 2011-12 and 2012-13, and was also an assistant coach for the Raiders girls basketball team's run of three straight state apppearances from 2014-16, inclucind the 2014-15 state title.
After stepping away from coaching in 2019, Todd has focused on his barbecue business, Rork's Pork, and with helping Vanessa raise their four children — ages 9, 6, and twins aged 2, giving Vanessa effectively another team to lead. 
"(When Todd coached) it was all sports all the time. When he wasn't in season, I was in season or sometimes we would both be in season and it was a challenge. We love working with kids," Vanessa Rork said. "He just loves (Rork's Pork) and any time somebody that I care about finds something they are passionate about, I want them to do it. It has really been a fun aspect and a great way he has connected the community."
Todd Rork said he marvels at Vanessa's ability to shift gears between all that she does, including pursuing a master's degree in special education from Eastern Illinois University. 
"It is hard to talk about her strengths as a coach unless you understand all the ability she has with all of the aspects of her day," Todd said. "She helps kids who are having trouble reading and she can walk into practice and she can be that stern disciplinary person that can motivate teenagers and then she can come home and be mom. She have the ability to change hats so quickly."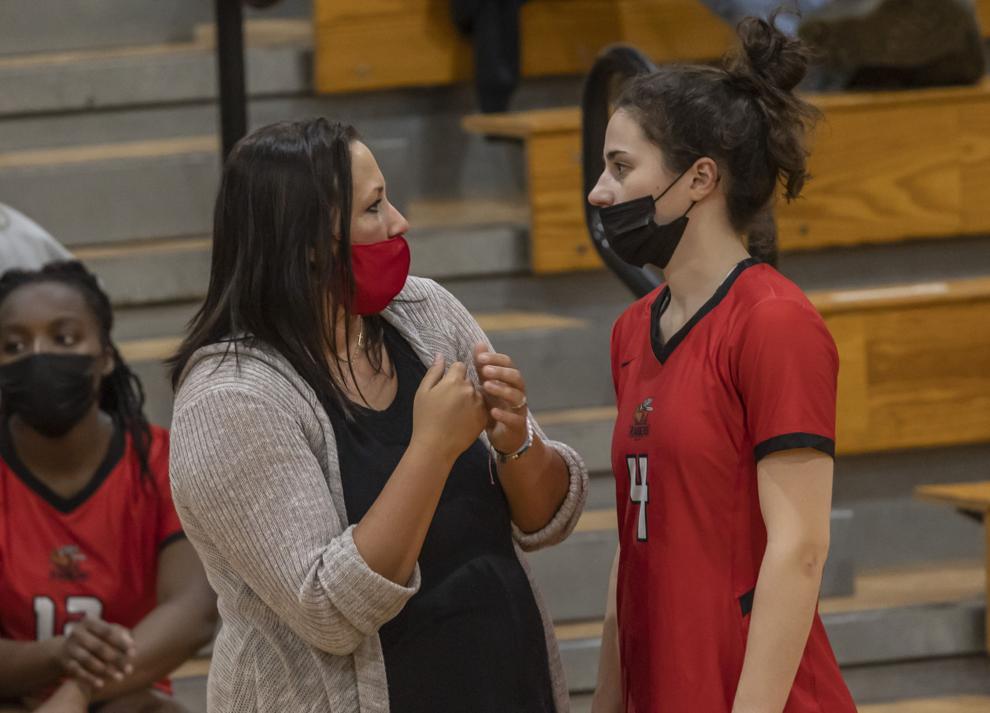 Raiders have attitude
Central A&M's conference schedule includes defending Class 2A state champions St. Teresa (9-2, 5-0 CIC) and undefeated Shelbyville (8-0, 4-0 CIC). The Raiders are third (6-3, 3-2) in the conference and have a never-say-die attitude, according to Rork. 
"(Our 2-1 win over Sullivan), I think that is a good example of how resilient these kids are. Even though they were down one, they came back and fought," Rork said. "These kids worked hard that game and were aggressive at the service."
Black led the offense with 10 kills after moving to a new position for that game. 
"I moved Emma out to the outside against Sullivan and she contributed off the fly," Rork said. "She has always been versatile. I've had her play left, I've had her play right and middle ... she will do anything that I ask her to do. She is smart and strategic."
Beck appreciates Rork's style of coaching that gets the most out of each player.
"She always pushes you to do your best which I think is something coaches should always do. She knows what she is doing and I trust her judgement on everything," Beck said. "(The Sullivan) match I was put at left side and it was hard to adjust to but I think I did OK adjusting to it. It was fun to do it and it was kind of a surprise."
In this shortened spring season, Rork is trying to give her Raiders seniors players the best experience possible.
"Truthfully, I feel blessed to even have a season and I'm very excited that these seniors got to have a season because they have been working hard and it is their time to shine," Rork said. "Things are just so out of sorts and so it is important for them to have a goal because the postseason is out of the question. It is a lot of ups and downs and I feel that every time we do get down or have some adversity, they bounce back and it shows that they are resilient. I think it shows a lot of character for these kids."
Central A&M senior libero Julia Braundmeier said she'd given up hope on a season when the fall season was delayed and knows that she and her coach are similar in their passion for the sport.
"I completely gave up. I didn't think we would have any season at all. I think our biggest goal is to enjoy our time and appreciate that we get to play, even though we don't get a post season," Braundmeier said. "(Coach Rork) is really determined and I love how she comes to practice and she is ready to make us work. I can tell that she loves all of us and loves the game. I think she and I are both very competitive and so we get along pretty well."
---
Watch now: Photos and video from St Teresa volleyball at Central A&M
Watch now: ST. Teresa at Central AM Volleyball
See more photos from ST Teresa volleyball at Central A&M
Contact Matthew Flaten at (217) 421-6968. Follow him on Twitter: @MattFlaten