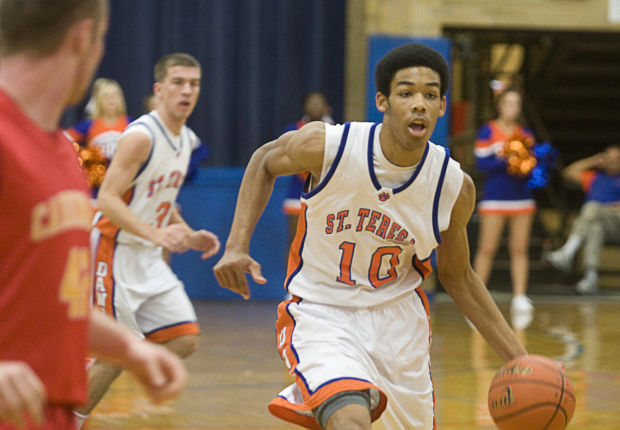 The finale of Christian Williams' high school career won't be at St. Teresa.
Williams' mom Marla said she's moving her family to Springfield, and Williams will play basketball for Springfield Lanphier next season
Williams, a 6-6 guard, started his first three years at St. Teresa and was an H&R All-Macon County First Team selection this season as a junior. He's an NCAA Division I recruit with offers from Illinois State, Northern Illinois, Bradley, Southern Illinois-Edwardsville, Wisconsin-Green Bay and -- recently -- Illinois-Chicago and Albany. Williams averaged 18.4 points, 8.1 rebounds, 3.5 assists and 2.9 steals in leading the Bulldogs to a 25-4 record and an undefeated season in the Okaw Valley Conference last year.
Marla Williams said the move had nothing to do with basketball.
"It's a personal decision," Marla Williams said. "I've worked in Springfield a number of years and just decided it was time to move over here. It doesn't have anything to do what people are saying it does. It's just a personal, family decision."
You have free articles remaining.
Marla chose not to allow Christian to make a comment on the transfer.
St. Teresa coach Tom Noonan released a statement on Williams' departure from St. Teresa.
"Due to changing family circumstances and his mother's occupation, Christian's family has decided to relocate to another community. I am saddened at the possibility that Christian will no longer be a part of the everyday family of St. Teresa. It has been a pleasure to teach, coach, and mentor Christian the last few years."
Lanphier went 27-2 last year and won a Class 3A regional title. The Lions graduated Larry Austin, who is now at Xavier, but return another D-1 recruit in junior guard Xavier Bishop (offers from DePaul, Southern Illinois-Edwardsville and Central Michigan).
Lanphier has been known for years as a basketball power, with current NBA player Andre Iguodola and past NBA player Kevin Gamble both former Lions.
Those in Decatur wanting to watch Williams play will still have plenty of opportunities. Lanphier will likely be back in the Decatur Turkey Tournament to begin the season, and will play road games at both MacArthur and Eisenhower with those two schools now playing in the Central State 8.
St. Teresa would have been a highly ranked team in Class 2A and a favorite to make a deep postseason run with Williams this season. The Bulldogs will still be among the favorites in the Central Illinois Conference with John Radley, JD Mattingly and Patrick Althoff expected to return.
​jconn@herald-review.com|(217) 421-7971