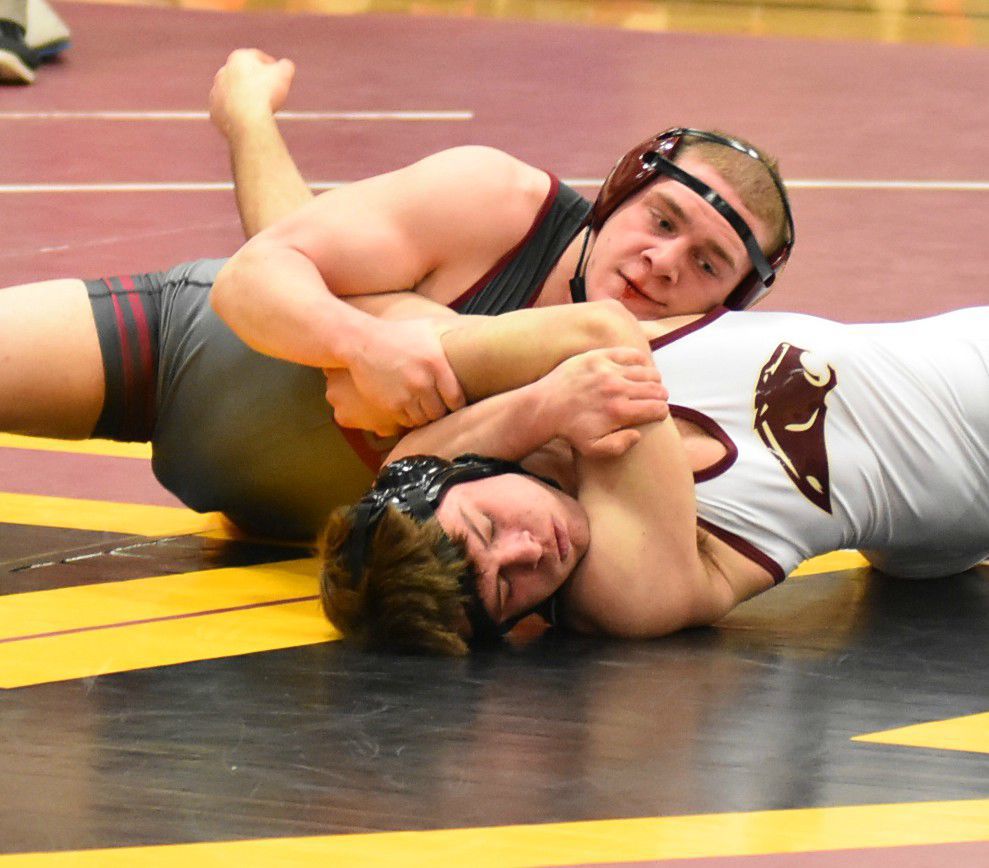 CLINTON -- All season long Clinton wrestling coach Matt Cooper has been preaching to his team to make half-point differences.
Those differences added up, and kept adding up in Saturday's Class 1A Clinton Regional. 
The Maroons won their own regional to advance as a team to the dual-team sectionals, finishing with 191.5 points, 47.5 points ahead of second-place LeRoy.
Clinton will also send nine individuals to sectionals.
"They took care of business and it was a nice win for them," Clinton coach Matt Cooper said.
Christian Reynolds won first place in 145, Kolby Winter won first in 152, Luke Shobe took first in 170 and Kyle Hammer won the 220-pound class.
"These guys were definitely the backbone," Cooper said. "They took opportunities to win and put us over the top. It was a good effort from everybody and I'm proud of all the guys."
MacArthur has strong day at regional
MAHOMET -- MacArthur's wrestling team had a strong showing at their Mahomet-Seymour Regional Saturday and advanced seven wrestlers to the 2A Lincoln Sectional. 
You have free articles remaining.
Davion Deberry finished second at 160 pounds while Cameron Lee (106 pounds), Jalen Calhoun (138 pounds), Tyrek Smith (170 pounds) and Dreux Kitson (182 pounds) each finished third. 
Billy Tucker (145 pounds) and LaMar Wheeler (195 pounds) finished in fourth place for the Generals. 
"It was an awesome day. We've worked a lot this season toward not burning out too early, but peaking at the right time," MacArthur coach Alvin Jackson said. "This clan has been unique and special, but I think they were equally exuberant and equally enthusiastic in their performances. They fed off each other's energy and get hyped on each other's success.
"We have the most kids at sectionals in 20 years and out of our seven qualifiers, two were seniors (Kitson and Calhoun) and five were freshman and sophomores."
Vandalia crushes competition
FAIRFIELD -- Vandalia kept the streak alive.
The Vandals won their 24th consecutive team regional championship Saturday at the Class 1A Fairfield Regional while advancing 11 wrestlers individually.
Nine Vandalia wrestlers wrestled in the first-place match, and six of them won first.
"This is our 24th straight regional win and we're really proud to be keeping the streak alive," Vandalia wrestling coach Jason Clay said. "We had good performances from all of our guys, particularly Anthony Enlow at 285, Jarrett Paslay at 138 and Tanner Swain at 126. We're definitely looking forward to sectionals in our home gym."
Each of those three wrestlers won their respective weight classes.
Cumberland finished third in the regional and advanced six wrestlers to sectionals, including Michael Carpenter's win in the 145-pound class.