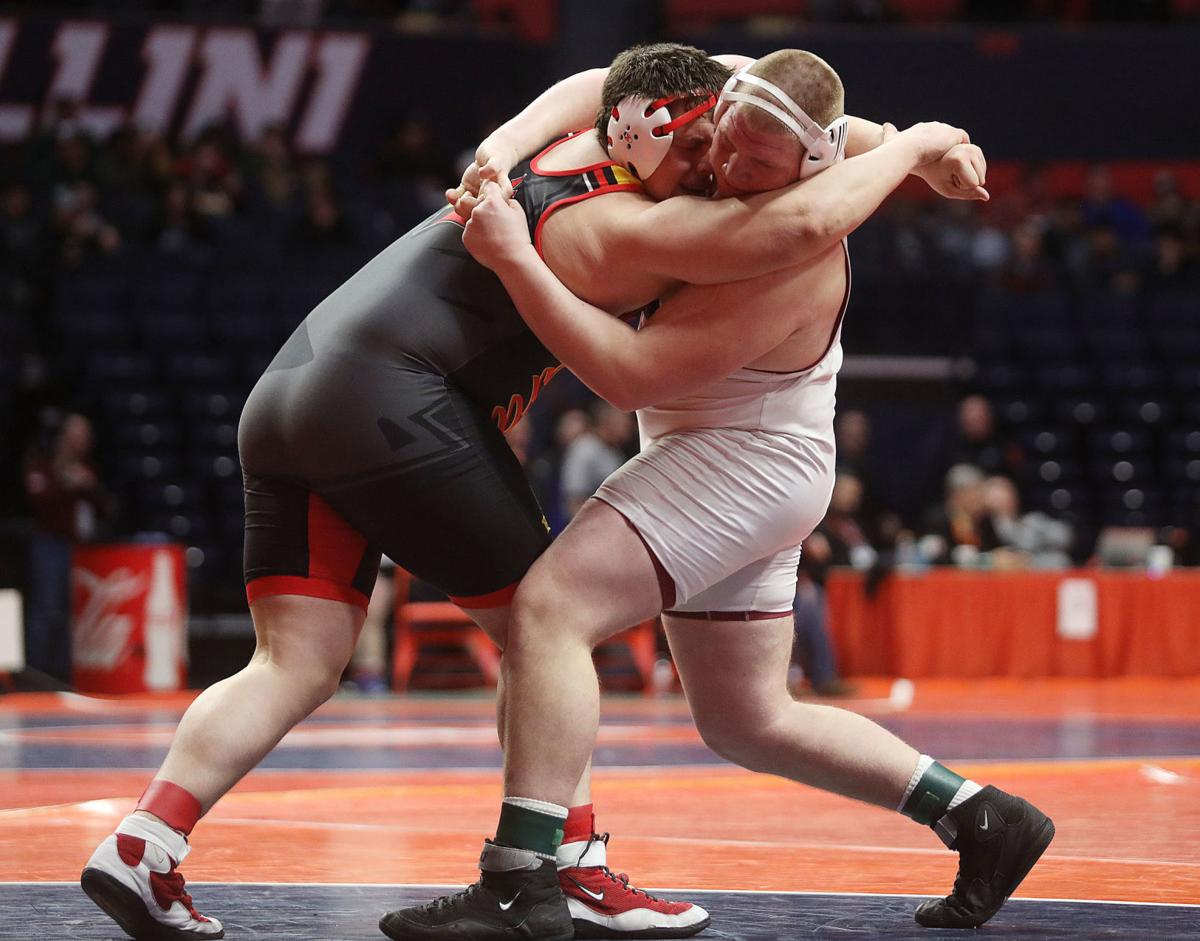 Maxwell, a Warrensburg-Latham senior wrestler, recently recorded his 100th career victory and has his eyes set on the school's single-season victory record of 41 wins. He's currently 32-1.
"With the upcoming tournaments and postseason he should be able to break that," Warrensburg wrestling coach Brian Lee said. 
Maxwell wrestled at the 285-pound weight class previously but has dropped down to 220 as the season has progressed. He has used his increased speed to become the No. 4-ranked wrestler at 220 pounds, according to illinoismatmen.com.
"Adam did a really great job at getting down during football season. In football, you could see his speed increasing," Lee said. "He's really good on his feet and on the bottom he's been doing a lot better job than I've ever seen him do."
While wrestling as a heavyweight at the start of the season, Maxwell won the Petersburg PORTA Invite and defeated Ethan Faulk from El Paso Gridley, then the No. 3-ranked wrestler at 285 pounds. 
"Adam is more than capable of winning a state medal and placing very high this season and he leads the team with his actions and the guys look up to him," Lee said. 
Along with Maxwell, wrestlers Joey Fiore (160 pounds) and Parker Hopkins (125 pounds) will be vying for a trip to the Class 1A state tournament.
"Joey has a good shot at qualifying," Lee said. "He is really good on his feet and he's tough in all positions, but the biggest thing is his conditioning. He doesn't tire out and wins a lot of his matches in the third period. He's still a little bit young as a junior and he is really coming into his game.
"Parker is 27-9 and he's been having a good year, too. He's in a loaded weight class at 126 but he has a shot of getting to state as well."
Lee is in his second year at Warrensburg after leaving Litchfield in 2018. This season, the program has reestablished the middle school program and hopes to build up its numbers in the coming seasons. 
"We are a couple weeks our from the regional and we have to start improving in every position and in every facet that we can," Lee said. "We have some work to do but I think we will have some qualifiers for the sectional and hopefully a couple for the state tournament. We are looking to get three guys to the state tournament, which I don't know if that has ever been done at Warrensburg.
You have free articles remaining.
"Warrensburg is definitely a basketball town and so we are trying to change the culture and change the mindset. We are trying to reestablish the foundation."
GIRLS BASKETBALL
Sullivan, St. Teresa advance at CIC tourney
SHELBYVILLE — In the first day of competition at the Central Illinois Conference Tournament held in Shelbyville on Saturday, No. 1-seeded Sullivan and No. 2-seeded St. Teresa both advanced.
The Redskins (19-4, 5-0 CIC) defeated Meridian 61-37 behind 27 points from Emily White and 21 from Avery Still. 
Addison Newbon led St. Teresa with 19 points and Addie Fyke added 15 as the Bulldogs beat Shelbyville, 64-41. Also, No. 6-seeded Clinton upset No. 3-seeded Central A&M, 47-37, behind 21 points from Mallory Cyrulik and 15 from Kaitlyn Rauch. Tuscola defeated Warrensburg-Latham, 43-24.
The tournament continues Monday with consolation bracket action as Meridian faces Warrensburg-Latham at 6 p.m. and Shelbyville plays Central A&M at 7:30 p.m. The championship bracket continues Tuesday as Sullivan tips off against Tuscola at 6 p.m. and St. Teresa plays Clinton at 7:30 p.m. 
Altamont's Hardiek announces intentions
On Tuesday, Altamont senior Allison Hardiek announced her intentions to play women's basketball for St. Mary of the Woods College next season. 
Hardiek is the Indians' leading scorer with 14.7 points and 9.5 rebounds per game. Altamont is 21-4 and leads the National Trail Conference with an 8-0 record. The Indians won their third consecutive NTC Conference Tournament on Saturday and Hardiek was named tournament MVP.
St. Mary of the Woods is located in Saint Mary-of-the-Woods, Ind., and participates as a part of the United States Collegiate Athletic Association. 
---
PHOTOS: 2019 IHSA Wrestling Finals
PHOTOS: IHSA Wrestling Finals at State Farm Center
Contact Matthew Flaten at (217) 421-6968. Follow him on Twitter: @MattFlaten