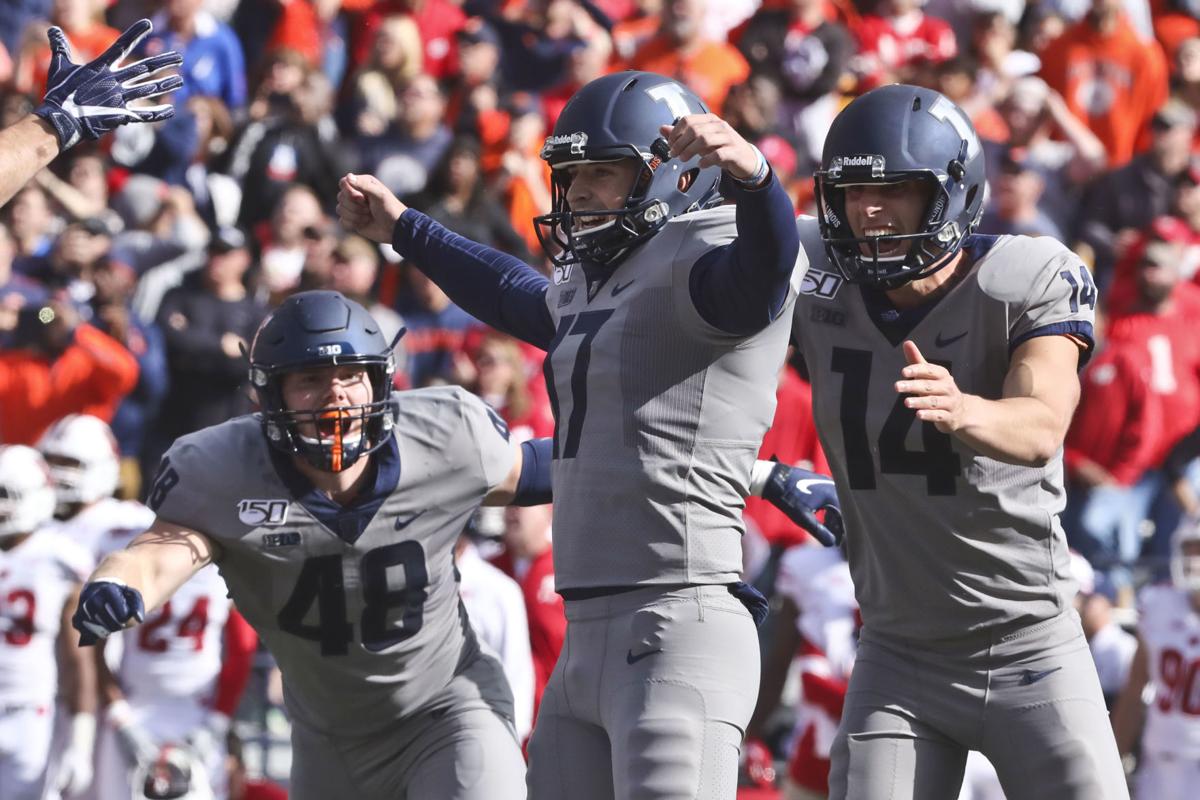 CHAMPAIGN — Blake Hayes' left leg is becoming a thing of legends in the Champaign-Urbana area.
The Illinois punter has made a habit of pinning opposing teams inside their own 20-yard line, and most of the time the field position is worse than that. There's a science to what Hayes, a 6-foot-6 junior from Melbourne, Australia, does when he lines up to flip field position.
Prior to his third punt in Saturday's win at Purdue, Hayes got a message from backup kicker Caleb Griffin, who said that Purdue return man Jackson Anthrop has been lining up fairly close and leaving plenty of green grass between himself and the end zone. Hayes knew he had an opportunity to put the ball over Anthrop's head and let it roll, and Illinois special teams coach Bob Ligashesky gave him the green light.
With the rain coming down, Hayes let it rip. He didn't plan to put the Boilermakers down at their own 1-yard line, but the ball kept rolling and rolling down the left sideline after it hit the ground before going out of bounds just before careening into the pylon, toppling it as if it were the final wobbling bowling pin to complete the last strike in a perfect game.
"When I saw the returner and he didn't catch it, I was pretty happy," Hayes said on Tuesday. "From there it kept skidding and it hit the pile on and I thought it was a touchback. I was pretty shattered and kind of annoyed because that's not the best field position if it's a touchback.
"I saw the ref blow it at the one and I just started laughing."
Yahoo Sports tweeted a link to the video asking if it was the greatest punt of all time; and in his postgame press conference, Illinois head coach Lovie Smith was asked where that punt ranks among punts he's seen in his long career.
"Right now, that's my top one," Smith told reporters.
Said offensive coordinator Rod Smith: "He's tremendous. What a weapon it is, right? Particularly in a game like that when you have field conditions that are a mess, rain, tough, and you can flip the field and pin somebody down like that is huge. It's huge for your defense and huge for your offense."
Hayes has plenty of punts in his arsenal: An end-over-end from his rugby days, a spiral, a roll out, a cross-body and one that fits pretty much any situation for which he finds himself faced. Later in the game, Hayes lined up on the left hashmark with a steadier ran falling down and got a message from Ligashesky to punt the ball to the right where there was more open field. Hayes twisted his body just enough to get the returner to move an inch and booted it right, where freshman Casey Washington pounced on top of the ball at the 1-yard line.
His plan is to keep the ball out of the hands of the returner, if at all possible. In turn, he pins opposing offenses in poor situations. He's averaging 45.0 yards per punt, ranking 17th in FBS, with 22 inside the 20, 12 inside the 10 and six on the 1- or 2-yard line with just one touchback this year. Hayes has 15 punts over 50 yards, including a career-long 70-yarder against Michigan. Opponents have scored only 16 points on drives following a Hayes punt that put them inside their own 20-yard line and Illinois has scored two defensive touchdowns off of those punts.
"We've all bought into it how field position can really help the team as a whole," Hayes said. "You see with most teams if they put it inside the five, a score or a big turnover is likely. Just knowing you can have that impact, and it's the punt team as a whole. It's not just me. It's the protection and the gunners that allow it to happen as well."
Hayes has turned into a star in his three years with the Illini. He came to Champaign having never even attended a college football game and had a very limited understanding of everything that encompasses the sport. He is also the team's holder and was in place for James McCourt to knock in the game-winning field goal two weeks ago to stun then-No. 6 Wisconsin. After that, fans old and young came up to Hayes thanking them for making their weekend.
In a sport where special teams players can fly under the radar, Hayes is becoming a household name. But he's just having fun and enjoying the moment, particularly the moments that he booms a punt down field to put his own defense in a favorable spot.
"Blake Hayes is just a weapon that he brings to our football team of making them go the distance," Lovie Smith said.
---
PHOTOS: Illinois beats Purdue for second straight win
Contact Joey Wagner at (217) 421-6970. Follow him on Twitter: @mrwagner25
Be the first to know
Get local news delivered to your inbox!