CHAMPAIGN — The doors to the locker room inside the Henry Dale and Betty Smith Football Center swung open. The players in the room, who thought they were preparing to huddle for a prayer before Saturday's game against Northwestern didn't expect what, or rather, who, was on the other side.
"Let's turn up today, for real," Roundtree told the team, in part. "For the seniors, let's do it."
None of them knew Roundtree would be making his first trip to Champaign, and to Memorial Stadium, since the swimming accident near his hometown of Largo, Fla. He was the same Roundtree they knew when he was wrecking opposing quarterbacks with a relentless motor. 
"It was amazing," said senior running back Dre Brown. "It kind of shocked me. We were kind of getting ready for the game and that just takes an immediate backseat to the game and you're just like, 'Wow, this is a miracle.' He probably shouldn't even be alive and the fact that he's here in our locker room is amazing. It was just eye-opening, like, wow, this is bigger than football. We got to enjoy that moment."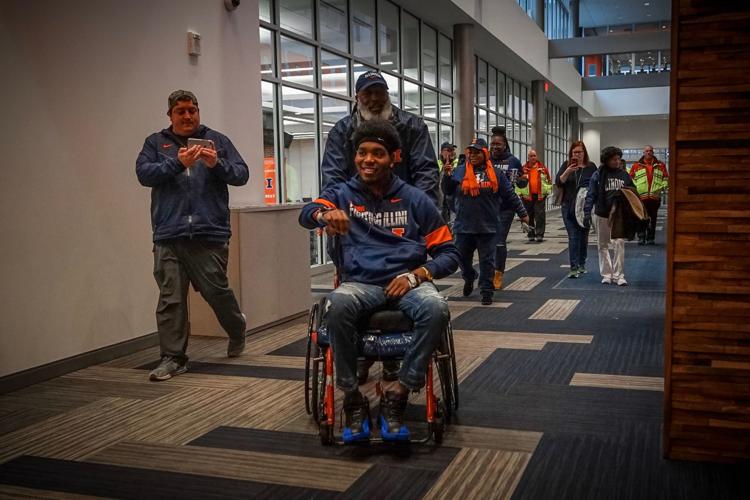 He was honored in the corner of the north end zone at Memorial Stadium in the fourth quarter and shown on the video board. Smith said it was hard to describe the impact of Roundtree's return.
"It's kind of hard to express into words, a lot of us have been there the entire time with Bobby," Smith said. "I've seen him from the first night he had that accident (up to now), he's made so much progress. He's gotten his strength up, working daily.
"If you saw what he does on a daily basis to get himself back here on campus, you'd have to be pumped up. He's been working so hard to get back here with his teammates, so you can imagine the emotion that's involved. He came into the locker room and talked to the team before we came out. He's back here now, and he's a part of it."
You have free articles remaining.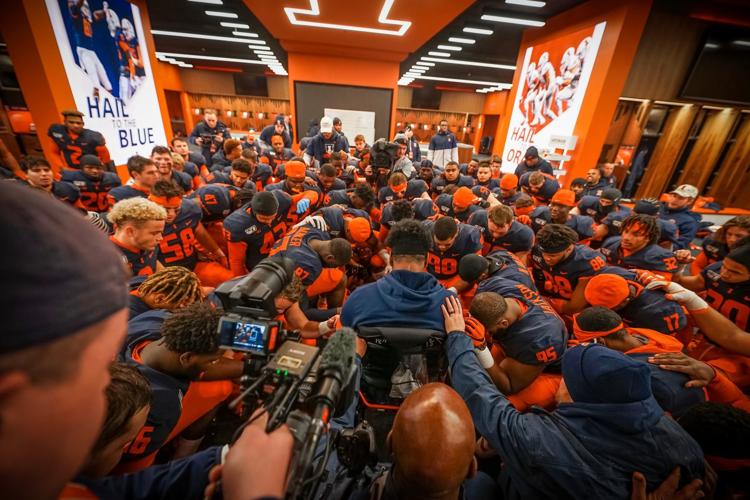 Members of the team have visited Roundtree in Chicago and some players went to Florida immediately after the accident to visit him. The team has used FaceTime to communicate with him in the locker room after games and he's active in team meetings, Smith said last month.
A locker in the corner of the new locker room has his name plate and helmet in it. Linebacker Dele Harding said he was speechless when Roundtree came into the locker room, and a photo provided by the university shows shock on the faces of Alex Palczewski and Stanley Green, who were at the front of the team.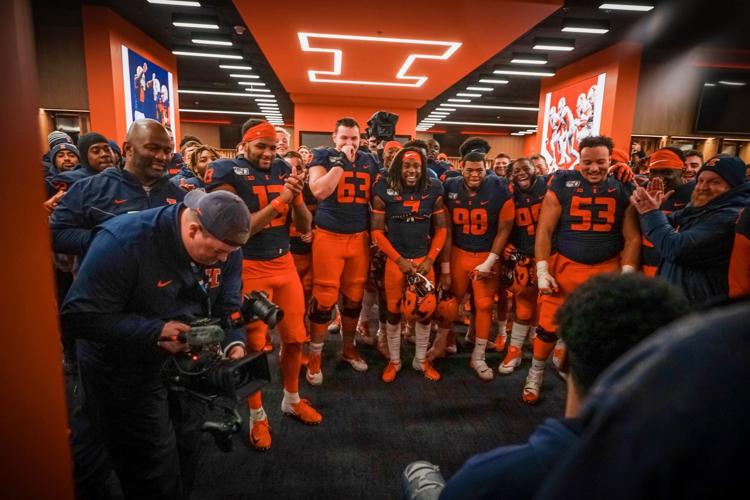 "It's indescribable," Harding said. "A lot of emotions were also in the mix as well, a couple of guys seeing him for the first time. We dedicated the season to him, so seeing him in person was definitely emotional on my behalf."
Said Palczewski: "Unbelievable. I've Facetimed him and I saw him at media days, but just to be able to see him actually here meant the world to me."
Last season as a sophomore, Roundtree led the team in tackles for loss (12.5), sacks (7.5) and pass breakups (7), and was third in tackles (66). His in-person presence carried a weight beyond words. He was the same old player who used to go to offensive huddles to provide a spark to the team, even after he had played defense on a long drive, Brown said.
"It's amazing," Brown said. "It's truly a miracle, just the condition he was in and to see where he's at now, he was talking and smiling. It's so inspirational, honestly. It kind of fits this team, just a bunch of fighters and the Fighting Illini also. It was just really nice to see him."
---
32 historical Illini Photos
Contact Joey Wagner at (217) 421-6970. Follow him on Twitter: @mrwagner25