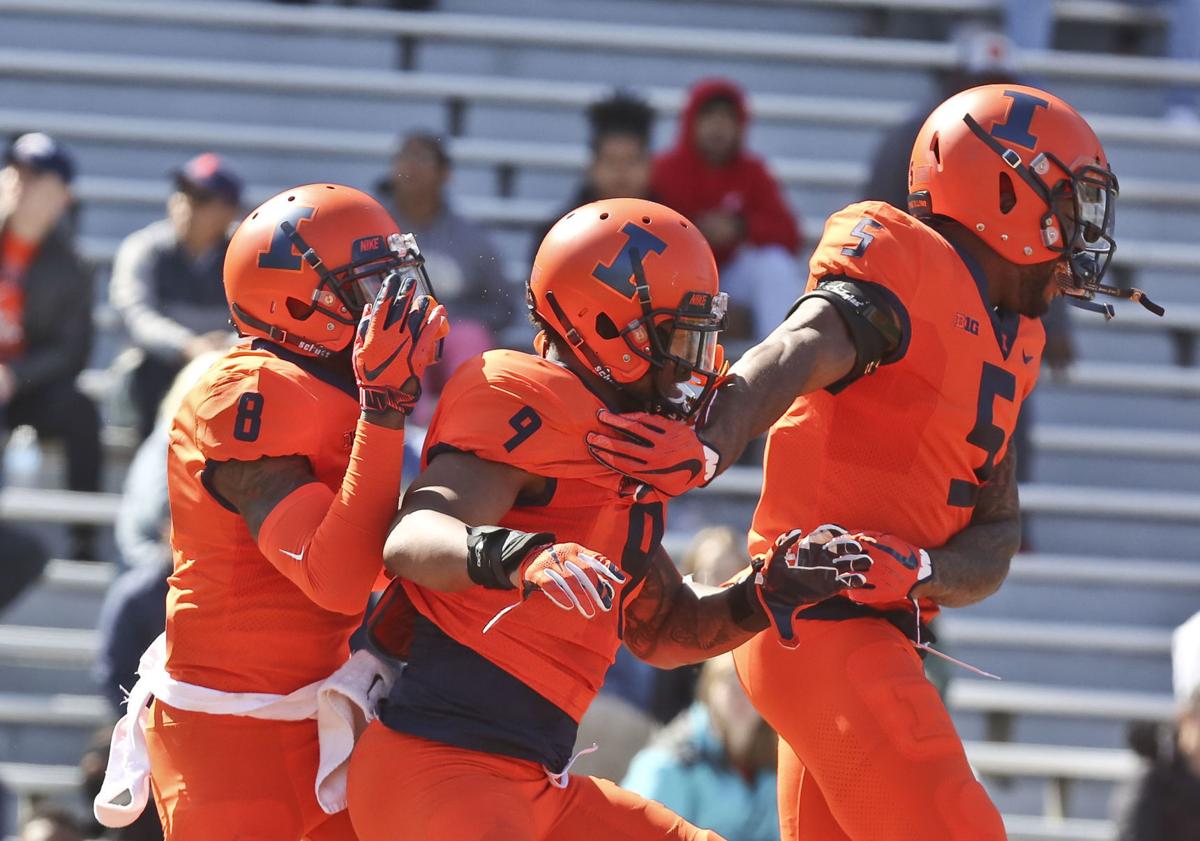 URBANA — When Dele Harding woke up Friday morning, he had pass coverage schemes on his mind.
The linebackers on the Illinois football team have some responsibilities when opposing offenses look for quick passes. As a senior, Harding knows all of his duties in head coach Lovie Smith's defensive system. In fact, Harding can't get the schemes out of his mind.
"I had a dream about some pass fits," Harding said after Friday's training camp practice. "In the quick game, we have some responsibility and it was just in my mind when I woke up.
"I guess it kind of follows me to my sleep somehow."
Those thoughts carried over to the Campus Rec Fields in Urbana during camp, where his voice rings loud. He's the team's middle linebacker and the leader of the defense. He played in nine games last season with 37 tackles, five tackles for a loss, a sack and a forced fumble. Last year, Harding watched former linebacker Del'Shawn Phillips, who is playing for the Atlanta Falcons in the preseason, lead and anchor the linebacking unit. Now it's Harding's turn.
He's been impressive in camp, shooting through gaps with his 6-foot-1, 230-pound frame on run plays while also organizing the linebackers. In the first part of Friday's practice, Harding intercepted quarterback Brandon Peters.
"There's normally an established team leader, there's normally an established offensive leader and defensive leader," Smith said. "We don't crown them or anything, they just move into that role and that's what Dele has done on the defensive side. He's been around here. He's a senior going into his last year.
You have free articles remaining.
"He's a good football player. He had an outstanding offseason getting stronger and all of that. He knows the defense as well as anyone. He'll have a good role for us this year."
Harding is embracing his leadership role on a defense that's itching for a turnaround after a statistically poor year last season. It's a responsibility that comes with being the middle, or Mike, linebacker.
"First and foremost, our mike linebacker has to take charge, they're the quarterback for our defense; making checks and making sure everybody else is in the right spot," linebackers coach Miles Smith said. "Having a vet like him, who has an understanding of this defense the way he does, we're able to have a lot more plays that we can do and we have a lot more options with what we can do.
"It just makes the whole defense better. Our defense is playing better right now because we have someone like Dele Harding."
Harding was prepared to fill whatever linebacker spot he needed to when the season began, but Miles Smith knew that Harding would slot into the empty position left by Phillips. That comes with the vocal element of Harding's game. He's not afraid to direct his teammates, to make sure they're in the right gaps or are properly in coverage. It's his personality to be a vocal leader, a form of expressing has passion.
"Dele is one of those alpha male personalities," Miles Smith said. "When he starts talking, everyone seems to shut their mouths and start to listen. It's kind of always been like that, but this year knowing he is our mike and he has to step his game up a couple notches and he's definitely done that."
The onus of turning a defense that was among the worst in college football, and allowed 63 points on three separate occasions, doesn't fall directly on to any one person's shoulders, Harding said. But he'll make sure that he spreads his knowledge around the defense. 
"Everybody wants to be great," Harding said. "It's going to take a team effort. It's not more so pressure on myself, it's more so pressure on the whole team. As far as me being that leader, I do put pressure on other teammates to be in their gaps when they're supposed to be there. I talk before the play when I feel like something is coming and tell them what gaps to be in. It's a definite team effort."
After three seasons of playing for Lovie Smith, Harding knows all the ins and outs of the playbook and passing that knowledge around the defense. He's taken linebackers like freshmen Shammond Cooper from St. Louis and Tarique Barnes from Memphis under his wing. Harding wants them to know the defense as well as he does. Even if it means it follows them to their sleep.
Contact Joey Wagner at (217) 421-6970. Follow him on Twitter: @mrwagner25