CHAMPAIGN — Isaiah Gay had never known the glare of a media spotlight, not until Saturday night when a swarm of cameras, tape recorders and five curious folks in the background were hanging on his every word.
One of Illinois' newest football heroes grew up in Rocky Mountain, N.C., and had very little recruiting attention. Projected as a defensive end, he was undersized at 6-3 and 210 pounds. He originally committed to Elon, a home-state university with an enrollment of about 6,000.
He'd make do chasing his athletic dreams there, in the relative obscurity of FCS football.
But on the same week recruits would sign their letters of intent, Gay's phone rang.
One of those "curious folks" who was watching Gay perform in front of the media Saturday night tells the rest of the story. It's Derek Gay, Isaiah's father, who filmed the media scrum with great pride and interest, knowing his son had just received his first start as an Illini defensive end and for the second straight game had a say in the outcome.
Hearing from the Illini head coach changed everything.
The family flew to Champaign and fell in love with the idea of their son playing for a former Super Bowl head coach.
"It was a blessing," Derek Gay said.
Derek and Chirley Gay, along with Isaiah's aunt, uncle and older brother, drove all night to see their Isaiah play in Illinois' 20-7 victory over Western Kentucky. "We left at 2 in the morning and it's a 12-hour drive," Derek Gay said. "I still haven't slept. But the adrenaline is flowing."
Isaiah Gay and Bobby Roundtree have created problems for both Ball State and Western Kentucky. They're super-quick edge pass rushers who have held up amazingly well against the run as well.
Gay is 6-3, 216 pounds now. And he's still just 17 years old. But he has been a constant presence in the backfield, grabbing ball-carriers and harassing quartebacks.
Roundtree, bigger at 6-5, 245, has three sacks in two games. He wears No. 97, which calls to mind a young past Illini star, pass rusher Simeon Rice.
Gay said the two freshmen feed off each other. "Me and Bobby, we've been competing with each other since training camp," he said.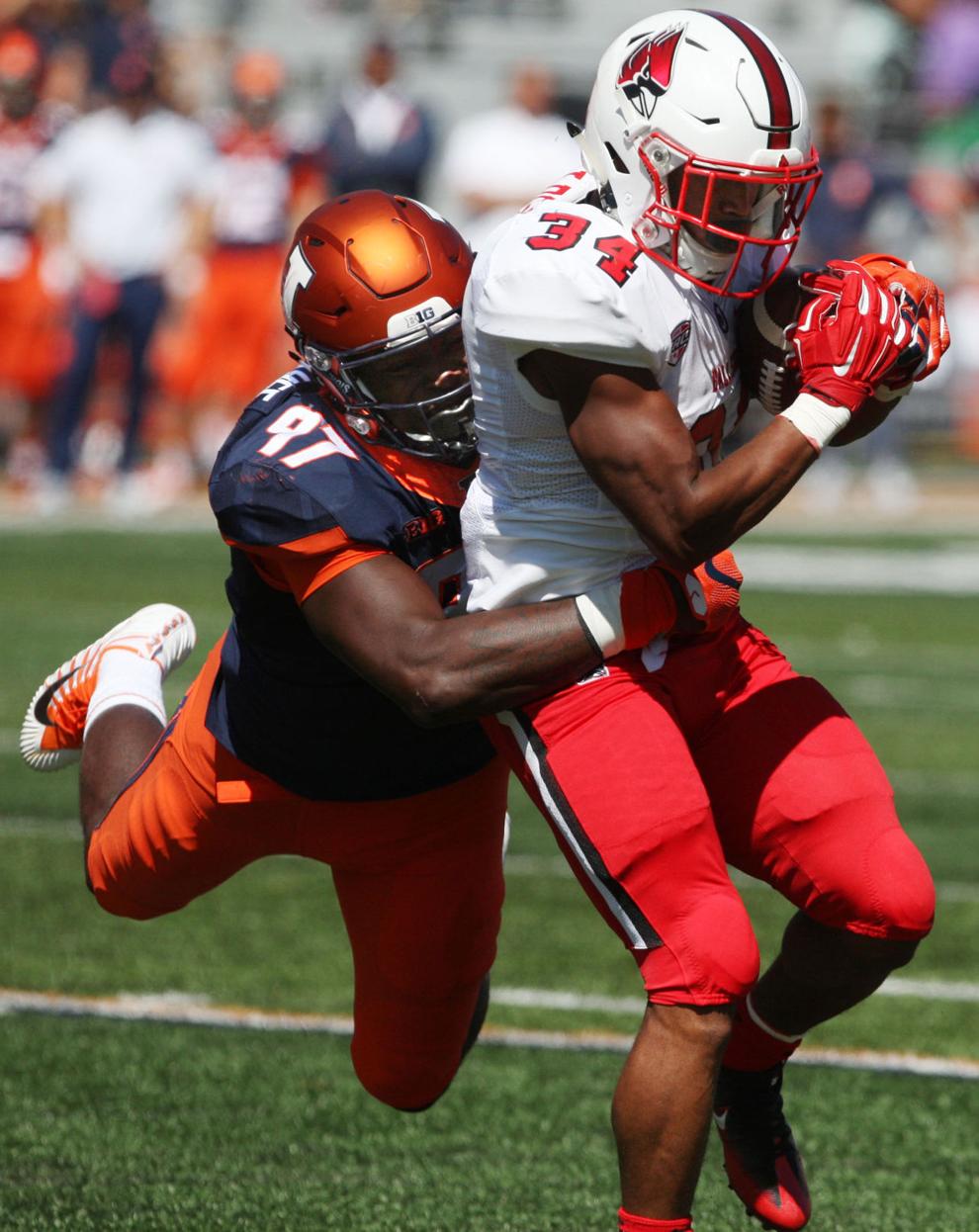 Gay sees himself as a much stronger, much better defensive lineman as he adds time in the weight room. By the time he's a junior, he could be a real beast.
"I think I'll be 250, 260 pounds," he said Saturday night, still soaking in the attention while his father's cell phone captured it on video.
One year ago, Western Kentucky was the highest scoring team in the country. Sure, there have been personnel changes and 2016 head coach Jeff Brohm is now running the show at Purdue.
But this still figures to be an offense with some serious punch. Against the Illini, however, they couldn't deal with Gay, Roundtree and the rest of the Illini defense. Until quarterback Chayce Crouch ran one in in the third quarter, the only Illini touchdown came when linebacker Julian Jones picked off a pass and ran 10 yards for a score.
Western Kentucky quarterback Mike White was hurried on the play as the Illini pass rush, including Roundtree, barreled in on him.
"That was definitely a momentum play," Jones said. "It put us up by two scores and that took a lot of the pressure off."
Irma's impact
Illinois is scheduled to play South Florida in Tampa at 6 p.m. (Central Time) Friday, but the impact of Hurricane Irma on the Tampa area was still being assessed Sunday.
Athletic directors for both schools were staying in close touch in case the game has to be moved. Illini AD Josh Whitman has notified South Florida AD Mark Harlan that Illinois can host the game if needed.
South Florida, ranked No. 22 in the country, cancelled its game this past weekend at Connecticut when Harlan said he didn't think travel was wise in view of the hurricane. Campus was closed at least through Sunday.