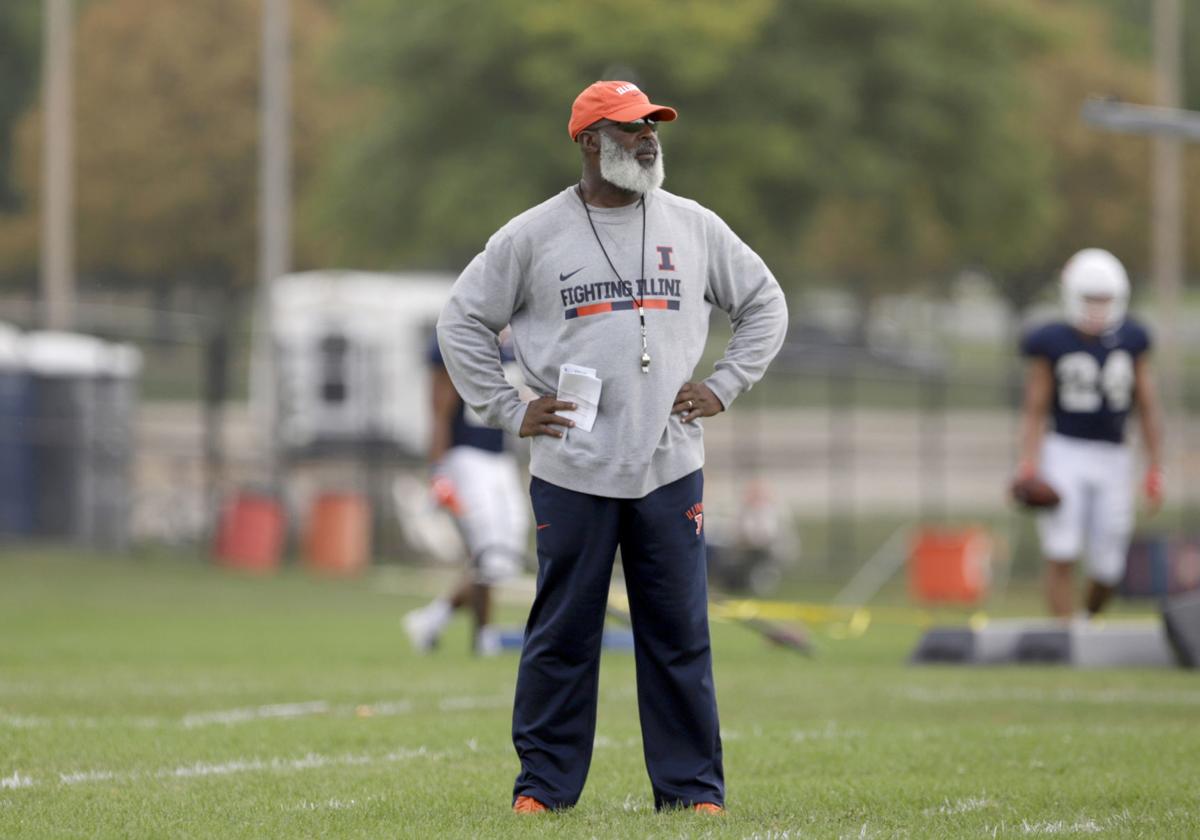 URBANA — After two weeks of Illinois football training camp that was open to both fans and the media, we've learned a few things about the Illini ahead of the Aug. 31 season opener at home against Akron.
The team, on the whole, is deeper and some rooms are better equipped to handle injuries than others. The influx of talent, via graduate transfers and standout freshmen helps raise the talent floor to a level much more fitted for the Big Ten.
How Illinois will do this season is another topic, but here's what we learned:
Peters looks like the quarterback
Last year, it was obvious when AJ Bush Jr. walked onto the Campus Rec Fields that he would be the starting quarterback. He had flare and bravado, and sure enough, he was the starter Week 1 against Kent State.
This year was a little more complex, especially with ultra-talented freshman Isaiah Williams walking onto the fields. Though head coach Lovie Smith and offensive coordinator Rod Smith haven't officially announced who will start Week 1 this year, graduate transfer Brandon Peters, who brought his live arm with him from the University of Michigan, feels like the guy. He's received a bulk of reps with the first team offense and has quickly picked up the system, earning praise from both the Smiths.
CHAMPAIGN — The pocket collapsed and Brandon Peters saw a way out. He bolted to the right si…
Running backs have depth
Reggie Corbin established himself as one of the best backs in the Big Ten last season and was a home run waiting to happen. The Illini have a pretty good idea what they're getting with Corbin. In training camp, though, we saw running back after running back emerge. Mike Epstein is healthy and looked good in camp. He's got a track record of success when he's been on the field. Dre Brown popped off big runs, as did Jakari Norwood and Kenyon Sims.
Much more talent at receiver
Ricky Smalling turned in a solid season at receiver last year, but the team lacked explosive playmakers behind him and the passing game struggled to ever get going in earnest.
With the addition of a pair of USC graduate transfers in Josh Imatorbhebhe and Trevon Sidney, and freshmen Casey Washington and Kyron Cumby, who have both looked good in camp, there floor of the receiver room has been raised.
The newcomers, in addition to Smalling, Edwin Carter, who is working back from an injury, Dominic Stampley, Donny Navarro and Caleb Reams, the Illini have weapons to deploy at receiver, and a quarterback who can make the throws.
URBANA — No one in the north end zone of Memorial Stadium really knew what happened after Ed…
Not as much depth for cornerbacks
The injury to freshman standout Marquez Beason, which the extent is still unknown, but Beason has been on crutches and in a brace since Tuesday, put a dent into the depth at cornerback.
URBANA — Illinois freshman cornerback Marquez Beason was on the sideline of Thursday's pract…
There's been no official update on Beason's injury other than Lovie Smith calling it "significant" on Thursday, and without him the Illini will likely need to lean on Nick Walker, a junior college transfer who played in six games for the Illini last year, primarily on special teams.
Nate Hobbs and Quan Martin are the top to corners on the team and are among the best in the conference, but there are questions beyond them.
You have free articles remaining.
Offensive line has top end talent, building depth
Alex Palczewski and Vederian Lowe are bookends with 23 and 20 games played under their belt, respectively. Those two, combined with returning starters Kendrick Green at guard and Doug Kramer at center, provide continuity. Graduate transfer Richie Petitbon III looks like a lock for the open guard spot that Nick Allegretti held down before being drafted by the Kansas City Chiefs.
Behind the starters, depth is beginning to emerge. Jake Cerny, a junior from Traverse City, Mich. has shown development as has Jake Stover, a sophomore from Chicago St. Rita High School.
URBANA — Lovie Smith hasn't been shy about praising redshirt sophomore offensive lineman Ken…
There's actually a tight end, even without Luke Ford
All is not lost at the tight end position without Luke Ford, the Carterville native who was not granted immediate eligibility after transferring to Illinois from Georgia. Ford is an athletic specimen and would undoubtedly make the Illini a better team.
Enter sophomore Daniel Barker who had one of the best training camps of all offensive players. He's got the athletic ability to take advantage of linebackers and size to be a problem for defensive backs. The energetic tight end could play a big role.
URBANA — At one point as a youth football player, Daniel Barker knew he needed to lose weigh…
Linebackers look like a plus, especially in coverage
Tight ends tore Illinois apart last season. The linebackers struggled to keep up in coverage. Milo Eifler is eligible after sitting out last season because of transfer rules. He and Delano Ware, a converted safety, have pass coverage skills.
URBANA — When Dele Harding woke up Friday morning, he had pass coverage schemes on his mind.
Beyond those two, Dele Harding has taken a leap and a leadership role as middle linebacker and Jake Hansen continues to be a productive player. Freshmen Shammond Cooper from St. Louis and Tarique Barnes from Memphis have played well, so has sophomore Khalan Tolson.
Kicker competition not as clear
After losing Big Ten Kicker of the Year Chase McLaughlin, who is now with the Buffalo Bills in the preseason, the kicker battle opened up for Illinois. Redshirt freshman Caleb Griffin from Danville and junior James McCourt from Florida have spent the first two weeks of training camp vying for the starters spot.
Griffin had a stellar first week before slowing down while McCourt picked it up. That battle appears to be raging on, and Illinois could use a combination of the two if needed (one on kickoffs, one on field goal attempts).
The defense ... appears better
The Illini know the defense needed to improve after a poor showing last season. It's looked good during training camp, but hard to determine much without tackling. There are strengths like Hobbs, Martin and safeties Tony Adams and Sydney Brown, who didn't practice much during camp while dealing with an injury.
An improvement over last year, with Lovie Smith assuming defensive coordinator duties, looks likely, but just how much can Illinois improve?
Rushing the passer might be an issue, though
Bobby Roundtree was a force at defensive end and consistently in the backfield. He suffered a spinal injury in the offseason, leaving a pass-rushing void on the line. USC graduate transfer Oluwole Betiku Jr. looks the part to rush the passer and has shown flashes in camp, but not consistently. Defensive end Owen Carney has had a strong camp and has shown signs of getting to the backfield.
CHAMPAIGN — To judge Oluwole Betiku Jr. on his looks and football acumen alone is to miss th…
Will a group of freshmen defensive linemen including Moses Okpala from St. Louis, Keith Randolph Jr. from Belleville West or Seth Coleman from Florida step into that role? How about junior Isaiah Gay? Or can Illinois pressure from the tackle spot? Either way, they need more.
Contact Joey Wagner at (217) 421-6970. Follow him on Twitter: @mrwagner25