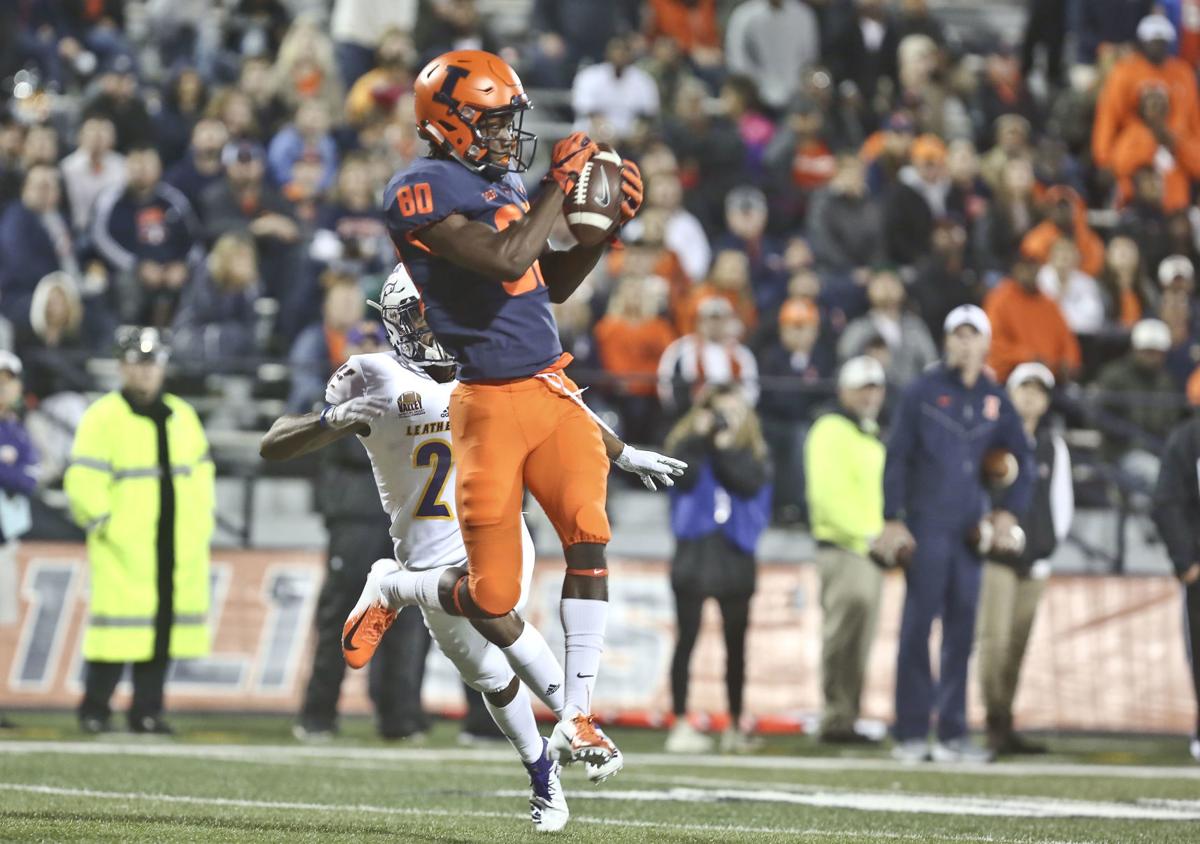 URBANA — No one in the north end zone of Memorial Stadium really knew what happened after Edwin Carter's second touchdown catch last season.
There was immediate jubilation after Carter hauled in his second career grab, that doubled down has his second career touchdown in the first half of last season's Week 2 win against Western Illinois. Carter plucked the ball out of the air at about the 1-yard line, was hit on the leg by Western Illinois defensive back Eric Carrera and flipped into the end zone.
Carter's teammate Daniel Barker rushed over to meet him and to bask in the excitement. He wasn't aware of how seriously Carter was injured, and neither was Carter. Barker and teammate Trenard Davis were urging Carter to get up and celebrate, and Carter desperately wanted to stand up and revel in the moment. He just couldn't. On Tuesday, Carter said he tore everything in his right knee except his MCL and meniscus.
"Honestly, I was still stuck on the touchdowns," Carter said. "I didn't even look into the injury part of it. I knew just right then after I went to the hospital that it was going to be a long road back, so I just had to give 100 percent every day."
The injury put a screeching halt to his freshman season, causing him to use a redshirt year. He had two offseason surgeries and spent almost all of his time rehabbing and fighting to return. In his mind, he would be back for the start of this season, and he told head coach Lovie Smith as much. Smith and the coaching staff weren't going to discourage Carter, but they believed he would miss a total of two seasons.
On July 24, though, Carter tweeted he was medically cleared to return to football. He practices one day at training camp, then takes another day off, and has played sparingly in team drills. Carter isn't afraid to admit he broke down "pretty hard" when he was medically cleared. It was a sweet return for the hours of offseason work. He called his parents, father Edwin Carter Jr. and mother Selena Bradley, who both had stints staying with Carter after his surgeries. They all broke down and cried together. The tears were every bit celebratory.
"I looked back and I don't know how I did it," Carter said. "All I know is I was praying every night for a breakthrough."
cleared 🙏🏿 back to work 💯

— Edwin Carter III (@edfrom229) July 24, 2019
You have free articles remaining.
The coaching staff and teammates have marveled at the work Carter put into returning. The schedule was grueling: Rehab from 7:30-10 a.m., class from 11 a.m.-2 p.m. While the rest of his teammates were in team meetings at 3 p.m., Carter went back to rehab from 3-6 p.m. It was a daily cycle.
"When it happened, it was so sad," Barker said. "To see him work as hard as he's worked and come back? It's just amazing. Everybody said he's not going to come back this season, he's going to come back in two years and he proved everybody wrong."
Carter treated the injury like a typical ACL injury, and put himself on that timeline. Carter studied how NFL running back Adrian Peterson rehabbed and returned from his own ACL injury and tried to model his schedule after that. Returning for the start of this season was always the target.
"A year ago, I'll never forget the day after surgery we went to the hospital to see him he was like, 'Coach, I'm starting next game, next season. I'll be back out there,'" Smith said last Friday. "We thought it was a two-year rehab. We thought, 'Yeah,' and encourage him as much as you can. We've seen him work throughout. Not surprising for us right now, but it says an awful lot. He's put in a lot of hours to get back."
Carter has seen the play "probably a million times." Some of the repeat viewing is to learn how to prevent something like that from happening again, the other part is motivation. Entering last season, Carter didn't even know if he was going to play. He was a skinny receiver, listed at 6-foot-3, 180 pounds, who could have taken a redshirt, even if healthy. He didn't think he would even get into that Week 2 game. When he got in, he found himself potentially on the cusp of a strong freshman season.
"I didn't think that was going to be the end," Carter said. "I thought it was just going to be the beginning."
At training camp, Carter works on individual drills and wears a brace over his right knee with a scar that's a reminder of the journey back to football. The coaching staff will continue to listen to the trainers, and Carter knows patience is a virtue. The return to game action, whenever that is, will be sweet. He's shown what he can be, now he wants to build on it.
"We know the impact he can bring," Davis said. "I told him, 'Man, not a lot of people get that, two catches and two touchdowns as a freshman. Not a lot of people do that.' He's blessed."
Maybe some were surprised to see Carter's tweet announcing he was cleared. Offensive coordinator Rod Smith was one of those people — kind of.
"Am I surprised? It's a yes and no answer," Rod Smith said. "Yes because the injury was so horrific that you don't think he'd be back in a year. No, I'm not surprised because I watched him everyday just busting his (butt) everyday and telling me, 'Coach, I'll be back during training camp.'
"You want to tell him, 'Yeah, OK, we look forward to ya,' but at the same time deep down do you really believe him? He proved everybody wrong that he was going to be here."
Contact Joey Wagner at (217) 421-6970. Follow him on Twitter: @mrwagner25