CHAMPAIGN — All week long, Oluwole Betiku Jr. worried about making a mistake in his first Illinois football game.
He didn't want to be the guy who jumped offsides on the first play in a new uniform. Josh Imatorbhebhe didn't want to look at the stands. Instead he focused on domination.
Both of the graduate transfers from USC wanted to make an impact on their new team. Both did, and so did receiver Trevon Sidney and offensive lineman Richie Petitbon III in their debuts.
Betiku had six tackles, 1.5 sacks, three tackles for loss and two quarterback hits. Imatorbhebhe had two catches for 34 yards and Sidney had two catches for 26 yards and a touchdown.
"All of us have a chip on our shoulders," Imatorbhebhe said. "Not only to other people, but to ourselves that we are the players that we believe ourselves to be."
That immediate impact is exactly why head coach Lovie Smith and Co. scoured the graduate transfer market in an effort to boost the top-line talent on his team.
"Sometime its good for people. Divorce is good, I make that statement sometimes," Smith said. "We had an opportunity here and every one of those young men talk about, there is something special we saw about them and build that role, just being a good teammate."
Shogbonyo always thinking of Roundtree
Defensive lineman Ayo Shogbonyo wanted to get to his phone after getting his second career start on Saturday and five tackles, a half a sack and 2.5 tackles for loss. He wanted to call his teammate Bobby Roundtree.
In fact, just outside of a door to the weight room in the Henry Dale and Betty Smith Football Center, Shogbonyo was nearly brought to tears talking about Roundtree. The two spoke "a couple days ago" and Roundtree told Shogbonyo, a junior from Arlington, Texas, to play hard. So he did. And then some.
"Quite frankly, coming out of the tunnel, that was the only thing on my mind," Shogbonyo said. "I'm kind of tearing up now, still. ... Bobby means a lot to us and he always will. He's the reason why I did what I did today. All that was him."
Justice Williams gets first touchdown
Smith praises tight end Justice Williams for always doing the right thing. Well, at least now Smith can call Williams a tight end. Williams came to Illinois as a linebacker, then made the switch to wide receiver last year. In training camp this year, he started lining up as a tight end and has found a groove.
"I think I finally found a home there," he said.
He had one catch: A nine-yard touchdown pass in the third quarter. It was his first career touchdown, and it came in the first game of his fifth year on the team.
"It feels like a lifetime. It's been well worth it," he said.
Eifler delivers huge hit
You have free articles remaining.
It was as if a year's worth of pent up energy all erupted at once for linebacker Milo Eifler. He had to sit out last season, per NCAA transfer rules, after transferring from Washington. He was ready to hit.
On Saturday, Akron hit a screen play. In the third quarter, Eifler read it hit Akron's Michael Mathison square with his shoulder, knocking Mathison out of the game.
Is it his best hit? Hard to say, he said, there's still at least 11 games left. But it felt good, that's for sure.
"I can't even describe it," Eifler said. "You've just got to soak it in. You see the crowd and your teammates and everybody into it. It was just a great moment."
The hit was enough to get the rest of his teammates amped up. None of them, though, were envious of Mathison.
"I don't think you can put a number on that," linebacker Jake Hansen said. "I might have quit football if I got hit like that. It was unreal."
Give them the ball
Peters said in Saturday's team meeting, Smith asked offensive coordinator Rod Smith what he wanted to do if they got a chance to get the ball first.
Rod Smith wanted the ball. Lovie Smith obliged. Little things like that have a way of sending confidence to an offense that wanted to put points on the board.
"That shows tremendous confidence in the offense," Imatorbhebhe said. "We took it like, 'Heck yeah. Coach believes in us? Let's go show him that he was right.' We did. .... You kind of give someone the opportunity to grow into something and then they can and if they do it's just like, bam, you can build from that."
Not just a run team
Illinois had 207 rushing yards and 194 passing yards. There was balance to an offense that struggled to pass the ball last season. 
Lovie Smith has said his team is a run team, but he's working on that phrasing.
"I need to get away from saying that we are a running team to be truthful," Lovie Smith said. "We want to be a balanced team, but that balance needs to start with the run and it was I think with what you saw today, we know that the passing game can be a lot better than it has been in the past, starting with the QB, we have a lot of options to throw the football and the line is blocking well. Some games we have to lean on the pass a little more, today we were able to keep the balance."
---
Photos from Illinois' 42-3 win over Akron
1 Illini Akron 2 8.31.19.JPG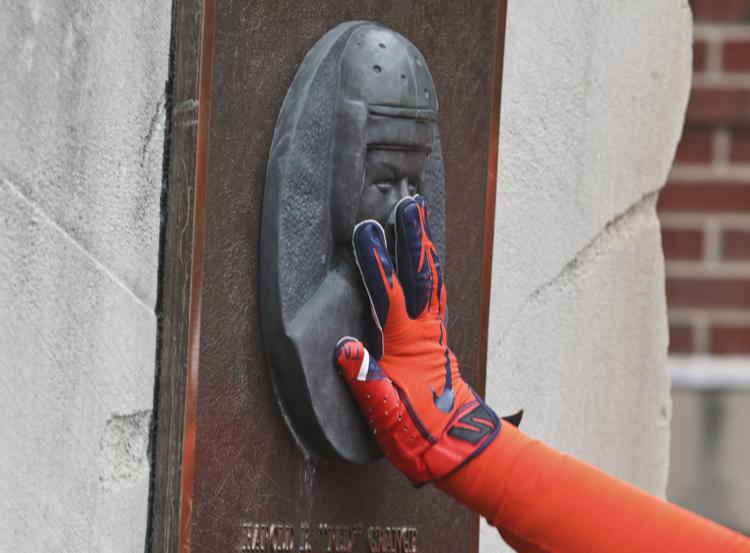 Illini Akron 1 8.31.19.JPG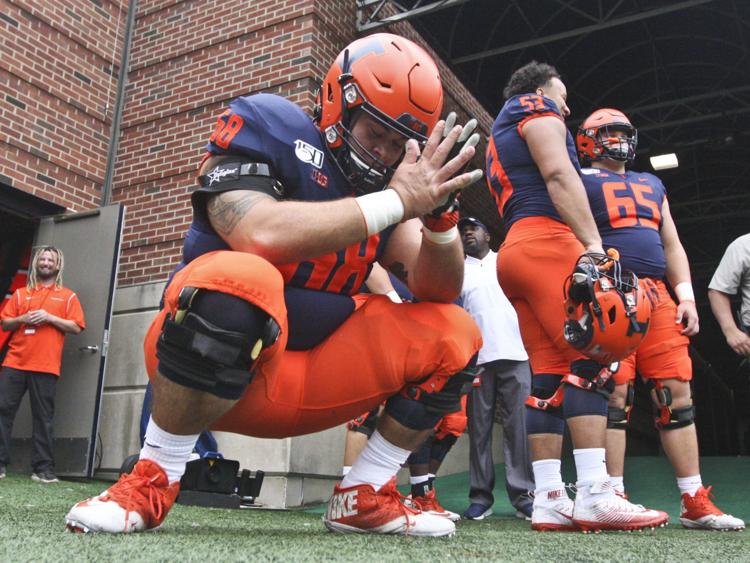 Illini Akron 3 8.31.19.JPG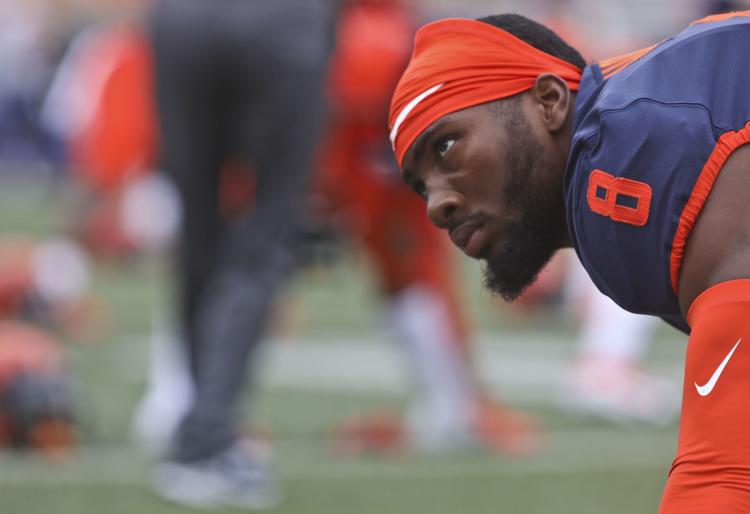 Illini Akron 4 8.31.19.JPG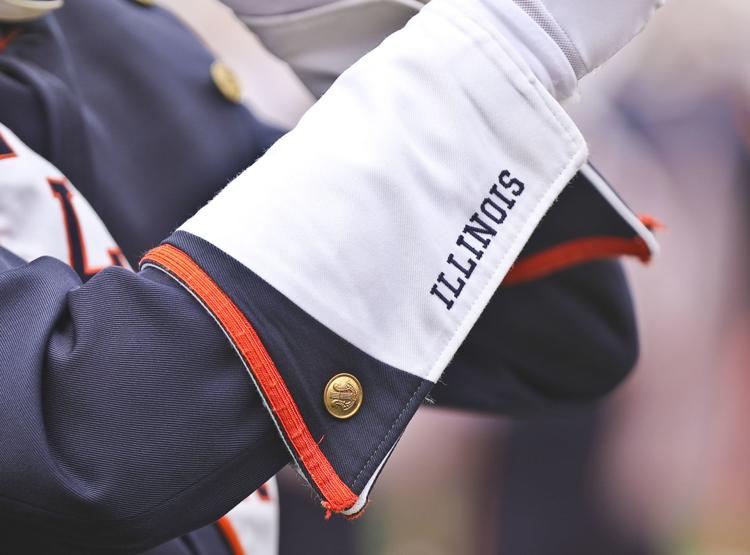 Illini Akron 6 8.31.19.JPG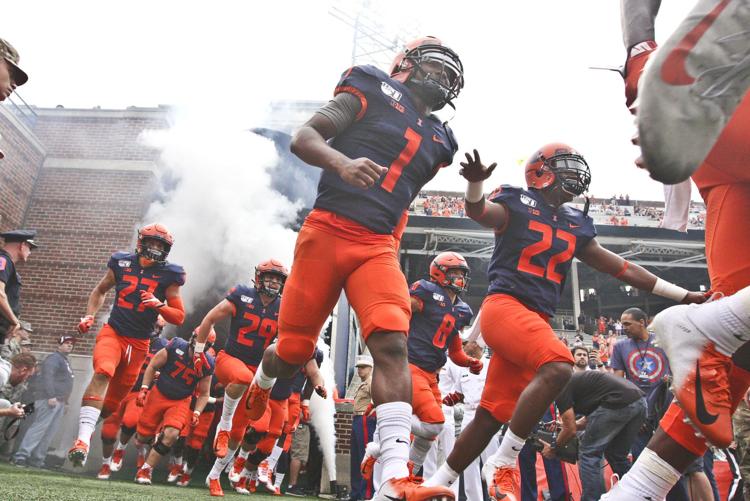 Illini Akron 7 8.31.19.JPG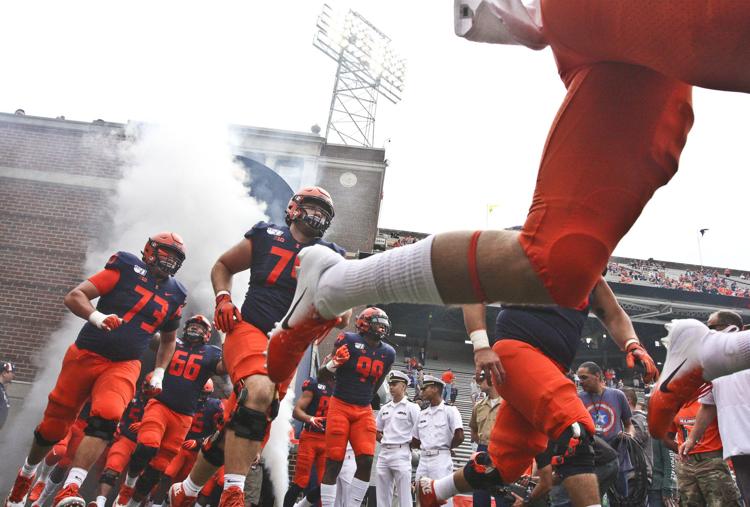 Illini Akron 8 8.31.19.JPG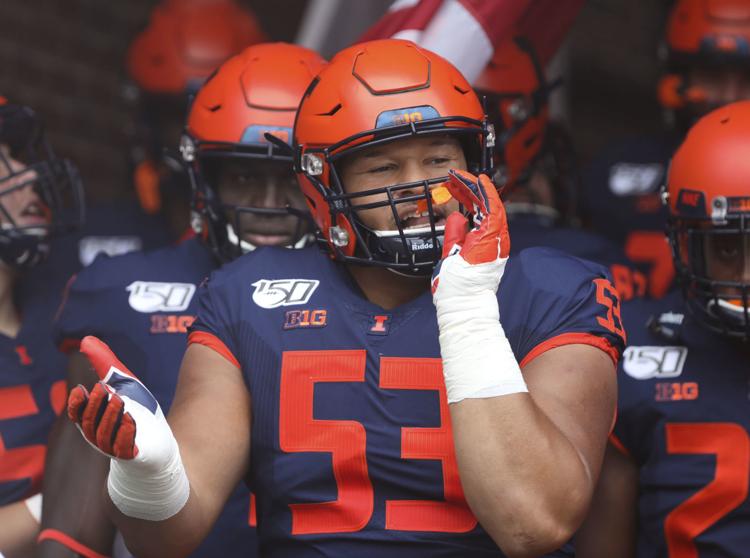 Illini Akron 9 8.31.19.JPG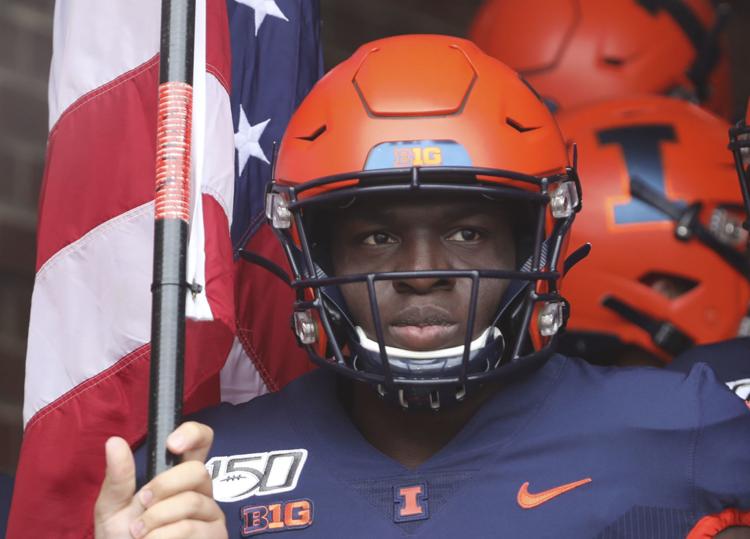 Illini Akron 10 8.31.19.JPG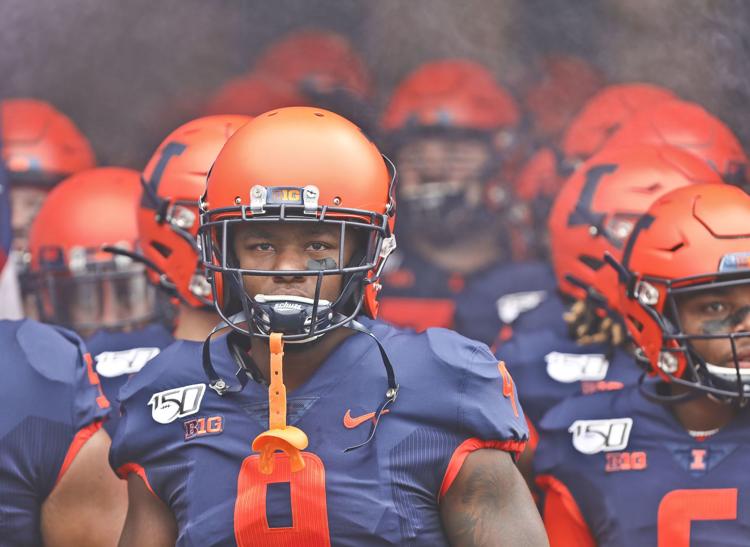 Illini Akron 12 8.31.19.JPG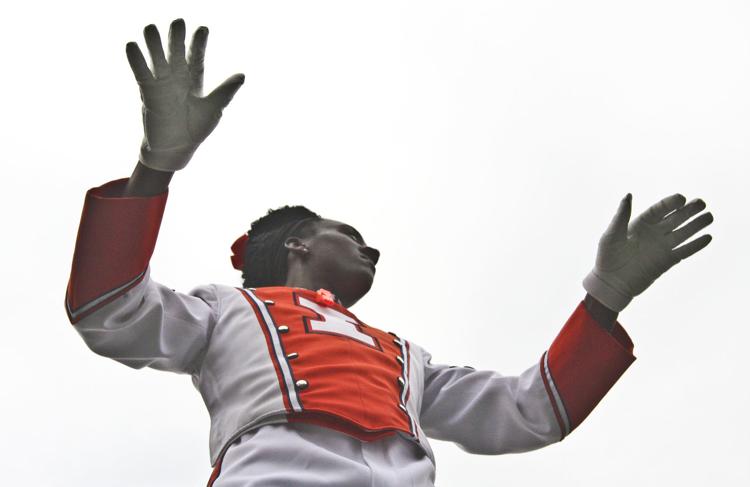 Illini Akron 13 8.31.19.JPG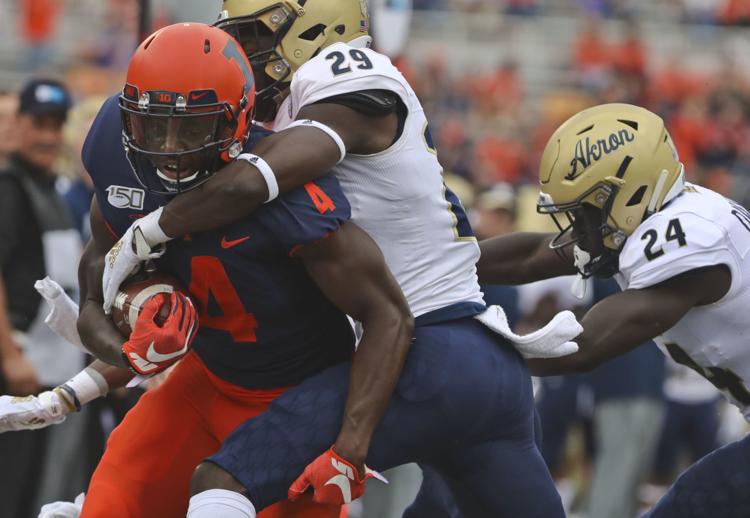 Illini Akron 14 8.31.19.JPG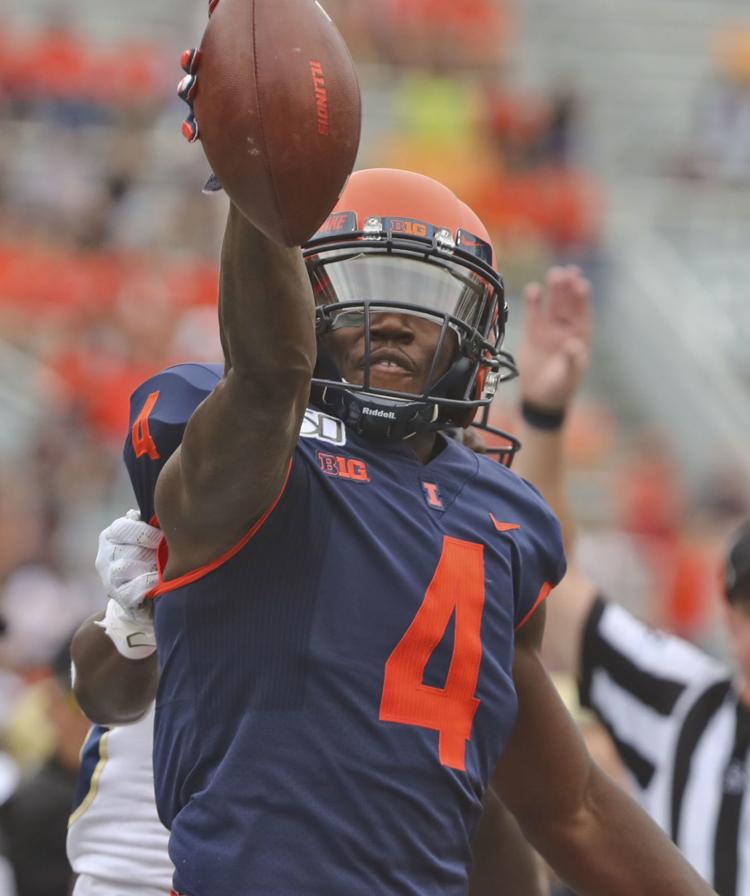 Illini Akron 15 8.31.19.JPG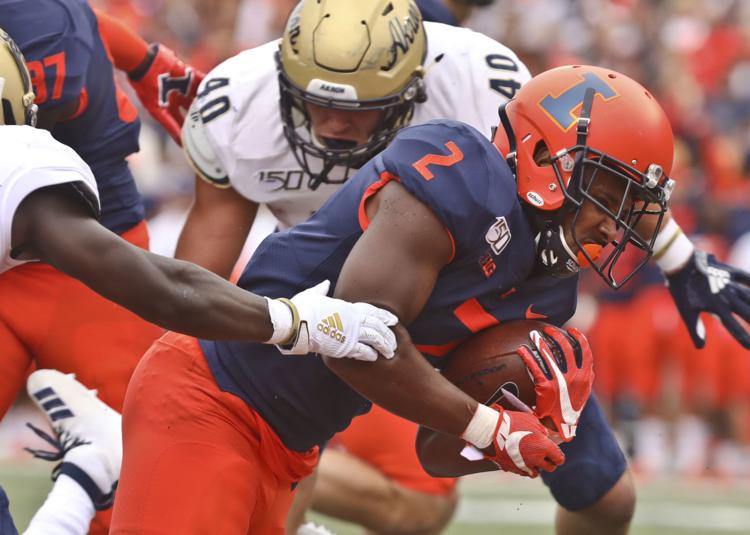 Illini Akron 16 8.31.19.JPG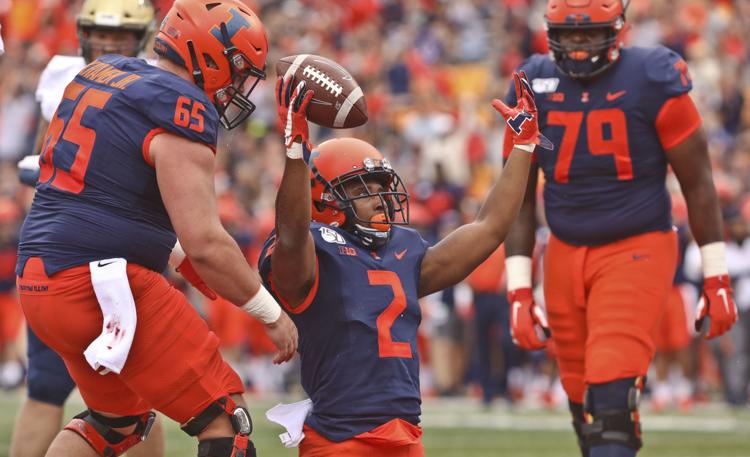 Illini Akron 18 8.31.19.JPG
Illini news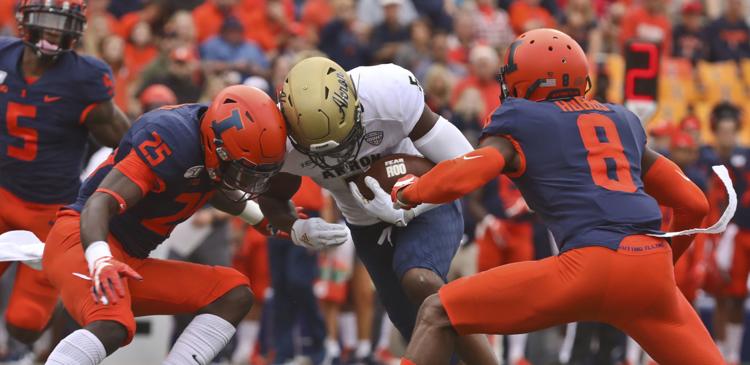 Illini Akron 20 8.31.19.JPG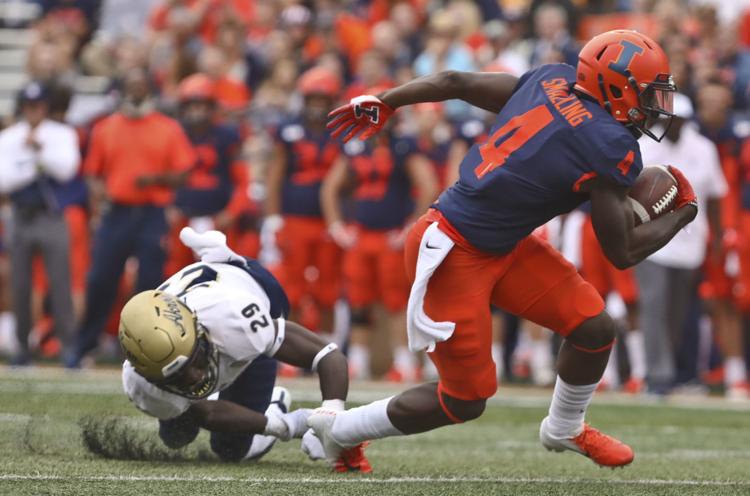 Illini Akron 22 8.31.19.JPG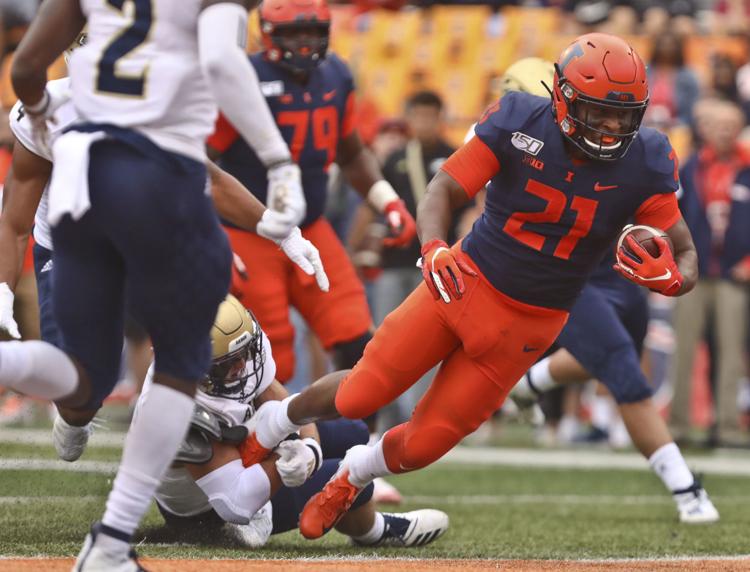 Illini Akron 23 8.31.19.JPG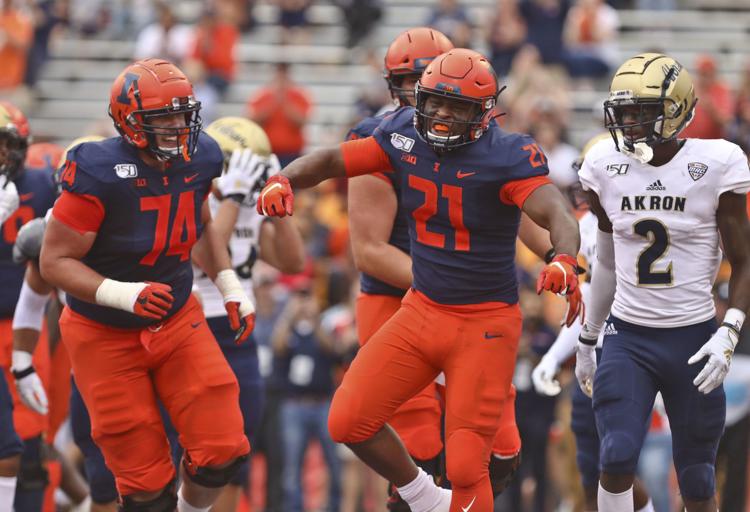 Illini Akron 24 8.31.19.JPG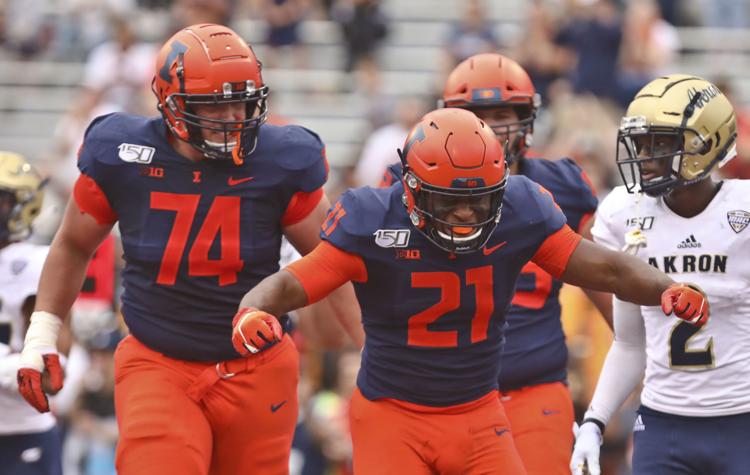 Illini Akron 26 8.31.19.JPG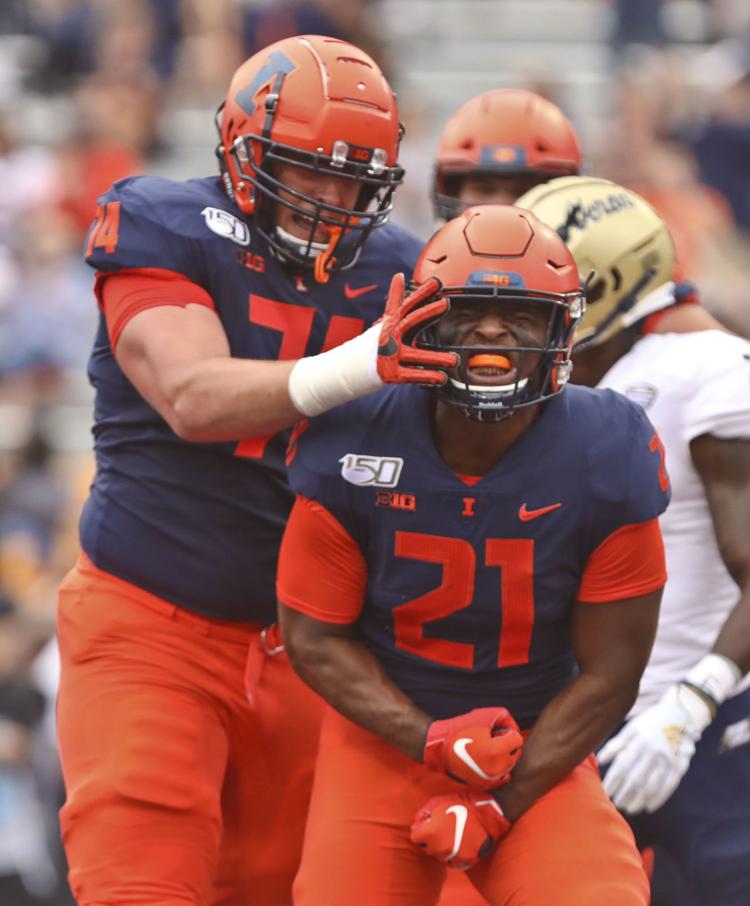 Illini Akron 27 8.31.19.JPG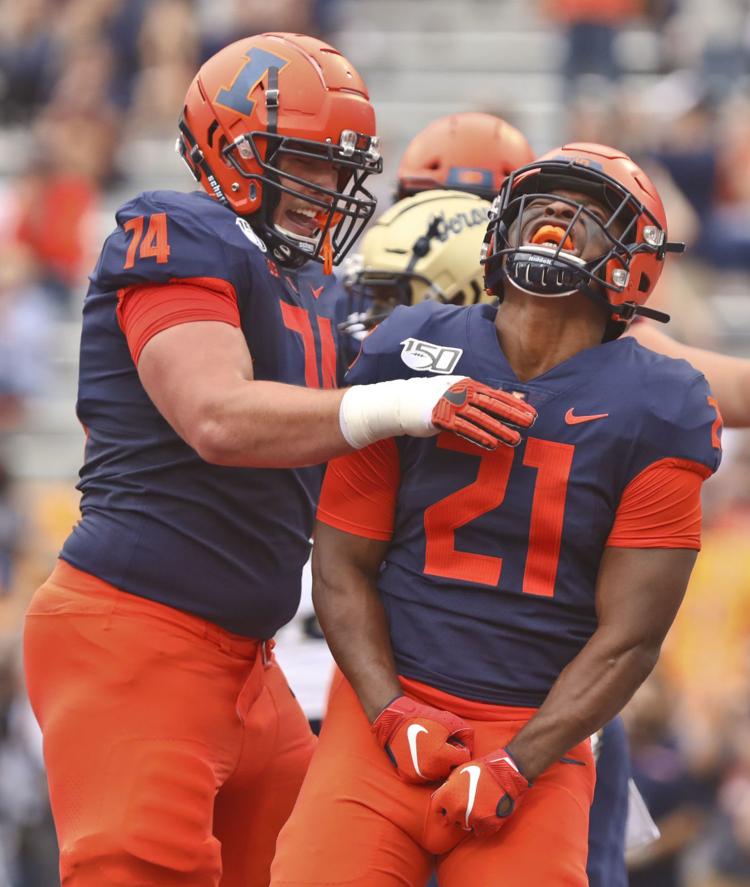 Illini Akron 28 8.31.19.JPG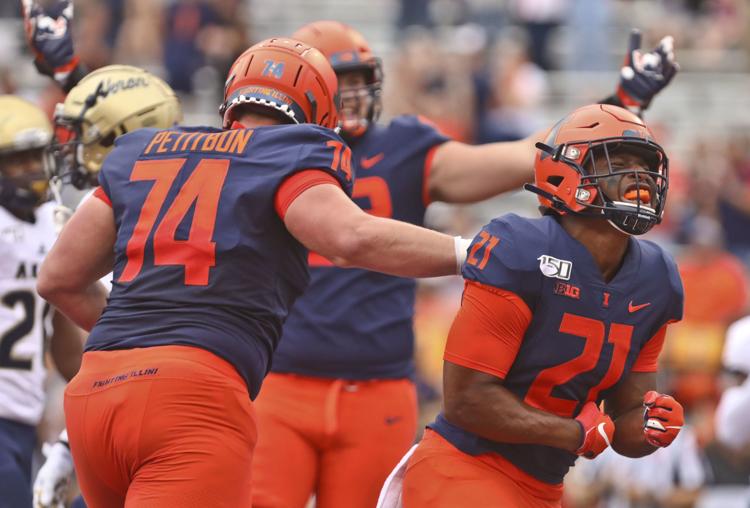 Illini Akron 29 8.31.19.JPG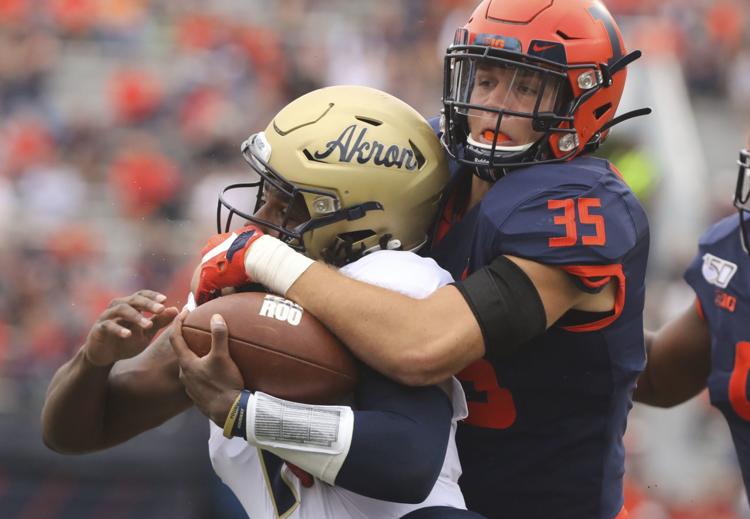 Illini Akron 31 8.31.19.JPG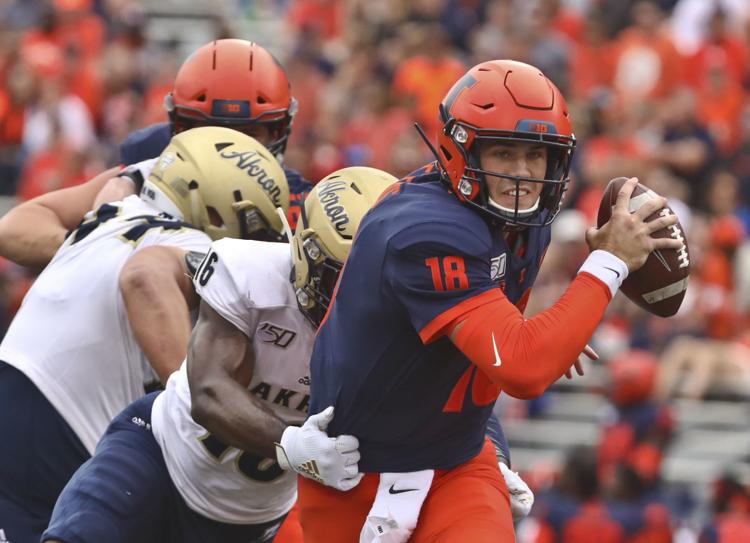 Illini Akron 32 8.31.19.JPG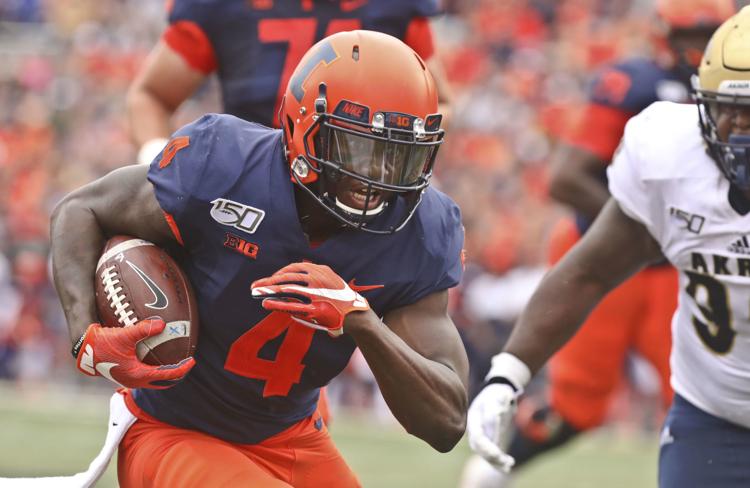 Illini Akron 33 8.31.19.JPG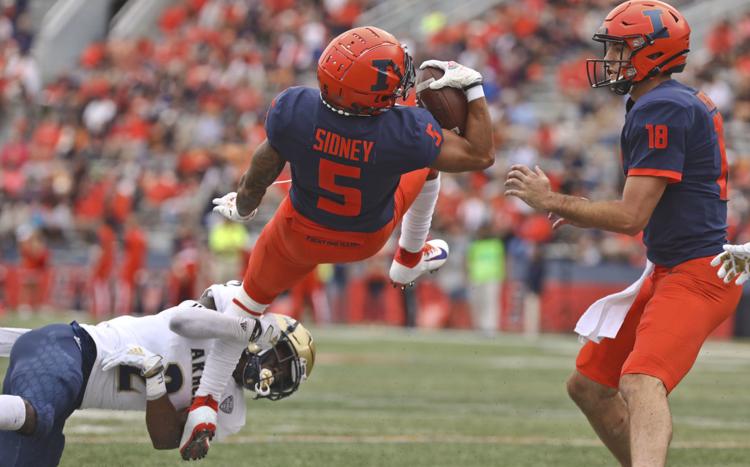 Illini Akron 34 8.31.19.JPG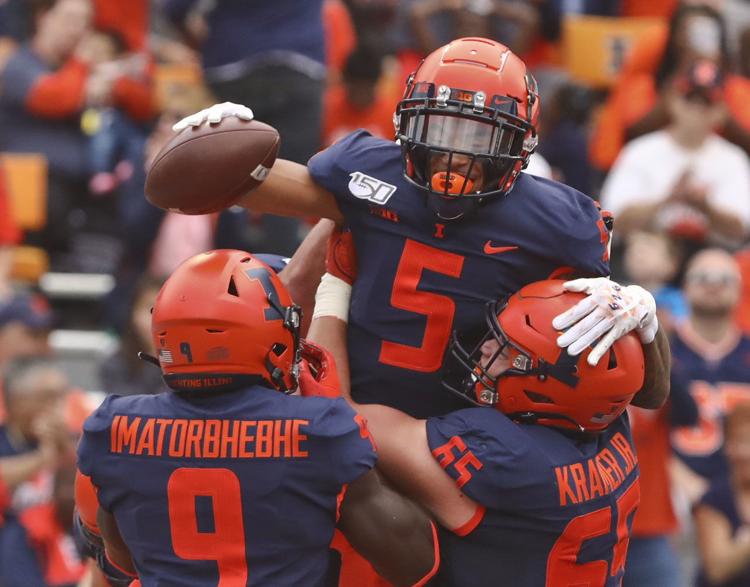 Illini Akron 35 8.31.19.JPG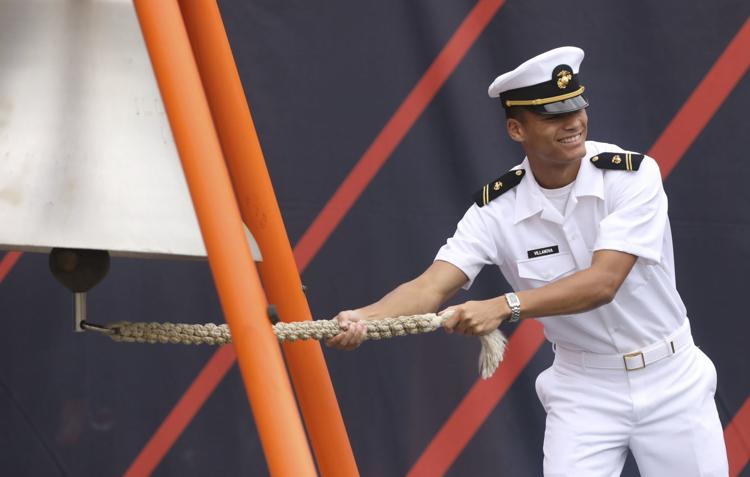 Illini Akron 37 8.31.19.JPG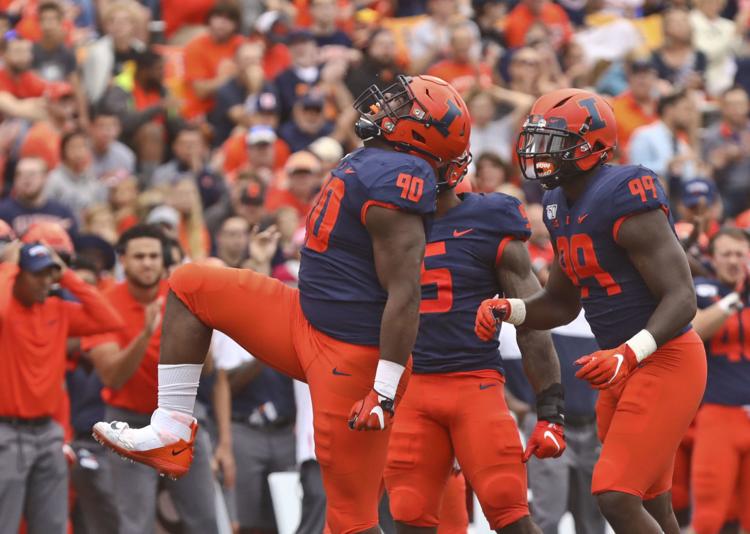 Illini Akron 38 8.31.19.JPG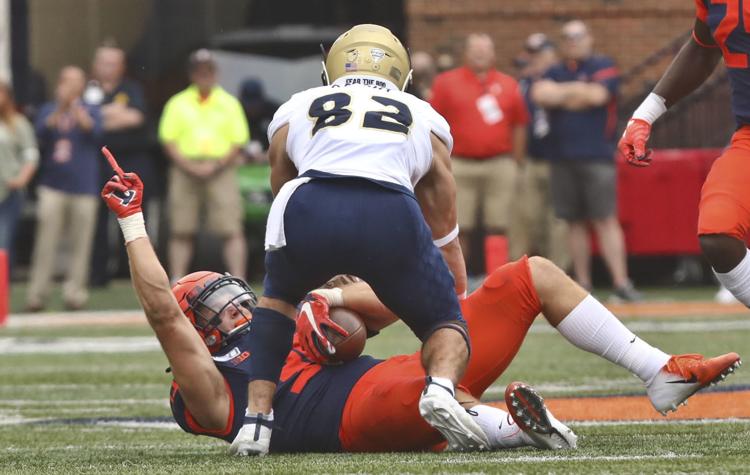 Illini Akron 39 8.31.19.JPG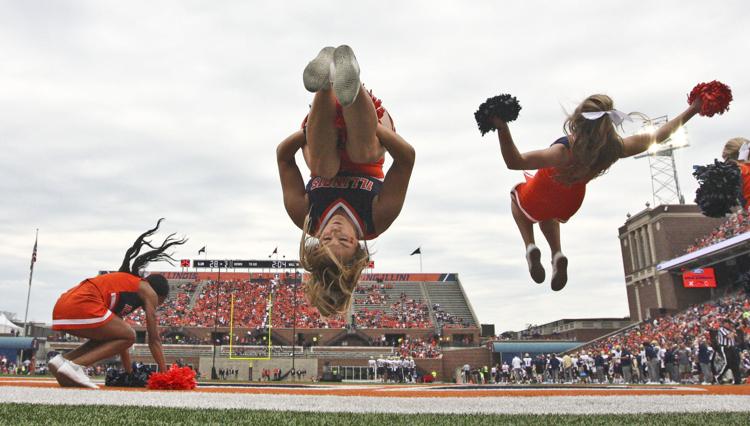 Illini Akron 40 8.31.19.JPG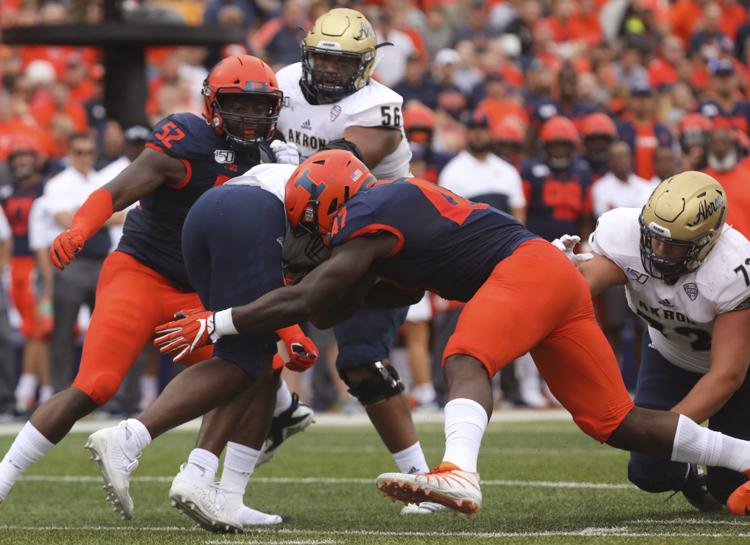 Illini Akron 41 8.31.19.JPG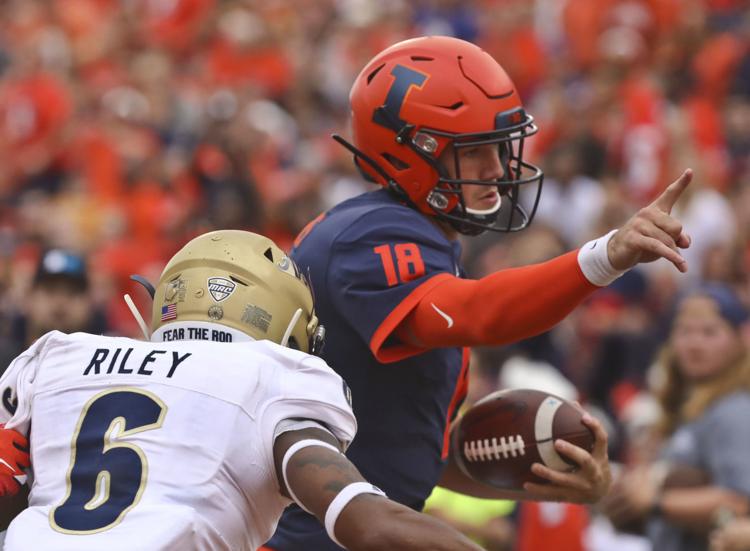 Illini Akron 42 8.31.19.JPG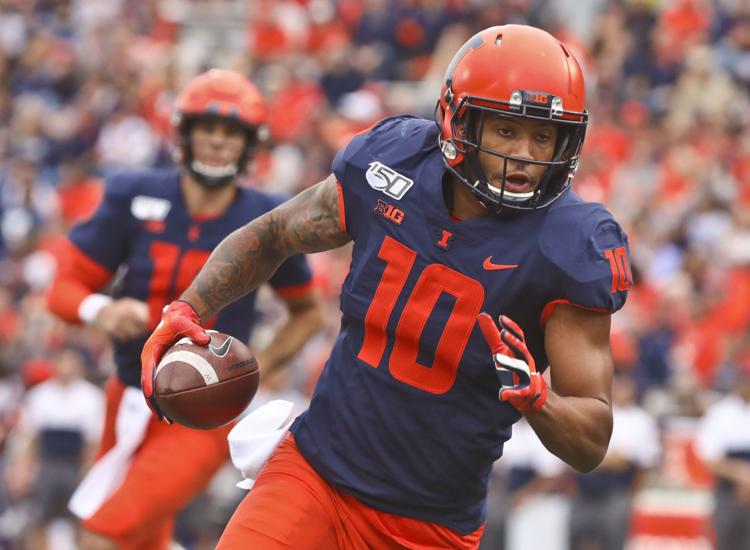 Illini Akron 43 8.31.19.JPG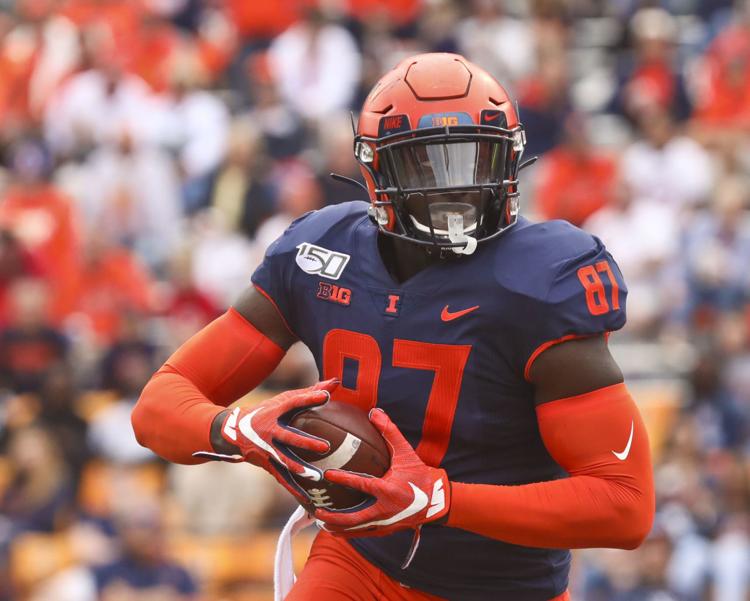 Illini Akron 44 8.31.19.JPG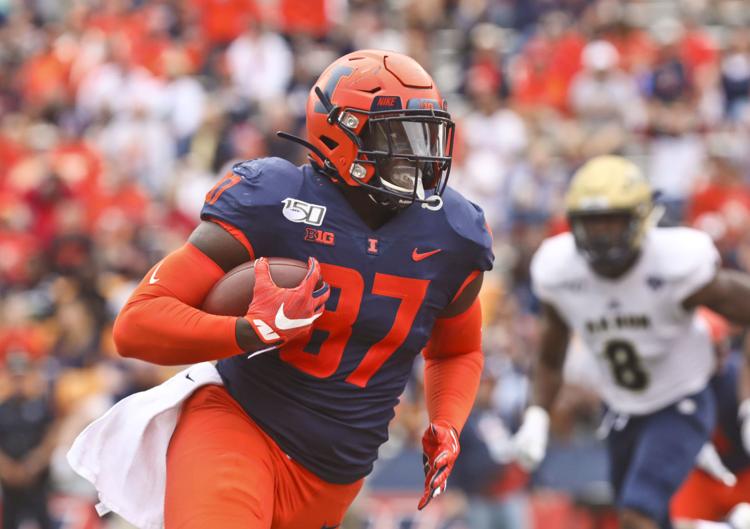 Illini Akron 45 8.31.19.JPG
Illini Akron 46 8.31.19.JPG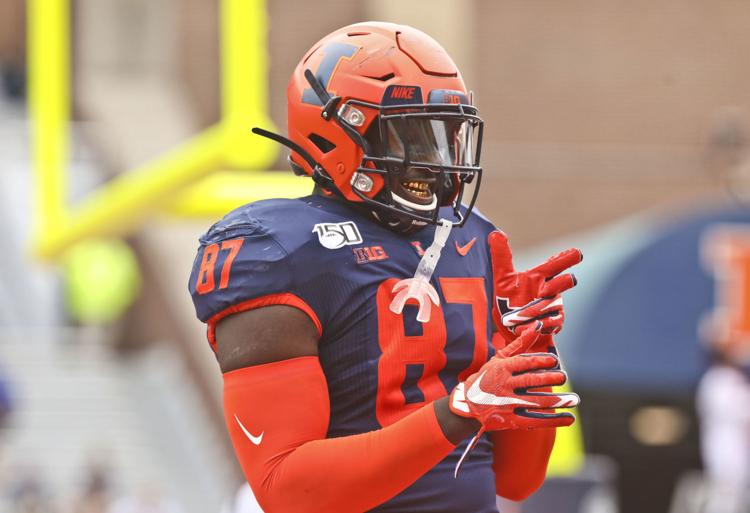 Illini Akron 47 8.31.19.JPG
Illini Akron 48 8.31.19.JPG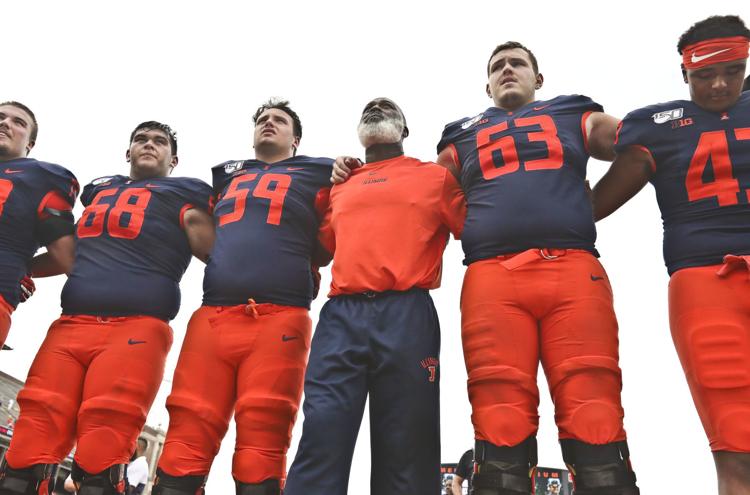 Illini Akron 49 8.31.19.JPG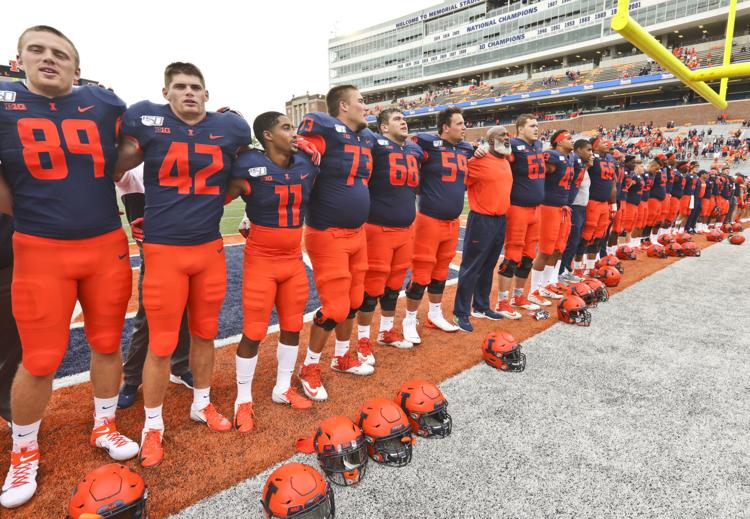 Illini Akron 51 8.31.19.JPG