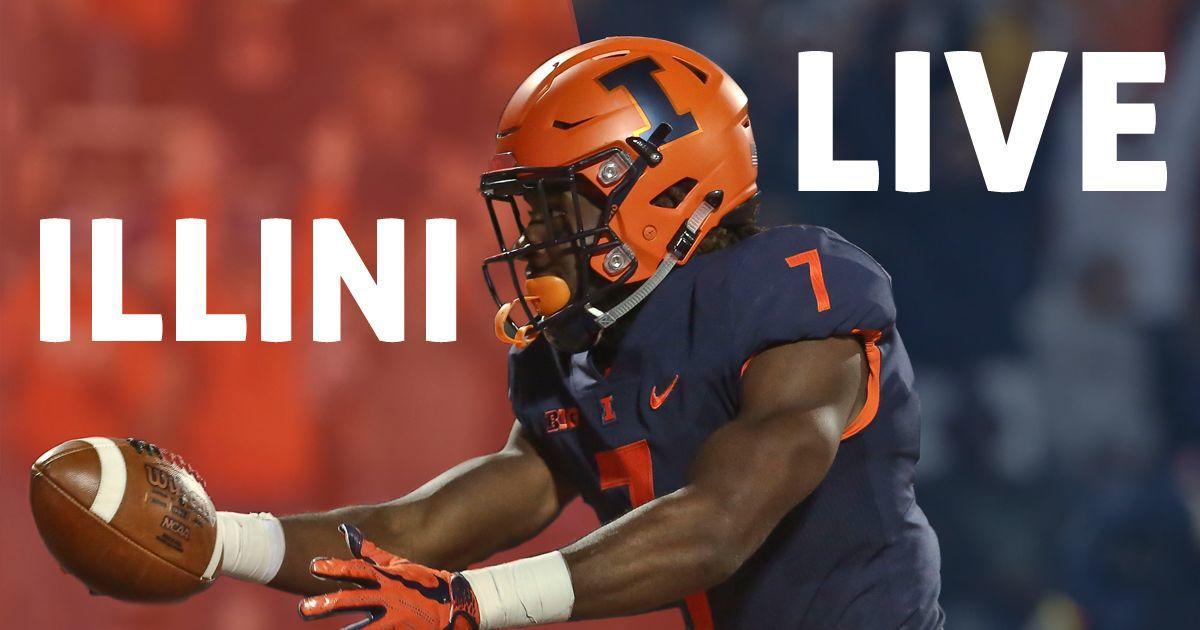 CHAMPAIGN — Nebraska totaled 690 total yards and to beat Illinois 42-38 on Saturday night at Memorial Stadium.
Illinois led the game until the fourth quarter.
Nebraska takes lead
It took more than three quarters and nearly three-and-a-half hours of real time, but Nebraska took its first lead over Illinois after an 11-play, 75-yard drive ended with a one-yard touchdown run from Wan'Dale Robinson.
Illinois has given up 636 yards of total offense. The record for total offense by an opposing team is 712, which was allowed last year in a loss at Maryland.
Nebraska leads 42-38 with eight minutes left.
McCourt hits from 47 yards out
Illinois kicker James McCourt connected on a 47-yard field goal to give Illinois a 38-35 lead. His kick came after a 7-play drive stalled out.
Nebraska ties it up
Dedrick Mills runs in for his second touchdown of the game on a 2-yard carry and Nebraska quarterback Adrian Martinez ran in the 2-point conversion.
That tied the game 35-all with 14:29 left. The Illinois offense desperately needs a sustained drive to give the defense a break after going three-and-out on its last drive and converting a fumble for a quick touchdown on the drive before that.
Illini lead after three points
Illinois is up 35-27 after three quarters, but Nebraska has the ball on the Illini 8-yard line to start the fourth quarter.
Nebraska still moving the ball
The Huskers put together a nine-play drive that ended with a 14-yard touchdown run from Dedrick Mills. The point after attempt was blocked by Illinois defensive lineman Calvin Avery.
Nebraska has 497 yards of offense, and the fourth quarter hasn't even started. Either way, Illinois leads 35-27 with 1:54 left in the third.
Momentum swings in Illinois' favor
After a lengthy replay review, the officials overturned what was ruled an incomplete pass out of the hands of Nebraska quarterback Adrian Martinez into a fumble recovery for Illinois. Illini defensive end Ayo Shogbonyo forced the fumble, and Oluwole Betiku Jr. recovered it.
Two plays later, Illinois quarterback Brandon Peters ran the ball in for a 10-yard touchdown that included a last-second juke of the final defender.
Illinois has recovered four fumbles so far.
The Illini lead Nebraska 35-21 with 5:40 left in the third quarter.
Nebraska with a quick answer
The Huskers went 75 yards on seven plays, with little to no resistance from the Illinois defense to score a touchdown on a three-yard shovel pass from Adrian Martinez to Wan'Dale Robinson.
Illinois leads 28-21 with 9:41 left in the third quarter.
Defensive stop leads to a Dre Brown touchdown
The Illinois defense forced a three-and-out to open the game, with Wole Betiku Jr. sacking Nebraska quarterback Adrian Martinez on third down.
Dre Brown capped off a six-play drive on the ensuing offensive possession with a 36-yard touchdown run to take a 28-14 lead over Nebraska with 11:16 left in the third quarter. Brown has 59 yards rushing to go with 83 yards on kick returns.
You have free articles remaining.
Illinois leads at halftime
Illinois let the final 26 seconds of the first half tick away, but holds a 21-14 lead at halftime.
Nebraska has 314 yards of total offense to Illinois' 185 yards. Brandon Peters is 6-of-10 for 58 yards, a touchdown and an interception. 
Adrian Martinez is 11-of-21 for 167 yards and a pair of touchdowns while his running back, Maurice Washington has 10 carries for 89 yards.
Reggie Corbin leads Illinois with 91 rushing yards and a touchdown.
Nebraska gets the ball to start the second half.
Nebraska scores again
Nebraska had a 6-play, 79-yard scoring drive that ended with a touchdown pass from Adrian Martinez to Wan'Dale Robinson, who juked Illinois defensive back Kerby Joseph to walk into the end zone.
Three of the Huskers' players were of 25 yards or more on the drive.
Illinois leads 21-14 with 8:20 left in the first half. 
Another Nebraska turnover, another Illinois touchdown
Illinois turned the second Nebraska turnover of the game into a touchdown. After a booming punt by Blake Hayes that pinned Nebraska at its own 2-yard line, the Huskers fumbled on their first play from scrimmage, forced by Dele Harding and recovered by Quan Martin.
After the call on the field was upheld, Illinois running back Ra'Von Bonner ran in a 2-yard touchdown to give the Illini a 21-7 lead over Nebraska with 13:46 left in the first half.
Illinois has scored touchdowns on both Nebraska turnovers, both of which were fumbles.
Illinois leads after the first quarter
Illinois has a 14-7 lead over Nebraska after a 58-minute first quarter. Reggie Corbin has a touchdown run and the other Illini touchdown came on a 26-yard pass from Brandon Peters to Josh Imatorbhebhe. 
Nebraska has 150 yards of total offense, and Illinois has 124.
Nebraska gets on the board
Nebraska capped off a 10-play drive with a six-yard touchdown pass from Adrian Martinez to tight end Jack Stoll. Maurice Washington was big on the drive, with a 41-yard run on the fourth play to get o the Illinois 16-yard-line.
Illinois lead 14-7 with 5:01 left in the first quarter.
Peters finds Imatorbhebhe for touchdown
Five plays after Jake Hansen pounced on a fumble by Nebraska quarterback Adrian Martinez, Illinois quarterback Brandon Peters found Josh Imatorbhebhe on a 26-yard, perfectly-placed touchdown pass.
Illinois has a 14-0 lead on Nebraska with 8:12 left in the first quarter.
Peters narrowly missed Imatorbhebhe in the back of the end zone on the previous play before placing it in a spot where only his 6-foot-2 receiver could get the ball.
Corbin breaks a big touchdown run
On the second play from scrimmage, Illinois running back Reggie Corbin broke free for a 66-yard touchdown run and broke the last would-be tackler on his way to the end zone. 
Corbin took a handoff on the first carry for five yards before going for 66 on the second run. 
Illinois leads Nebraska 7-0 with 14:12 left in the first quarter.
Contact Joey Wagner at (217) 421-6970. Follow him on Twitter: @mrwagner25