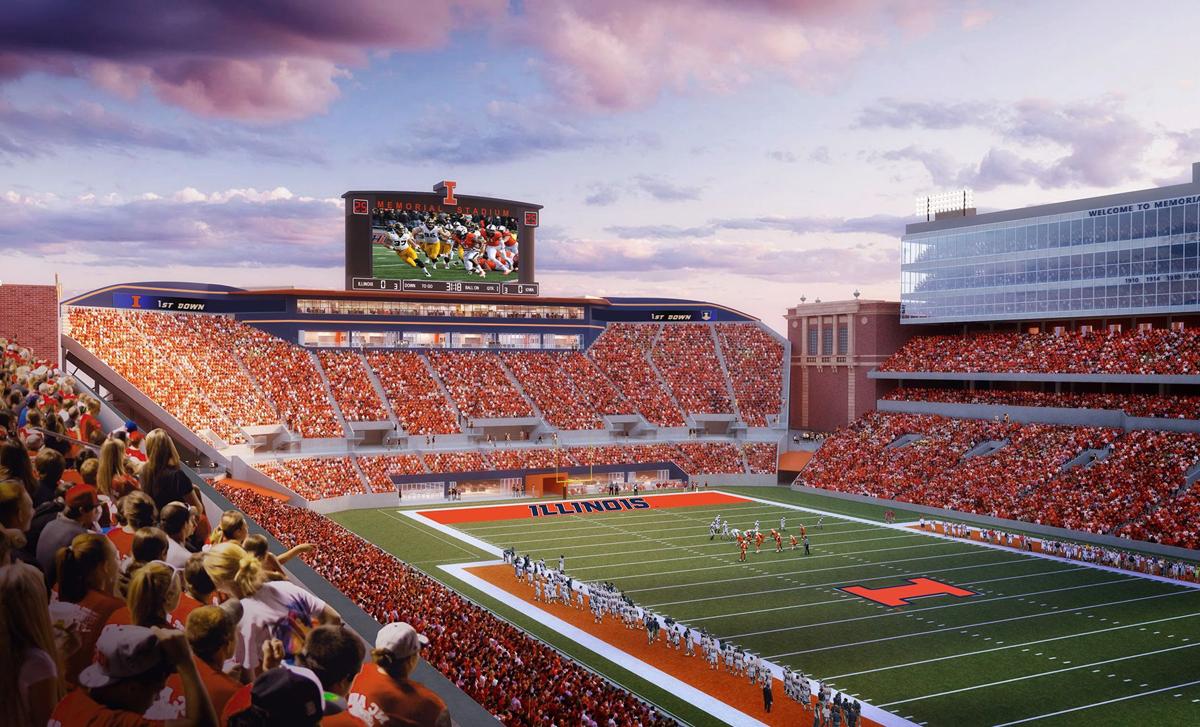 UPDATED: 7:30 p.m. Monday, Oct. 3, 2016
CHAMPAIGN – In his seven months as Director of Athletics at the University of Illinois, Josh Whitman has seen enough of other school's athletic facilities to confirm what he already feared.
"Our facilities are not where they need to be to compete at this level," Whitman said Monday while announcing a plan to do something about it. "We have a lot of work to do."
With that, Whitman is launching a $132 million project that will renovate Memorial Stadium with priority given to the south horseshoe and the east side of the stadium. It's a continuation of the renovation project called "Illinois Renaissance" which began in 2005 with major renovations to Memorial Stadium's west and north sides.
This new project, which will be entirely funded through private donations and Department of Intercollegiate Athletics money, is scheduled to be completed in two phases.
The reconfiguration of the south end zone will include construction of a new home for all football operations including locker rooms, training, recovery, sports medicine, meeting and office space, coaches offices, equipment room, recruiting venues, a grand entrance and perhaps a student-athlete dining space.
The university issued a Request for Proposal for architectural services in September and once an architect is picked, a final design will be drawn up with input from coach Lovie Smith and his staff.
Preliminary designs have seating in the south horseshoe being moved right to the edge of the playing field, creating more space behind the seating bowl and Kirby Avenue to the south. The scoreboard will be raised and placed on top of the new structure.
Whitman said demolition of the south end zone will begin in the summer of 2018 and completed in time for the 2019 season.
The east grandstand project will involve both the lower and upper levels and include new restrooms, concessions, elevators, enhanced fan accessibility and ADA seating. That will be completed in time for the 2020 season.
The football team will not relocate during the construction project although fans may have to temporarily move to new seats.
Whitman said about $90 to $95 million of the funding will be channeled to the south end zone portion of the project with the rest going to the east project.
Capacity of Memorial Stadium will actually remain very close to its current level, which is listed at 60,670.
"We'll gain a few seats in the south and lose a few in the east as we widen aisles," Whitman said. "Our goal is to stay above 60,000."
Whitman said there already has been a positive response from donors.
"We've already received several seven-figure commitments and we'll announce those soon," he said.
Whitman stressed that 100 percent of the funding was coming from his department's budget.
You have free articles remaining.
"No state dollars, tuition dollars or new student fees are being used," he said.
Whitman said he talked to Lovie Smith before his hiring in March about this stadium renovation project. "It demonstrates an institutional commitment from our program, our university, to field and sustain a program," Whitman said. "There is a commitment to build a championship program here and I feel strongly when it's completed, the stadium will be positioned for its next 100 years of life."
Smith said he's excited to get started on the facility, which will be completed half-way through his six-year contract.
"We're trying to build our program in a certain way and that includes having a facility that will compare with everyone else for recruiting and our current players," he said.
"I can't wait to move into the new facilities. That's a little way down the road so in the meantime we're going to work on improving this football team."
Whitman said corporate naming rights for the stadium will not be sold. "We would not do that," he said. "It will always be Memorial Stadium and Zuppke Field. But if there are other creative ways we can involve corporate partners, we'll do that."
Whitman said this is the first in a series of projects that will upgrade athletic facilities. He said other announcements will be forthcoming and baseball is one of the sports expected to get attention.
---
ORIGINAL STORY: 10:25 a.m. Monday, Oct. 3, 2016
CHAMPAIGN — The University of Illinois announced Monday plans for extensive renovations to the Memorial Stadium south horseshoe and east side.
"Following Coach (Lovie) Smith's arrival, this project is the necessary next step to building a sustainable, championship-caliber football program," said Josh Whitman, Illinois Director of Athletics. "This is an investment in our student-athletes, both present and future, to ensure that they have the resources needed to compete at the highest level.
"Such a commitment is required if we are to win consistently in the Big Ten and on the national stage."
The project is a continuation of the Illinois Renaissance, which began in 2005 with large-scale renovations to Memorial Stadium's west and north sides.
Plans for this new project include constructing a new home for all football operations in the south end zone, including locker rooms; training, recovery and sports medicine facilities; meeting and office spaces; and recruiting venues.
The building will be housed inside a new south grandstand. Work to the east main and balcony stands will feature new restrooms, concessions and elevators, along with enhanced fan accessibility and ADA seating.
"This project is an important addition to our program as we continue to build," Smith said. "Memorial Stadium is one of the historic and iconic stadiums in the nation, and this renovation will only enhance that reputation. The additions will give both our players and fans a greatly improved experience, from preparation during the week to the game-day atmosphere."
The south end zone project is expected to be completed in the summer of 2019 and the east side renovations in the summer of 2020.
This portion of the Illinois Renaissance is expected to cost approximately $132 million and will be funded by private gifts and the DIA's general fund.
This story will be updated.