CHAMPAIGN — Geoff Alexander didn't need to be at the Final Four in Indianapolis in 1991 to know that he wanted to be a basketball coach — but it sure helped.
Alexander was heading into his freshman year at Lincoln High School when he and his dad, Neil Alexander — in his first season as the Railers' boys basketball head coach — hit the road to Indy.
Geoff knew long before that game that he intended to follow in his dad's footsteps and become a basketball coach. The early morning practices and the long nights of studying — to Geoff, it was addicting.
But that game, in which Duke beat Kansas 72-65 behind 18 points from Christian Laettner, sealed the deal.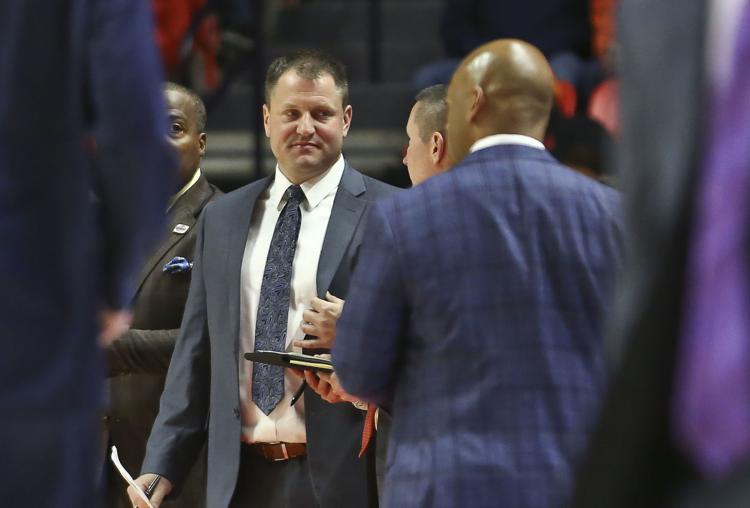 "That was a big deal to go over there and do that," Alexander said from the Orange Krush section in an otherwise empty State Farm Center after a practice.
Twenty seven years later, Geoff is in his second season as assistant to the head coach on Brad Underwood's staff at the University of Illinois. He's gone all over the country from Texas to Florida to Idaho to Indiana before landing back home in Champaign and has gone to more Final Fours than he can count.
As for Neil? He's still at Lincoln coaching the dynasty he's poured sweat and countless hours into developing and stands as the fifth all-time winningest head coach in IHSA history with 805 ahead of his 43rd season.
Don't think for a second that Geoff didn't notice his dad's work ethic and pick up the habits.
"The discipline, the hard work, the time that he spends in preparation for practices and for games, growing up I got to see all of that," Geoff said. "Obviously it's something, to this day, that's a core of my belief in preparation. He's still doing it like he did 25 years ago.
"It's the competition, the preparation to go out and play a 32-minute game or a 40-minute game in college and everything that went into it. I've always enjoyed that. It's the time leading up to the games that I really, really enjoy and trying to get your guys to do the things that you ask and trying to get them to execute a scouting report.
"Those things at the high school level he does just like we do at this level. That's not the norm at the high school level and he's done that."
Neil saw Geoff's interest in coaching gain full steam when Geoff got to college, though Geoff maintains he's known he wanted to be a coach since childhood. He played at Southeastern Community College in Burlington, Iowa before transferring to Western Illinois for his final two seasons of eligibility when Underwood was an assistant on the Leathernecks' staff. After graduation, Geoff stuck around for a graduate assistant position before taking his first job at Jacksonville College in Texas in 2003.
"He kind of knew what he wanted to do," Neil said. "When I went to school out of high school, I knew what I wanted to do. That's pretty uncommon of kids. How many times do people switch their major or change their mind in a four-year period while they're in college?"
Geoff spent one year in Texas before rejoining Underwood at Daytona State Community College in Florida from 2004-06 before going to Idaho State as an assistant from 2007-11. Alexander spent one year as an assistant at Eastern Illinois University after that then five years at Evansville before landing in Champaign when Underwood arrived prior to last season.
"In the profession that he's in, as parents you don't know where they're going to end up," Neil said. "He's been clear across the country to Idaho. He's paid his dues. He's worked himself up the ladder and done what he's had to do. It's the network that helps you advance, who you know and meet along the way."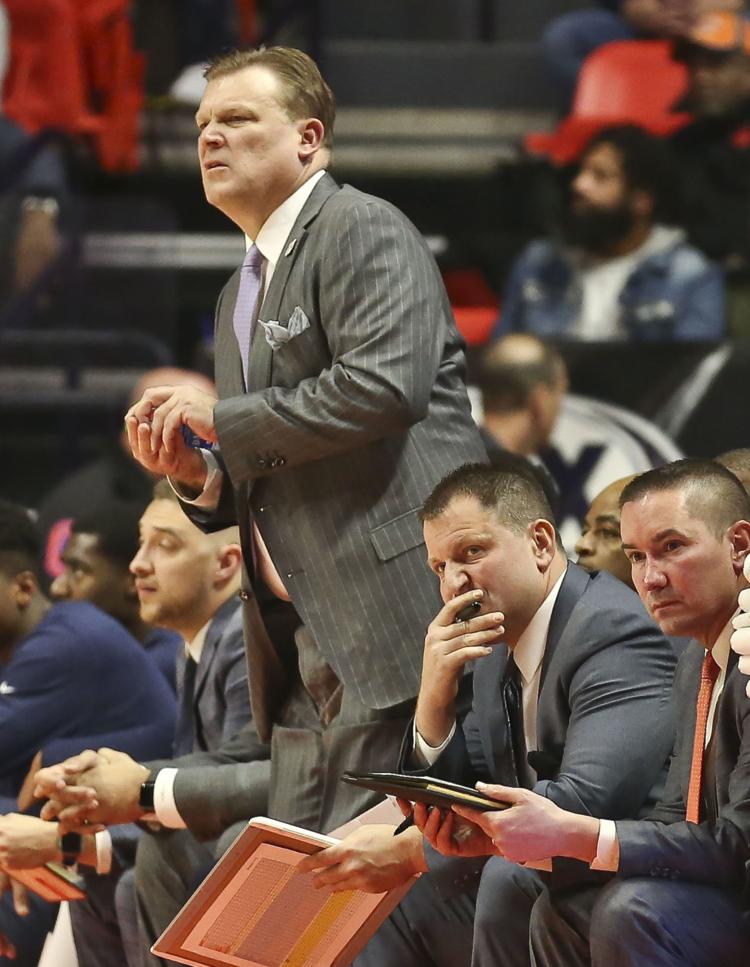 Geoff has made plenty of phone calls home to his parents with good news. He got to tell them about his first job in Texas, then the opportunities that popped up elsewhere across the country. But getting an assistant coaching job at Illinois? Everybody was "fired up" when they heard the news.
"I knew what this place was about and what it stands for," Geoff said. "It's an elite program and to get the opportunity to come back here and do it with Brad, I was super excited.
"It was surreal. As you're in the profession you're always trying to put yourself in good positions and there's probably not a better position for myself and for my family than where I'm at."
If the Alexander coaching contingent is all gathered together, there's a good chance basketball is on a TV somewhere nearby. Geoff's brother, Gregg, is an assistant on Neil's staff at Lincoln. Geoff's brother-in-law, Austin Kirby, is an assistant at Blackburn College and his son, Bryson Kirby, played at Lincoln and now plays at Blackburn.
Basketball never gets old for the Alexanders — how could it? Geoff presses Neil from time-to-time about the legendary ball 1-2-2 press that Neil has perfected as a coach. Will it work in the college game? Neil has his doubts — there are just too many athletes on the court in college.
But that kind of inquisitiveness and perpetual thought about the game is what makes Geoff such an attractive assistant for Underwood, a self-proclaimed basketball junkie.
"Sometimes when you're grinding through stuff, you can get complacent. Geoff doesn't allow me to do that in terms of keeping fresh ideas — let's look at doing this, let's look at that — at both ends of the court," Underwood said. "His basketball knowledge and understanding is a great fit."
When Geoff was at Lincoln, Neil noticed a vocal element in his son — he had a natural gravitas as a leader on the team.
"He knows me; he knows what I'm looking for," Underwood continued. "He's a sounding board in a lot of things. He helps me think things through. He's not afraid to speak his voice and be heard with me, give me a different perspective sometimes. He's got a creative mind and gives me a lot of things to think about."
Maybe Florida was a better vacation destination when family went to visit Geoff, or perhaps Idaho was a more scenic venue for a family get together. Neil actually saw more of Geoff when he was an assistant at Evansville and the Alexanders could make a weekend trip of it.
But now Geoff's back in his home state. And even Neil can step back and admire how proud he is of Geoff, like Neil is the rest of his children.
"It's good to be back home," Geoff said.
---
Everything you need to know about the 2018-19 Illinois men's basketball season