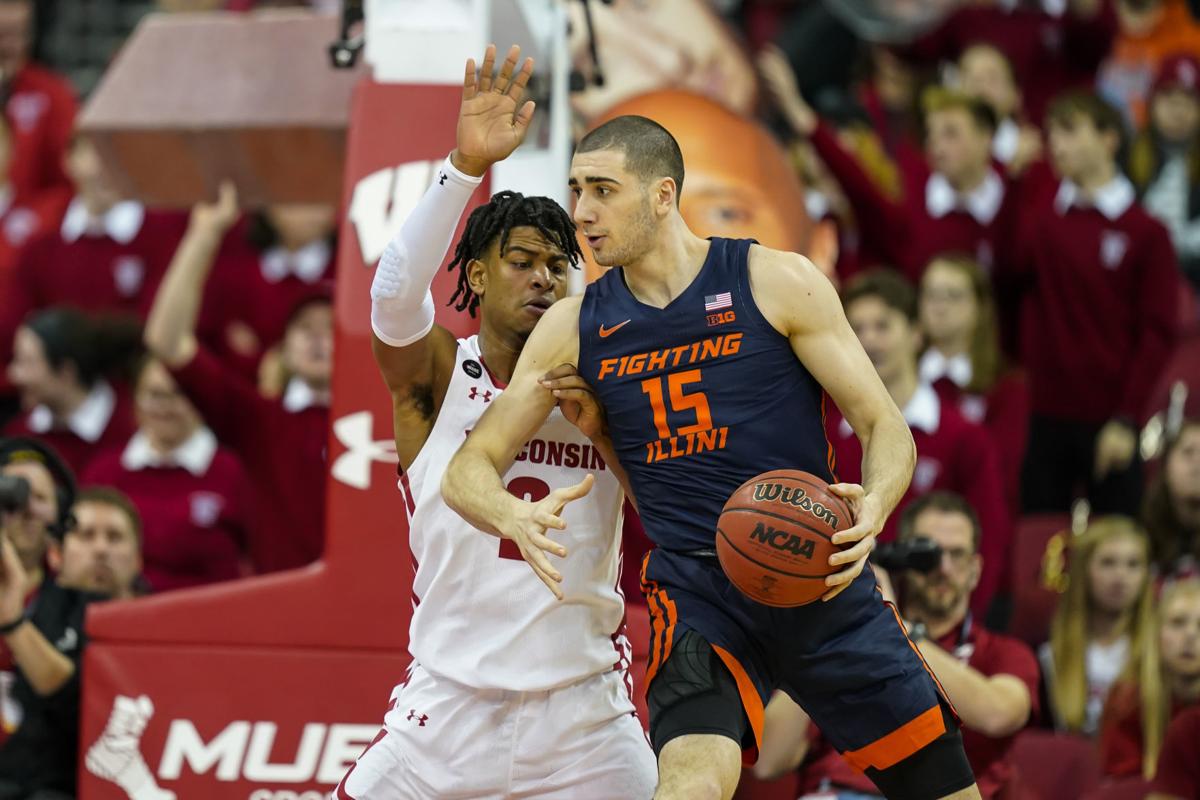 CHAMPAIGN — Building momentum during a basketball season takes maturity — an ability to keep the ball rolling without letting a speed bump knock the ball off track and setting it back several steps.
Until Wednesday, this group of Illinois men's basketball players had struggled to build any steam. They put together a four-game November winning streak against lesser opponents, then came out flat in a home loss to Miami, and blew a 15-point lead at then-No. 3 Maryland five days later.
They beat then-No. 5 Michigan at home in the middle of December and followed it up with a crushing of Old Dominion, only to lose a week later to bitter rival Missouri.
Wednesday was set up to show that Illinois (11-5, 3-2) could take the step, that they had the maturity and leadership to come off a convincing home win against Purdue and could snap a 15-game losing streak to Wisconsin in Madison.
They did. No letdown, just an elusive road win in the Big Ten Conference, where it's only been done four times this season. That was a big step forward. The next step is to keep the momentum piling up at 11 a.m. Saturday when the Illini host Rutgers (12-3, 3-1), which has won six straight games.
"I would say this is probably one of our biggest games of the season so far because we're riding on so much momentum and we've finally turned that corner," sophomore guard Ayo Dosunmu said. "We have to continue to do that against Rutgers. We got a great road win, but that doesn't mean anything if we don't take care of our home court."
Part of the maturity Illinois showed in Madison was in the way it left the Kohl Center. The Illini were called for foul after foul, causing head coach Brad Underwood to dig into different rotations to salvage precious minutes without players like Alan Griffin, Giorgi Bezhanishvili and Kofi Cockburn. They survived that hurdle. The next was to keep within striking distance of Wisconsin and to never let the Badgers extend their lead to 10 points or more. Then there was the matter of digging out a one-point win after letting those close games slip away twice this season — against Miami and at Maryland.
You have free articles remaining.
"It was definitely maturity," guard Alan Griffin said. "We needed that road win. We talked about that road win, how big it would be for us and how much momentum it could get this little streak we've got going on."
Rutgers isn't going to be an easy win. Though the program hasn't been to the NCAA Tournament since 1991, head coach Steve Pikiell has this team rolling with six straight wins that include home wins against Wisconsin, Seton Hall and Penn State and a road win at Nebraska. The Scarlet Knights have played without Geo Baker — the second-leading scorer on the team — for the last two games after he broke his thumb in practice last week. He was described as out "indefinitely."
In conference play, the Scarlet Knights are the No. 4-ranked team in defensive efficiency, according to KenPom, and play with the sixth-fastest tempo — a different type of game than Illinois' last two opponents. The opportunity is there for Illinois to seize, to get a third win in a row and protect its home court.
"You talk about momentum; you want to build momentum," Underwood said. "You don't want to become satisfied. Twenty games is a long season and you want to take every game for its face value; it's the next game on the schedule so it's the most important game. Yeah, it was a great road win. It was big for our fans to kind of get that monkey off of our back, but for our players it was a great road win in conference play.
"Now you've got to build on that by coming home and playing Rutgers. There's no easy ones. The most important game is the next one, and hopefully we're as good as we can be because we'll have to be to beat them."
---
PHOTOS: Illinois beats Wisconsin
Contact Joey Wagner at (217) 421-6970. Follow him on Twitter: @mrwagner25