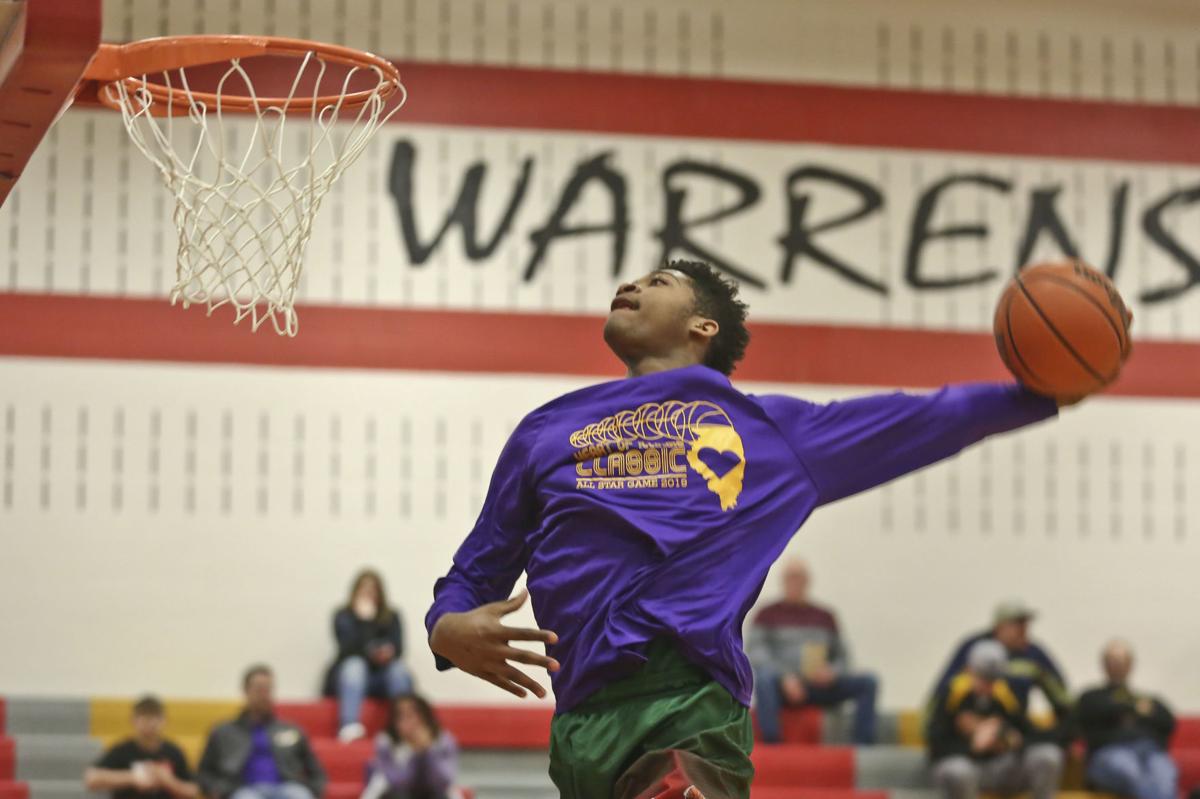 CHAMPAIGN — Jermaine Hamlin didn't see this coming four years ago when he first started taking basketball seriously as a freshman in high school.
He kept developing year in and year out at Lincoln High School, and on Tuesday it was announced that he has signed a Big Ten Tender of Financial Aid with the University of Illinois and would join the men's basketball team.
"It's amazing," Hamlin told the Herald & Review. "I get to stay close to home. I always get to travel back and see my family and my friends whenever I want to. Plus, just representing my state and the university feels great."
Hamlin announced his verbal commitment to the program on Saturday night. It's been a whirlwind of a few days since then.
"The excitement of me being here," Hamlin said. "It's all been a wild mess of everybody coming talking to me."
During his senior season at Lincoln, Hamlin a 6-foot-10, 225-pounder, averaged 13.9 points on 71 percent shooting, along with 6.4 rebounds and 1.4 blocks. He scored in double figures in 22 of 31 games, with six 20-plus point performances. He set his career scoring high with 29 points against Bloomington on Feb. 12. He recorded three double-doubles on the season, with 18 points and 11 rebounds vs. Mattoon (Dec. 4), 18 points and a career-high 12 rebounds vs. Rock Island (Feb. 2) and the 29-point, 11-rebound showing vs. Bloomington (Feb. 12).
"Jermaine is a young man who we've followed the last two years, and we are excited about the growth and development he has shown during that time," Underwood said in a statement. "He was one of the outstanding shot blockers and defenders on the EYBL circuit this summer, and we feel he can really impact the game on the defensive side of the floor.
"He has the desire to be a great player and his work ethic shows with the improvements he's made offensively. He has vastly improved his back-to-the-basket game and has good touch shooting it out to the mid-range. We feel good about the addition of Jermaine to our front court and the promising future he has ahead of him."
You have free articles remaining.
As a freshman in high school, Hamlin concedes he "wasn't very good," but Lincoln head coach Neil Alexander kept pushing Hamlin, reminding him that he could play at the college level.
"My freshman year, even though I never thought about at this level, coach Al always encouraged me and talked about if I worked hard I could do something," Hamlin said.
Hamlin was on campus with Alexander on Aug. 3 to watch an Illinois practice before the team left for its four-game Italy trip. He was impressed with what he saw.
"The energy each individual player show whenever they get a good stop, or how they react to each other on the floor. The whole team plays together as a team," Hamlin said.
In the Illini, Hamlin joins a team with serious aspirations to end its NCAA Tournament drought, and is a pick to make a major jump in the Big Ten standings. Hamlin knows what he's walking into.
"This team this year could really do some damage in the college league," Hamlin said. "We have talent everywhere. I feel like me being added to the team I can help out a lot with what I do defensively, and even something a little bit on the offensive end if I need to."
Hamlin earned third-team All-State honors by the Illinois Basketball Coaches Association (IBCA) and honorable mention All-State accolades by the Associated Press. He helped lead the Railers to a 27-5 record, including an appearance in the IHSA Class 3A Sectional title game and Apollo Conference championship, where he received first-team all-league recognition.
Alexander who also coached former Illini All-American and 2003 Big Ten Player of the Year Brian Cook at Lincoln.
Hamlin's addition still leaves lingering questions for Bernard Kouma, who signed his Big Ten Financial Tender in June, but has not been cleared by the NCAA eligibility center.