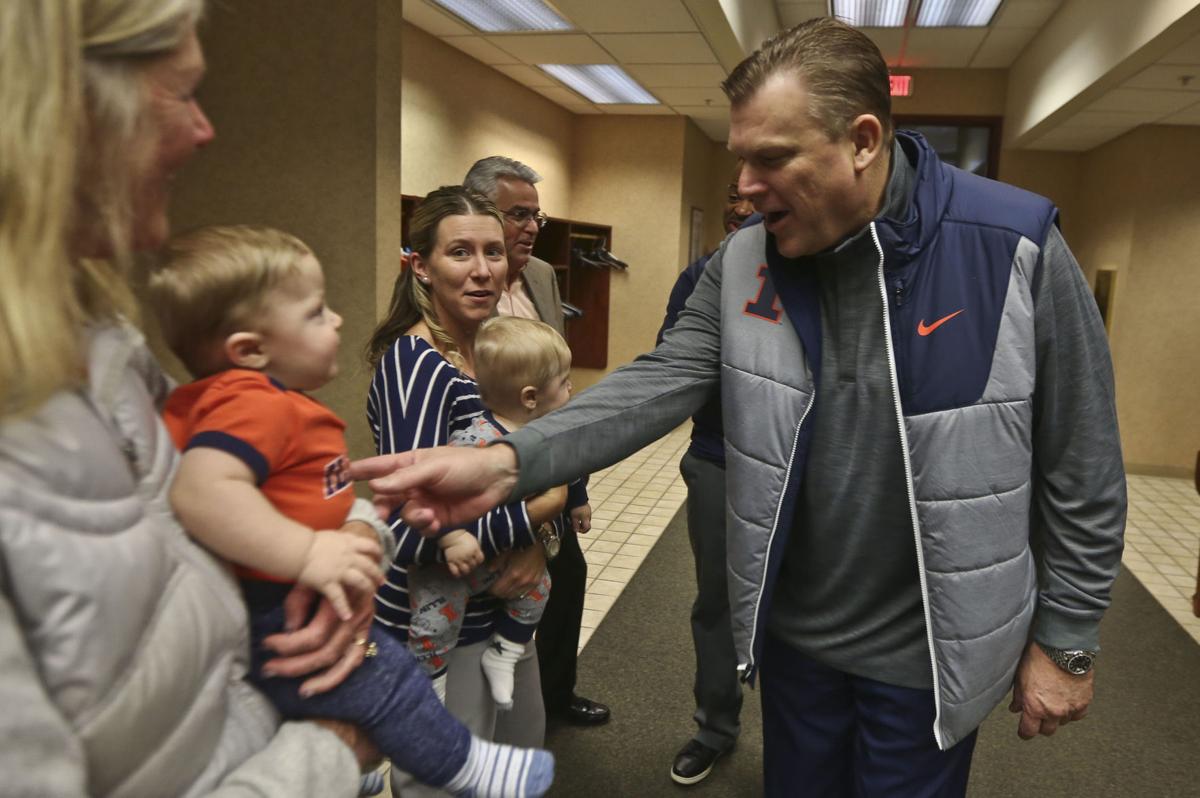 CHAMPAIGN — Landing commitments from college basketball players in early August isn't as much unconventional as it's turning into the new normal of the sport.
On Monday, the University of Illinois announced the addition of forward Jacob Grandison, a transfer from Holy Cross. Grandison will sit out the upcoming season and will have two years of eligibility remaining for the 2021 and 2022 seasons. He's the second player to commit to Illinois who will have to sit out one season before playing two, joining Austin Hutcherson, a Division III transfer from Weselyan, who was announced as joining the program on Aug. 3.
Between players testing the NBA waters, late transfers and high school players reclassifying, programs all over the country are shaping their roster late in the offseason.
"You throw all that together, and it almost pays to have scholarships open and be available at the end," Underwood said. "I'm excited about where we're at."
In Grandison, Illinois landed a 6-foot-6, 200-pound forward who started 61 of 64 games in two years at Holy Cross, averaging 11.5 points, 4.8 rebounds and 2.5 assists. Underwood calls his passing ability "elite" while praising his basketball IQ and taking advantage of easy layups by cutting to the hoop when a defender turns his head. Neither Grandison nor Hutcherson come from Power Five programs, but that's not a concern for Underwood & Co.
"I don't judge the level," Underwood said. "I judge the player. You start looking at two guys who have length. They're different players. (Hutcherson) is a guy who can play the point. He's 6-6 and he's a weight room away from being a really, really good player. You look at his shooting numbers, both of these young men can really shoot it."
You have free articles remaining.
Though neither Grandison nor Hutcherson will be able to play in games this season, they get a year in the system and a year with strength and conditioning coach Adam Fletcher to shape their bodies. 
"I like the fact that they're guys that will be in our practices and in our program for three years, they have two to play," Underwood said. "There's a maturity that comes with that. It's a great opportunity for these young guys to come in and make us better this year, practicing against really good players and understand our system, get stronger, develop every aspect — physically and mentally.
"When it's their time next year, they'll be ready. The only thing they can't do is travel with us. They'll see Big Ten basketball and great opponents. I'm excited. They fit, not just the basketball-wise, but they're both outstanding students and very, very high IQ players."
The addition of Hutcherson, Grandison and Hamlin put the Illini at the full allotment of 13 scholarship players. However, New York big man Bernard Kouma committed to the program in March and signed a financial tender in June, but he has not been cleared by the NCAA eligibility center. Kouma would be the 14th scholarship player, so it's assumed that Hamlin would take his spot. 
"Bernard is in a situation that is really beyond our control," Underwood said. "All we can do is what we can do in terms of providing paperwork and providing situations. We're at the mercy of the eligibility center there and their ongoing guidelines that they use to evaluate his status. Until we know anything more there, we're planning on him being an Illini and we'll see from there."
Visa issues for Cockburn, Feliz
Illinois freshman Kofi Cockburn and junior Andres Feliz did not make the trip to Italy after encountering visa issues before flying out of Miami. Cockburn is a native of Jamaica and Feliz is a native of the Dominican Republic.
"It was just a treaty," Underwood said. "It affected most teams. Every country has a treaty with the country you're going to, and what the actual snafu was, we don't know. Somewhere along the line … you feel terrible for them because nobody knew about it. Yet you look out there and almost every team we saw over there had somebody impacted and left at home because of those things. It's tough for those guys, and yet from the basketball standpoint we got a lot out of those 10 days."
Contact Joey Wagner at (217) 421-6970. Follow him on Twitter: @mrwagner25