EAST LANSING, Mich. — Lovie Smith entered his postgame press conference donning a drenched, gray-hooded sweatshirt, a smile poking through his white beard, and took his seat behind a microphone.
Smith leaned in to the microphone, less than a half hour after his team mounted the biggest comeback in program history, and knew exactly what he was going to say first.
"We're going bowling," said Smith, Illinois' fourth-year head coach.
Illinois is going bowling after overcoming a 25-point first-half deficit and a 21-point deficit in the beginning of the fourth quarter to stun Michigan State with a 37-34 win Saturday night at Spartan Stadium. As the players flooded near the Spartan head at the 50-yard line, senior linebacker Dele Harding wrapped his arms around Smith and hoisted him into the air — a first for Smith. But players say the plan to lift him above everyone else had been in place for weeks.
"This is, of course, the biggest win we've had," Smith said. "As we went into this week, we talked about this being the biggest game that we've played since we've been here. This group of people. Definitely, this is the biggest win, and the way we won the game, that was tough duty. We'll remember this one."
Illinois (6-4) went 9-27 in Smith's first three years as the head coach, taking lopsided loss after loss as younger players developed into veteran playmakers. Finally, Illinois broke through for its first bowl berth since 2014 and still has two games to go in the season. It's the fourth Big Ten win in a row for Illinois — the first time that's been done since the 2001 season.
The Illini are in the midst of a season-changing turnaround after starting the season 2-4 with close losses to Nebraska and Eastern Michigan. Now, Illinois is rolling and has the chance to advance to a better bowl game if it can keep winning after next week's open week.
"Everybody didn't believe in us, there it is," senior running back Reggie Corbin said. "It's good. I hugged Coach Smith, and he said, 'This is what you stayed for.' My stats haven't been the greatest. I expected that when I came back. I would trade this year for last year any day of the week. We played great team football. I'm so glad I stayed. I finally get to experience a bowl game. It's not over. We've got to win more and go to a better bowl game."
Thing was, the magic almost dried up time after time — the three-game winning streak that turned the program around suddenly seemed in jeopardy. Illinois trailed by 21 points entering the fourth quarter before Peters and the offense turned a corner. Peters threw for two of his three total touchdowns in the fourth quarter, but none bigger than his 5-yard pass to Daniel Barker with five seconds left on the clock to give Illinois a two-point lead and, effectively, a bowl bid. He finished the game 22-of-42 for 369 yards, three touchdowns and an interception.
The interception came at a crucial time. Illinois trailed by one point, and Peters attempted a 12-yard pass to the corner of the end zone, looking for receiver Josh Imatorbhebhe. The drive ended abruptly and the Spartans got a field goal on the other end.
Then, Peters led the game-winning drive that came with a massive 37-yard pass on fourth-and-17 from Illinois 44-yard line to Imatorbhebhe (four catches, 178 yards, two touchdowns) to keep the drive alive and set up the touchdown pass to Barker.
"That's BP, man," Corbin said. "BP is a savage. He's not a physical dude, but his mentality is."
Peters stayed composed, and came through when Illinois needed him most, completing 7 of his 10 final passes.
"It is his personality," Smith said. "There's so much emotion in the game. Certain positions can't get too high or too low. You guys know Brandon, that's who he is. You need to quarterback to be even-keeled and to know it's about the next play."
The 25-point comeback is the largest in program history. The previous record was 20 points, which had been done twice: at Michigan in 1999, and against Rutgers in 2005.
The never-say-die attitude was crafted in the summer, when head strength and conditioning coach Lou Hernandez helped cultivate a mindset shift, and the players pushed through runs they simply didn't think they'd make it through at the time.
The next two games — at Iowa and home against Northwestern — are chances for the Illini to play for a better bowl. Suddenly, football still matters for the Illini in early November. 
In the postgame media room, Harding walked in with his blue hood up and an orange and white bowling ball clutched in his arms. He doesn't entirely know where it came from or how it got from Champaign to East Lansing, but he found it and held it as a symbol of where this team came from, and where the program is going.
Right now, that's to a bowl. 
"It's about time," he said. "It's about time. That's it. Especially in the recent years and what not, the program hasn't been where it wanted to be, but we definitely made a turnaround and a change and I'm proud of the guys."
---
PHOTOS: Illinois defeats Michigan State
Illinois Michigan St Football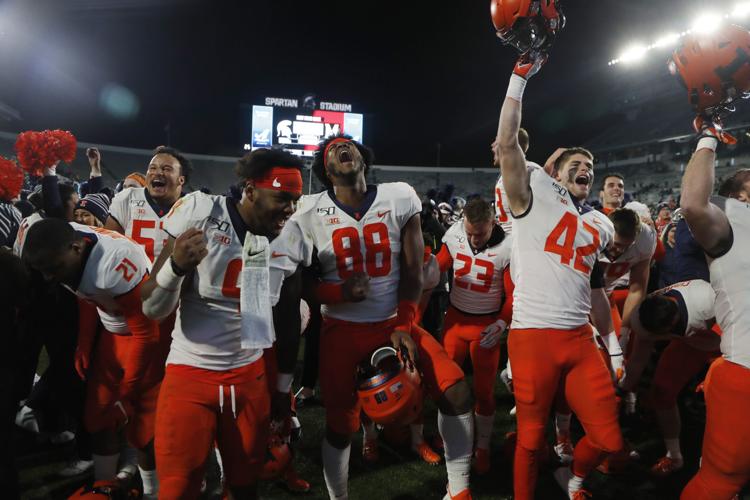 APTOPIX Illinois Michigan St Football
Illinois Michigan St Football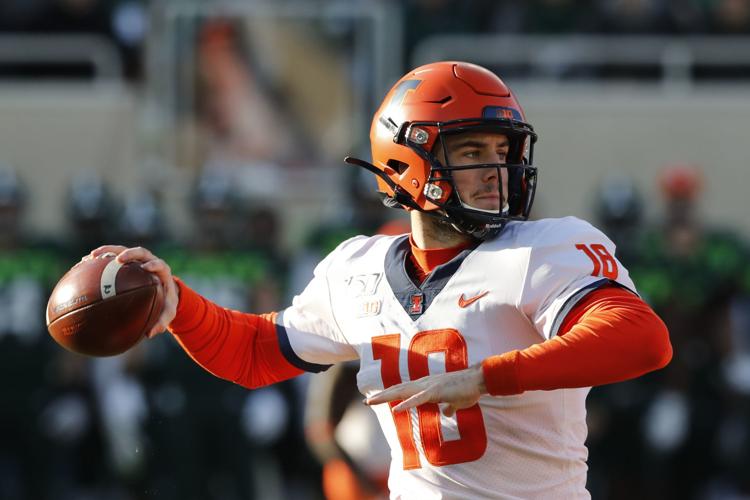 Illinois Michigan St Football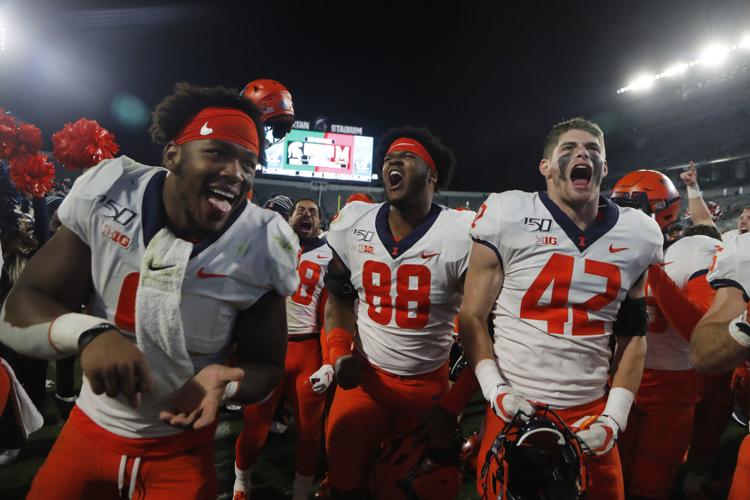 Illinois Michigan St Football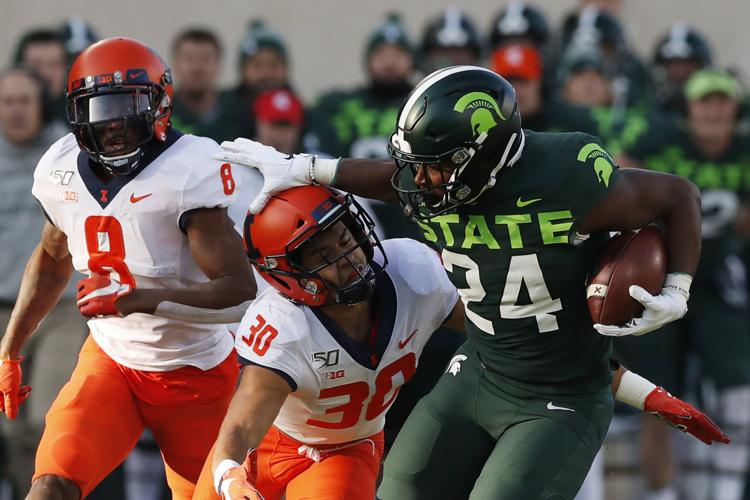 Illinois Michigan St Football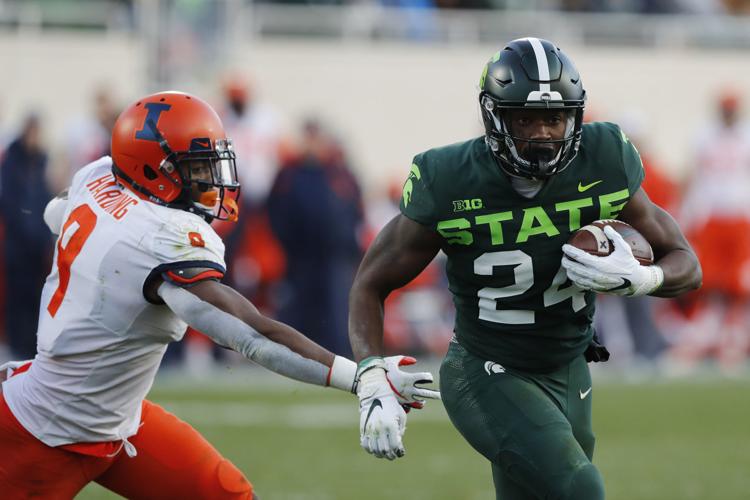 Illinois Michigan St Football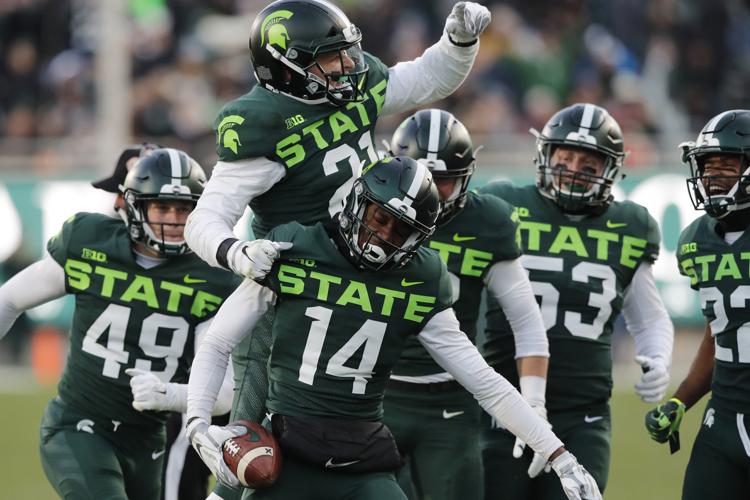 Illinois Michigan St Football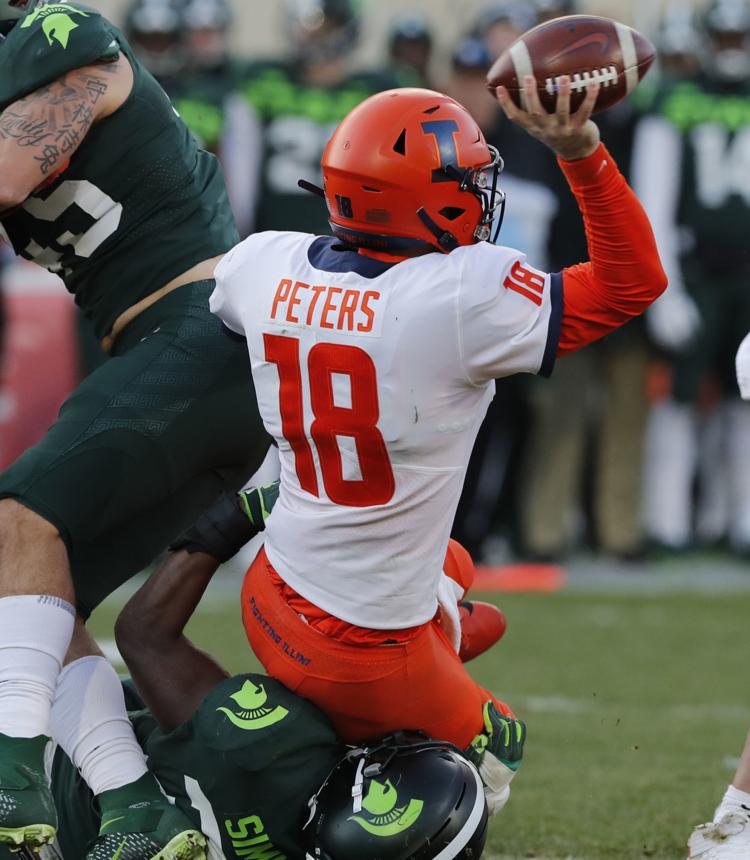 Illinois Michigan St Football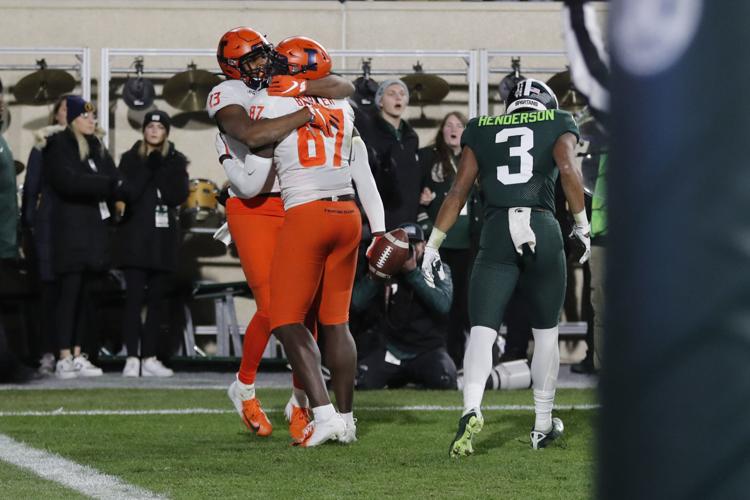 Illinois Michigan St Football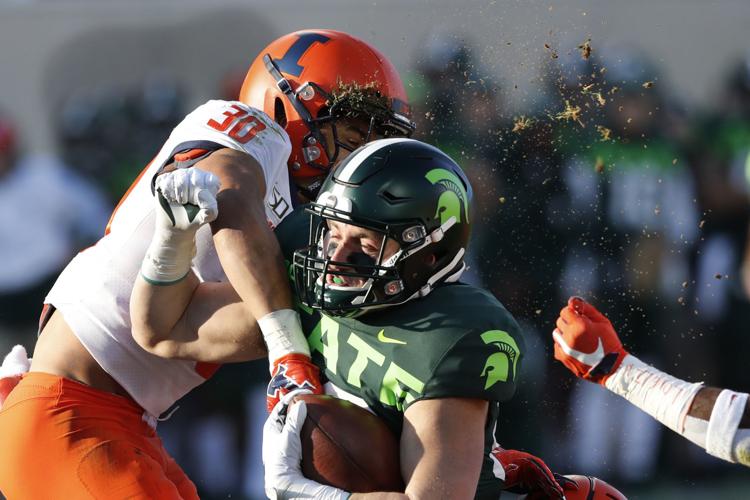 Illinois Michigan St Football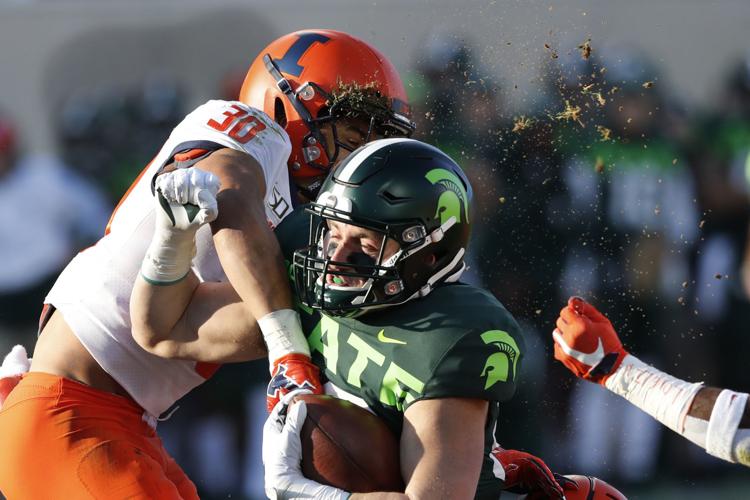 Illinois Michigan St Football
Illinois Michigan St Football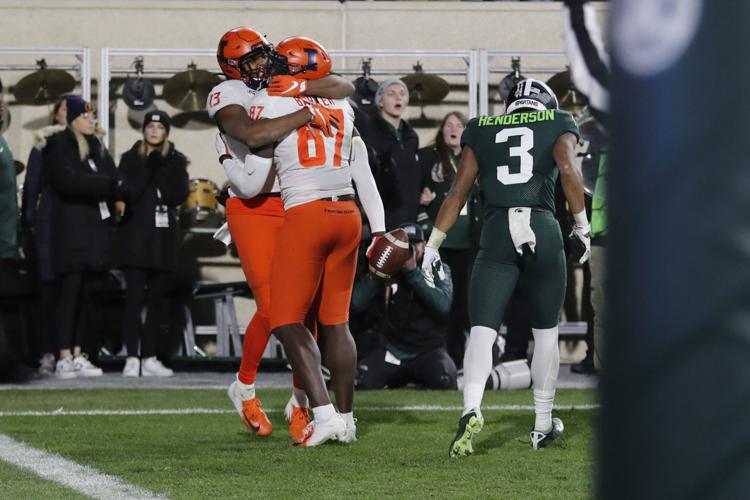 Contact Joey Wagner at (217) 421-6970. Follow him on Twitter: @mrwagner25
Be the first to know
Get local news delivered to your inbox!