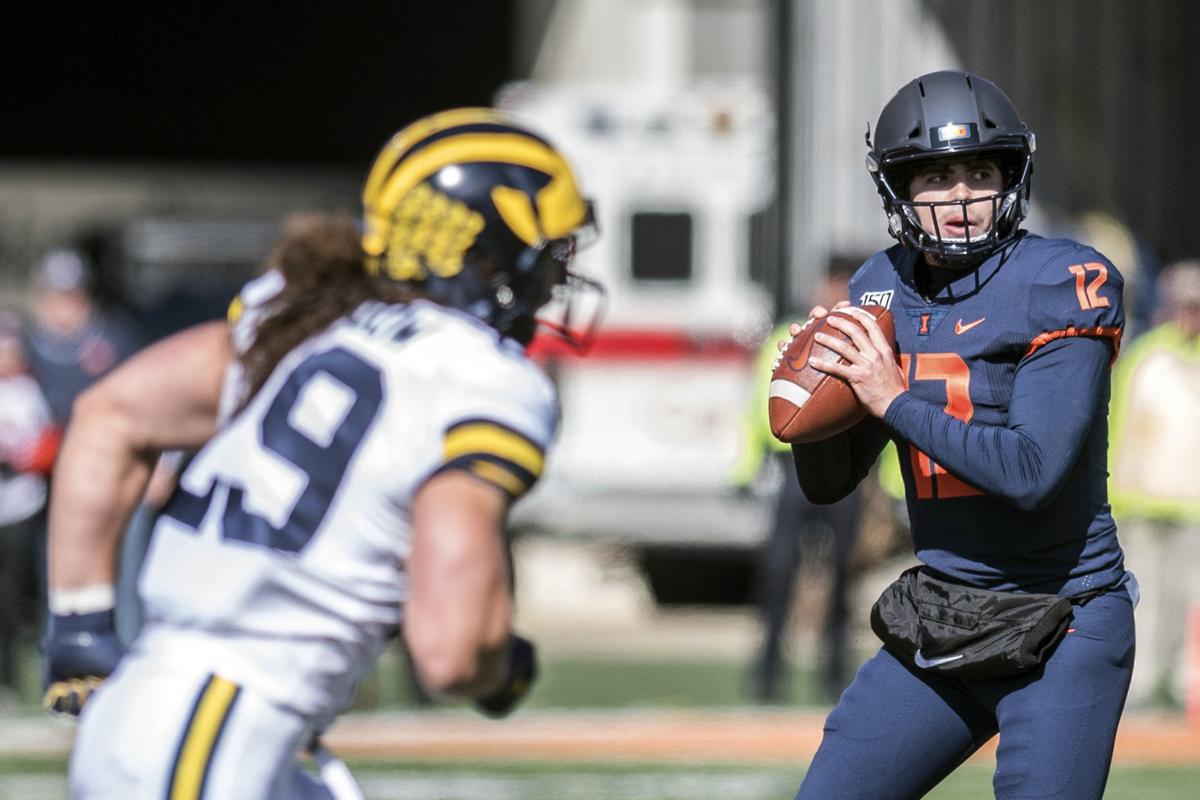 When Jeoff Robinson got the call midweek that Matt Robinson would be starting on Saturday for Illinois at quarterback against No. 16 Michigan, he made the choice to watch his son in his first career start in place of Brandon Peters, who is in concussion protocol.
Aside from a pair of fumbles in the fourth quarter, Matt Robinson delivered in a 42-25 loss at Memorial Stadium. He threw for 192 yards and a touchdown, ran for a touchdown and used his running ability to elude Michigan defenders to keep plays alive.
Not bad for a kid who played his first minutes of substance a week ago at Minnesota.
"It gives me a lot of confidence," Matt Robinson said.  This was the first one, but now that i have that under my belt and the experience, it's definitely going to help down the road."
Robinson was lightly recruited out of high school and signed late with Illinois after offensive coordinator Rod Smith was hired. Until last week, his main duties were in mop-up minutes, but he's been a more than serviceable backup and has stepped into a big role the last two weeks. Peters' status for next week's game against Wisconsin is unknown.
"It's a lot of fun playing for Matt," running back Dre Brown aid. "He kind of brings a certain energy, a weird juice to the team, honestly, the whole team. I think that's fun. You never know what's kind of going to happen out there. It was cool to see us put up some drives and put up some points."
Learning to close games
Outside of last week's loss to Minnesota, Illinois has been right in the middle of the game in the fourth quarter its losses. A Week 3 loss at home to Eastern Michigan came by a last-second field goal, Illinois had a lead in the fourth against Nebraska in Week 4, and trailed by three in the fourth Saturday.
Despite giving up 489 yards of offense and getting out to a painfully slow start, trailing 28-0, Illinois had a chance. The next major step is finishing those games.
"We know we're close," offensive lineman Alex Palczewski said. "We just have to be able to finish and play a full four quarters. I don't think since I've been here we've played a full four quarters; maybe last year against Minnesota and you saw the results of that. We've got to keep on finishing and play all 60 minutes."
You have free articles remaining.
Chase Brown gets waiver for immediate eligibility
Illinois running back Chase Brown, twin brother of safety Sydney Brown, received a waiver for immediate eligibility after transferring from Western Michigan in the offseason.
Chase Brown and Illinois applied for eligibility prior to the season but were initially denied, before Brown's eligibility was granted on appeal. He had 71 carries for 352 yards and returned 12 kickoffs for 227 yards as a freshman at WMU in 2018, before transferring to Illinois. Chase Brown has three years of eligibility remaining. 
"I guess better later than never," Illinois head coach Lovie Smith said. "We had a chance to see who he is. He's been going against the (number) one defense on the look squad all of the year. He's going to be a heck of a football player for us. We tried to get him on a few special teams today. We'll see how we work him into the rotation."
Sydney Brown was all smiles after the game when asked about his brother's immediate eligibility. They found out on Wednesday.
"I'm so happy for him. He deserves to play," Sydney Brown said.
No big changes
Michigan racked up 161 of its 295 rushing yards in the first quarter. Illinois held the Wolverines to 44 yards on the ground in the second quarter and 90 in the second half.
Missed tackles have been a problem for the Illini all year, and there were several against Michigan, but the defense shored up at least some of those tackles after the first quarter. So what changed?
"I probably should say we changed up the scheme and started doing a whole lot of things differently," Lovie Smith said. "We did not. We did the same things we did the first half, maybe even less. When a team is running at you like that, it's pretty simple on what you do. Everybody has a gap, you've got to stay in your gap, get off the block and make a tackle. We didn't do that in the first half."'
Isaiah Williams gets snaps
"We wanted to get him involved, get him some valuable reps and we usually give him a few," Smith said. "The reason he didn't play more too was because of an injury that happened late. He got reps this week, he is a young football player who is going to play better next week than he did this week."
Contact Joey Wagner at (217) 421-6970. Follow him on Twitter: @mrwagner25