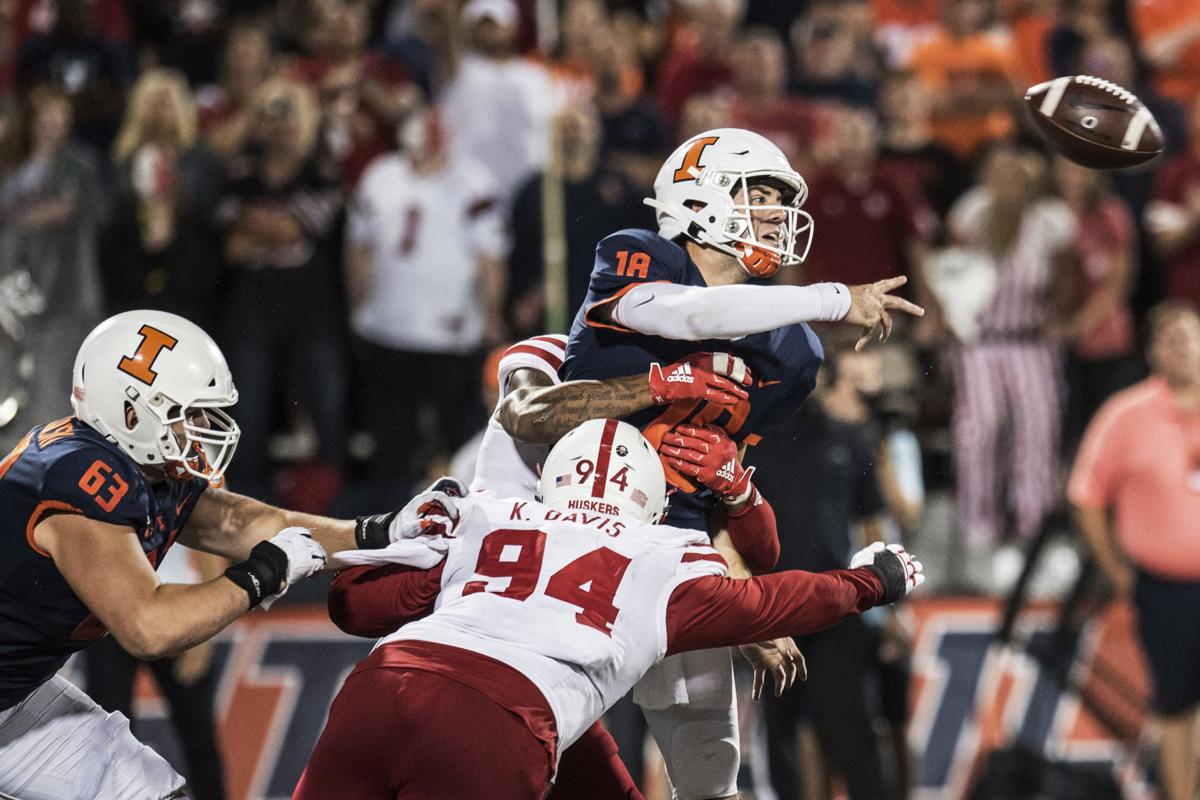 Imatorbhebhe hauled in the catch for a 26-yard touchdown to give the Illini a 14-0 lead. Peters and the passing game appeared to be off and running.
By the end of a 42-38 loss to the Huskers, that was Peters' longest completion, and he finished 9-of-22 for 78 yards, a touchdown and an interception. The running game was good again, rushing for 221 yards and four touchdowns, but the passing game never got moving.
Illinois had a chance with 2:03, trailing by four points, to go 80 yards for a game-winning touchdown, but went three-and-out. Two of Peters' passes were incomplete and Matt Robinson's lone pass fell incomplete after he entered the game when Peters' helmet came off.
"We didn't pass the ball well all night," Illinois head coach Lovie Smith said. "Things don't just all of a sudden turn out that way at the end. Normally it doesn't happen like that. That was a part of our problem. We weren't able to get anything going with the passing game."
Isaiah Williams sighting
Four-star freshman quarterback Isaiah Williams made his Illinois debut. He rushed twice for negative-three yards. Offensive coordinator Rod Smith had packages that featured Williams as a quarterback, and Williams ran on both of his plays in the game.
"We didn't get a lot of production from the plays we put him in," Lovie Smith said. "Eventually we will. He's ready to go. Eventually he's going to really be good, but the situation didn't allow it."
Lovie defends clock management
Illinois got the ball at its own 19-yard line, leading by seven points with two timeouts and 1:32 left in the first half.
The Illini ran on all but one play and moved the ball to their own 45-yard line before letting the clock run out in the first half. Nebraska got the ball to open the third quarter, but the Illinois defense forced a stop and the offense scored on the following possession to take a 14-point lead. Lovie Smith said he had no regrets about not pushing for points to close the half. He didn't use either of his two timeouts.
You have free articles remaining.
"We were content," Lovie Smith said. "Maybe could have had an opportunity to try to get something. We felt pretty good about where we were at the time. We felt pretty good about where we were right up until they took the lead."
No comparison to last year
Like last season, Illinois started 2-0 before losing the next two games. Last year, Illinois lost five of its next six games after the 2-0 start. Senior running back Reggie Corbin says the two situations aren't similar.
"It's not even close to the last few years," Corbin said. "I think we'll be perfectly fine, man. We can fix it. We're in dog fights. The past few years, we were losing by 30. This isn't comparable."
After nine penalties in the last two games, Illinois cleaned that up with just four penalties. Offensive lineman Alex Palczewski sees Illinois on the cusp of a breakthrough.
"It obviously sucks," Palczewski said. "It sucks to lose, but you can see with this game that we're right there. We're so close. We just need to clean up these little mistakes and keep on going all out and having the mentality that every single game we need to beat the hell out of our opponent."
Offense goes cold on third downs
The Illinois offense struggled to sustain drives, particularly in the second half. They took advantage of good field position to score touchdowns from close range after the defense forced four turnovers, but couldn't keep the Nebraska offense off the field.
Illinois was 1-of-12 on third-down conversions and put the defense right back on the field to try to stop an up-tempo Nebraska offense that was picking the defense apart.
The Illini went three-and-out on six of their eight second-half possessions.
"We had super high momentum drives and they just died down for some reason," Palczewski said. "We just have to keep on going every single play."
Said Corbin: "We've got to score every time we touch the ball. There's no ifs, ands or buts about it."
Contact Joey Wagner at (217) 421-6970. Follow him on Twitter: @mrwagner25