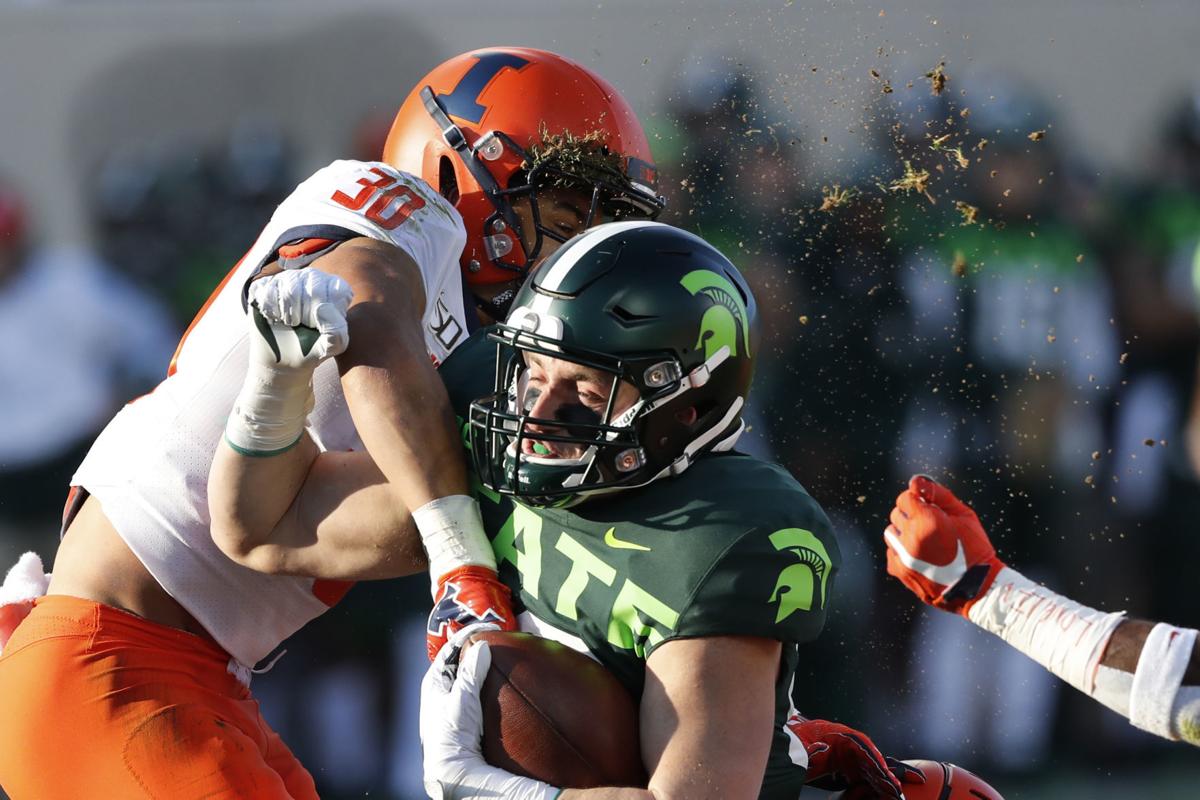 EAST LANSING, Mich. — About two hours prior to kickoff at Spartan Stadium, Illinois announced it would be without linebacker Jake Hansen because if an injury.
Hansen, a Butkus Award finalist and the nation's leader in forced fumbles, has been a key to the turnaround of the Illinois football team. Sophomore Khalan Tolson started in his place. Then, on the first Michigan State possession of the game, linebacker Milo Eifler was ejected for punching a player.
The shorthanded defense suddenly became more shorthanded, particularity without defensive end Oluwole Betiku. Still, Illinois didn't fold and mounted a 25-point comeback to knock off Michigan State at Spartan Stadium to clinch the first bowl berth since 2014.
The win was sparked by four Spartan turnovers — three interceptions an a fumble. Therein lies the key for a Lovie Smith-coached team and each came at big times. Two of the three interceptions came when the Spartans were in the red zone in the first half to prevent points from going on the board, the other was a 76-yard pick that Sydney Brown returned for a touchdown in the fourth quarter. The fumble ultimately netted no points for Illinois (6-4), but put pressure on the Spartans.
"At the University of Illinois, it is not a good defensive game unless we can take the ball away and it can't be a great game unless we can score," Smith said.
Imatorbhebhe comes up big
Perhaps the tide of the game began to change as the final second ticked off the clock in the first half. Trailing 28-3, Illinois wide receiver Josh Imatorbhebhe hauled in a 46-yard touchdown pass from quarterback Brandon Peters to get Illinois within 18 points at the break.
The Illini, admittedly, didn't play their best first half, but the pass gave the team juice and Peters could feel the tide begin to turn.
"That put an exclamation point to start the comeback," Peters said. "Our defense came out and force turnovers which helped us too."
Imatorbhebhe was hardly done. He had an 83-yard touchdown on the first play of the fourth quarter and had a massive 37-yard catch on fourth-an-17 on the game-winning drive to keep the game alive.
"I give all the glory to God, man," Imatorbhebhe said. "I just remember walking up to the line, buckling my gloves and just praying and saying, 'God, I need you. God, I need you,' and then just giving it my all. Not thinking about anything else."
His 178 yards are the most receiving yards by an opponent at Spartan Stadium since at least 2000 and the most by an Illinois player ever in the 47-game series history against Michigan State.
You have free articles remaining.
Hernandez helps shift mindset
When some Illinois players were asked what was key to the resilient, never-give-up attitude on the team, their minds flipped back into the summer. They were taking to grueling workouts with head strength and conditioning coach Lou Hernandez and his requirement that they follow his slogan and "Get their mind right."
That carries over to the field and to the turnaround of the football team.
"I think it started with Coach Lou," safety Stanley Green, who had an interception, said. "Our summer program, everyday was a fight. There were times at a workout, I didn't think I was going to make it through the run. I had to keep pushing and work with my team. I was like, 'I can't quit. My team didn't quit. I can't quit.'"
Senior Dre Brown, who had back-to-back torn ACLs in his first two years with the team and is having a big season as a senior, echoed that. It all added up to a bowl berth, something he's been longing for.
"There were situations where we were running, somebody messed up early and we reset the rep," Brown said. "It happened in this game multiple times. We were doing well and had to reset. Guys are getting older, so guys understand you can't just quit. We're a senior- and junior- led team. We're not young anymore. We've still got some young players, but I think the maturity of our team showed today."
Peters shines
Peters was 22-of-42 passing for 369 passing yards and three touchdowns. His 369 passing yards are the most by an opponent at Spartan Stadium since 2007, when Northwestern's CJ Batcher threw for 520.
He didn't get flustered after a tough first half and stepped into throws when he needed to make them. His play was instrumental in making a bowl game.
"It means a lot to see Coach Lovie and the seniors who have been here a long time, just seeing how excited they were," Peters said. "But we know it's on to the next phase."
---
PHOTOS: Illinois defeats Michigan State
Illinois Michigan St Football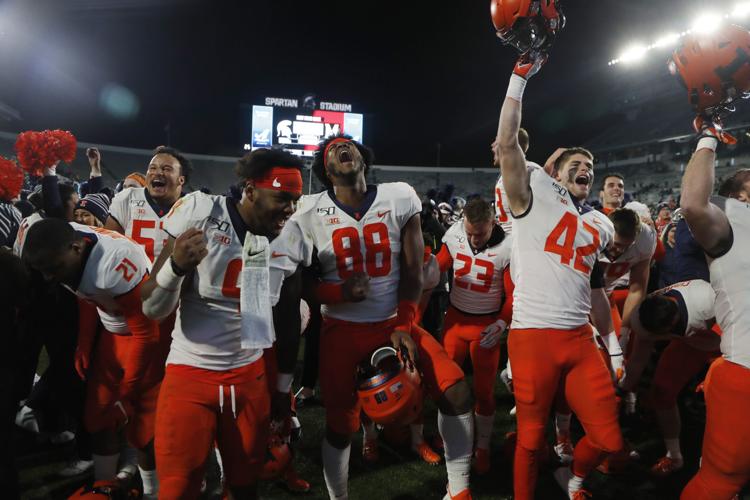 APTOPIX Illinois Michigan St Football
Illinois Michigan St Football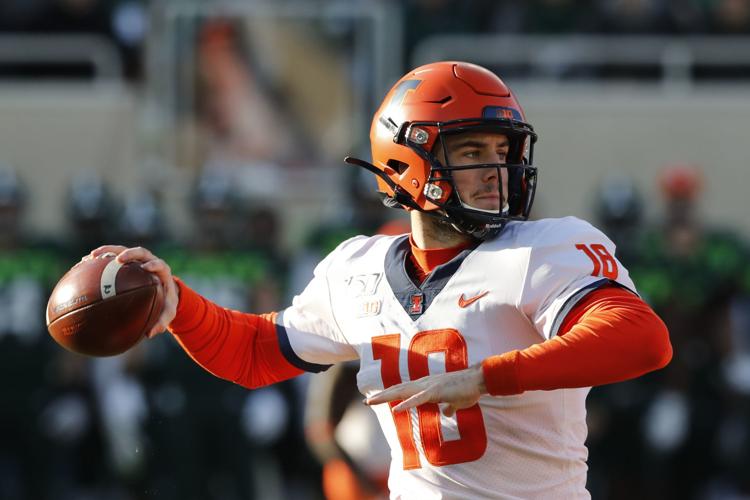 Illinois Michigan St Football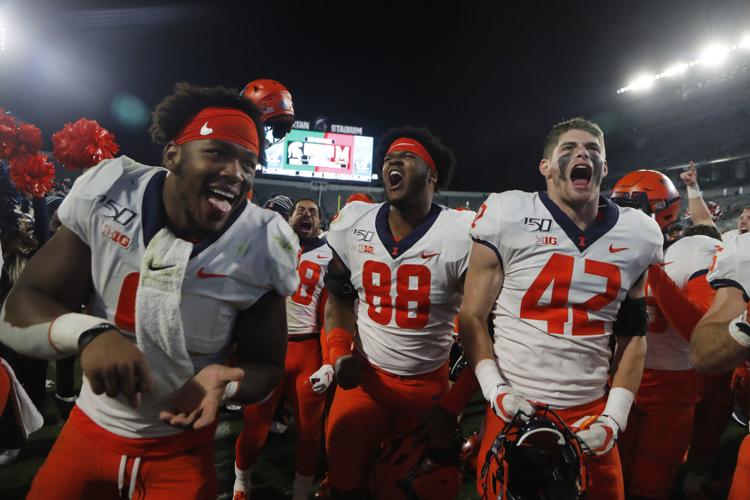 Illinois Michigan St Football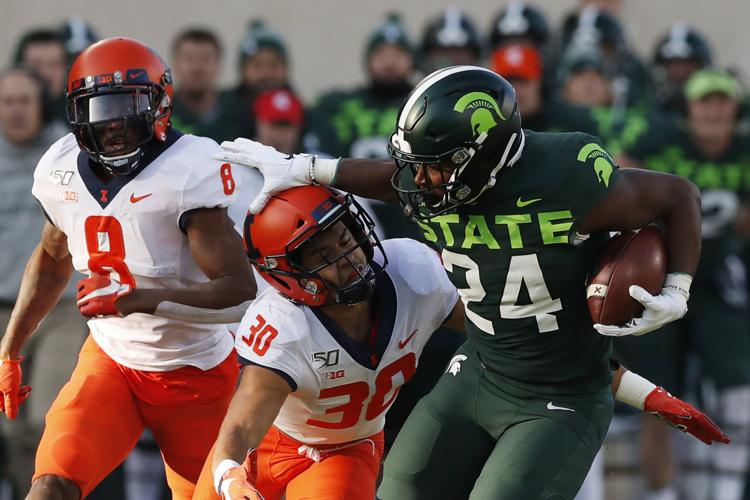 Illinois Michigan St Football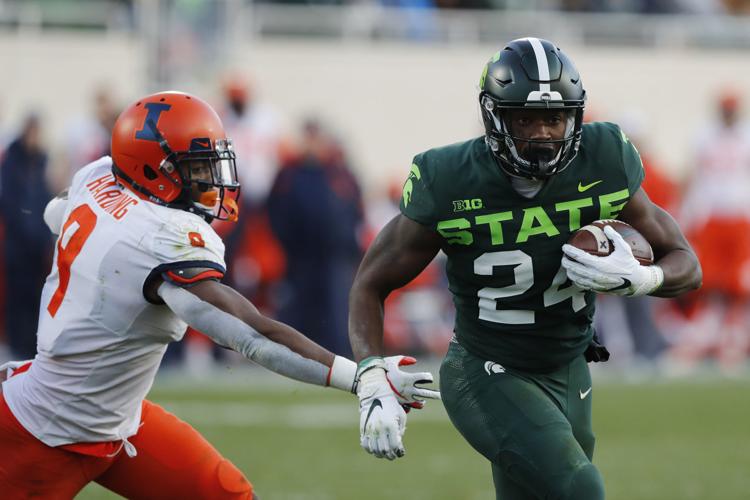 Illinois Michigan St Football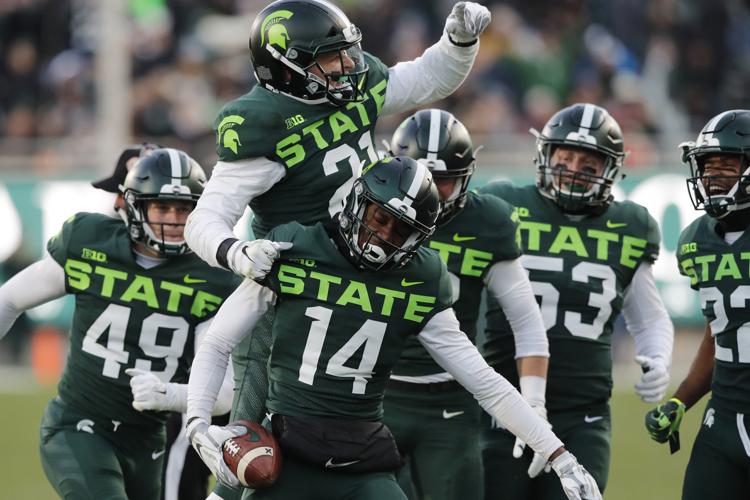 Illinois Michigan St Football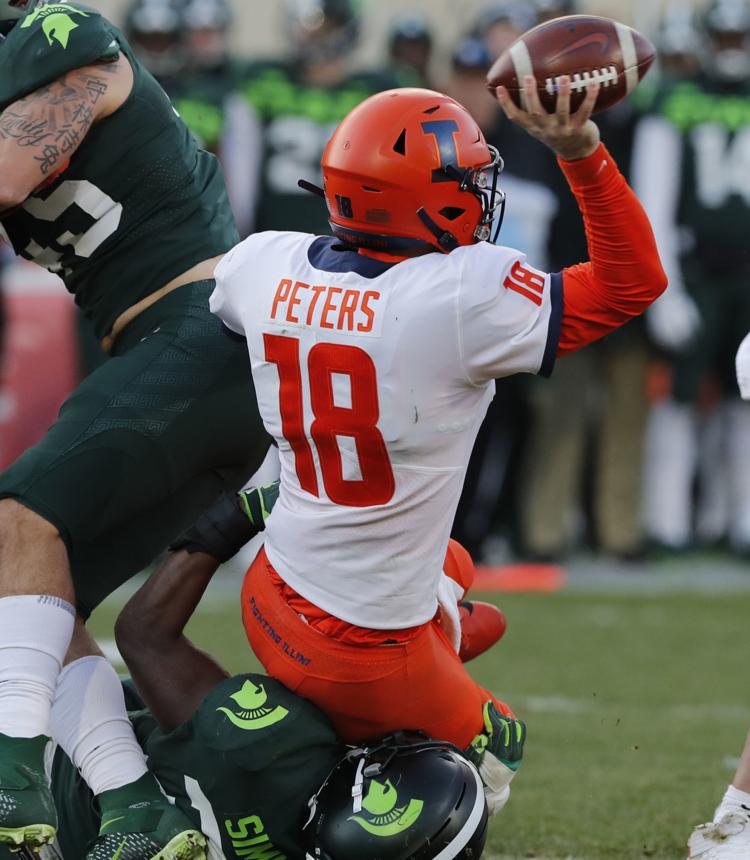 Illinois Michigan St Football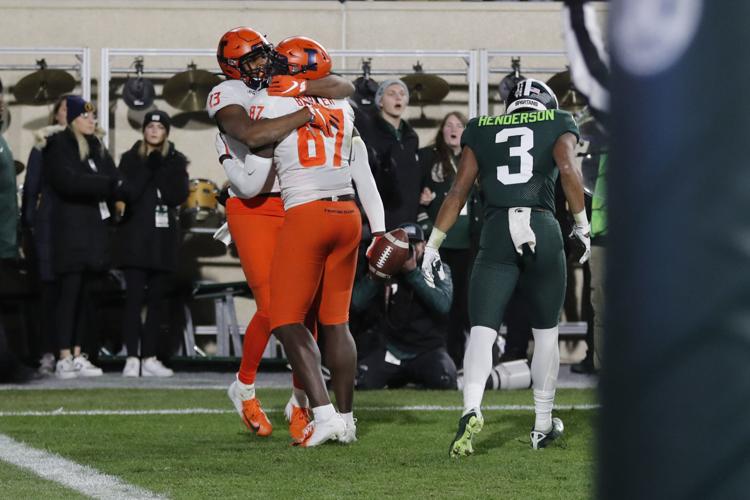 Illinois Michigan St Football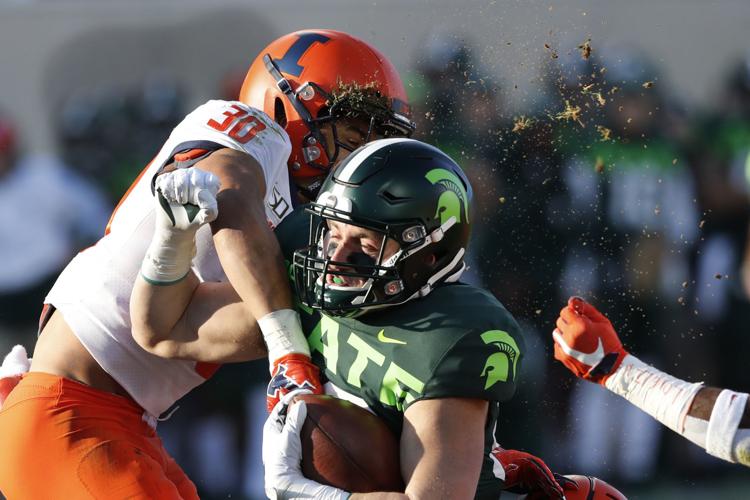 Illinois Michigan St Football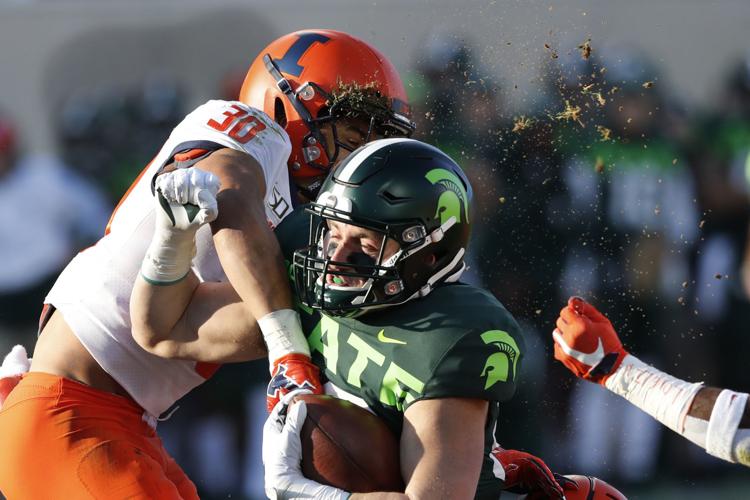 Illinois Michigan St Football
Illinois Michigan St Football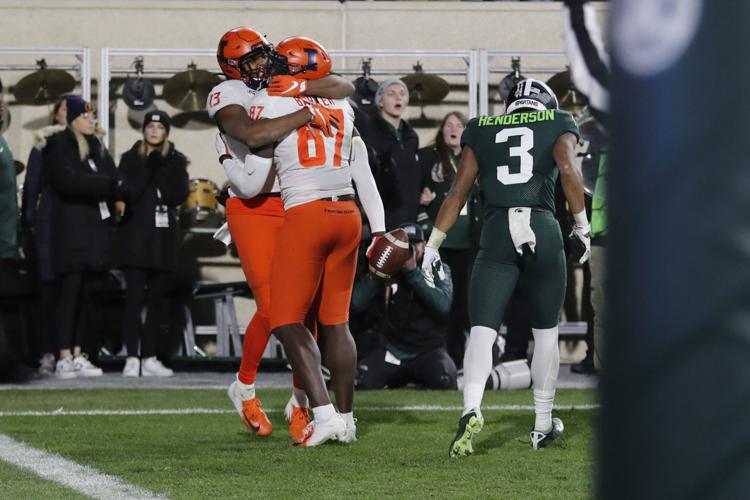 Contact Joey Wagner at (217) 421-6970. Follow him on Twitter: @mrwagner25